In a Nutshell
Alliance Phones offers a feature-rich VoIP phone service for small businesses. It includes advanced functions like automatic call recording, an auto-attendant, ring groups, and automated call routing. Alliance Phones doesn't offer as many integrations as its competitors, and it doesn't have mobile apps. But for all the features you get, Alliance Phones is surprisingly inexpensive. Overall, it's a good option for businesses on a budget.
pros
Unlimited domestic calling and texting
Cloud-based VoIP and contact management system
Simple pricing options
cons
Limited number of integrations
Outdated user interface and no mobile apps

Alliance Phones Visit Site
Alliance Phones Pricing & Plans - How much does Alliance Phones cost?
Alliance Phones offers 3 pricing options based on the number of users for whom you need service. Pricing starts at $29.97 per user per month for 1-3 users, which might not seem like a deal at first. But Alliance Phones includes many features that competing VoIP providers reserve for their top-tier plans.
All 3 plans offer the same features, so this pricing structure essentially provides a discount as you add users. With 21 users or more, the Effortless Plus plan will cost you $19.97 per user per month. All plans are paid monthly.
Alliance Phones includes unlimited calling and SMS in the United States and Canada. Your plan comes with 1 phone line, and each additional local or toll-free number costs $5 per month extra. You can also port numbers from another carrier for $15 per number.
You can try out Alliance Phones free for 30 days.
Alliance Phones Available Features
Auto-attendants
Alliance Phones enables you to set up an unlimited number of auto-attendants for your business. This allows you to create in-depth menu options to direct callers. You can also set up auto-attendants for department-specific phone numbers.
Call routing
You can automatically route calls based on the area code of the incoming call. Alliance Phones also supports unlimited ring groups and lets employees forward calls to any number when they're not at their desk. If you have a receptionist, they can use Alliance Phones to see which employees are available and which are currently on their phones.
Audio conferencing
Alliance Phones supports 3-way calling and dial-in audio conferencing for up to 25 participants. You can have an unlimited number of simultaneous dial-in conferences.
Voicemail transcription
Alliance Phones automatically transcribes voicemails and sends them to your email. You can also forward voicemails to another number.
Hot desking
Alliance Phones supports hot desking. This means that any employee can use any phone in your office and access their personal contacts and voicemail by entering a personal PIN.
Call recording and analytics
Alliance Phones supports call recording. An analytics dashboard allows managers to track the volume of incoming and outgoing calls by ring group, phone number, or employee.
Call whispering and barging
Alliance Phones offers supervisor functions like call monitoring, call whispering, and barging. Call whispering allows a supervisor to speak to an employee during a call without being heard by the other person on the line. Barging allows a supervisor to join an ongoing call at any time.
Security and Reliability
Alliance Phones uses TLS (Transport Layer Security) encryption to protect your audio and SMS communications. However, the company is not certified to the ISO 27001 or SOC 2 secure communications standards.
Alliance Phones Mobile App
Alliance Phones does not offer a mobile app. The company's website is easy to use on a mobile browser, but the VoIP software itself is only available as a desktop app for Windows and Mac computers. Alliance Phones recommends using the Bria app on iOS and Android devices to make calls and send texts with your Alliance Phones number.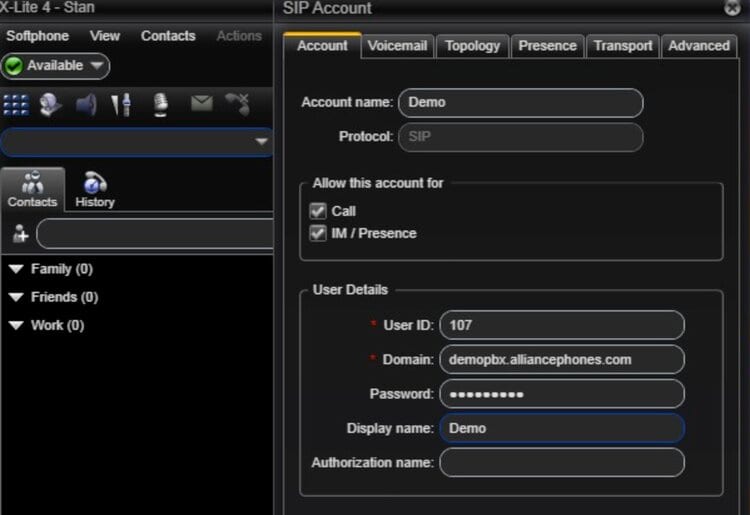 Alliance Phones Integrations
Alliance Phones integrates with Microsoft Outlook and SugarCRM. It does not integrate with any productivity suites, with communication tools like Slack or Microsoft Teams, or with Salesforce.
Help and Support
Alliance Phones offers customer support by phone, email, and live chat from 8am to 3pm (PT), Monday to Friday. In addition, the company provides 24/7 emergency support in the event of a service outage. We got in touch by live chat and received a response in less than 1 minute.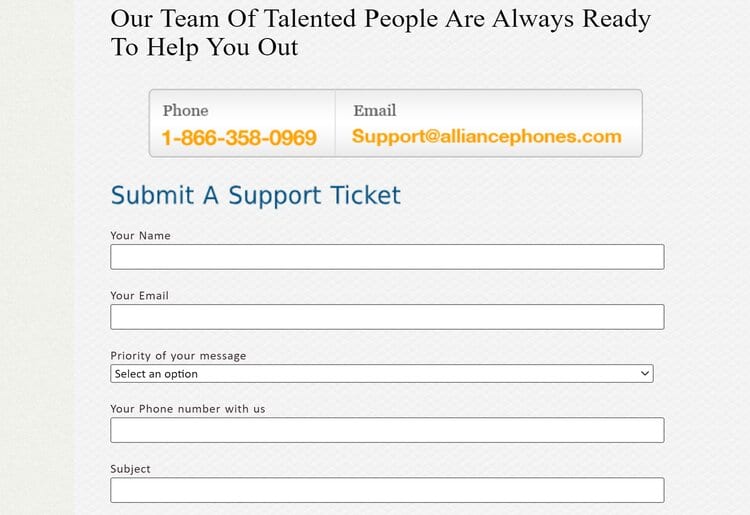 Alliance Phones has an FAQs page, but it provides only basic information about the service. There is a tutorial that shows you how to install the VoIP software on your computer, but no tutorials covering setup and use.
How Alliance Phones Compares to Other VoIP Providers
Yes (Outlook and SugarCRM only)
Alliance Phones vs Vonage
Vonage is comparable in price to Alliance Phones, with plans starting at $19.99 per user per month. It offers many of the same features as Alliance Phones, including unlimited domestic calling and SMS.
Vonage stands out for offering audio and video conferences for up to 100 participants at a time as well as a wider range of integrations than Alliance Phones. However, seemingly basic features like call recording, voicemail transcription, and ring groups are limited to a premium plan that costs $39.99 per user per month. If you don't need to organize large conferences, Alliance Phones offers a better value.
Alliance Phones vs Mitel
Mitel offers a modern and advanced business VoIP phone service that can scale for businesses with a lot of employees or multiple offices. In addition to unlimited domestic calling and SMS, it offers handy features like video conferencing and internal team messaging. It also offers integrations for Google Workspace and Salesforce.
Mitel is somewhat more expensive than Alliance Phones, with plans starting at $25.49 per user per month. However, the integrations and modern interface may be worthwhile if your business is growing quickly.
Alliance Phones vs SpectrumVoIP
SpectrumVoIP offers many of the same features as Alliance Phones, but adds in important extras like video conferencing, mobile apps, and support for Salesforce CRM software. It's also easy to use and offers a more modern interface.
Plans at SpectrumVoIP start at $24.95 per user per month, so it's comparable in price to Alliance Phones if you have 20 or fewer users.
Is Alliance Phones Right For Your Business?
Alliance Phones offers a budget-friendly VoIP platform that's packed with business-friendly features. It includes unlimited calling and SMS in the US and Canada, plus tools like auto-attendants, call recording, voicemail transcription, hot desking, and more. You would have to upgrade to a premium plan tier at many competing VoIP providers to get all of these features.
However, Alliance Phones falls short of the mark in a few important ways. First, it only has integrations for Microsoft Outlook and SugarCRM. If your business runs on Google Workspace, uses Salesforce as your CRM, or uses messaging services like Microsoft Teams or Slack, there's no way to seamlessly integrate Alliance Phones.
Second, Alliance Phones lacks mobile apps. While you can forward calls to a smartphone, you need to pay for a third-party VoIP app in order to make calls with a mobile device. The desktop software is also outdated and less user-friendly than we'd expect.
Overall, Alliance Phones is a good option for businesses that need a feature-rich VoIP service on a budget. If your business can get by without integrations and mobile apps, it's hard to argue with the cost of VoIP service from Alliance Phones. For many businesses, though, these shortcomings are likely to be deal breakers.