In a Nutshell
With reduced operating costs and minimal hardware, switching to Alliance Phones for your business VoIP is simple. It offers a call manager for rules, call recording, call logs, and call screening with toll-free and local numbers and number porting. All plans include unlimited calling plans in the US and Canada.
pros
24/7 customer service with multiple contact channels
Cloud-based VoIP and contact management system
cons
Higher monthly rate for smaller businesses and startups
Extra call recording billed on per-minute basis
Alliance Phones Visit Site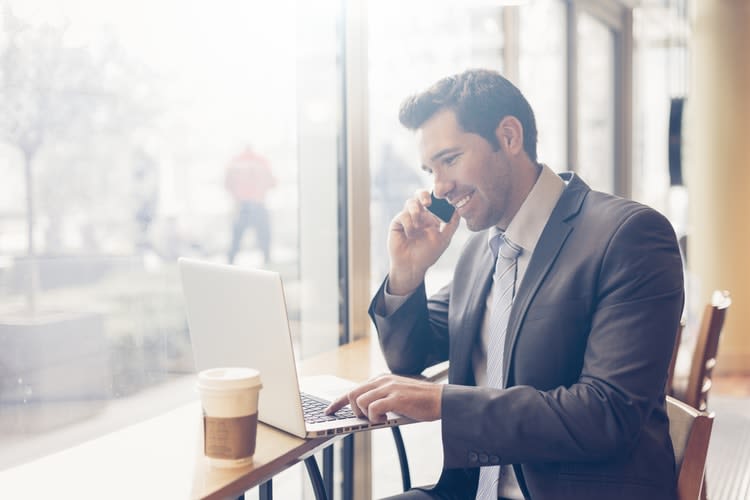 Pricing
Alliance Phones business VoIP offers subscribers 3 different pricing plans to suit your feature and budget needs, ranging from $19.97 to $29.97 per month depending on the number of users.
There's no lengthy contract, so each plan is paid month to month. Each of its packages offer unlimited calling minutes to the US and Canada, a host of VoIP phone features (which are covered below) and no initial setup fees.
Features
All Alliance Phones extensions come with a range of very useful features, which will help your business handle its communications more efficiently and at a better cost than with more expensive onsite phone systems.
Features available on Alliance Phones include:
Caller ID Management
Call Control based on Inbound number
Call Forwarding Control
Voicemail Forwarding
Cloud Contact Management
Auto Attendant
Extensions
Toll-Free Numbers
And many more
In addition to the no-contract service plan, Alliance Phones also offers a 30-day money back guarantee. If you're not happy with the quality, service or support you can cancel at any time. This shows that Alliance Phones has a great deal of confidence in its VoIP services.
Phones and Equipment
Alliance Phones have a very small selection of handsets from Polycom and Cisco, plus one conferencing system (that's the piece of equipment that you see in boardrooms where a caller on loudspeaker can be heard and responded to by multiple people).
While there are no headsets or similar talk accessories for sale through Alliance Phones, any phone headset with the appropriate jack would be compatible with the Polycom and Cisco phones available.
If you have existing equipment you want to use, it's best to check both with the manufacturer as well as Alliance Phones to ensure compatibility with the system, and with any accessories you may choose to purchase.
Customer Support
Imagine a high-volume business day when suddenly your phones stop working. There's no sound when you pick up the receiver, and any attempt to dial out gives you nothing but silence. What are your customers and vendor partners to think when they can't reach you?
That can reflect poorly on your brand image, especially if your customers have support issues.
It's a very real scenario that happens constantly. With standard telephone service, it can sometimes be hours, even days, if phone lines go down. Reaching a major telco provider can be even more difficult when there's a major issue. Especially if it's after hours.
VoIP providers like Alliance Phones recognize that businesses operate around the clock, so they set up their support services to keep you covered.
The company offers customer and technical support, available 24/7 via a toll free number that will connect you to a US-based call center. Support is also available via live chat on the Alliance Phones business VoIP website and email.
International VoIP Calls
While your Alliance Phones account is limited to setup within the US, international calling is available around the world to help you do business on a global level.
Each plan comes with unlimited domestic minutes (US and Canada). However, there are no free minutes available for international calls. While some VoIP providers allow the purchase of international minutes in blocks, Alliance Phones simplifies its plans by charging per minute rates.
Those rates do vary depending on the destination of the international call, and the benefit to this approach is that you're only paying for the minutes you use.
Alliance Phone's international rates are attractive. If this is a big part of your business, it is certainly worth factoring in Alliance Phones into your consideration over a future provider.
Auto Attendant Service
One big reason so many businesses are changing over to VoIP is the "auto attendant" service. This is the automated phone tree customers are greeted with that presents them with options such as "press 1 for sales, press 2 for customer service."
Your auto attendant also allows you to customize greetings, and allows customers to enter extensions in your call groups to reach specific team members.
While customers sometimes prefer to reach a person right away, auto attendants greatly reduce the load on your staff and support team. Likewise, they reduce transfers and help get customers to the proper department right away.
Alliance Phones' auto attendant system is fully featured. If the office is shut or the company is closed for vacation, you can leave a specific set of messages directing customers to use your voicemail. When you're open, the auto attendant will handle everything via your customized greeting, call group settings, virtual extensions and voicemail.
All that customization is easily done via the Alliance Phones business login. From anywhere you have an internet connection, you can log in to your control panel, manage groups, update extensions, and configure your auto attendant service on the fly.
Call Management
The Alliance Phones business VoIP service gives you a broad range of choices on how to direct calls once they've got past the auto attendant service.
You can route calls depending on the inbound number a caller is coming in on. For example, if you use a unique number in a marketing campaign, you can have calls from that number routes to a specific department or individual.
Used in conjunction with Alliance Phones' call logging system, you can measure how many calls the campaign generated.
There's lots of flexibility for call forwarding and for extension groups on the control panel once you've used your Alliance Phones login. You can record calls – superb for training, monitoring and compliance. You can also make the system screen incoming numbers and give specific sets of rules about how to handle certain inbound calls.
You can manage all your business contacts via your VoIP cloud management system. For lots of smaller businesses, where the pace is frenetic because of growth, having all your contact information centralized is a huge benefit.
At time of writing, Alliance Phones does not have its own app for iOS or Android devices.
For Apple users, it suggests that customers download an app called "Bria," distributed by Counterpath Corporation. The cost for the app is $7.99. On the support page of the website, the company shows you how to configure Bria for use with your Alliance Phones account.
For Android users, the website states that the softphone solution is still under development. It does not recommend an app for Android however most SIP apps should work with Alliance Phone's VoIP. It's worth noting that there is a "Bria" app for Android phones now available.
Fax
Traditional phone services require that you have a separate line for sending and receiving faxes. Some VoIP providers even require a separate designated line.
With Alliance Phones VoIP system you can receive faxes directly through the use of a fax extension number. When you receive a fax, it will be digitally converted to a PDF file and sent to you via email.
Unlike some services that charge per fax or per page, there's no additional charge for individual pages when receiving faces through Alliance Phones.
Software integration
Alliance is still at the beginning of the journey of integrating its VoIP system into the best-known business software and apps.
The system can currently connect with Microsoft Outlook, Filemaker and SugarCRM packages. That's very useful if you have one or some of those programs. Additional integration may be possible, but in most cases, will require you to work with an independent programmer or developer to achieve integration with systems like Salesforce.
Alliance Phones Visit Site
Conclusion
Any small- to mid-size business with plans to scale will find a lot of things to love with Alliance Phones. Unlimited domestic calls to US and Canada, combined with competitive international rates and affordable monthly plans make it an attractive solution.
While the service hasn't finished development on its mobile apps for the VoIP services, the always-available customer support and feature-rich plans, along with a 30-day demo, still make Alliance Phones a top choice for business VoIP.
About Alliance Phones
Alliance Phones was founded in 2012 in Brisbane, California. It focuses its service on the business market within the US. Unlike many VoIP providers, Alliance Phones doesn't offer residential services.