In a Nutshell
Voxox Cloud Phone offers quite unique VoIP solutions that focus on text messaging and communication automation. It comes with a selection of collaboration tools, including support for up to 5-way conferencing. There's also a neat auto-attendant, and you will benefit from unlimited extensions. It's quite affordable, and we'd recommend it for small businesses looking for a unique VoIP solution that includes text-messaging tools.
pros
Unique automated text-messaging tools
Clear, affordable price structure
Useful team management tools
cons
No self-help resources
No video conferencing tools

CloudPhone Visit Site
Voxox Cloud Phone Pricing & Plans - How much does Cloud Phone cost?
Cloud Phone has a very simple price structure, with a single plan and a small number of basic add-ons. You can sign up for $24 per month, and you will get a single number, access for 2 users, and 2 automated assistants.
Extra users, automated assistants, and numbers can be added for $5 each per month. International calling is also available, but you may have to pay an extra fee for some countries. There's a 30-day money-back guarantee, which enables you to ask for a refund if you're not satisfied with Cloud Phone's service. It's not a free trial, but you can take advantage of it to test the software risk-free.
Compared to the alternatives, Voxox Cloud Phone is an affordable option if you're looking for a simple business solution.
Voxox Cloud Phone Available Features
Voxox Cloud Phone doesn't provide a large amount of information about its features until you've created an account, but you can rest assured that it includes the basic call-management tools. Video conferencing is notably absent, but the text automation tools stand out as quite unique.
Collaboration and team management
Cloud Phone boasts a number of team-management tools. Conference calling with up to 5 participants is supported, enabling you to conduct effective team meetings. The call-routing tools enable you to connect a call to a different team member with the click of a button, and the unlimited extensions that are supported means that every team member can have their own unique number.
Automation
Cloud Phone's automation tools are one thing that set it aside from the competition. These include an automated receptionist, which can be configured to answer calls and direct them to the correct department or team member. With the automated text tools, you can also enable an auto-responder to respond to customer messages until you have a chance to deal with them manually, and you can enable customers to contact you directly via text.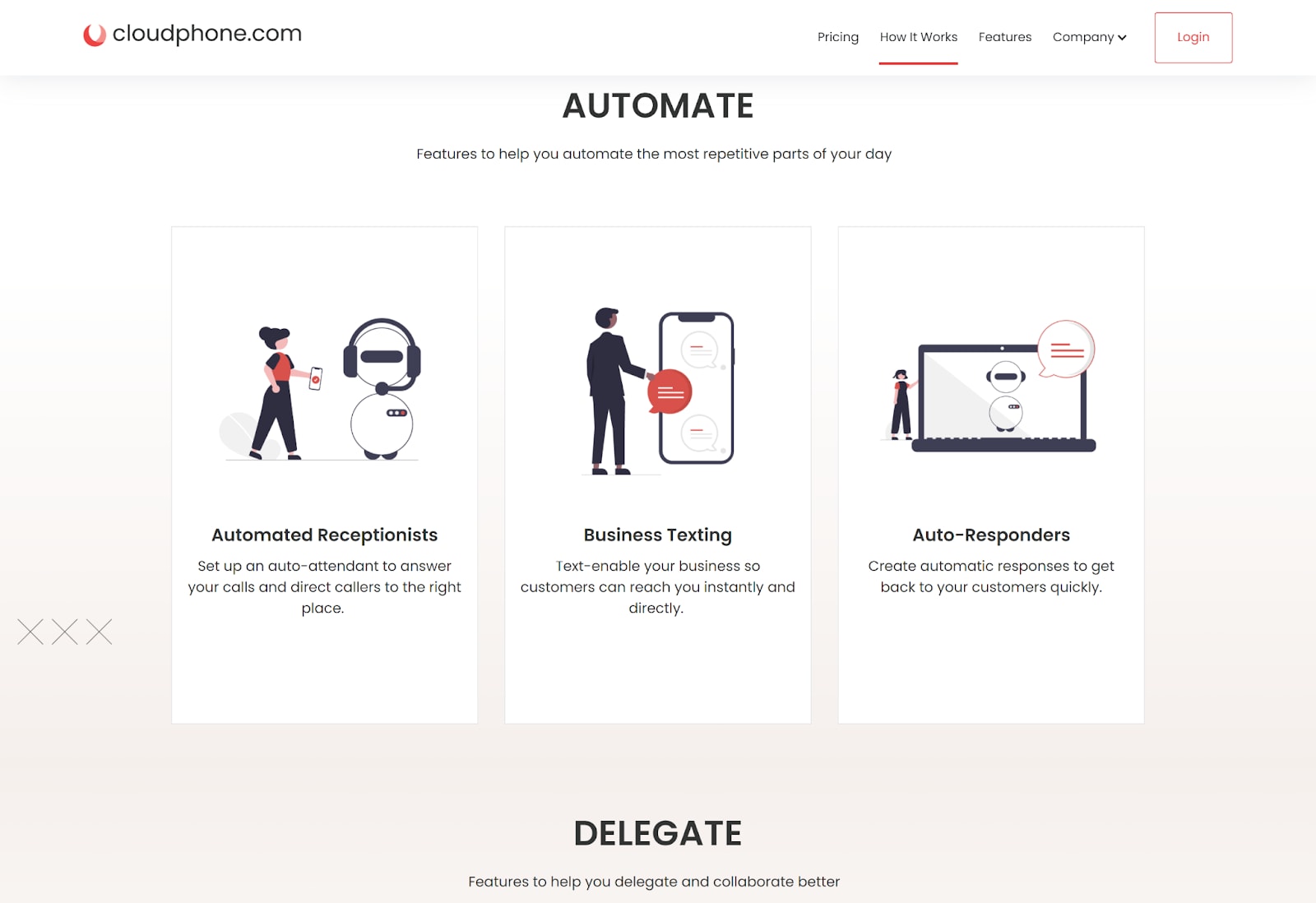 Call to Text
With Cloud Phone's call-to-text feature, customers can switch from voice to text by pressing a number on their phone's keypad. This is a useful tool if you can't always answer the phone, as it enables you to take down a client's information in a streamlined, hassle-free manner.
Voicemail Transcription
All voicemails are recorded and stored for later access. You can configure your voicemail greeting and, if required, set up voicemail transcription. This will convert all messages to a text format, enabling you to scan them quickly when you get a chance.
Call Recording
With Cloud Phone, you can set up automatic or manual call recording. You can save all recordings for later reference. There's also a neat pause/resume recording feature that can be used if a customer has to share sensitive or private information that should not be recorded.
Security and Reliability
Cloud Phone provides very little information about its security practices. A close look at its privacy policy reveals some concerning information. The first point of its security strategy is "company-wide best practices training." We'd like to see a little more information about exactly who has access to what data.
On the plus side, Cloud Phone does use advanced encryption to secure data when it's at rest. Its data centers are ISO/IEC 27001:2013 compliant, which basically means that they are protected by industry-standard physical and digital security measures.
Voxox Cloud Phone Mobile App
Cloud Phone offers an attractive app for both Android and iOS devices. It's free to download, and it enables effective mobile-only VoIP solutions. You can send text messages and call via your mobile network or Wifi. Included with the app are tools such as an auto-attendant, call recording, and call routing. It also receives a decent rating on both the Apple App Store and the Google Play Store.
Voxox Cloud Phone Integrations
The only integration Cloud Phone has is with Zapier. However, this in itself is quite powerful, as it enables you to connect Cloud Phone with hundreds of other apps. Using it, you can automate workflows and save time. It's also possible to specify exactly what functionality each integration should have through a variety of customization options.
Help and Support
Voxox Cloud Phone has very limited support services. There are no self-help resources, and even a FAQ page is absent. There's a company blog, but it only contains 5 articles. However, there is 24/7 online ticket and phone support, which is good to see. The phone team is responsive, but it can take a day or 2 to get an email response sometimes.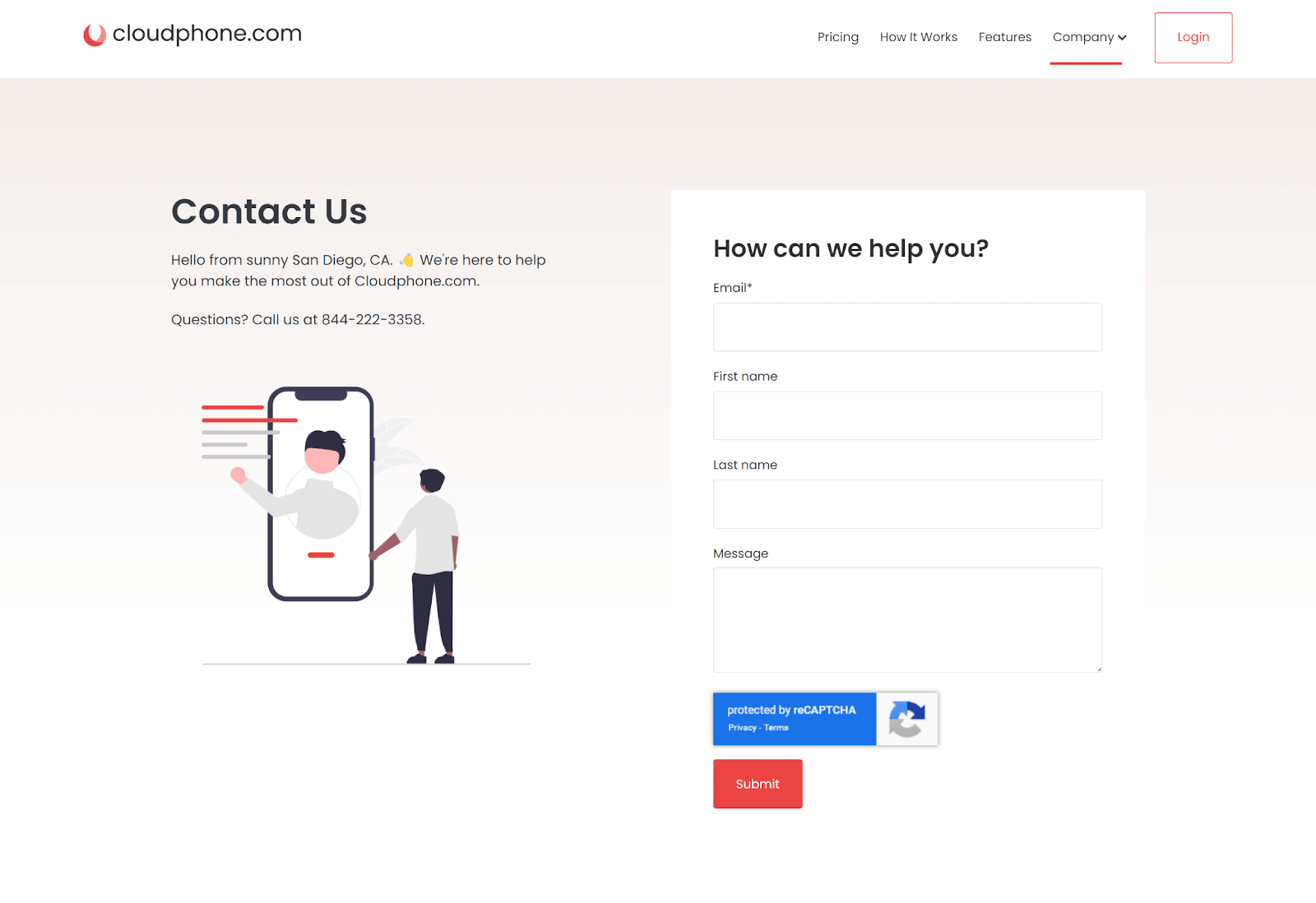 How Voxox Cloud Phone Compares to Other VoIP Providers
$19.95 per user, per month
$29.99 per user, per month
$8.33 per user, per month
24/7 phone, 24/7 live chat, support site
24/7 phone, 24/7 email, support site
Business-hours phone, business-hours email, support site
Cloud Phone vs Ooma Office
Cloud Phone and Ooma Office sit at opposite ends of the VoIP spectrum. Cloud Phone is an innovative product, merging marketing automation and VoIP to deliver its text automation packages. Ooma Office, on the other hand, is a solid option for businesses looking for a no-frills VoIP solution that includes simple voice and text communication tools. It also offers video conferencing tools with an upgraded plan.
Cloud Phone vs Avaya Cloud Office
Avaya Cloud Office is a somewhat costlier alternative to Cloud Phone, although it's also one of the most feature-rich options we've seen. Like Cloud Phone, it comes with the expected tools, including voicemail transcription and call recording. However, it also boasts hundreds of integrations, an advanced video conferencing tool, and much more.
Cloud Phone vs PhonePower
PhonePower is a very simple VoIP service provider that lacks security. However, it comes with the expected call-management tools, and it's extremely affordable when compared to almost any of its competitors. Its support is limited to business-hours only, and, like Cloud Phone, it does not include video conferencing tools. If you're looking for something budget-friendly, PhonePower could be a good choice, but Cloud Phone is much more advanced overall.
Is Voxox Cloud Phone Right For Your Business?
Voxox Cloud Phone stands out because of its automated text messaging solutions. These are quite unique, and they could be useful for businesses looking to maintain the highest level of customer service possible.
You can configure automatic responses for when you can't get to the phone, and the auto-attendant ensures calls are routed to the correct team member or department. Plus, with the voice-to-text tool, callers can switch straight to text messaging with the press of a button.
On the downside, Cloud Phone's security practices lack transparency. There are no self-help resources, and integrations are limited to those available through Zapier. Video conferencing is also lacking, although you will have access to other advanced VoIP features, such as call recording and voicemail-to-email.
If you're interested in this innovative solution, you will benefit from a complete 30-day money-back guarantee. All things considered, we'd suggest testing Cloud Phone if you think its text automation features would be useful for your business.