In a Nutshell
PhonePower is a budget-friendly VoIP service that works well for individuals and home offices. The service offers unlimited calling in the US and Canada as well as international plans that support calling across up to 87 countries. PhonePower offers basic features like voicemail transcription, incoming call routing, and 3-way calling. However, it doesn't support call recording, audio conferences, or integrations.
pros
Inexpensive domestic annual plan
Includes 2 phone lines
Unlimited international calling available
cons
Doesn't support call recording
No audio conferences with more than 3 people

Phone Power Visit Site
PhonePower Pricing & Plans - How much does PhonePower cost?
PhonePower offers domestic (US and Canada) and international calling plans. Pricing for domestic plans is based on whether you sign up for an annual contract and prepay for the year. International plans differ based on the number of countries included in your plan.
Annual, prepaid: $8.33
Annual, monthly: $9.95
No contract: $19.95
PhonePower's plans are very inexpensive compared to other VoIP options, especially if you need unlimited international calling. The Unlimited World plan includes calling to the UK, Europe, China, and Southeast Asia. The Unlimited World Plus plan adds unlimited calling to Australia and countries in Eastern Europe and Central Asia. The Unlimited World Premium plan adds calling to countries in Africa and South America.
All Unlimited World plans are paid monthly. You can try out any PhonePower plan free for 30 days.
PhonePower Available Features
2 Phone Lines
All PhonePower plans include 2 phone lines. The second phone line is a clone of your first and does not have its own number, but it enables you to connect 2 phones to your service.
When a call comes in, both connected phones will ring (along with your mobile phone, if you use the PhonePower app). If a second call comes in while you are using one line, your second phone will still ring.
Voicemail Transcription
PhonePower provides a voicemail for your phone number. Voicemails are automatically transcribed and sent to your email.
3-way Calling
PhonePower enables you to make unlimited 3-way conference calls. However, there is no way to set up a conference call with more than 3 participants.
Call Forwarding
PhonePower lets you forward calls to any number. It also includes a call waiting queue in case both of your phone lines are busy.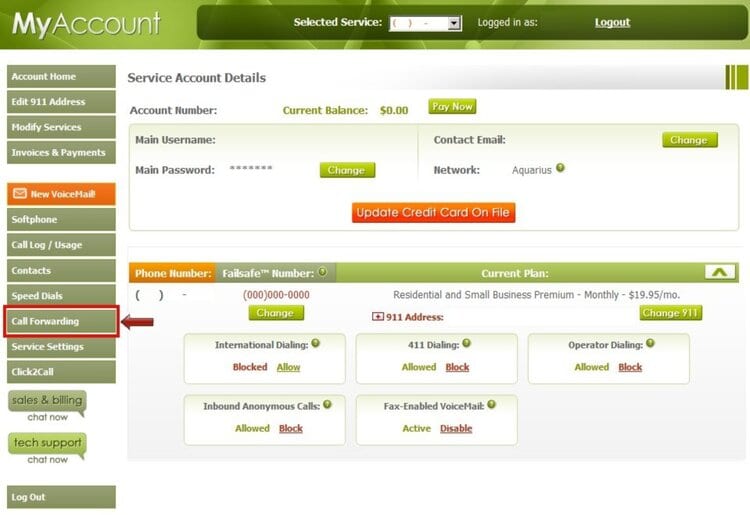 Faxes
PhonePower enables you to receive faxes at your phone number. Incoming faxes are automatically diverted to your voicemail, where the information is captured as an image and sent to your email.
Security and Reliability
PhonePower is not certified to the ISO 27001 security standard, unlike many of its competitors. The service does not encrypt communications, although it notes that the only way for call security to be compromised is for someone to be directly connected to both your network and the network of the person you are calling.
PhonePower lets you set up a failover number. In the event of a power or internet outage, all incoming calls will automatically be routed to this number.
PhonePower Mobile App
PhonePower offers a free mobile app for iOS and Android devices. You can make and receive calls on your mobile device, see your call history and contacts, and access your voicemail. You can also forward calls or set up a 3-way conference from the mobile app. The app is very straightforward to use.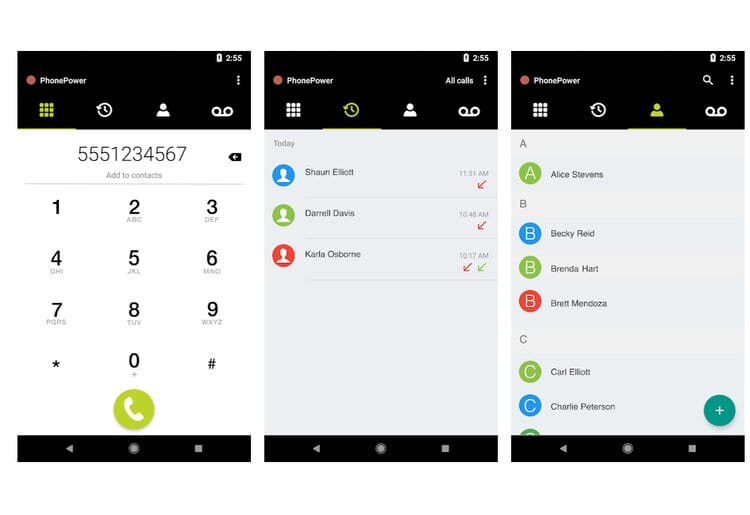 PhonePower Integrations
PhonePower does not integrate with any business software.
Help and Support
PhonePower offers customer support by phone and email from 6am-8pm (PT), Monday-Friday. We called and were able to reach a support technician in less than 1 minute.
PhonePower also has an online knowledge base with thorough FAQs pages and detailed tutorials. Tutorials cover topics like how to set up call forwarding, how to manage your voicemail inbox, and how to configure hardware phones for use with PhonePower. Most tutorials have screenshots, making them easy to follow.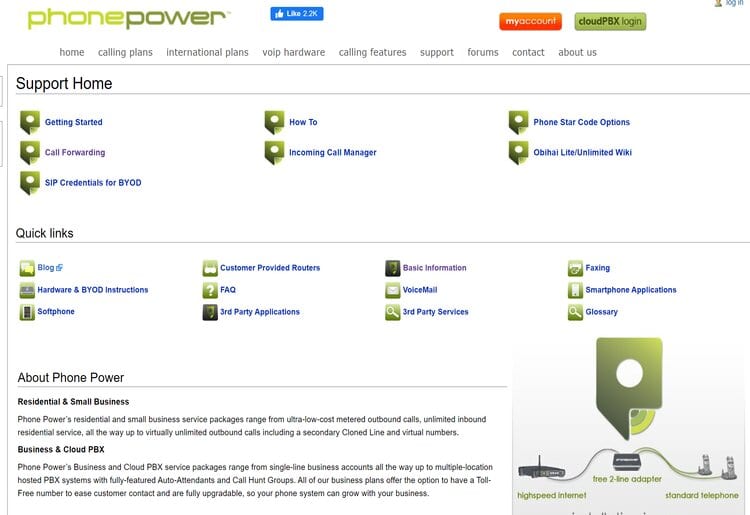 How PhonePower Compares to Other VoIP Providers
PhonePower Vs Ooma Office
Ooma Office is a more powerful alternative to PhonePower for small businesses in need of a VoIP service. It includes key features like a virtual receptionist, ring groups, and unlimited SMS messaging. In addition, Ooma Office enables you to add as many lines and phone numbers to your plan as you need.
At $19.95 per user per month, Ooma Office is significantly more expensive than PhonePower. It also doesn't offer international calling plans. If your business is on a tight budget, it may not be worth the price to upgrade from PhonePower's more limited feature set.
PhonePower Vs GoToConnect
Whereas PhonePower is built for owner-operated businesses and home offices, GoToConnect is aimed at for medium-sized businesses that are looking to scale up. GoToConnect offers features like unlimited ring groups, hot desking, video conferencing, and real-time call analytics. It also supports integrations with a wide range of productivity and CRM software platforms.
GoToConnect is very expensive compared to PhonePower, with plans starting from $26 per user per month.
PhonePower Vs OnSIP
OnSIP is designed for businesses looking to grow. The basic plan includes desktop phones for each of your users as well as unlimited domestic calling and texting. It also offers features like call recording, auto-attendants, and ring groups.
OnSIP is much more expensive than PhonePower. The basic plan costs $18.95 per user per month and requires at least 5 users. You can also opt for a pay-as-you-go account for $49.95 per month (for unlimited users), but you'll pay 2.9 cents per minute of calling.
Is PhonePower Right For Your Business?
PhonePower is an affordable VoIP service for a home office or sole proprietorship. The domestic plan offers unlimited calling in the US and Canada, while international plans offer unlimited calling to up to 87 countries around the world. If you make a lot of international calls, you'll have a hard time finding a more cost-effective VoIP plan.
That said, PhonePower doesn't offer much opportunity to scale. You only get 2 lines and a single phone number with your service. Features that many businesses would consider essential, like auto-attendants and call recording, are missing. PhonePower also doesn't integrate with any productivity software suites or CRM platforms.
Overall, PhonePower makes the most sense if you're just starting out and want to set up business phone service on a budget. As your business begins to grow, it likely won't take long before you need more features from your phone service than PhonePower can offer.