In a Nutshell
Due to the vast size of the company, Verizon is broken down into numerous branches and sub-branches. You can choose your package by business size (small, medium or enterprise), or by industry.
pros
Fiberoptic internet
Wireless backup
Unlimited nationwide calling
cons
Process can be complicated
Site can be hard to navigate
Verizon Visit Site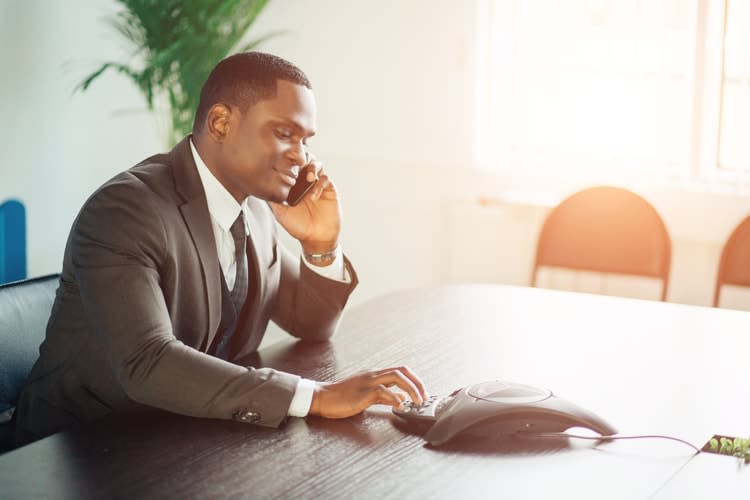 VoIP Packages/Plans
Additions can be made to all packages when choosing your set-up options. Here are some of the plans available for your business:
Small business options:
Business phone
Phone + internet bundle
High speed internet
FiOS internet
Medium-sized business options:
VPP: The Verizon Partner Program offers preferred access to cloud, mobility, communications and networking solutions. You can be a basic, silver, gold or platinum member of the program.
IP Business Bundle: This includes VoIP, on-premises installation and router, internet access.
Solutions For Business Bundle: This does not include VoIP but includes up to 25 telephone lines, Google apps for business and Fiber optic internet.
Larger enterprise options are all divided by industry and there will be variations between them.
Features
Mobile business – Verizon can provide a number of different handsets to ensure you can keep your business going when you're on the move.
Backup – If your primary connection is lost, you'll have a temporary or remote location to ensure your data is saved and you can continue working.
Machine-to-machine – actionable data from wireless sensors and connected machines allow you to stay on top of making decisions, streamline supply chains, and keep pace with the latest trends in your market.
Voice services include real-time communication such as IM, voice, and video chat.
Google apps for business – email, shared documents, calendars and video applications.
Cloud hosting and storage – Allows access to information from anywhere, reduces energy usage and integrates with existing systems.
Data colocation – use remote servers in provided data centers to ensure the success of storage, remote computing and application processing.
Fiberoptic internet
Wireless backup
Fleet management gives you reports on the movements of your fleet as a whole, driver habits, vehicle diagnostics reports and indicators on how to improve performance, based on these results.
Asset tracking – you'll be able to track your assets, wherever you are, using the mobile/tablet integration. You'll have increased awareness of your equipment and assets and be able to share data with colleagues easily.
Customer Support / Ease of Setup
You can telephone, email or submit a ticket. Take some time to look at the website support section first – due to the size of Verizon there are numerous different branches of the company, and each part has its own support line. If you are calling about a medium-sized business, you'll have different support contact details than someone from a small business, or enterprise. You can also manage any issues and contact support through your personalized customer portal online.
Verizon Visit Site
Bottom Line
It is no surprise that, given that it is one of the largest telecommunications companies in America, Verizon can accommodate business needs of all sizes. It's not the simplest of processes and the site can be hard to navigate, but the global reach of the company's network means that you can be sure you'll find what's right for your business with Verizon. Verizon also provides residential services, which is great for customers who want the ease of one company providing all communications.
Company Overview
Verizon is one of the largest telecommunications and broadband networks in America. Based in New York City, Verizon provides services such as phone and internet to homes and business across North America. The side of the company that provides for businesses is known as Verizon Enterprise Solutions and accommodates small and medium sized businesses as well as large enterprises and corporations. The cloud-based platform which delivers their solutions to customers supports service in 75 countries and the global IP network reaches more than 150 countries.