Verizon Visit Site
Overview
How Verizon Works
Verizon Available Features
Unlimited Calling and Messaging
Verizon's Business Digital Voice plan includes unlimited calling and texting within the US and Canada. Verizon also offers private messaging and group chat to facilitate communication between your employees.
Auto-Attendants and Greetings
Verizon enables you to configure an unlimited number of auto-attendants for your business. You can also record greetings and after-hours messages for your business.
Automated Call Routing
Verizon supports ring groups and hunt groups, which pass an incoming call from line to line until an employee picks up. In the event of an internet or power outage, calls can automatically be forwarded to a designated phone number.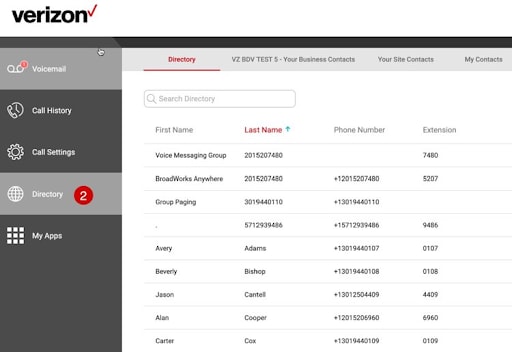 Voicemail Transcription
All Verizon VoIP phone lines come with a voicemail inbox. Voicemails can be transcribed automatically and sent to your email address.
Monitoring and Barge
Supervisors have the ability to monitor and barge in on employees' calls. However, call whispering is not supported.
Audio and Video Conferencing
Verizon supports 3-way calling. You can also set up audio and video conferences with an unlimited number of participants. Each employee has a private video conference room, and video conferences support file sharing and screen sharing.
Security and Reliability
Verizon offers several features for blocking spam and unwanted calls. You can automatically reject calls from blocked numbers or enable employees to block numbers based on area code. Verizon also partners with PinDrop, a phone analytics service, to proactively identify spoofed numbers and prevent fraudulent calls from reaching your business.
Verizon is certified to the ISO 27001 security standard.
Verizon Integrations
Verizon's VoIP service does not integrate with any productivity software suites or customer relationship management (CRM) software.
Verizon App
Verizon offers free VoIP mobile apps for iOS and Android devices. The apps are easy to use for making and receiving calls, as well as for checking and sending internal messages. Calls placed from your mobile device use your office phone number as your caller ID.
You have access to your company's directory within the app and can launch 3-way calls or audio conferences. It's also very easy to transfer calls between your computer, desktop phone, and mobile device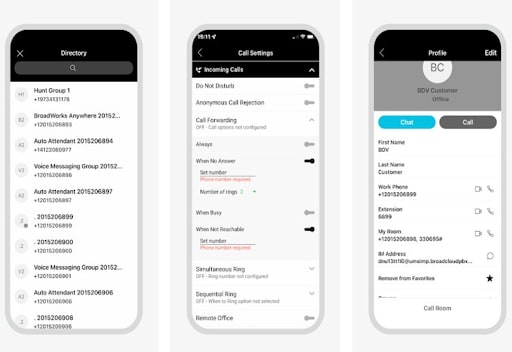 Verizon Customer Support
Verizon offers customer support by phone, email, and live chat. Live chat support is available from 8am-9:30pm ET Monday-Saturday, while phone support is available from 8:30am-5pm ET Monday-Friday. We called and waited about 5 minutes to get in touch with a representative, but you can also schedule a callback to avoid waiting on hold.
Verizon also has an online knowledge base. Most of the articles are about troubleshooting, and there is little information about how to configure your business phone service. In addition, the troubleshooting tutorials do not have screenshots. There are no FAQs pages available.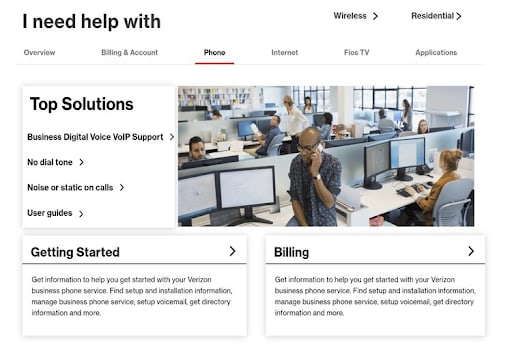 Verizon Pricing
Pricing & Special Offers
Verizon offers a single VoIP phone plan that costs $35 per line per month (paid monthly). There is also a $49 one-time activation fee.
Business Digital Voice Plan
If you bundle business VoIP service with Fios fiber optic internet service, Verizon offers 1 line for free and up to 4 lines for $25 per month for 2 years. You must sign up for a 2-year contract to claim this offer.
Verizon does not allow customers to use their own phone hardware. VoIP phones are available starting at $85 per device. You'll receive 1 free Yealink Starter IP phone (worth $85) when you bundle VoIP and Fios services. You can also use Verizon VoIP service without phone hardware.
Verizon Alternatives
How Verizon Compares to Other Voip Services
Verizon Vs Dialpad
If you don't need Fios internet with your VoIP phone service, Dialpad offers a richer set of features than Verizon at a lower price. For $20 per user per month ($15 if you pay annually), Dialpad includes unlimited domestic calling, voicemail transcription, automated call routing, and integrations for G Suite and Microsoft 365.
Dialpad also comes with video conferencing, although you're limited to 10 participants per meeting. You can upgrade to meetings with up to 100 participants for an additional $20 per user per month.
Verizon Vs RingCentral
RingCentral starts at $19.99 per user per month, but you'll need to upgrade to a plan that costs $34.99 per user per month if you want features like call recording, barge, and extension dialing. However, this plan also includes several features that Verizon doesn't offer, such as single sign-on support, multi-office management tools, and real-time call analytics.
RingCentral also supports a wide range of integrations, including Microsoft 365, Slack, and CRM software like Salesforce and Zendesk. If your business has multiple offices or a lot of users, RingCentral offers far more features than Verizon for keeping your phone administration organized.
Verizon Vs Vox Direct
Vox Direct is a unique service that includes SMS marketing features as part of every VoIP phone plan. For $39 per month, you can send 500 marketing texts per month in addition to unlimited one-to-one texts.
However, Vox Direct can be much more expensive than Verizon if you don't need SMS marketing. Features like call recording and custom greetings require a plan that costs $89 per month and only includes 3 phone lines.

Verizon Visit Site
Bottom Line
Verizon's Business Digital Voice VoIP plan is a capable phone service for small- and medium-sized businesses. It packs a lot of useful features, including audio and video conferencing, automated call routing, voicemail transcription, custom greetings, and more.
Verizon is competitively priced with other VoIP services at $35 per line per month. It's an especially good deal if you bundle your VoIP service with Verizon Fios internet since you can get a free phone line, a free desktop phone, and a discount on up to 4 additional lines. Keep in mind that this offer requires you to sign a 2-year contract.
Verizon doesn't offer 3rd-party app integrations, which can be a drawback for businesses that rely heavily on a CRM like Salesforce or internal communications tools like Slack. If these integrations are important for your business, you may want to consider an alternative service like RingCentral.
Overall, Verizon is a cost-effective option if your business needs both VoIP and internet service. If your business only needs VoIP service, competing providers offer slightly more features and integrations for a comparable price.