In a Nutshell
Phone.com is a flexible VoIP service for growing businesses. With Phone.com, you can purchase different plan tiers for different users so that you're only paying for the features your employees need. For all the features included, Phone.com plans are relatively inexpensive. Phone.com offers all the tools that most businesses could need. Video conferencing is standard and advanced plans support call , CRM integration, and call recording.
pros
Mix-and-match plans for your employees
Includes video conferencing
Plus plan users get a free phone number
cons
Few productivity integrations
Call analytics requires a Pro plan

Phone.com Visit Site
Phone.com Pricing & Plans - How much does Phone.com cost?
Phone.com offers 3 pricing tiers: Basic, Plus, and Pro. These plans are very competitively priced, especially if you don't need unlimited domestic calling and SMS.
One of the unique things about Phone.com is that you don't have to sign up all users for the same pricing tier. You can purchase a Basic plan for employees who only need basic phone service and a Plus or Pro plan for your sales and marketing employees, so you only pay for the features each employee needs.
The Basic plan offers 300 minutes of calling in the US and Canada per user and 1,000 texts per user. These minutes and texts are pooled, so they can be used by any Basic users in your business. Basic users can also set up video conferences with up to 10 participants.
The Plus and Pro plans each offer unlimited minutes and SMS messages. They also come with 1 phone number per user, which you won't get with many comparably priced plans from competing VoIP providers.
The Plus plan supports video conferencing with up to 25 participants, while the Pro plan offers conferencing for up to 100 participants. The Pro plan also adds support for CRM integrations, call recording, and call analytics.
You can get 20% off your Phone.com plan when you pay annually. The company offers a 30-day money-back guarantee.
As an add-on service, you can also hire a live receptionist for your business through Phone.com. This service costs $90 for 50 minutes, $140 for 100 minutes, or $220 for 200 minutes.
Phone.com Available Features
Calling and SMS
Phone.com offers pooled domestic calling minutes and SMS messages for Basic plan users and unlimited domestic calling and texting for Plus and Pro plan users. You can purchase local, toll-free, or international numbers for your business.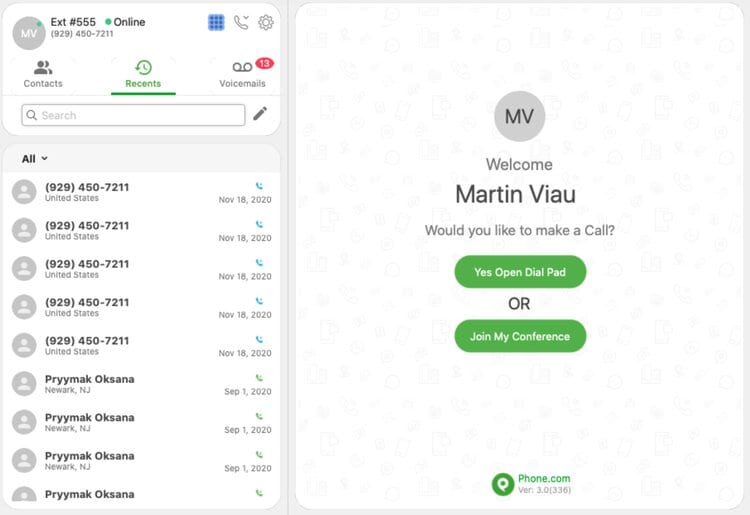 Phone.com supports international calling for an additional per-minute fee, or you can sign up for a flat-rate international calling plan ($4.99/month) that offers unlimited calls to Mexico, Europe, and South Africa.
Auto-attendant and Call Routing
Phone.com lets you set up an unlimited number of auto-attendants to route calls within your business. You can also create custom rules to route calls based on employee availability, the area code of an incoming call, or your business's hours.
Voicemail Transcription
All employees receive a personal voicemail inbox. Basic users can receive an email notification when they have a new voicemail, while Plus and Pro users can have their voicemails automatically transcribed and emailed to them.
Video Conferencing
All Phone.com plans include video conferencing with unlimited meeting duration. Video conferences support screen and file sharing, in-conference chat, and virtual backgrounds. Plus and Pro users can record meetings, and Pro users can livestream them to YouTube to reach larger audiences.
Live Receptionist
Phone.com offers US-based live receptionists as an add-on service for businesses with high call volumes. Receptionists are available from 8am-9pm (ET), Monday-Friday and 9am-8pm on Saturdays, even if your business is closed during these hours. Live receptionist plans start at $90 per month.
Security and Reliability
Phone.com uses 256-bit AES encryption to secure all phone, text, and video communications. In addition, all call recordings, transcribed voicemails, and other data stored on Phone.com's servers is encrypted at rest. The service is HIPAA-compliant for Plus and Pro users.
Phone.com Mobile App
Phone.com offers free mobile apps for iOS and Android devices. You can make and receive calls from your mobile device, access your SMS messages, and check your voicemail. The Phone.com app also offers access to your business's contact book and enables you to initiate and participate in video conferences. Overall, the app is very easy to use.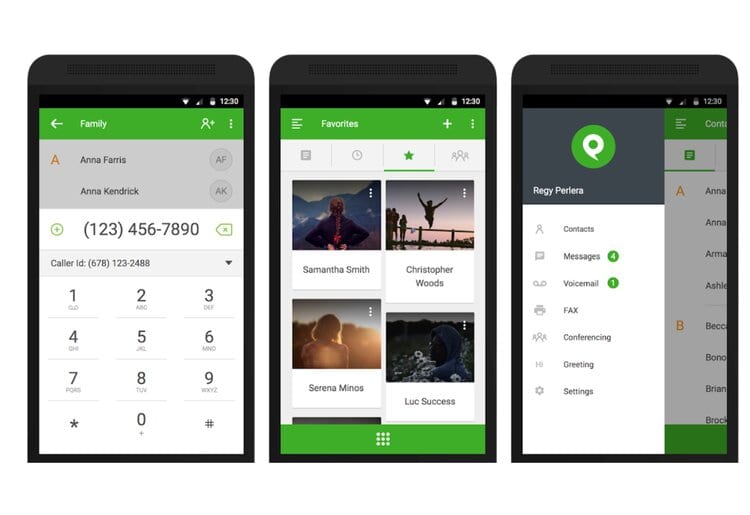 Phone.com Integrations
Phone.com enables Pro users to integrate with a variety of popular CRM platforms, including Salesforce, Zoho CRM, SugarCRM, Keap, Microsoft Dynamics, Insightly, and Close.io. The service also integrates with Zoho's productivity suite and with Zapier. However, it does not offer integrations for Slack, Microsoft Teams, or Google Workspace.
Help and Support
Phone.com offers 24/7 customer support by phone and email. We called and were able to connect with a support representative in less than 1 minute.
Phone.com has a FAQs page dedicated to billing-related questions. The company's website also has detailed online tutorials that show you how to complete common tasks, such as initiating a call, adding contacts, and setting up call forwarding. The tutorials have screenshots and are easy to follow.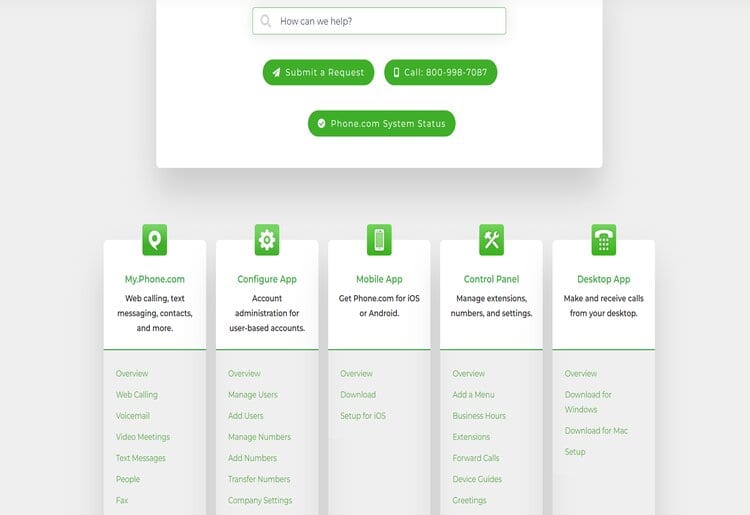 How Phone.com Compares to Other VoIP Providers
30 days money back guarantee
Phone.com Vs Dialpad
Dialpad charges more than Phone.com for basic service, with plans starting at $20 per user per month. However, you get unlimited calling and SMS, as well as voicemail transcription.
Dialpad particularly stands out for larger businesses because it supports multiple offices and offers single sign-on, enabling IT teams to manage large numbers of users more easily. In addition, it offers integrations for Google Workspace and Microsoft 365, making it easier to use for companies that rely on these productivity suites.
Phone.com Vs Vonage
If Phone.com has the features your business needs, it's significantly cheaper than getting comparable phone service from Vonage. Vonage plans start at $19.99 per user per month, and adding features like call recording and voicemail transcription will increase the cost to $39.99 per user per month.
However, Vonage offers integrations for Google Workspace, Microsoft 365, and Slack. It also offers plans specifically for businesses with international offices, which can be a major plus if you run a global enterprise.
Phone.com Vs Cloudphone
Cloudphone is a simple and inexpensive VoIP phone service. It offers essential features like auto-attendants and ring groups, but it comes with only 100 text messages per user and no video conferencing.
The advantage of Cloudphone is that pricing starts at $24 per month for 2 users, and you can add additional users for just $5 each. So, for growing businesses, Cloudphone's pricing looks attractive even compared to Phone.com's flexible pricing structure.
Is Phone.com Right For Your Business?
Phone.com offers a wide range of VoIP phone features at a very competitive price point. All plans include video conferencing, auto-attendants, and automated call routing. The Plus and Pro plans offer a phone number for each user as well as unlimited calling and SMS messaging.
The best thing about Phone.com is its flexibility. You can sign up employees who only need basic phone services for a Basic plan while signing up employees who spend a lot of time on the phone for a Plus or a Pro plan. This ensures that you only pay for the features you need for each employee, saving your business money.
Phone.com offers integrations with Zoho, Zapier, and several CRM platforms. However, it doesn't integrate with popular productivity suites like Microsoft 365 or Google Workspace, which can be a significant drawback if your business runs on these platforms. If your business needs these productivity integrations, you may want to consider an alternative service like Vonage or Dialpad.
Overall, Phone.com is an excellent choice if your business is looking for a flexible phone service that can scale with your needs. You can try out the service for 30 days with a money-back guarantee.