In a Nutshell
Ooma has earned PCMag.com's Business Choice award as the #1 VoIP provider for Small Business. That's because the company's technology, based on its free service residential users, is designed to give you the professional presence of a larger organization at a reduced rate.
pros
Excellent call quality
Quality mobile apps
cons
Phone disconnects frequently

Ooma Office Visit Site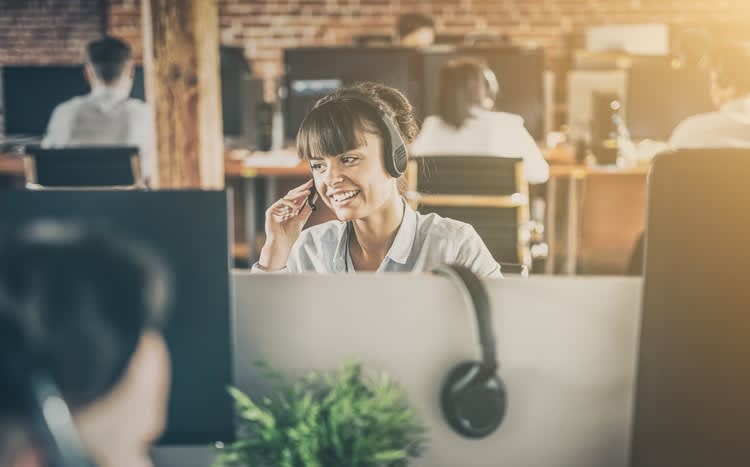 Pricing
Ooma welcomes new subscribers with 3 different service plans. For many, the Ooma Office plan will suffice with over 35+ features for just $19.95 per month, per user. This plan is truly robust with features such as a mobile app, virtual receptionist, call forwarding and transfers, hold and transfer music, and more.
For users looking for additional features than what is included in the tier one plan, the Ooma Office Pro plan comes in at just $24.95 per month, per user, and includes additional features such as video conferencing, a desktop app, call recording, voicemail transcription, among others. In short, this plan covers just about every need one might have in a VoIP provider.
Enterprise level customers will be pleased to discover the Ooma Enterprise plan, which requires a contractual agreement at $27.99 per month, per user, to be a complete, customizable UCaaS solution. The enterprise plan features everything in the former two plans, plus additional features such as customizable call flows, dashboards and analytics, and open APIs.
The difference comes down to whether you connect using a desk phone or your mobile phone.
For desktop users, you'll pay $99.99 for the Ooma Telo – a dedicated router to handle your VoIP connection. This is similar to boxes seen with Ooma residential VoIP, Vonage, and other smaller VoIP services.
In addition to the hardware cost, you'll pay $19.95 per month which covers connectivity for a single user, a local or toll-free number of your choice and a host of other features that we'll cover below.
Adding additional users is easy, and the prices vary according to which plan you choose: Office plan = $19.95 per user, Office Pro = $24.95 per user, and so on.
If you prefer to just use your mobile device, you can load the Ooma business VoIP application and connect via any WiFi network to your Ooma account. This requires no upfront cost, as it doesn't require the Ooma hardware package,but it is charged a monthly rate of $19.95 for the service.
Phone Equipment
If you're starting a new Ooma account and need equipment, Ooma has desk phones (corded) available for purchase from Yealink. This includes dedicated conference phones.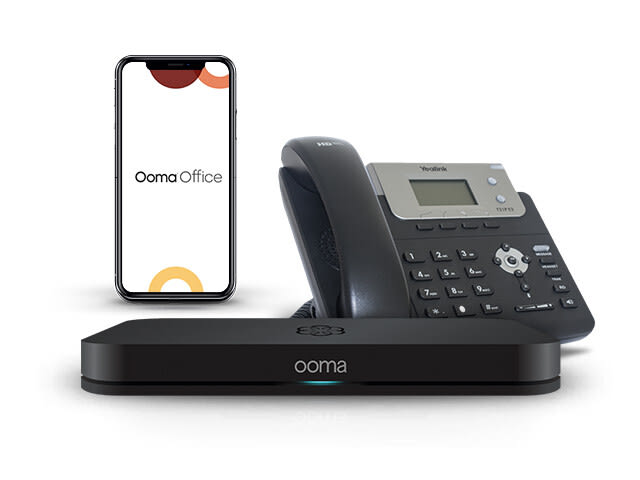 Ooma business equipment
Thanks to the flexibility of VoIP, you're not required to use those specific phones. Any VoIP ready phone will work just fine with Ooma phone services, though some configuration may be required. This is handy if you already have VoIP phones and want to use existing equipment, just check with your hardware guide and Ooma rep to ensure they're compatible.
Business Support
We're big on business VoIP providers who provide top tier customer support, so we were excited to discover that Ooma offers live 24/7 coverage on its toll-free support line.
Ooma business support also includes live/online chat available 24 hours a day. With that level of support you should be able to reach someone if you have business VoIP connectivity problems, quality issues, or questions outside of normal office hours.
Ooma support also includes online content, covering everything from how to administer the system's feature to configuring your account. This includes a thorough section on how you get started with the Ooma Office product too.
The company has made configuration easy with a simple 3-step setup process so, in most cases, you should be able to get your service up-and-running without the need to speak to technical support over the phone.
Using your Ooma login, you can control virtually every aspect of your experience with the company from system modification to accounts. The Ooma portal is fully cloud-based, so you can access, configure, and maintain your account from anywhere you have an internet connection.
Imagine taking a last-minute business trip with your team, only to realize at the airport terminal that some of your team will be without access to their phones while away. With a few clicks, you can change call routing to ensure customers always reach a live person at the office.
Support for International VoIP Calls
Making international calls with Ooma is easy. Unlike with other VoIP providers, there are no unlimited global calling plans, however calls to other Ooma users in foreign countries are completely free and included with your plan.
The plans also include unlimited calls in the US,Canada, Mexico, and Puerto Rico. International calls are charged at fairly competitive rates, which are subject to change. If you check with your Ooma representative, they can provide you with the most current international rates for countries in which you do business.
Auto Attendant Service
It's one of those little things that can make a small business seem a lot bigger. When you dial a number, you get connected to an automated voice assistant asking you which department you want to speak with or if you know the extension number of the person you're calling.
Ooma's auto attendant will also save you on operational costs. Rather than paying to staff a receptionist to handle incoming calls, or overloading your support staff with handling all inbound calls, let the automated system handle it. It gets your customers where they need to go without the labor intensive overhead and can reduce support response times.
Just dial into the system with your Ooma business login and you can easily configure options from your Ooma portal. For your greeting, you can manually record your greeting or use the "text-to-speech" option. With text-to-speech, the Ooma system will take up to 400 of your words and produce a greeting using your choice of male or female voices, and American or British accents.
While not as robust, there's enough functionality to cover most small businesses. This includes programming business and holiday hours, and alternate greetings for away periods. There's also the option to program in direct transfers to a virtual extension, physical extension, a ring group or voicemail.
Call Management
Ooma's pleasingly simple online user management system allows you to change how your company manages its inbound calls. Since Ooma targets primarily small businesses, there are noticeably fewer features than what you see offered by other providers. That's understandable though. A small company with 10 people doesn't need the same phone system as a company with 500 or 5,000 employees.
The upside to that is an intuitive user interface that makes call management a breeze. The Ooma portal comfortably handles 3-way calling with options for you to include and exclude callers at different points. For more complex interactions, you can make use of their "Conference Room" facility. This can handle multiple participants and it's easy to set up. Each caller needs just an extension number and a PIN to take part.
Call forwarding is reasonably basic on the Ooma system with no real equivalent of the "Find Me Anywhere" option provided by other VoIP companies. However, transferring calls is easy – you can transfer direct, attended transfer (if you need to explain the call to the person you're transferring to) or transfer direct to voicemail.
Fax
While features are limited for smaller businesses, even small businesses sometimes need to send or receive a fax. If that sounds like you, Ooma offers a "virtual faxing" service as part of its standard feature set, so there's no premium add-on fee associated with that.
To send a fax, upload a PDF and send it through your Ooma portal. When someone sends a fax to your business line, it's automatically converted to PDF format and delivered to you via an email address you designate.
App for Mobile Phones
The Ooma app for iOS and Android devices makes your phone part of your wider company VoIP network. You can make calls, transfer calls, and listen to voicemails with the custom app.
Unfortunately, there's no way to access your administrative dashboard from the mobile apps. If you need to make changes, you'll have to access your Ooma portal through a browser. There's very little inconvenience there, since every mobile device and smartphone today comes loaded with Chrome or Safari.
For such an affordable service targeting small businesses, it's great to see this kind of mobility. Especially since small business owners and entrepreneurs are often out in the field working to grow their business and can benefit greatly from these apps.
Software Integration
Other than connecting with Dropbox, Ooma offers no integration with well-known business desktop, mobile or cloud programs or apps. It's what you would consider a bare-bones VoIP solution.
Thankfully, most small businesses don't utilize costly systems like Salesforce so this shouldn't be a concern for most. If you do utilize any kind of customer relationship management (CRM) platform or want integration with software like Office 365, you may want to consider a different VoIP solution.

Ooma Office Visit Site
Features
The Ooma offering comes with 35 different elements as standard. Calling features included are: unlimited calling in North America, low international rates, caller-ID and name, 911 service, free number transfer, and toll-free numbers available.
Key office features that come bundled with your Ooma account include: virtual receptionist, extension dialing, voicemail, call transfer, call log, modes for business and afterhours, ring groups, music on hold, conference bridge, and virtual fax.
For when you're out and about, the mobility features in Ooma are: call forwarding, voicemail forwarding, multi-ring, and virtual extensions.
One-touch IP Phone features include: three-way conference, do not disturb, transfer calls, extension dialing, and call on hold.
While it's not as robust in features as other providers, it's still a solid feature set for the price so there's good value for the spend. If you fall within the 20-users-or-less requirement, then Ooma's signature "sound like a big business at a small business price" tag is speaking directly to you.
Conclusion
Ooma's devotion to smaller growing businesses and startups allows it to deliver world-class service and a solid feature set at a very affordable price. The company may not be a leader in VoIP, but it's certainly pulling in awards for providing tremendous service to its target audience. If you can get by with some feature limitations and you don't need software integration, Ooma business VoIP could be just the service provider your business needs.