Voice Over Internet Protocol (VoIP) phone systems are replacing traditional landlines at a rapid rate. In fact, the VoIP market is expected to grow at a 3.8% annual growth rate through 2026.
VoIP offers an online calling solution that, compared to legacy PSTN systems, has many benefits of VoIP phone systems: Better call quality, multiple communication channels, and advanced features.
Is your company considering VoIP for a mobile workforce? Let's look at the top 10 ways a VoIP phone system benefits remote workers.
» Find out the 10 questions you need to ask your VoIP provider before you sign.
1. Cost-Effective
Traditional landline systems can be expensive because they require several components. These include hardware like the local server and each user's phone setup, as well as the wiring connecting the central phone system to individual desks. IT resources and maintenance staff are also needed to keep everything running smoothly.
But with remote work communication like VoIP:
There's no additional hardware.
Users only pay a monthly subscription to access all the benefits of this telecommuting solution.
For example, RingCentral offers VoIP solutions for $20 per month.
2. Supports Remote and Hybrid Teams
A VoIP phone system can transform your business since it's a great fit for hybrid or remote teams. Its functionality is available on any device connected to the internet.
VoIP phone service providers typically offer:
Desktop, browser-based, and mobile apps
Key call-management capabilities, like call transfer, parking, and queue management
Built-in collaboration tools for teleconferencing, like team messaging and video conferencing
Advanced VoIP systems with sharable files and co-edit features for documents in chat conversations
Remote-based VoIP clients find that switching to VoIP unites dispersed and hybrid teams because users have a wider variety of communication tools that work from anywhere.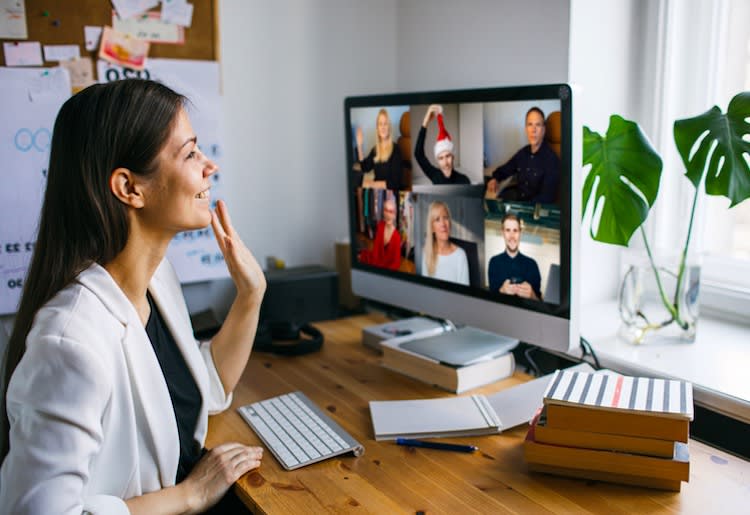 3. Increases Security and Privacy
All VoIP calls, video meetings, team chat transcripts, and user profiles are encrypted. This information and data are only accessible to verified users.
To uphold VoIP security, you can implement these measures:
Login methods like two-factor authentication (2FA) and knowledge-based authentication (KBA)
Meeting and call passwords
Procedures like these allow distanced VoIP users to connect with customers confidently and securely—even in industries such as banking and healthcare, which demand a high degree of data security.
4. Scalable
Cloud-based VoIP phone systems make it easy for remote team management.
For upsizing: Immediately upon sign-up, teams can purchase and assign virtual phone numbers to users around the globe.
For downsizing: Administrators simply need to remove users from the subscription and reassign DID numbers.
When clients switch from old PBX systems to cloud-based VoIP systems, they find it easier to adjust their company size, especially when working with remote staff. To add a new user, administrators only need to buy a new phone number and send the new user login details via email. This allows work to start quickly.
» Want to know more? See the benefits of choosing VoIP over PBX for small businesses.
5. Improves Collaboration
VoIP phone systems provide remote and at-home teams with the ability to collaborate through chat-based and video conferencing services that mimic in-person interaction. The majority of VoIP app interfaces offer the following features:
Create virtual meetings
Sync calendars among all team members
Teammates can join video meetings directly from the VoIP app on desktop or mobile
Interact with a variety of tools that promote collaboration, like live polls and real-time whiteboards
For example, one client whose team works from home uses RingCentral for video and chat-based remote collaboration. RingCentral's team messaging feature includes:
Task management, where users can create a task, assign it to a teammate, and select a deadline
Unlimited threads to share and manage files, for easy access, when teams jump into a video meeting
6. Multiple Communication Channels
For a remote office—and its customers—VoIP phone systems provide diverse business communication channels:
Voice calls, which can be flipped between devices and even to another channel mode, like video
SMS texting
Team chat, which often supports file sharing and threads to particular customer interactions
Video conferencing, which unlocks screen-sharing
Several clients have used their VoIP platforms to host webinars, sending out invite links to large numbers of customers and leads. During video meetings, teams can split into breakout rooms with smaller groups, encouraging more users to speak and facilitating a more interactive meeting.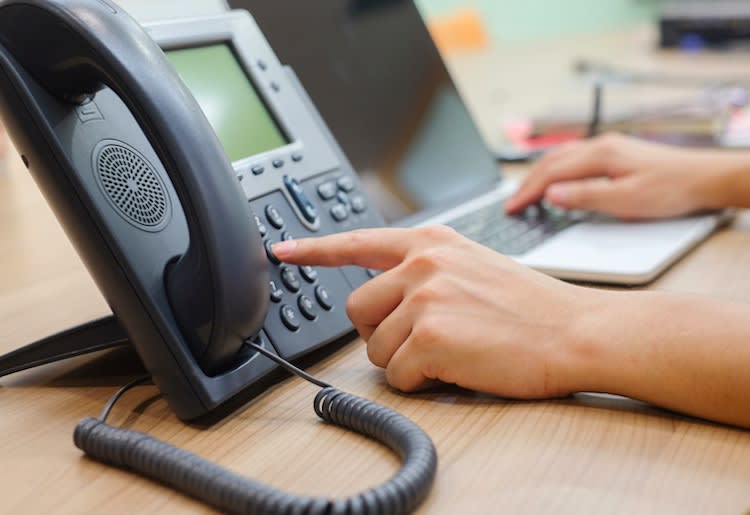 7. AI-Supported Features and Automation
Advanced VoIP applications employ artificial intelligence (AI) and automation to improve workflows, routing, and customer support. For instance, platforms like Dialpad and 8x8 offer automatic live call and video caption transcription.
These captions are analyzed using natural language understanding (NLU) capabilities to identify insights such as customer intent and provided information. Real-time interaction guidance is then generated for agents, enhancing customer service and providing new employees with strategies for customer interaction.
VoIP platforms can automate workflows, leading to improved communication by:
Notifying a supervisor when a queue's wait time gets too long or when a customer's sentiment level drops below a critical threshold
Activating multichannel communication tasks like texting follow-up surveys and appointment reminders to generate insights and improve customer relationships
8. Flexible Call Routing and Queueing
With distributed teams and more than half of Americans working from home, it's crucial to prioritize customers reaching the right agent on the first try. This removes the need to transfer calls, which lowers the average handle time and call-waiting blunders and increases the first-call resolution rate.
To identify inbound callers' needs and navigate them to optimal agents, VoIP phone systems include features like:
Auto attendant IVR menus
Skills-based routing
Ring groups—such as simultaneous ring, round-robin, or custom order—for easier employee skills evaluations
For example, if a remote team member is unavailable or away from their computer, the automatic call distribution system can identify the next best agent and rapidly reroute the call.
» Discover ways to reduce VoIP latency for improved call quality.
9. Easy Setup With Minimal or No Hardware
With a hardware-based PBX system, adding new agents requires purchasing new hardware and sometimes installing new phone jacks. In a virtual VoIP system with softphone functionality, new users only need a computer or phone.
Several clients use VoIP to unite international, remote teams. Some of their employees live in India, China, or Brazil but make business calls from US-based VoIP numbers. The company doesn't need to send them any hardware or install any workstations.
Administrators monitor call center quality and handle the full setup and number assignment process virtually, often in a few minutes.
10. Advanced Analytics and Insights
Remote-team supervisors sometimes lack the visibility to see how agents and queues perform.
Luckily, many VoIP phone systems feature built-in analytics dashboards and reports, which provide supervisors with useful overviews of:
Queue activity
Call quality
Channel usage
Agent performance, like calls answered
Call volume by time of day
Usage data per communication channel
You can sort these metrics by user, queue, and historical time frame—gaining customizable visibility and powering data-based decisions that can help make your business more efficient.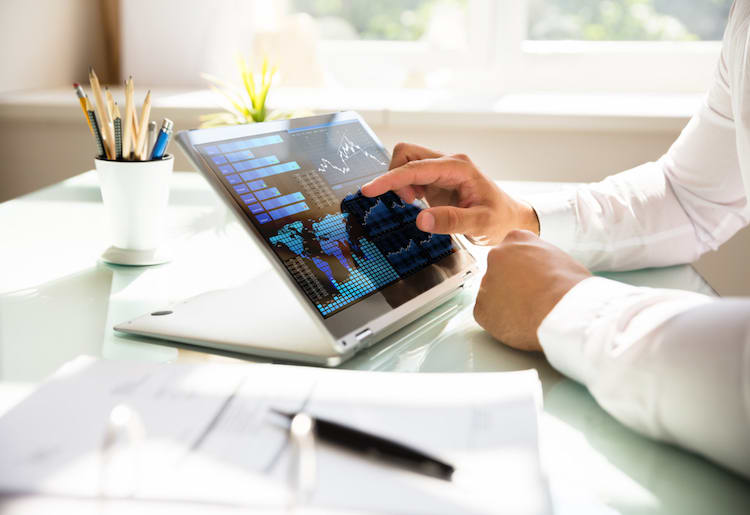 VoIP Phone Systems Unify Remote Teams
When evaluating VoIP phone systems for your company, consider your budget, frequent calling area, desired communication channels, and collaboration and analytics requirements.
Some VoIP providers offer low-priced plans featuring voice calling, basic routing, and unlimited calling in the US. Others have high-tier plans with multiple communication channels and unlimited internet calling spanning dozens of countries. But it all comes down to how you want to manage and support your remote teams.
» Ready to try VoIP? Check out options like Vonage or Zoom Phone.