Switching from a landline to a VoIP phone system can provide your small business with benefits like high-quality audio, multiple communication channels, and increased portability.
A good business phone system can boost sales and improve customer support, which could reduce your customer churn rate. This is why the VoIP market is expected to grow by 3.1% annually through 2027.
However, VoIP audio latency—or delay—can ruin a VoIP call. So, here are 10 ways to reduce VoIP latency for improved call quality.
» Need consistent HD-quality calls? Check out our top picks for the best VoIP providers and services.
1. Reduce the Number of Apps and Devices Sharing Bandwidth
Since VoIP calls rely on the transmission of audio data packets over the Internet, slow Internet speeds and insufficient router bandwidth are some of the most common reasons for latency.
If you want to free space for VoIP calls, you need to reduce the number of devices and apps that are simultaneously eating up your local network's bandwidth—especially data-heavy apps like video games and streaming.
If you have an on-site VoIP call center, you may have too many agents making VoIP and video calls at once on the same router. In this case, invest in an additional router to support the necessary bandwidth.
2. Connect Your Computer with an Ethernet Cable
Wi-Fi radio waves are more vulnerable to interference than an Ethernet cable connection. Disruptors and obstacles—including other Wi-Fi users, walls, and even items like microwaves—can all block or slow data packet transmission, leading to latency or dropped calls.
To protect the audio data flow from router to device, connect your computer to the router with Ethernet cables instead of Wi-Fi.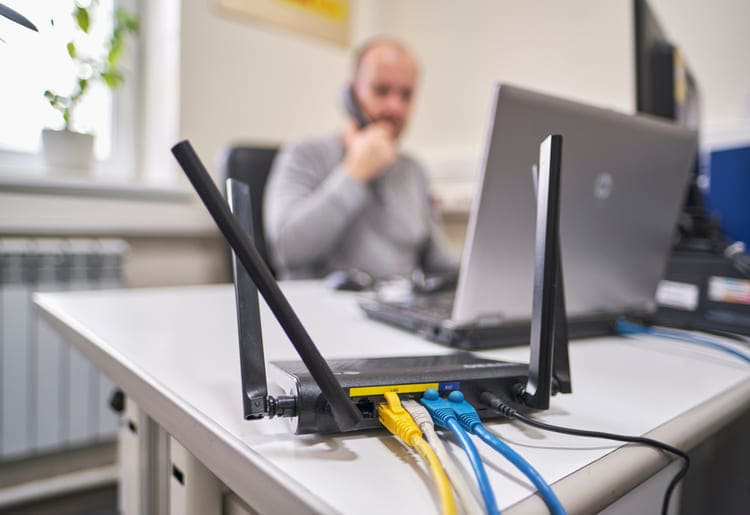 3. Configure QoS Rules
Quality of Service (QoS) rules are router settings that prioritize bandwidth for certain network traffic.
QoS settings tell the router which applications, Ethernet ports, and devices to prioritize—ensuring that these applications function smoothly when network traffic is congested.
To configure your router's QoS rules, log into your router's online settings portal. Go to "Advanced Settings," then "QoS Setup," and turn on "Internet QoS." Finally, navigate the QoS options to add priority rules for specific devices or apps.
» Want to keep your customers happy? Make sure to avoid these call center mistakes.
4. Upgrade to a New Router
Your network's router makes a huge difference in VoIP performance—especially when sharing bandwidth between dozens of devices.
Most routers on the market utilize Wi-Fi 5 (802.11ac), with a fast 5 GHz band and the ability to support dozens of simultaneous users and devices.
While these provide plenty of bandwidth for individual users and small families, they can get overburdened when 10 or more users engage in data-heavy activities, like VoIP calls or video conferencing, at the same time. A single Wi-Fi 5 router is likely not enough to support a small business or on-site call center.
Cutting-edge Wi-Fi 6 (802.11ax) routers include larger network capacity, faster download speeds, and technology that efficiently allocates data to support up to four times as many users as Wi-Fi 5 routers.
If many simultaneous users share the same local network, consider upgrading to a Wi-Fi 6 router.
5. Turn SIP ALG Off (or On)
SIP ALG is a firewall gateway technology built for old routers that modifies VoIP data packets to help them reach the right IP address.
However, most modern VoIP providers already handle this data transmission, making the SIP ALG setting redundant. SIP ALG might wrongly adjust VoIP data, redirecting it to the wrong IP address, resulting in lost audio or latency.
Many routers have SIP ALG turned on by default, so if you're experiencing latency, try turning SIP ALG off to see if this makes a difference.
To turn SIP ALG off, open your router's web interface and log in. Open "Advanced Setup," click on "NAT" or "VoIP," then make sure "ALG" is disabled.
6. Track Latency with a Free VoIP Speed Test
Most VoIP providers, like RingCentral and 8x8, offer free online speed tests that measure critical VoIP metrics, such as latency, jitter, and download speed. This information can help you determine the root cause of your latency issue.
Smooth VoIP calls require a download speed above 20Mpbs, jitter above 30ms, and latency below 250ms.
Speeds outside these ranges indicate a bandwidth and Internet connection issue, while speeds inside these ranges suggest the latency results from a problem with your operating system, VoIP application, or VoIP provider.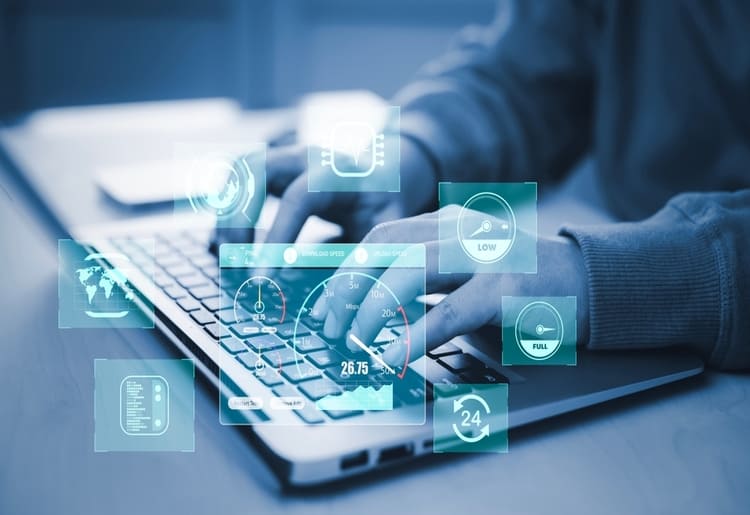 7. Change Your Routing Setup (Or a Component of It)
A local area network (LAN) typically consists of several pieces of technology—routers, modems, switches, cables, and connectors, as well as computers and devices with their own operating systems.
An issue with any of these devices—or the connection between them—can disrupt audio data transmission and lead to latency. If your VoIP devices use Wi-Fi, try moving them closer to the router, ensuring no obstacles or walls are between them.
If you use a switch, try skipping it by connecting the modem directly to the router to see if this improves your download speeds. Replace the switch if necessary. Finally, try replacing all cables and connectors.
» Not sure if you're meeting customer expectations? Try these tips for monitoring call center quality.
8. Update All Software
For optimal VoIP functionality, make sure that your VoIP application software and computer operating system are fully up to date.
After installing any necessary updates on both, restart your device and see if the latency issue persists.
9. Consider a New Internet Service Provider (ISP)
Each Internet service provider offers different speeds and data transmission limits depending on your location. For example, Google Fiber is known for having fast Internet speeds, while Verizon is known for having low latency.
Compare your ISP with other options or speak with your VoIP provider about which ISP might provide you with the fastest connection.
10. Switch from On-Premise to Cloud-Hosted PBX
If your company uses an on-premise PBX system and SIP trunk for VoIP, the physical equipment could be outdated or damaged—requiring maintenance or replacement.
While you can continue to maintain the hardware yourself for an on-site SIP trunking system, subscribing to a cloud-based VoIP provider like Vonage or Zoom Phone allows them to manage the PBX system for you.
With the help of professional providers and services, you can ensure that your phone system always functions smoothly.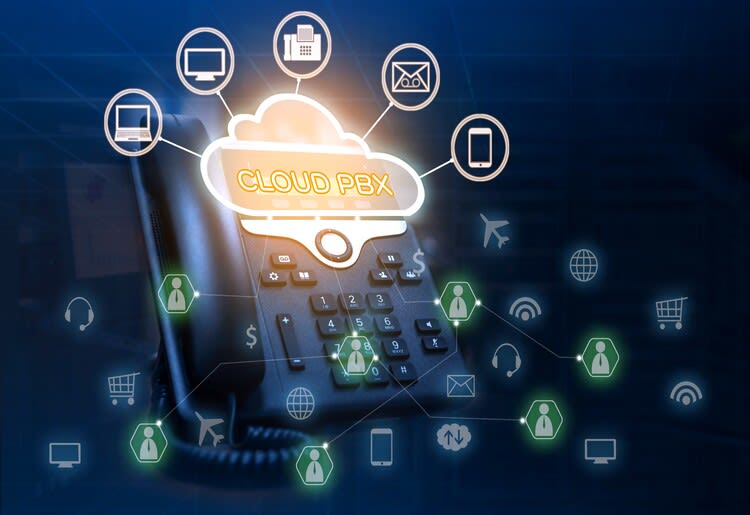 Low Latency is Critical for Your Small Business
Keeping your VoIP phone system latency below 200ms not only reduces frustration—it can also be the difference between a successful and a failed business call.
If you're experiencing latency, begin with a speed test to determine if slow Internet speeds are the cause. Then, examine your router's settings and the devices sharing your local network, prioritizing as much bandwidth as possible for VoIP.
» Ready to take your business to the next level? You'll need these essential gadgets and systems.