Asana Visit Site
Overview
Asana at a Glance
In Asana, every individual can organize their tasks their way with My Tasks. My Tasks is your one-stop-shop for viewing all of the work assigned to you in one central place. View your tasks in List, Board, or Week View. Create custom sections and automations to help organize and prioritize your work.
Using Asana
Orchestrate work across teams via projects
In Asana, team leads can organize work into projects that are shared across teams.
Ensure everyone is on the same page with the context they need to execute work confidently

Create accountability with clear assignees and due dates for every task

Facilitate smooth handoffs with task dependencies that show which tasks are waiting on others to finish

Help teams work more efficiently by empowering teams to work their way and see projects in their preferred view, like lists, timelines, or Kanban boards.
Build alignment across teams with OKRs
Asana Goals help you connect your company goals and the work to support them in one place. Help teams prioritize the work that supports the company's strategy and monitor progress.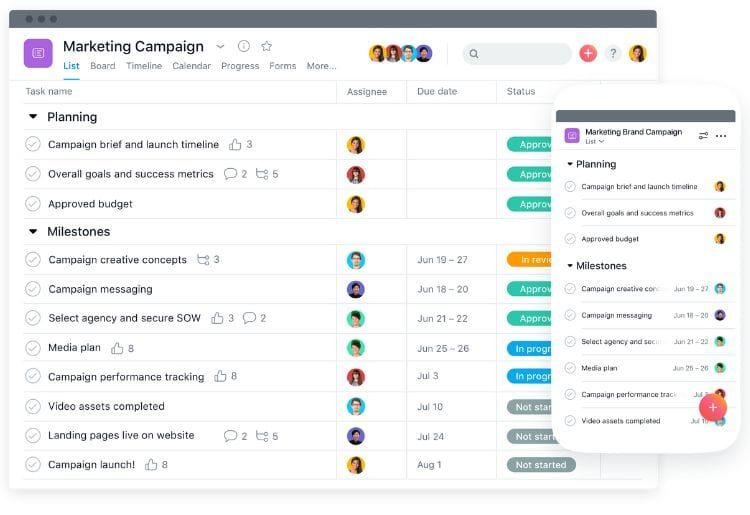 Real-time insights
Get real-time insight into the state of your team's work and the data you need to take action. Asana dashboards let you gauge progress across teams and projects—without manual effort. Share insights in minutes to keep everyone on the same page.
Workflow automation
Automate manual tasks and repeatable processes so your team can focus on connecting with customers and driving business metrics. Forms and Rules enable you to standardize your team's work intake process and automate how work is distributed.
Security at scale
The Asana platform is built on a foundation of trust and security. Asana takes a security-by-design approach to protect your data, and offers advanced admin controls, encryption in transit and at rest, and a comprehensive privacy compliance program.
Integrations
Keep work connected and secure by integrating Asana with your team's favorite tools. Asana connects with 200+ apps, including Microsoft Teams, Slack, Zoom, and Google Workspace. Our open API allows developers to build custom integrations.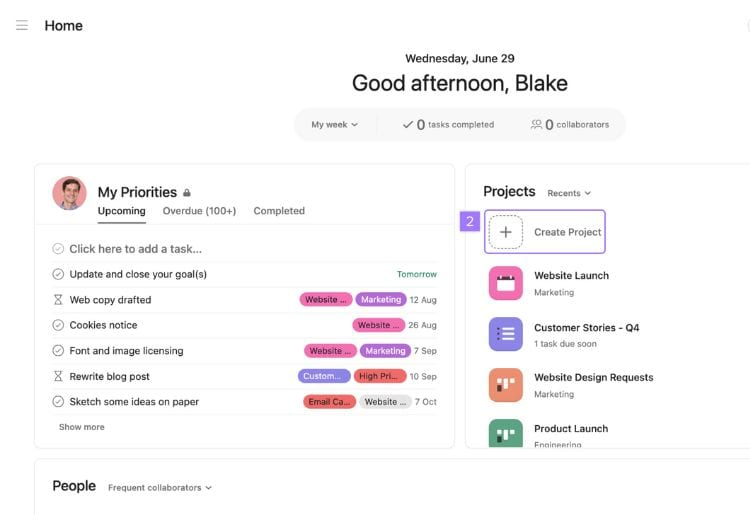 Data Privacy
Asana encrypts all data when transferring information between the company's servers and your computer. In addition, Asana's software and data centers are audited by a third party to ensure that they are secure.
Within Asana's software, you can set projects and tasks to private so only you can see them. Tasks can also be shared with invited group members only or set to comment only to prevent overwriting work.
Mobile App
Asana offers apps for the web, Windows and Mac desktops, and iOS and Android mobile devices.
Asana Desktop Apps
The Asana desktop app is easy to set up and use. A left-hand menu enables you to easily navigate between projects and tasks, while a top menu enables you to toggle between your dashboard and list, kanban board, and timeline views. You can add projects, tasks, and team members with a single button click.
That said, the software can feel a little busy at times. Task details open in a slider on top of your current view, and there's no way to pop out tasks into individual windows.
Asana Mobile Apps
Asana's mobile apps for iOS and Android offer a simplified version of Asana. You can still view tasks as lists, kanban boards, or timelines, but you need to tap on tasks to see any details about them. The apps support push notifications to alert you when you're added to a task.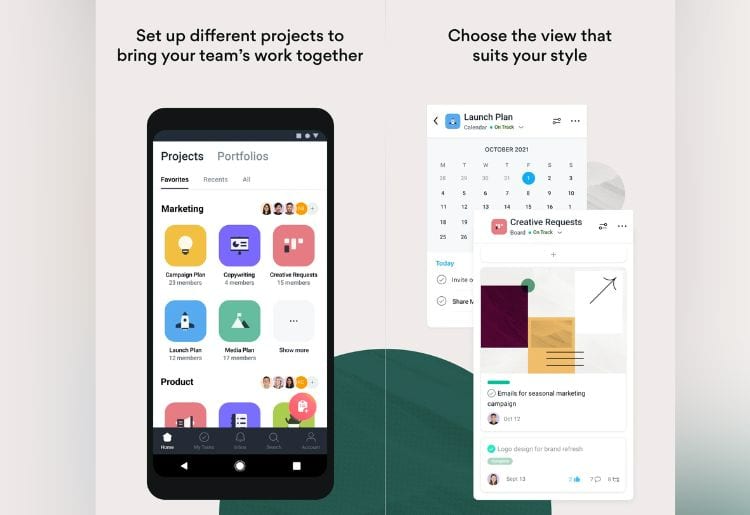 Asana Customer Support
Asana support is available to help customers with everything from onboarding to workflow optimization. Asana also offers step-by-step guides, video tutorials, live webinars, and a community forum to meet your team where they are today and guide them to get the most out of Asana.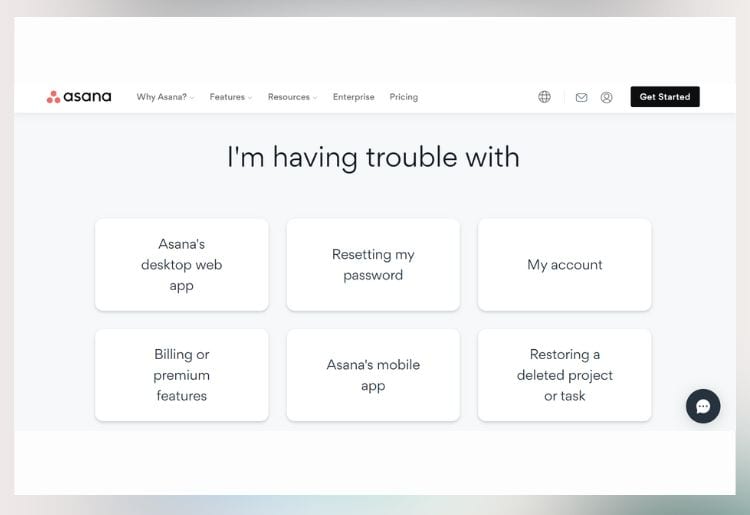 Online Form
Asana offers customer support through an online form. To access the form, you must first answer a few questions with a chatbot. Asana typically replies within a few hours.
Community Forum
Asana also has a community forum where you can get answers from Asana support team members and other users. The forum is searchable, so you can see if someone else had a similar question in the past.
How Much Does Asana Cost?
Asana offers a free Basic plan and paid Premium and Business plans. All plans include unlimited projects and tasks, unlimited storage, and kanban and list views. Plans can be paid monthly, but you can get an 18% discount when you pay annually.
Advanced (Salesforce, Adobe CC, Power BI)
Asana Alternatives
How Asana Compares to Other Project Management Programs
Dedicated account manager
Slack, Microsoft Teams, Google Workspace, Zendesk, and more
Slack, GSuite, Trello, Asana, Jira, Dropbox, and more
Flick, integrated personal calendar
With Pro and Enterprise plans

Asana Visit Site
Bottom Line
Asana is a highly flexible work management platform that makes it easy for teams of employees to collaborate. The platform excels at organizing tasks and offers a combination of list, board, and timeline views. It also enables managers to keep an eye on projects and offers automated workflows to eliminate routine tasks. Asana has more than 100 integrations, so it works seamlessly with any other software tools that your business is already using.