In a Nutshell
ClickUp is a task list and project management tool designed for companies and individuals that want to streamline their internal workflows. The software allows users to configure task dependencies to record whether progress is being blocked by another team member and link appropriate tasks.
pros
Easy to flag blocked tasks
Drag-and-drop interface
Task list and Kanban views
cons
Multiple layouts might confuse PM rookies
Free plan has 100MB storage limit

ClickUp Visit Site
Clickup at a Glance
Best for: Companies that want a project management tool with fair premium pricing
Key use: Task and project management with goal tracking
Price: $5-$19 per user per month
Storage: 100MB on free plan. Unlimited on Paid Plans.
Free trial: 30 days
Features and Functionality
Kanban and Task List View
ClickUp allows users to organize their project into a number of different views from lists, calendar, Kanban style boards or Gantt charts. Each user is able to set up a number of spaces designed to house details about their projects. Additionally, individual tasks can be filtered by status and subtasks can be hidden or displayed to reduce visual clutter.
Users can also choose to visualize their task list as:
A calendar. This view overlays tasks upon a standard calendar layout.

A map. If tasks have addresses added, then tasks can be plotted over a map to stay organized with different locations.

A Gantt chart. This classic project management charting format makes it easy for managers to visualize dependencies and expected completion dates.

Box charts.

Mind maps.

Timelines.
Additionally, users can use the embed feature to add content from other websites into tasks, views, docs and dashboards.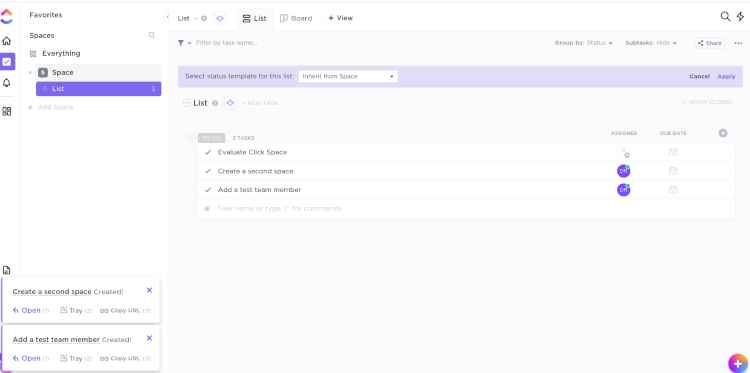 Task Dependencies
If Users' workflows are being held up by colleagues, then ClickUp makes it easy for team members to signal exactly what is causing the delay. Users can:
Add "waiting on" tasks. If users are waiting on tasks to be completed before they can execute this one, they can link the tasks together.
Add blockers. If users are unable to proceed because they are being blocked by some uncompleted task, that can be signaled. Project managers can then work to free up resources.
Links can also be made between tasks even when they are not blocking one another to mark dependencies. These will be automatically reflected in charting exports.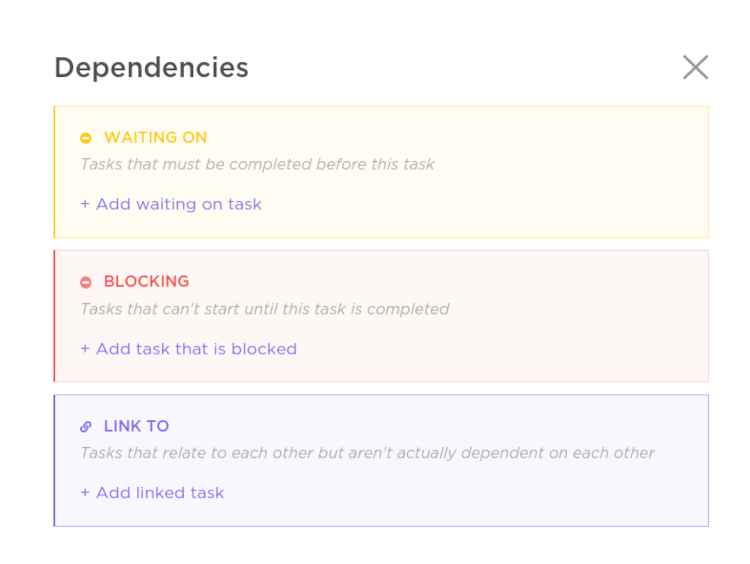 Custom Statuses
Since no two companies have exactly the same internal workflows, ClickUp makes it easy to set up custom statuses for each project workflow. These can either be totally custom statuses or users can choose from templates that were developed for certain functions. For instance, the marketing template option includes statuses such as "in progress," "running" and "in review."
Collaboration Tools
Sidebar Widget View
ClickUp supports live, real-time collaboration. Users are also able to filter project tasks according to the task owner. To make this easy, the tool populates users' avatars in the People Sidebar. Managers and other users can click on a person's headshot in order to see the tasks they are currently responsible for.
Workload Visualizer
Not sure which team member has too much on their plate and which could be open to receiving delegated projects? ClickUp's Workload View feature makes it easy to visualize exactly how occupied each of your project resources are. Assigning additional tasks to team members is as easy as dragging and dropping projects over to them.
Watchers and Assignees
With ClickUp, organizations can greatly cut down on the amount of email that moves around the department. Instead of having to email a team member for their input on a project, users can simply tag that team member by typing the at symbol and then their username. Additionally, users can be added to tasks as watchers rather than assignees. These team members will receive notifications as the project progresses but will not be marked in the system as being responsible for execution of the task in question.
Plans and Pricing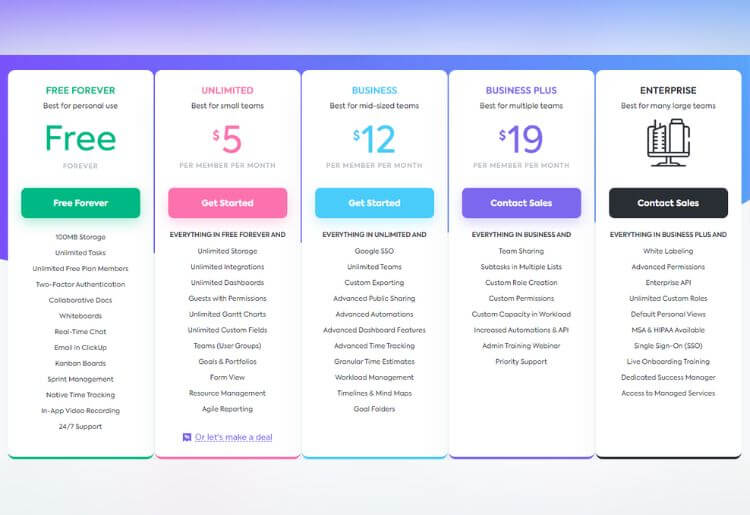 ClickUp is available with a lifetime "free forever" plan which includes unlimited users and tasks—although total storage is limited to 100MB and users can only set up 5 project spaces. The company supports 2 paying tiers—Unlimited and Business—as well as one custom-quoted tier for large, enterprise-scale user-bases.
The Business tier, which costs $12/member/month allows users to add up to 10 guests to the system while the Unlimited tier supports 5 guests. The Business tier also lets users customize the look and feel of the platform to match their branding guidelines and provides them with 10,000 automations per month.
Price per member per month
Apps
ClickUp has really poured effort into rolling out an impressive selection of apps and integrations for just about every platform users could need. Firstly, users can access the tool through its web UI simply by accessing a web browser and accessing the software. Additionally, ClickUp makes desktop clients for Windows, Mac, and Linux—as well as iOS and Android for smartphone users. There are also apps for Alexa and Google Home as well as a Chrome extension and a Gmail plugin.
Data Privacy
All data transmitted to ClickUp is secured at rest using AES-256 based encryption. ClickUp also hosts its infrastructure in a redundant and secure environment. Data stored in ClickUp is secured by a firewall and by other security features.
Customer Service and Support
ClickUp offers 24/7 support including on holidays. The company has a watchable demo as well as an extensive documentation library detailing everything from use case demonstrations through to feature and integration guides.

ClickUp Visit Site
How ClickUp Compares
Dedicated account manager
Tableau, Discord, Miro, Calendly
Dropbox, Hubspot, LinkedIn, Zoom, Mailchimp
Office 365, Excel, QuickBooks, Dropbox, Slack
Bottom Line
ClickUp provides a very scalable and robust project management tool suitable for organizations of every size. It allows project managers to visualize project statuses in a wide variety of ways—and supports easy workload balancing and collaboration.