Miro Visit Site
Overview
Miro Project Management at a Glance
Best for: Collaborative project management
Third-party integrations: 100+
Timeline views: Yes
Automations: Yes
Mobile app: Android, iOS
What is Miro?
Miro offers a visual interface that enables teams to collaborate on project management, planning, and more. It includes tons of integrations and workflow management tools, and it's one of the top-rated options on the market.
Miro also includes presentation features for visualizing the progress of your project and keeping your team up to date. It's extremely easy to use, and the free forever version is perfect for testing it before committing to a premium subscription. But once you've seen how powerful it is, I don't think you'll hesitate before upgrading.
Best of all is that Miro is suited to teams of all sizes. Individuals and freelancers can easily use it to keep track of larger projects, and there are enterprise-level tools for larger teams. You can even invite guests or visitors to collaborate on specific projects with you.
What is Miro used for?
Miro Project Management enables you to create visual workflows and collaborative plans. It's very user-friendly, and there are 1000+ templates on which you can base your work. This can help you optimize workflows and make your business more efficient.
The collaboration tools are the standout feature, enabling colleagues to edit workspaces simultaneously. Built-in features like video conferencing and screen sharing enable teams to collaborate in real-time to create flawless project management plans. This is particularly useful for remote or geographically dispersed teams that struggle to meet in person.
Miro Features
Miro boasts a wealth of powerful features, and even its free forever plan includes a surprising number. Here are a few of the most noteworthy.
Collaboration tools
One thing that stands out about Miro is its focus on collaboration. It enables you to work alongside your colleagues and other team members, editing the same board or workspace simultaneously.
What's more, you can invite guests and visitors to collaborate with you. They won't have the same privileges as paying team members, but they can still view, comment on, and edit boards.
Third-party integrations
Miro integrates seamlessly with 100+ third-party apps and workflow management programs. These include content and design apps like Figma, communications apps like Slack, and even the Google ecosystem.
On top of this, you can create your own apps through the Miro Developer Platform.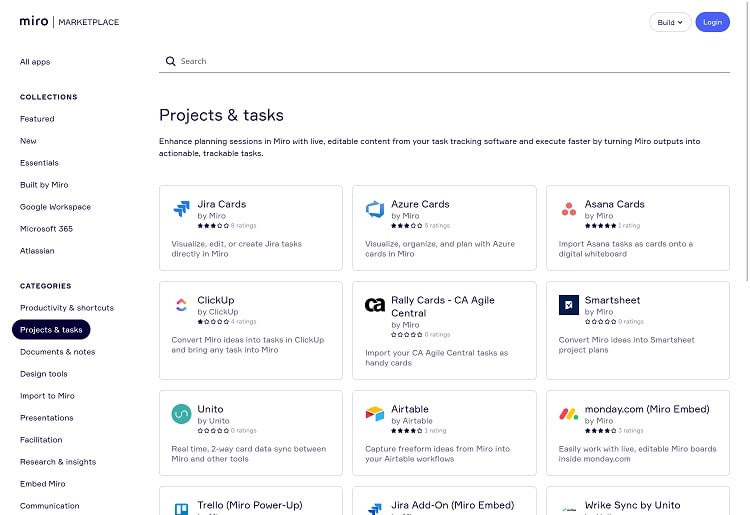 Ready-made templates
Another thing I really liked about Miro was its huge template library. Here, you'll find 1000+ pre-designed templates, including everything from simple mind maps and Kanban frameworks to meeting templates and event planning guidance.
Video conferencing
You'll also have access to built-in video conferencing tools—super useful for team meetings and discussing projects. This is available on all premium plans, and the video tools are built into the collaborative toolbar at the top right of your dashboard.
Data Privacy: Is Miro Safe and Reliable?
Miro places a strong focus on security and data protection, using enterprise-level processes across the board. It meets ISO/IEC 27001, NIST, SOC2 Type II, SOC3, and TISAX certification requirements.
There are also numerous tools to control viewing and editing access to your boards. All data is fully encrypted while in storage and transit using industry-standard AES 256-bit encryption. This enables Miro to maintain compliance with global regulations such as the CCPA and GDPR data protection standards.
How Miro Works
Miro uses a visual interface that enables you to get started in minutes. As an admin or team manager, you can create new workspaces. These can contain multiple boards related to a single project or part of a project. They can also be edited and shared as required, and you can integrate third-party apps for extra functionality.
How To Get Started With Miro Project Manager
I'd recommend you start by signing up for the free plan. This provides a decent overview of the user interface and tools on offer. Upgrading is super straightforward and there's little required in the way of setup.
You will need to configure your integrations, however, which I'd advise doing when you sign up. The user dashboard is ready to go out of the box, and you can add new team members in seconds. Overall, it's extremely easy to sign up for and start using Miro Project Management.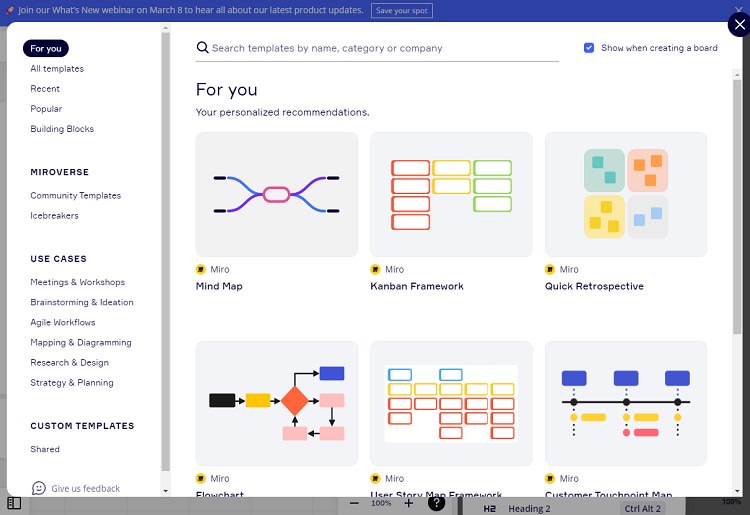 Collaboration Tools
There's a range of collaboration tools on offer that enable you to work with your colleagues in real time. For example, multiple people can work simultaneously on a single board or workspace. This does have a downside, though, as it means that you can't properly use Miro offline.
You'll also find built-in video and audio chat tools. These are helpful for team meetings, enabling you to share your Miro boards with other participants.
Analytics Tools
Miro lets you integrate any of a number of third-party analytics and reporting apps if you require extra functionality on this front. These include Google Analytics and others.
Miro Customer Service
All Miro subscriptions come with full access to the Help Center, which contains loads of useful self-help resources. For example, there's a full admin deployment guide that's split into multiple easy-to-understand sections. I found the in-depth articles and tutorials extremely useful when I was familiarizing myself with the software.
Paid subscribers will have access to email support. This is good, but I would have liked to also see either phone or live chat, as a way of getting a rapid response when you just have a simple question.
The top-end Enterprise plan also comes with a free onboarding program that's super useful for teaching your employees about the platform. Enterprise subscribers can also pay an extra fee for premium support, which includes 24/7 service and faster response times.
How To Cancel or Pause a Miro Project Management Plan
You can't pause your Miro subscription, but it's quite easy to cancel your plan. Simply click the Team Profile menu to open the Settings menu. Head to Billing, scroll down to the bottom of the page, and click the Cancel Subscription button.
Note that canceling your subscription doesn't automatically delete your or your team's profile. You'll still be able to access premium features until the end of your billing period. Then, your Miro boards will be locked to view-only, although they won't be deleted.
You can reactivate a canceled subscription at any time before the expiration date. After this, you'll have to resubscribe if you want to continue using Miro.
Is There a Miro Project Management App?
The Miro project management app is available for free on iOS and Android devices. It doesn't have the same functionality as the browser or desktop apps, but it's still quite useful.
I found the app to be very intuitive and easy to navigate. You can view boards, create and share new boards, and add to existing boards. You can also perform other basic actions, but you won't be able to access more powerful features like presentation mode, voting, or board export.
Miro Project Manager Pricing
How Much Does Miro Project Management Cost?
Miro has four different subscription options, including a basic free forever plan that enables you to create up to three boards. The Starter plan comes in at $10 per user, per month ($8 with annual billing) and adds unlimited boards (on a single workspace), lost content recovery, team meeting tools, and more.
The more powerful Business plan unlocks unlimited workspaces, enabling you to create separate ones for different teams and/or clients. It comes in at $20 per user, per month, or $16 with annual billing.
Lastly, there's a custom-priced Enterprise plan that's designed for larger businesses. It includes advanced features like enterprise-level security, advanced admin controls, and optional 24/7 premium support.
Dedicated account manager
Miro offers options for businesses of all shapes and sizes. The free plan is great for freelancers or small businesses trying project management software for the first time, whereas the Starter plan is suited to small businesses working on a small number of projects. Larger service-based businesses working for numerous clients at a time would find the Business subscription ideal.
Miro's prices sit at around the industry average when compared to the competition. It's certainly not the cheapest option out there, but it's not bad.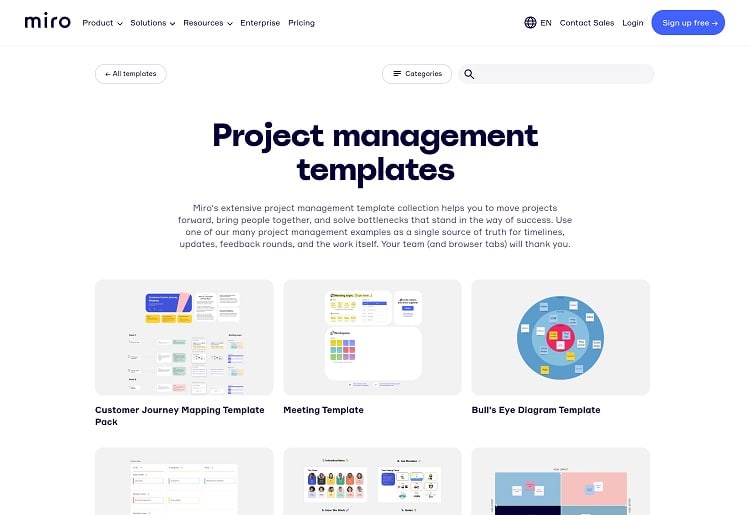 What can you do with Miro for free?
I found Miro's free plan to be excellent, and I particularly like the generous array of features that come with it. You'll only be able to create up to three editable boards, but you can export these as required.
You'll also have access to most integrations, simple collaboration tools, and two-factor authentication. On the downside, most admin features are confined to premium subscribers, and the free plan doesn't allow guest or visitor collaboration.
Optional add-ons
Miro's only optional add-on is its Premium Support Package, which is available exclusively to Enterprise subscribers. It enables you to access support significantly faster than with a standard subscription. Prices start at $5,000 per year or 10% of your contract value, whichever is the larger.
Miro Project Manager Alternatives
How Does Miro Compare to Other Project Managers?
Collaborative boards and workspaces, built-in communications, real-time collaboration
Collaborative digital whiteboard
Collaborative project pages, teams, real-time collaboration
Real-time collaboration on Lucidchart files

Miro Visit Site
Miro vs Mural
Mural is quite similar to Miro, as it enables teams to visualize data and information. Although not specifically designed as a project management app, it comes with loads of excellent project management features. Mural is a little more expensive and has significantly fewer third-party integrations. But overall, both are worth considering and have free plans that you can use to test them out.
Miro vs Figma
Figma is a design tool that can be used for project management, while Miro is a dedicated project management tool. Figma is significantly more expensive than Miro, and it has a much smaller number of integrations. However, it could be a good option if you're looking for a program to use for design as well as project management.
Miro vs Lucidchart
Lucidchart is another visual design-focused tool that you can use for project management. It comes in at $7.95 per month for the cheapest plan, and there's a free trial that you can use to give it a try. Miro remains my choice for dedicated project management, but Lucidchart still brings plenty to the table.
Bottom Line
Miro stands out as one of the top-rated visual project management apps on the market, and it's easy to see why. I particularly enjoyed how easy it is to use. The 100+ third-party integrations are useful, and the collaboration tools are excellent for maintaining productivity and working seamlessly as a team.
What's more, Miro has a great free forever plan and various premium options. You can invite guests and visitors to collaborate on your projects, and there are built-in video and audio conferencing tools. Overall, I'd highly recommend signing up for a free account and giving it a go if you're looking for a powerful yet easy-to-use visual project management program.