monday.com Visit Site
Overview
Monday.com at a Glance
Simply put, this is an easy-to-use and highly effective project management platform that may have you rethinking what you think of Mondays.
How Monday.com Works
Features and Functionality of Monday.com
Visually Pleasing, Easy-to-Use Boards
monday.com provides a comprehensive view of everything your team is working on by way of a series of boards. You can see who is working on what and seamlessly add tasks, rating them by importance and progress.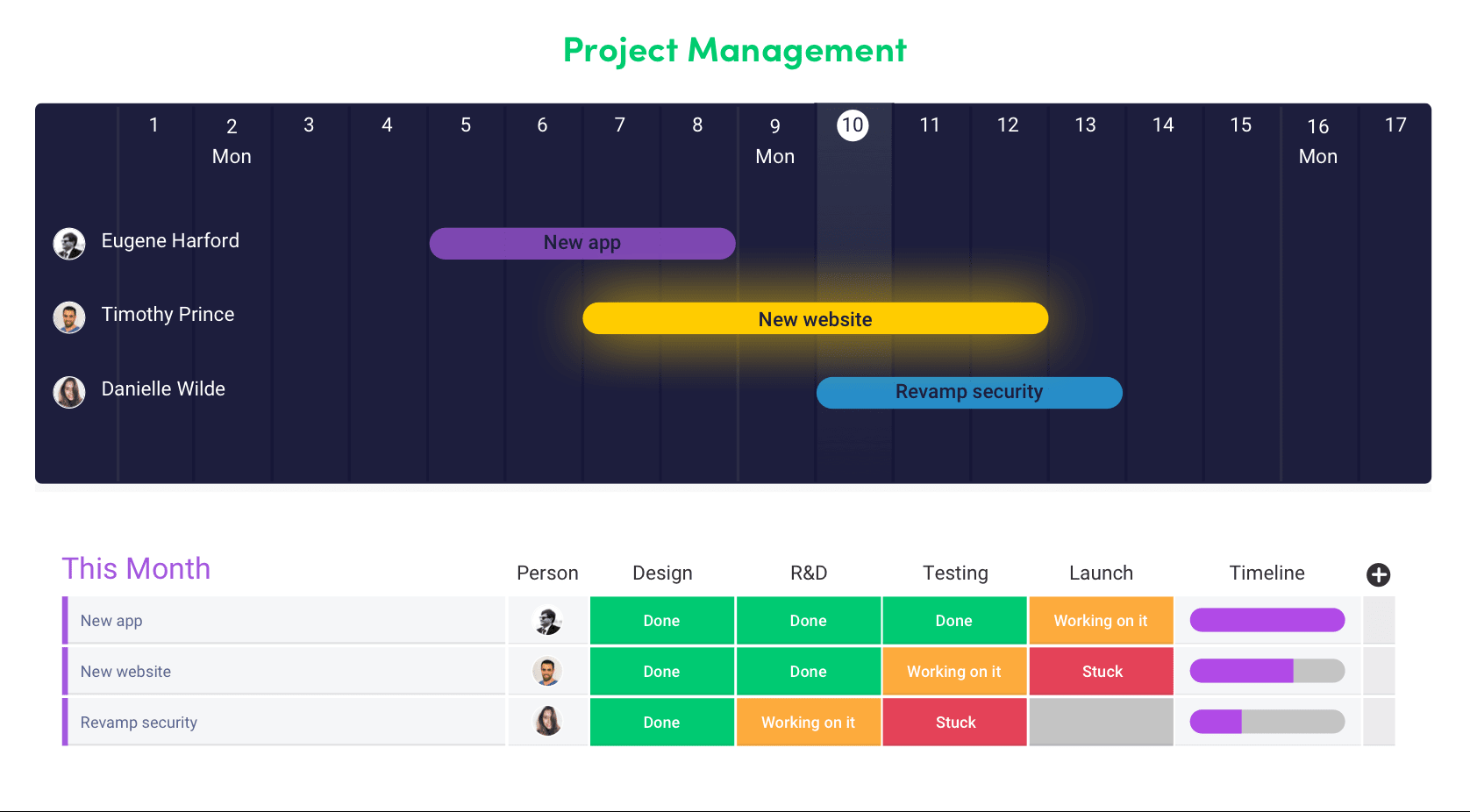 Check Your Pulse
Within monday.com, users can add new rows called "pulses" to any task board. These rows are fully searchable and can be anything from a new task or a meeting, a client or an appointment that needs to be taken care of. You can make them viewable by the entire team or just specific people. Within the pulses, you can @ specific employees so that they see the mentions in their email.
Drag and Drop it
When organizing your pulses on monday.com, you can easily use your mouse to drag and drop them wherever you need. This means that you can shift a task to a specific team or a different supervisor in an instant, or move them up on a certain list as priorities change. It's quick, simple, and a big part of what makes using monday.com a breeze.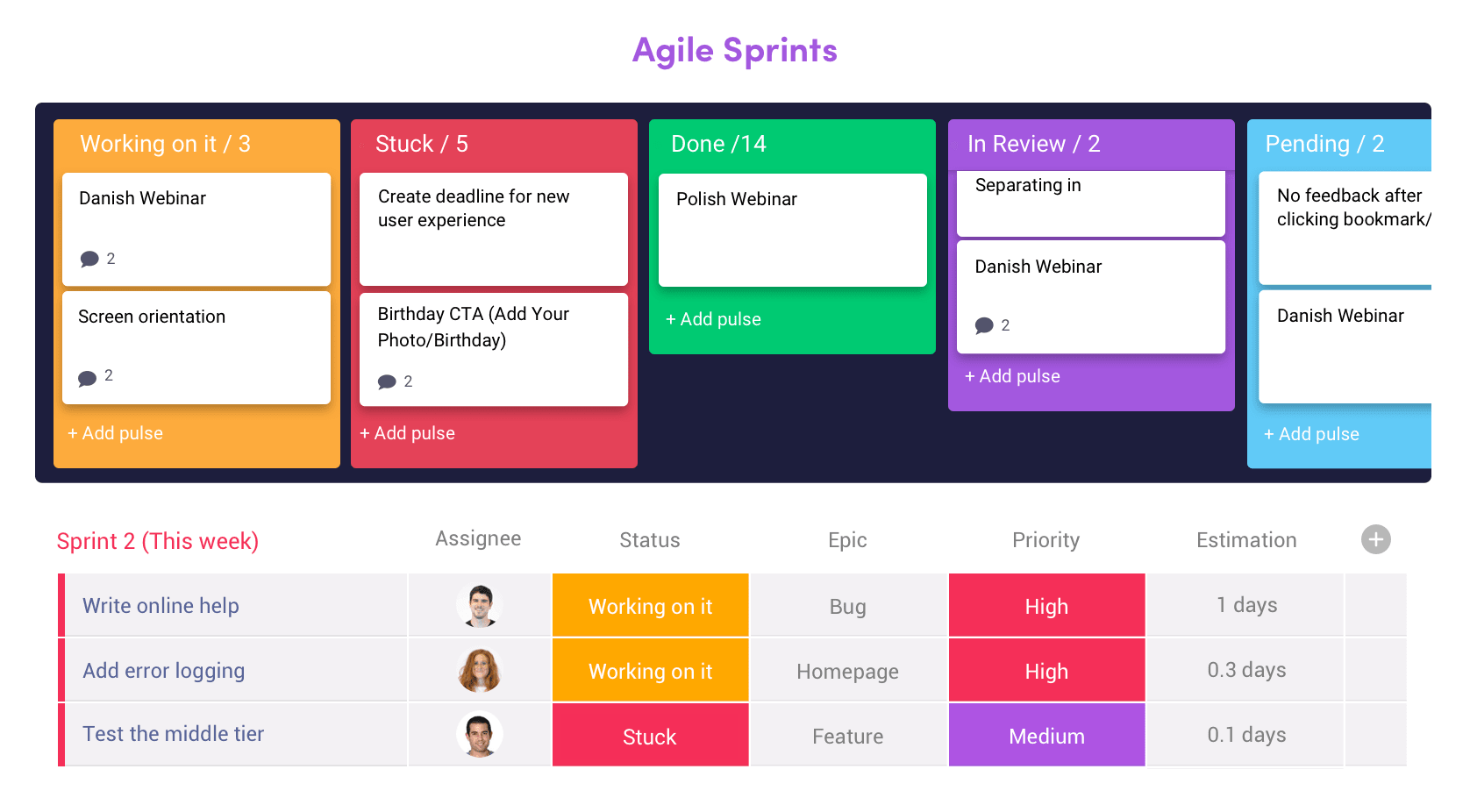 Dedicated customer success manager
For Enterprise users, monday.com supplies a dedicated customer success manager who can provide personal support for whatever issues you may have with the platform, and will be at your service 24/7.
Collaboration Tools
Bring your clients on-board
monday.com allows you to invite clients to work as guests and add their own input within the pulses. This boosts collaboration by including the client in the process, while reducing the number of emails and phone calls you receive.
Collaborate across each others boards
On monday.com, users can make comments or "like" posts within other employees' pulses, which are sent in real time to make sure everyone is up to speed. These notifications can be sent to a mobile device and answered remotely, which streamlines communication even when employees are out of the office.
Integrations and collaborations
monday.com seamlessly integrates with a large number of apps and programs that can help your business stay on top of things. It can integrate with Google Drive and Google calendar, allowing you to upload any files from Drive and sync your Google calendar with your monday.com tasks. You can take your office Slack and turn messages into tasks on monday.com, and you can also upload files from Dropbox and import files from Excel. Other integrations include Trello, Asana, and Jira.
Data Privacy
All monday.com users have the ability to opt out of providing personal data to the platform, but the company does maintain the right to change this policy at any time. You do not have to provide the company with personal data in order to access general information on the sites, but the company does collect information such as your name and email, phone number, and information you choose to provide such as photo, phone number location, time zone, job title and the like. The site also collects data about how you use it and the links you interact with, and what integrations you use. monday.com will also need to receive your payment details in order to process transactions for the service.
The company's log files include IP addresses, browser types, your device type, ISP, date and time stamps, among other data, and also uses cookies.
monday.com states that the data is used in order to improve the service provided to users, and transfers it to other countries and shares it with subsidiaries or affiliated companies in order to store or process the data.
In terms of security, monday.com uses what it says are "generally accepted industry standards to protect the personal data submitted to us" and cannot guarantee its absolute security or confidentiality.
A more comprehensive breakdown of monday.com's data and privacy policies can be found on the site.
Monday.com Apps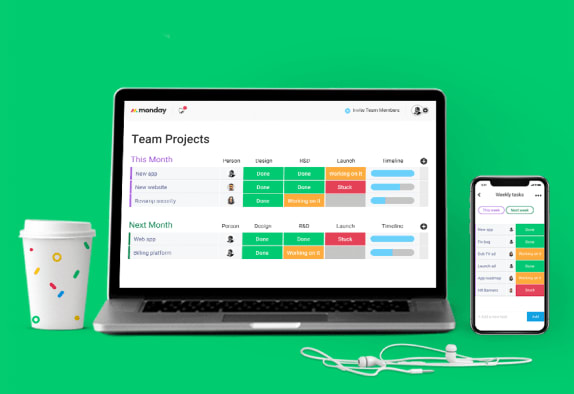 Desktop apps
monday.com has desktop apps for Windows and for Mac. Both are easy to download directly from the monday.com website and set up is quite easy. You can set up your desktop app to send you notifications at any time. You will need to be hooked up to a network to use monday.com, as it is cloud-based. If you have any problems with setting up or running your desktop app, you can contact monday.com at support@monday.com.
Mobile apps
monday.com offers mobile apps for both iOS and Android. Both are free on either Google Play or the App store and include the same features and ease of use as you'd expect on the desktop version of monday.com.
Monday.com Customer Support
If you opt for the enterprise service plan you will have a dedicated customer support manager who can help you out 24/7. For everyone else, you can contact monday.com by way of the support email at support@monday.com, or by phone.
In addition, the company has an online help form you can fill out. You also get access to an extensive self service knowledge base and daily live webinars.
Finally, monday.com also features a large number of FAQs and articles that can seamlessly walk you through using the platform.
Monday.com Pricing
How Much Does Monday.com Cost?
Two-factor authentication
User profile customization
VIP support with account manager
24/7 priority support with <30 min response time
How much does it cost?
When it comes to the bottom line, how much you pay for monday.com will depend on how many employees you want to be able to use the system and which package you choose. One problematic aspect of monday.com's pricing is that the prices are not specifically per person, rather, for 3, 5, 10, 15, 25, 30, 40, 50, 100, and 200+. In other words, if you don't have a round, divisible by five number of users, for instance you have 12, then you'll end up having to pay for the 15 users, or pay for 10 users and decide which two employees to leave out.
For anything over 40 users, you'll have to get a custom quote. And typically the longer the better—a year-long plan saves you 18% over paying monthly.
Monday.com Alternatives
How Monday.com Compares to Other Project Management Programs
Dedicated account manager
Slack, GSuite, Trello, Asana, Jira, Dropbox, and more
BigCommerce, Magento, WooCommerce, and dozens more
Flick, integrated personal calendar
With Pro and Enterprise plans
Monday.com Vs Zoho Projects
Monday.com and Zoho Projects offer incredibly customizable project management platforms with affordable plans, with free trials and free plans available. They both offer Gantt chart capabilities as well as handy mobile and desktop apps. The key difference between the two is that Zoho offers 200+ integrations in comparison to Monday.com's offering of only 50+.
Monday.com Vs FunctionFox
FunctionFox and Monday are similar in that they're both PM tools. But when it comes down to it, there are some huge differences between the two. While they're both great products, Monday has more features than FunctionFox does. For example, you can use the calendar view on Monday to see your deadlines easily - but there's no equivalent feature on FunctionFox, only a simple calendar that shows notes, events and meetings. FunctionFox provides no free plan and starts providing timesheets and project tracking at $5 per month, per user. Monday.com, on the other hand, does have a free version for individual users, as well as paid packages for teams.

monday.com Visit Site
Bottom Line
Running an office—be it a team of 5 or a workforce that's 250 and growing—presents challenging logistical and manpower issues. Having the right tools at your disposal helps keep everything in running order. monday.com is a great option for helping you get your ducks in a row, by combining a clean, easy-to-use, drag and drop interface that puts all of your tasks across a canvas you can navigate and organize smoothly. You'll also enjoy the ability to add guests and unlimited users to tasks, and to tag team members so they get instant updates and stay in the loop.