Wrike Visit Site
Overview
How Wrike Works
Wrike's set of features supports your efforts through the full lifecycle of a project, from inception and planning to reports and conclusions about the project's efficacy.
Here are some key features you can use to better organize projects and tasks.
Customizable Folder Structure
Wrike uses a visual folder structure, with folders representing a department, client, or portfolio—or whichever classification you choose. Within these folders, you can have multiple projects, which are further broken down into tasks and sub-tasks. The idea is to take a big goal and break it down into manageable tasks that can then be assigned to different members of your team, or other teams within your organization. ou can attach files for each item, make comments, tag relevant parties, set due dates, and update statuses. If you want to change your structure, folders can be turned into projects and vice versa at any point. A task can also be included in multiple folders or projects.
Live Editing and File Management
Multiple documents and other media can be directly uploaded to a task and edited within the Wrike workspace without any need to download. Changes made to documents can be seen by collaborators in real-time (like in Google Docs).
Gantt Charts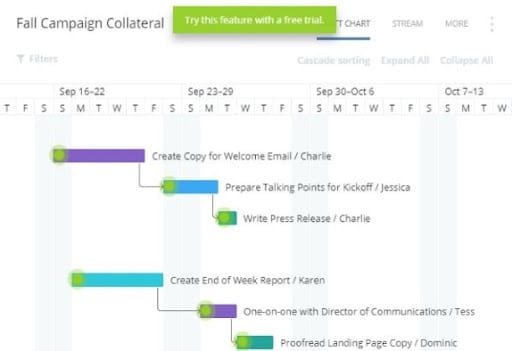 Wrike's online Gantt Charts, which the company also refers to as its Timeline View, provide you with a view of multiple interdependent tasks on a grid, which you can drag and drop with your mouse to change. It's a great way to get a bird's eye view of a project and recognize potential bottlenecks. If you change the due date of one task, the due date of dependent tasks will automatically adjust to take the change into account. When such changes are made on a Gantt Chart, all stakeholders tagged on the task will automatically be notified.
Resource Management and Time Tracking
Wrike helps make the optimal use of your team members' time with its workload view, which shows all employee tasks on a grid to see who is overloaded and who has time for more tasks. In addition, tasks include a timer, so that employees can mark how much time they spend on each individual task, which can then be tallied to see how much time and budget resources a project is taking.
Reporting and Automation Features
Wrike features a report wizard that allows you to create reports from scratch or from existing templates. These reports can give an overarching view of a project or a status update that can then be shared with relevant stakeholders. You can also keep up-to-date on a project's status with customizable dashboards that provide you with a snapshot of the key data that is important to you.
In addition, Wrike has a number of features that automate recurring processes, allowing you to easily scale. These include dynamic request forms, in which information filled out by clients can automatically be saved as part of tasks or projects, as well as project templates, which can be used to quickly set up a project, including its dashboards and reports.
Collaboration Tools
Most, if not all, of your company's projects are likely to be collaborations between multiple members of your team. Wrike has tools to make sure everyone is on the same page in real-time. Whenever one project collaborator wants to assign a task or address a comment to someone else, they need to simply @mention the employee, who will then see the update or comment instantaneously in their own Wrike workspace.
In addition, Wrike can be integrated with Outlook, Gmail, or Slack, so that emails and instant messages can automatically be attached to tasks in the Wrike workspace.
Documents, images, and videos that need approval or proofing can be commented on or edited directly on Wrike, so everyone involved in a task or project can see the latest changes clearly highlighted.
Unfortunately, Wrike does not include a built-in chat app, which would make it a perfect collaboration tool.
Ease of Use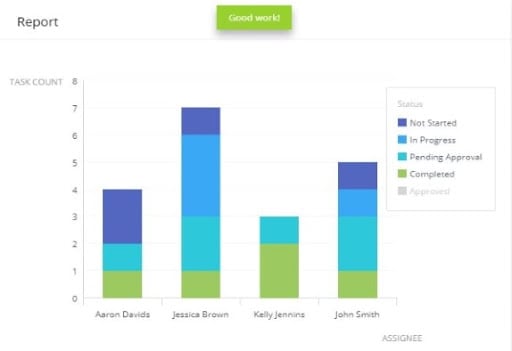 Wrike simplifies the management of projects and day-to-day tasks, but you should be prepared for a lengthy onboarding process if you want all of the members of your team to participate fully.. There are so many features that the interface can seem overwhelming, particularly for someone who hasn't already used another project management software. Wrike does provide learning resources to help onboard employees, but mastering all of its features will take some dedication. If you plan to use Wrike as a simple task manager without taking advantage of all of its features, you can get it functional for a small team relatively quickly.
Data Privacy
Businesses should feel confident entrusting their sensitive information to Wrike. The company employs comprehensive security at all levels in compliance with US and EU information privacy standards. In addition, Wrike vows to meet or exceed 99.9% uptime to ensure you have access to your project data at all times. In the rare event that Wrike is unavailable for technical reasons or due to scheduled maintenance, there is a read-only replica that is always accessible so that you will have access to your data. Wrike continually backs up client data to ensure that no detail is ever lost.
Wrike Apps
Wrike is an online project management tool that allows you to work directly in your internet browser from any computer. However, the company also offers a desktop app for both Windows and Mac, as well as mobile phone apps.
Wrike Desktop App for Windows and Mac
Wrike's apps for Windows and Mac lets you access all of the tool's features with no browser required. You can simply pin the app to your taskbar or dock, and set it to open at startup. You'll conveniently be able to see how many unread inbox items you have on your taskbar or dock. You can open projects and tasks in a separate window or in tabs and Wrike links will open in the desktop app as well. You can download and setup the app in minutes. Plus, you can integrate it with other apps, such as Slack and Gmail as part of the setup.
Wrike Android and iOS Apps
Wrike's free Android and iOS apps let you enjoy many of the tool's functions on the go from your mobile device. You can respond to mentions, inbox items and requests, add tasks, access documents, and track time spent on projects just to list a few examples. The ability to work offline and continue to time your tasks is a particularly useful feature for somebody who plans to be in and out of WiFi range. Wrike's mobile apps are relatively dependable and efficient with a 4.3 out of 5 user rating on the App Store, and a 4.4 rating on the Play Store.
Wrike Customer Support
Implementing project management software like Wrike completely changes the way that you organize tasks and collaborate with peers. Learning how to change your project management methods can be daunting, but Wrike seems to understand this, reaching out to offer help immediately upon signup. A Wrike representative will send you an email, offering to set up a call to help you implement the software and get started. In addition, the company offers onboarding webinars, a knowledge base with information on how to implement and maximize the effectiveness of Wrike, and a community board where you can share information with other users. If you have further questions or technical difficulties you can call Wrike or submit a ticket and receive a callback. The company does not offer a 24/7 live chat support service.
Wrike Pricing
Pricing & Special Offers
Wrike offers a multi-tiered pricing system in which you pay a monthly fee per user. There is a free plan for up to 5 users, with a limited amount of storage space (2GB) and simplified task management functions.
Shared task list for small teams
Full project planning & collaboration
Robust work management with customization and exec reporting
Tailor-made solution for marketing & creative teams
Comprehensive solution with advanced security & controls
If you want to take advantage of some of Wrike's best features, however, you'll have to opt for a paid plan. The Professional Plan, which costs $9.80 per user each month, gives you access to Gantt Charts, advanced integrations, and shared dashboards. While the plan only gives you up to 15 users, you can have unlimited collaborators, who can use the product but can't create tasks.
The next step up is the Business Plan, for $24.80 per user each month, which allows up to 200 users, as well as 50GB of storage, time tracking, Salesforce integration, and shared real-time reports. There is an Enterprise Plan as well, with advanced security features.
Unique to Wrike is a special plan for marketing teams. You have to contact Wrike for pricing details.. This gives you everything you get in the Business Plan, plus other features such as Video proofing, an Adobe Creative Cloud extension, and a tailored workspace.
Large teams of 20 or more will have to pay an additional fee for onboarding services, which includes expert training.

Wrike Visit Site
Bottom Line
Wrike is not the cheapest project management tool on the market, but product managers from top international firms such as Airbnb and Verizon have chosen the software and laud its simplifying influence on their complex operations. The company does offer a limited free version of its service, as well as free trials for its paid plans. By integrating with Salesforce, as well as Jira and GitHub, Wrike ensures there is no double work and no holes in your work processes, from start to finish. It's a cut above other project management solutions and well worth the price.