Many of the best psychic reading websites have free offers so that you can test out what style of psychic reading and which reader is the best fit for you, prior to spending money on a reading.
Here are some of the best sites that offer free deals on psychic readings.
1. Psychic Source
Get 3 minutes free with your first reading
Not happy with your last reading? It's free
Psychic Source is among the most reliable and trusted psychic websites around. While you can't try it out entirely cost-free, the introductory packages of 10, 20, or 30 minutes all include an extra 3 minutes free.
Anyone consulting a psychic for the first time can be reassured by the thorough screening process that psychics must pass before appearing on the site. Psychic Source also offers a satisfaction guarantee, according to which it will refund your money if you weren't happy with your last reading.
When choosing an advisor, you can filter the results by specialties, subject, type of reading, and reading style. Use the filters and reader reviews to narrow your search down to relevant readers. Use your free 3 minutes with a reader you think you'll connect with so you can continue to a longer, paid reading after the 3 minutes are up.

Psychic Source Visit Site
2. Keen
First 3 minutes free
Get reimbursed if you aren't satisfied with a reading
Keens psychic readers specialize in love and relationships so it's a great first port of call if you're looking for some guidance in this area for the first time. You can try it out entirely risk free by using the special introductory offer of the first 3 minutes free.
Once your free minutes are up you'll be asked to choose whether you want to continue with the reading so you can rest assured that you won't be charged without your consent.
You can easily search through the available readers and check the rankings and reviews left by other customers to help you decide whom to try. It's worth taking the time to really go through the reviews prior to choosing a reader so that you have high chances of spending the 3 minutes with a reader you'll want to continue with.

Keen Visit Site
3. Kasamba
First 3 minutes free + 50% off for new users
Refund of up to $50 if you're not satisfied
Kasamba's special offer of the first 3 minutes free stands out because you can use it not just the first time you use the site, but every time you get a chat reading from a new psychic. This means you can try out different readers without worrying about wasting your money on someone you may not connect with. Connect with a few different psychics using the 3 free minutes deal and commit to a paid reading once you've found someone you really like.
In addition, Kasamba's satisfaction guaranteed refund means that you can extend your trial call beyond the first 3 minutes and get a refund if you're not happy with it. Users who are new to the site get an additional 50% discount on their first psychic reading.
Make the most of your time by using Kasamba's clear ranking and reviews as a guide when you choose from the dozens of psychic readers available on the platform. Once you've found a reader or a few readers that seem to match your style, give them a try before paying for a full reading.

Kasamba Visit Site
4. PsychicCenter
3 minutes free for first chat reading
Full refund if you're not completely satisfied with a reading
PsychicCenter doesn't offer free readings, but the site does feature a special satisfaction guarantee which can help you out. Under the guarantee, if at any time during the first 5 minutes of your consultation you're unhappy, you can get the 5 minutes credited back to your account. While not technically free, the guarantee does mean that you can try out any writer basically risk-free. If it doesn't work, you can get the minutes back in credit to your account. The site has a relatively large database of psychic readers who specialize in a wide range of skills, ranging from tarot cards to astrology and can perform medium readings, as well as many other proficiencies.

PsychicCenter Visit Site
5. Oranum
Free public chat every hour
9.99 free credits for new users
Oranum is a great place for anyone who wants to get to know a psychic for free before committing to a paid reading. With Oranum you can enter the live public video chat room for free to experience a live reading. There is a new live reading by a different psychic every hour, and you can always enter for free. Enter a few free readings so you can get to know some of the psychics before choosing who to pay for a private reading.
Oranum also offers 9.99 credits free to new users, although it's difficult to say how many minutes that will give you since every psychic sets his or her own pricing. Take advantage of the live chat room as well as the site's reviews and ratings, so that you have all the information you need before paying for a reading.

Oranum Visit Site
How to Make the Most of Your Free Psychic Reading
When you start your free psychic reading it's important to go in with an open mind. You don't want to waste your free minutes on blocking the flow of energy, so enter the reading ready to really listen. Use your free minutes to absorb all you can about the style and tone of your reader so that you can decide whether he or she is a good fit for you to continue.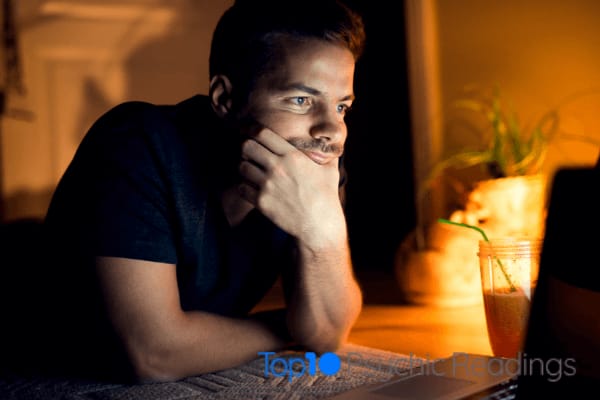 If you do end up deciding to pay for a reading, spend your money wisely. Choose a psychic whose listed style and area of expertise matches what you need. Try to calm any strong feelings of fear, doubt, or hope so that you won't influence the reader with your emotions.
If you don't get the answers you were looking for, don't give up. Try a different network so that you can test another psychic for free, and this time try someone who uses a different approach or a different style.