Keen Visit Site
Keen Psychics Video Review - 10 Reasons to Try Keen.com

Overview
Keen Psychics has a rating of 4 stars from 140 reviews, indicating that many customers are generally satisfied with their services. However, while the platform scores well in ease of use with a rating of 4, it has received slightly lower scores in brand satisfaction, value for money, and service quality, all at 3.5.
This suggests some areas of improvement for the brand in terms of overall customer satisfaction.
How Keen Psychics Works
How easy is it to sign up?
It is easy to sign up and create a Keen account. To register, you simply need to click on the Register button in the upper right-hand corner and enter your email address.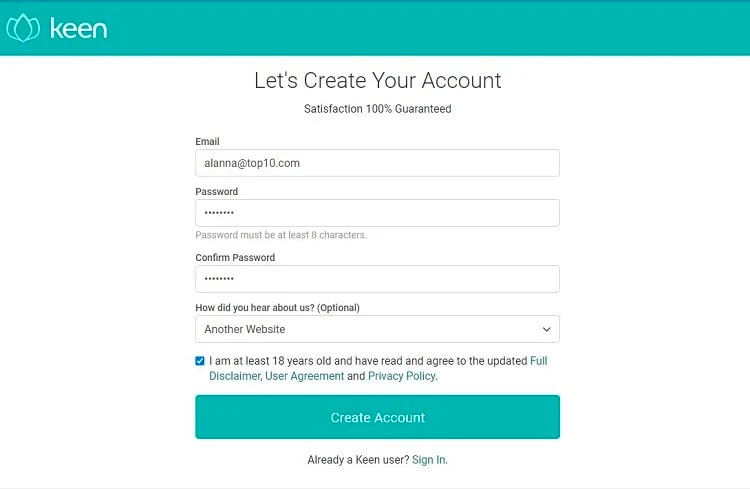 What personal information do you have to provide?
Keen.com doesn't ask for any personal information and all that is needed to create your account is an email address and a password. Before connecting with a reader, you'll also have to add a payment method, of course.
Keen Features and Tools
The Get Matched tool assists you in finding the Keen psychic who can provide exactly what you are looking for.

Keen's Review and Rating System is the best of all psychic sites. Since the rates and reviews are user-generated, they are accurate reflections of the services each Keen psychic provides.

Keen horoscopes and articles are available to pursue, learn from, and ponder for personal insight.

The videos Tips from Featured Psychics cover do's and don'ts of Keen online psychic readings, what to do after a psychic reading, how to get the best reading on a budget, and when to ask specific questions.
How to Choose a Reader at Keen
What types of readings does Keen offer?
There are a wide variety of readings available, such as Keen tarot cards, psychic, financial outlook, life questions, spiritual readings, mediumship, love life and relationships, astrology (Western, Vedic, Mayan, Chinese), dream interpretation, feng shui, numerology, pet psychic, angel, and aura and chakra cleansing. There are also readings in Spanish available.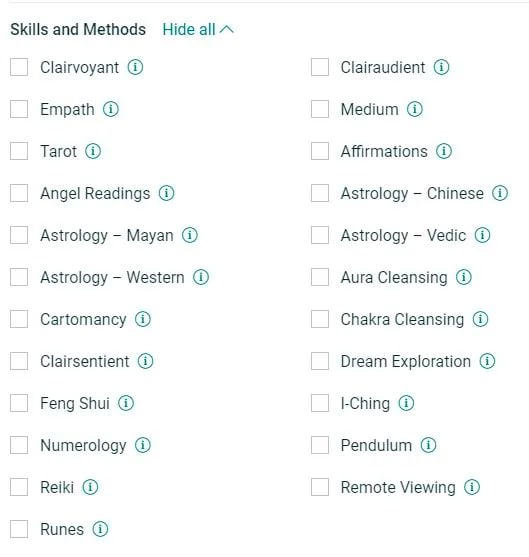 What type of reader information is available?
It is up to the reader to provide information, therefore, not all readers will have every section of the profile filled out. However, top-rated psychics have a short introduction, background information, and their approach to a reading, which gives a description of their style and method of doing things. There are also lists featuring the specialties, skills and methods, and languages of the reader.
Are there customer reviews of readers?
Yes. The vast majority of advisors on Keen have user reviews, with some sporting hundreds if not thousands of them. While many users choose to simply thank the psychic, some go into further detail or warn others of bad experiences they had. What's great is that you can see whether the user had a phone or chat reading, which can help you decide which kind of reading to book.

Also disclosed is the number of readings the reader has performed, the number of reviews posted, and the year they began advising on Keen.
How easy is it to book a reading?
Booking a reading on Keen couldn't be easier. Button icons clearly indicate if an advisor is available for a phone or chat reading. When the button is green, the reader is available immediately. When the button is grey, the reader is not able to be contacted at that time.
If the reader is currently unavailable, you can arrange a call or chat for the psychic to contact you when they're available. The process differs for call and chat arrangements but is simple and straightforward in either case.
Arranging a call
You can set arrange a call with multiple psychics at once. As long as you have funds to cover at least one minute of conversation, you'll be able to connect when the psychic is available. However, this does not guarantee the psychic will reach out during any specific time frame, but you can set a limit on how long you are willing to wait.

You're given an estimated wait time based on the Keen psychic's average call length and the number of customers in line.
Arranging a chat
You can only set up one chat at a time. There is no guarantee the chat will occur, and the request expires after 24 hours. You must agree to SMS text notifications for when the reader is ready. Once you get a text with the chat link, you have two minutes to log on and begin the chat before the reader moves on to another customer.

As with calls, you're given an estimated wait time based on the Keen psychic's average chat length and the number of customers in line.
How can you connect with Keen advisors?
Keen readings are available by phone call, chat, or email. The chat system is an instant messaging platform, and the email is sent through Keen's own personalized messaging system (not your regular email).
How can you block or unblock an advisor?
If for any reason you don't want to be connected to a reader, you can always block or unblock a reader. Once blocked, you will no longer receive messages from Keen advisors or be able to place a call or chat with them.
To block an advisor, visit Mail, select Options, and then select Block An Advisor. Enter their username and select Block.
To unblock an advisor, visit Mail, select Options, and then select Block An Advisor. Under unblock user, select the advisor's username and select Unblock.
Can you leave feedback or rate an advisor?
Yes, following your reading with Keen advisors, you have a fourteen-day window to leave a review. The written comments and feedback are visible on the reader's profile for 12 months once posted. In order to leave a review, the phone call must be four minutes long (not including promotional three minutes).

You can only leave one review per day, so if you speak with two Keen.com advisors in one day and review one afterward, you would have to wait until the next day to leave the other Keen psychics review.
Can you create a favorite list?
Yes, you can create a list of your favorite psychic readers if you've found ones you connect strongly with. To add a reader to the list, all you have to do is click the heart-shaped icon next to the reader's profile picture. Readers are also automatically added to your favorites list after you had a reading with them.
Can you ping your personal advisor?
Yes. You can use Keen's Ping feature to send instant messages to advisors that you have connected with before. The purpose of this feature is to strengthen your connection to the advisor and arrange readings. You should be aware that Keen advisors will not give free readings or simply chat.
Is Keen Legit?
How does Keen screen potential physic readers?
The only screening Keen does for psychic readers is identity verification. Anyone can decide to offer their services on Keen as long as they adhere to the User Agreement.
What's the process for becoming a reader?
Psychics can open an account right away on Keen by going to the Give Advice section on the website. It takes about 30 minutes to create a listing on the site, verify their identity, and provide payment information. Once their profile is complete, the psychic receives a toll-free number to start receiving calls and chats from customers.
Do Keen psychics work for the company?
Keen simply provides a platform for psychic experts and customers to connect. Keen psychics are hired as independent contractors. All communication and services are mediated through the site.
How do users feel about Keen?
Overall, users have given positive Keen reviews. Since launching in 1999, Keen has serviced over 14 million people by providing 42 million readings. There are only a handful of complaints on the Better Business Bureau — 33 to be exact — which makes it safe to say the majority of users are satisfied. Multiple sources have also rated Keen as number one in their choice of online psychic services.
Keen Mobile
Does Keen Have an App?
Yes. The Keep app is available through the Apple App Store and the Google Play Store. It is free to download and you can use your existing Keen login account.
The app is very easy to use, with similar features as the Keen psychic website. Features on the Keen app include connecting with psychic readers, viewing psychic profiles, arranging calls and chats from one's mobile phone, and a free daily Keen horoscope, which can be shared on Facebook, WhatsApp, Mail, and SMS. You can also leave reader feedback on the app.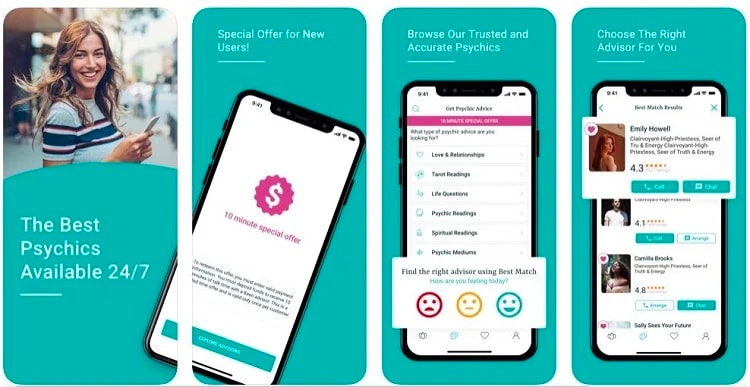 However, there are fewer options for psychic readers on the app though, as not all categories are listed. The app categories available are Keen astrology, general sessions, love and relationships, mediumship, and tarot reading.

While you can still access your first-time customer special offer, there are no additional offers for return customers or promo codes available on the Keen app.
Keen Support & Customer Service
Keen's great customer service is one of the reasons that it is one of our top choices for online psychics. You can either fill out a form online with your question and description of the issue or call Keen's customer support number (877-533-6435).
Keen customer support is available:
Monday-Friday: 6:00 AM - 6:00 PM PST
Saturday-Sunday: 8:00 AM - 4:30 PM PST.
Generally, you can expect a reply within one business day.
In addition, Keen.com has many FAQ pages for different topics, from their Satisfaction Guaranteed policy to psychic advising. Keen's policies are very clearly laid out with a question and answer format in every section, highlighting the most commonly asked questions.
How to Get a Refund From Keen
You can request a Keen refund for an unsatisfactory experience once every 30 days and it must be done within a 72-hour timeframe of the reading.
How easy is it to request a refund?
Keen has made requesting a refund a very easy process on their website. You can find the form to fill out on the Satisfaction Guaranteed page on Keen's website. Once on this page, you will be asked to explain the details of their dissatisfaction.

If Keen determines the request is valid, a refund of up to $25 will be credited to your Keen account. No money is refunded, just credited in the form of Keen dollars.
How long does it take to get a refund?
Typically, Keen will process the refund in 1-2 business days and the credit can be used for another reading.
Pricing
Keen has a pay-per-minute pricing structure. Readers choose their own price per minute, ranging from $1.99 to $30. This offers a range of prices to choose from within your budget. The payment structure is very straightforward, and there are no value packages, bundles, or bulk credits available for purchase.
As an introductory offer, you can choose either three minutes for a Keen free reading or ten minutes for $1.99. Keen recommends the second option, claiming it's a better deal in most cases. The first option would only be better if the reader has a very high price per minute.
Top Payment Methods
Credit Card (Visa, Mastercard, Discover, American Express)

Debit card

PayPal

Prepaid Gift Cards

Pricing and Special Offers
Pricing and Special Offers
Price per minute, starting at $1.99
3 minutes free or 10 minutes for $1.99
Do you have to deposit funds before being able to choose a reader?
Yes. Funds must be deposited via your chosen payment method before connecting with a reader. However, you can browse the site for free, view all the psychic readers' profiles, and do the Match Me questionnaire. Keen is clear you will not be charged until you find an advisor.
What payment methods are accepted?
Keen.com accepts PayPal, credit cards (Visa, MasterCard, American Express, Discover), and pre-paid debit or gift cards. All payment methods must be issued in your name and be authorized for personal use only—that can be a bit limiting for some people. Payment methods classified as business, corporate, or commercial are prohibited.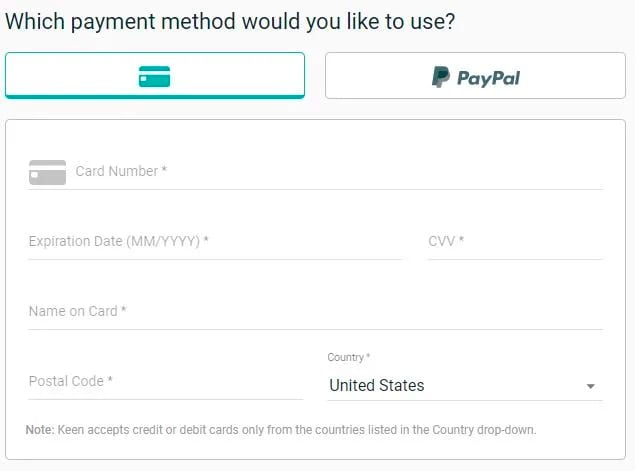 Keen Psychics Alternatives
How Does Keen Psychics Compare to Other Psychic Reading Sites?
Like most other psychic reading sites, Keen's price per reading is set by the psychic readers and can change significantly depending on who you pick.

However, its starting prices are among the lowest. Keen frees you to decide whether you want your readings via phone, chat, or email—a big advantage when you're on the go and want to have a quick reading but can't talk on the phone. Keen's special offer of the 3 first minutes for free is hard to beat and only Kasamba can keep up.
First 3 minutes free or $1.99 for 10 minutes
$1-$4 per minute for first reading based on tier level
Introductory value package of $1 per minute for 10, 20, or 30 minutes
3 free minutes and 70% off first session (up to $50)
Keen vs California Psychics
Keen and California Psychics are two leading psychic reading sites, but Keen has a few advantages over California Psychics. First, Keen has a better introductory rate, offering $1.99 for 10 minutes, compared to California's Psychic discounted introductory reading rates ranging from $1-$4 per minute plus an additional code for 5 free minutes.

Second, Keen offers readings via phone, chat, and mail, while California Psychic only offers phone readings. The better pricing and variety of reading types give Keen an edge over California Psychics.
Keen vs Psychic Source
Keen and Psychic Source both have their unique advantages. Keen has the better introductory reading rate at $1.99 for 10 minutes compared to introductory value pages of $1 per minute for either 10, 20, or 30 minutes offered by Psychic Source. However, Psychic Source offers the option of video chat, which is not available with psychic readings on Keen.

Piecewise, Keen is a better option for phone or chat readings, but if users are seeking face-to-face interaction, it might be better to opt for the higher rate of Psychic Source.
Keen vs Kasamba
The biggest difference between Keen and Kasamba is the type of readings offered. Kasamba only offers psychic reading online chats, while Keen offers online chat, mail, or phone. The price rate of Keen and Kasama are both very enticing for new users. Keen offers $1.99 for the first 10 minutes, while Kasamba offers 3 free minutes and then 70% off the first session (up to $50).

Both of these introductory rates are better than most other psychic reading sites, therefore it's mostly the type of reading a user is seeking that will determine which site is better for them.

Keen Visit Site
The Bottom Line
Keen.com stands out for its trustworthiness and reliability. With so many readers, there are always advisors ready to hop on a call or chat. Their customer support policies are clearly defined, allowing for ease when using the site. Keen makes everyone feel like they are in good hands, both advisors and users.

The happiness of the advisors speaks to Keen's level of quality assurance, and a satisfied reader is certainly a good sign for the user when determining the value of a psychic brand.
There is a simplicity to Keen, evident in its clean, informative website. Since only phone calls, chat, and mail are available, a sense of privacy and discretion is maintained between reader and user. You can easily find the right psychic service you are seeking at a price that fits your budget through looking at honest user ratings and Keen psychic reviews.
Keen and its readers have integrity through and through. This honesty is also reflected in the straightforward pricing system of pay per minute without pressure for add-ons, packages, or confusing credit systems.