In a Nutshell
Psychic Source is the oldest, most experienced online psychic reading network on the market, celebrating 30 years in business this year. At Psychic Source, the mission is right there in the slogan: "Life's Possibilities. Revealed." The site prides itself on being the oldest and most respected psychic reading service online, with a large pool of certified psychics covering many psychic specialties.
pros
Affordably priced at as low as $0.66/min
First 3 minutes free
Extensive screening and interview process for psychics
cons
Satisfaction guarantee gives site credit, no cash refund
Some unique specialties are hard to find
Psychic Source Visit Site
Psychic Source Video Review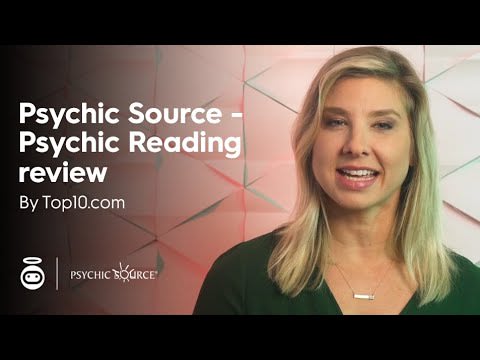 Is Psychic Source Trustworthy?
When searching for an online psychic, one of the main concerns is trustworthiness. There's no denying the existence of bad actors and frauds, who cast a dubious shadow over the field and its more legit practitioners. So how do you separate the 2? How can you tell a legit psychic from somebody just out for your money?
The short answer is you can't. Psychic readings are by nature mysterious, personal, and unquantifiable. However—there are some fairly reliable criteria that, when applied to a psychic or psychic website, can either weed out questionable practices or spotlight the signs of a transparent, honest business. Here's how Psychic Source looks under scrutiny:
Screening process?
Yes. Psychic Source puts psychics through rigorous screening before hosting them on the site. Every prospective psychic must fill out a detailed application that lists their experience as a psychic, and if they pass that initial test, they're then required to give 1 or 2 readings (10-15 minutes each) to a Psychic Source representative. This heavy screening should reassure you that you'll find authentic psychics with real experience on the site.
User reviews?
Yup. Psychic Source gives you access to user reviews—both good and bad. This is helpful for decision making, but even more so, it demonstrates the site's transparency and trust in both its psychics and its users. You can be confident that anyone you select has passed the test of the platform and the customer base.
Psychic bios?
Yes. Every psychic on the site has their own page with a professionally written bio written in the 3rd person. While you'll find psychic bios on many sites, they tend to be erratic, unformatted, or show no consistency from one psychic to the next. The fact that Psychic Sources' bios are presented consistently and in a uniform tone speaks to the site's professionalism and high standards.
Community resources?
Yes. The more a website invests itself in its subject matter and larger community, the less likely it is to be a scam. Psychic Source features a nice media library with non-promotional articles, videos, and meditations, as well as a free seasonal newsletter that's thoughtfully designed and full of community updates, wellness tips, and enough non-promotional content to give you the impression that they're at least as interested in their craft as they are in your money.
100% money-back guarantee?
Yes. Psychic Source's willingness to fully refund customers who aren't satisfied with a reading demonstrates a preemptive trust in its psychics that speaks to the site's legitimacy.
VERDICT: TRUSTWORTHY
Psychic Source's transparency, accountability, knowledge, and sense of community is a good indicator that it stands behind what it does and cares about its customers.
A final note about trustworthiness
Given the nature of psychic readings, it's impossible to determine with absolute certainty the legitimacy of a practitioner. Furthermore, there are factors that can influence the success or failure of a reading that may have nothing to do with the legitimacy of the psychic. For that reason, make sure you choose a psychic that specializes in your field of inquiry, and communicate your questions and goals clearly. Nothing's black and white when it comes to psychic readings—hey, that's part of the fun, right?—but judging online psychics by certain criteria can drastically increase your chances of finding one who's in it for the right reasons.
How Does Psychic Source Work?
Getting a psychic reading from Psychic Source is very simple. Here's how it works:
Step One: Sign up for an account. Psychic Source has an introductory offer of $1 a minute up to 30 minutes, plus 3 free minutes. Good deal!
Step 2: Enter your name, email address, password, gender, date of birth, and payment details.
Step 3: Choose what type of psychic reading you are interested in and/or which psychic you want to connect with. This is the most important step, and you can approach it from either end. Meaning, you can choose what type of reading you are more comfortable with, and find a psychic that works with that reading method. Or you can choose a psychic that looks like you will connect with them and see which types of readings they offer. Either way, it's all about your comfort level.
Psychic Source offers 3 types of readings:
Phone readings: To get a phone reading, select the reader you wish to speak with, click the Call Me button and the reader will call you. You can also dial the psychic's extension directly (extensions are found on the reader's profile page).
Online chat readings: This is the easiest and most comfortable option for many people because it doesn't involve any direct contact. Instead, you just send messages to one another like you'd send a friend a WhatsApp message. Just go to the psychic profile page and click the Advisor's Chat Reading button to get started.
Video call readings: Video calls are the most personal, so a lot of customers enjoy this kind of intimacy in a psychic reading. It's also nice to be able to see the reader's face, expressions, and body language. To initiate a video call, go to the psychic's profile page, and click on the Video Reading button.
Psychic Source also has a huge network of talented psychics, so you can find just about any reading style and specialty in this mix. Some tools include crystals, numerology, reiki, tarot, and cartomancy, while reading styles can range from compassionate and expressive to direct and wise.
Pricing & Special Offers
*Last updated: March 2020
Psychic Source features a number of very attractive introductory specials, including 3 different packages that come with 3 free minutes. The best value is the 30 minutes for $19.80 introductory offer.
Many psychics have rates as cheap as $0.66 a minute, while some of the more expensive readers charge in the $10-15 range. It's up to you to select a reader within your budget. Just because the price is higher doesn't mean the service provided is better. Take a look at the customer reviews, consider what you're looking for and let that guide you. Psychic Source even allows you to make payments via PayPal, so you can book a reading without even taking out your wallet.
Types of Psychics & Services
When it comes to enjoying a psychic reading, sometimes the platform can be almost as important as the message. On Psychic Source you can have readings by phone, chat, or video, whichever you are most comfortable with.
Psychic Source offers a variety of different psychic specialties, including:
Clairvoyants
Clairvoyants offer the ability to use extrasensory perception to learn about people, locations, and objects. Clairvoyants are able to sense things which are not seen or heard, and provide you with understanding about some of the mysteries that surround you. Psychic Source hosts around 140 clairvoyants on its site, so you'll be able to choose from some of the best readers.
Empaths
An empath is a psychic reader that can wrap themselves in the feelings of the client and empathize with their emotions. Through understanding our feelings they hope to unlock the emotional states that are often causing problems in our lives. Choose from over 200 empaths on Psychic Source.
Love and relationship psychic readings
These are readings with a psychic who specializes in relationship advice. Love readings may help you figure out where a relationship is going or whether you've found the right person for you. Psychic Source offers over 160 readers specializing in love and relationships.
Career psychic readings
With a career reading you can get answers to questions regarding your work and career goals. Find over 100 psychic advisors who specialize in career advice on Psychic Source.
Tarot reading
Tarot card readings have been around since long before anyone imagined online psychic readings. Tarot readers lay out the deck of 78 cards and unlock what it means for the client and what they're facing. Psychic Source hosts over 200 tarot readers on its site.
Astrology reading
Astrology can be a lot more than just your daily horoscope. A trained astrologist can also analyze a your date of birth and the alignment of the planets to learn about your energy and determine who you are and where you're going. Pick from around 65 astrology psychics available through Psychic Source.
Psychic Source offers many additional psychic tools and specialties including energy healing, pet psychics, mediums, angel cards, reiki, and numerology.
Beyond the different psychic readings – which are extensive – Psychic Source also offers a Horoscope updated daily, as well as online publications including a newsletter, blog posts, and podcasts.
What's Unique About Psychic Source
Quality, carefully screened psychics
Not just anybody can roll in off the street and start doing readings with Psychic Source. The psychics must first pass a rigorous test - so you know the readers on the site are legit.
A wide variety of communication options
Get in touch with psychics by way of chat, phone, or video chat. Not everyone is comfortable with the same style of reading - Psychic Source lets you pick.
A vast array of psychic specialities
Find readings covering everything from pet psychics to relationship counseling to tarot card readings. Chances are, you'll find what you're looking for.
Great introductory rates and flexible pricing
Psychic Source has some of the best introductory packages for new users and with psychics setting their own prices, there are readings available to fit any budget. Not only that, the site also offers store credit if you aren't happy with a reading.
Top Rated Psychic Source Psychics
Psychic Craig
Specialties: Career, destiny, loss, love, family.
Tools: Psychic, Angel Cards, tool-free reading.
Reading Style: Direct.
Nikkiax's testimonial (10/25/2018): "I can be a bit skeptical but Craig answered a question that I was only in the middle of writing. I've been to a few psychics and never experienced anyone as accurate. Looking forward to more communication and guidance."
Psychic Pandoria
Specialties: Finances, destiny, grief, love.
Tools: Psychic, medium, Tarot.
Reading Style: Wise.
Bembroz's testimonial (2/21/2018): "I was having a really hard day and this reading help me get back on track. Pandoria was amazing. I instantly felt her energy. The call was going so well that when I ran out of time I called her right back."
Psychic Serenity
Specialties: Love and career.
Tools: Can read without tools, medium, Tarot.
Reading Style: Wise.
MoonBeams's testimonial (11/2/2018): "I chose Serenity because of her familiarity with soulmate twin flame connections—something that I was dealing with at the moment. I extended my time with her twice. She even gave me a timeline that fulfilled within the next few days, which I know can be tricky."
What Users Are Saying About Psychic Source
"I am so pleased with Psychic Source. I have spoken to quite a few great advisors. I like how professional and kind the advisors are. Finding Psychic Source has been a great experience for me. Not only is the website easy to navigate, but you have great customer service. I experienced a technical difficulty while waiting on return call list, and the situation was handled well. Psychic Source is truly number one when it comes to seeking guidance and insight!" - Anonymous
"Hi! I have been using your service for a couple of years now, and I want to say thank you to your customer service team for always being so helpful. Today I had an issue with updating my line. The associates I spoke with did not get into an "at fault" argument with me. I know how they are looking at it from their end, and I know how I went about updating it on my end. No matter what they were very polite and extremely helpful. I know this service is for entertainment purposes, but for some of us, speaking to an advisor in a time of heartbreak is what gets us through the next tough week. Thanks again to your entire team for always being very polite and answering my questions, and have a great day!" - Anonymous
Psychic Source Visit Site
Customer Support
One of the main draws of a big, long-running site like Psychic Sources is the customer support. Psychic Sources includes a live chat support option where you can talk to a representative online. If that's not your style, fill out an online form and wait for an email response. In addition, there is a large FAQ section where you can find answers to most of your queries. Finally, the satisfaction guarantee means that if you're ever unhappy with a reading, you can get a refund to your account to use for another reading.
Bottom Line
Psychic Source thoroughly vets psychics before letting them appear on the site, which indicates how seriously the company treats quality control and the user experience. With a wealth of specialities, affordable pricing, and a satisfaction guarantee, Psychic Source sets a high standard for what psychic readings websites should be.