Psychic Source Visit Site
Video Review: Psychic Source - The "Oldest & Most Respected Psychic Service"
Overview
How to Get Started with Psychic Source
How easy is it to sign up?
Signing up on Psychic Source com is straightforward. After providing a few pieces of personal information, you then enter your billing information and you are good to go.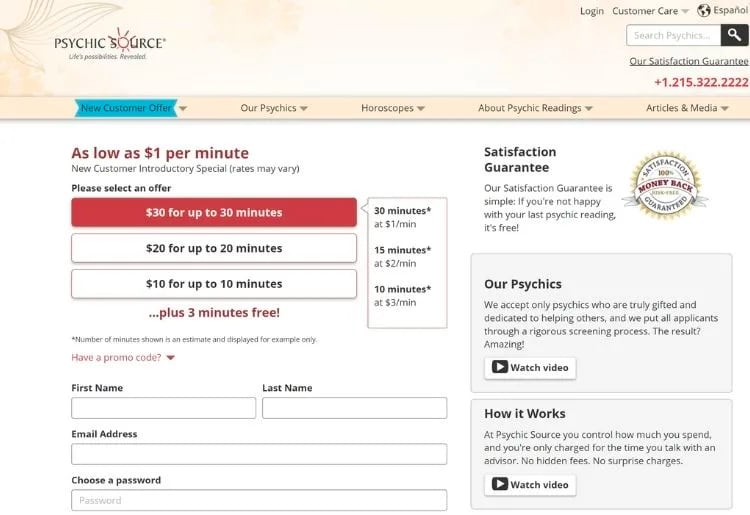 What personal information do you have to provide?
You are asked to provide your name, email address, gender, and payment information. You must include your billing address with your payment information, even if you choose to use PayPal.
Psychic Source Features and Tools
Wide range of psychic reading methods including tarot card readings, angel readings, cartomancy, astrology, and more.

Live video readings in addition to phone and chat readings.

Find-a-Psychic tool to match you with the best psychic for you

Satisfaction Guarantee and 24/7 Live customer service.

Oldest and most experienced psychic reading company on the web.

A plethora of Psychic Source horoscopes, blogs, and articles written by the readers can help users get to know the psychics.

How to Choose a Reader at Psychic Source
Types of readings at Psychic Source
You can easily filter and narrow down your search by looking for a psychic that has a certain specialization. Psychic Source offers:
Angel Card Readings

Astrology Readings

Cartomancy Readings

Dream Interpretation

Energy Work

Lost Object Readings

Love Readings

Love Life Readings

Love Tarot Readings

Numerology Readings

Past Life Readings

Spiritual Readings

Tarot Readings
The site suggests potential questions that might be helpful to you during Psychic Source predictions or readings.
What type of reader information is available?
All readers on Psychic Source have a large profile to look through. In addition to a biography, the reader's page displays what types of readings they do and the tools they can use to help with the reading: dream interpreters, tarot cards, numerology, etc. What's more, you'll also find the psychic's words of wisdom — a quote they've chosen to express themselves — and links to any articles they've written for Psychic Source.
You'll also be able to see the reader's overall rating and snippets of recent reviews from users.
A unique feature of the psychic profiles is that it mentions some personal qualities of the reader's style: direct, empathetic, wise, etc., which can help you find a psychic who'll deliver your reading in the best way for you.
Are there customer reviews of readers?
Yes. Psychic Source has a fairly comprehensive reviews feature, which allows users to provide a 5-star rating of the readers as well as written feedback. Most readers have hundreds, if not thousands, of reviews and most of them average 4 to 5 stars — quite a solid demonstration of the readers' abilities.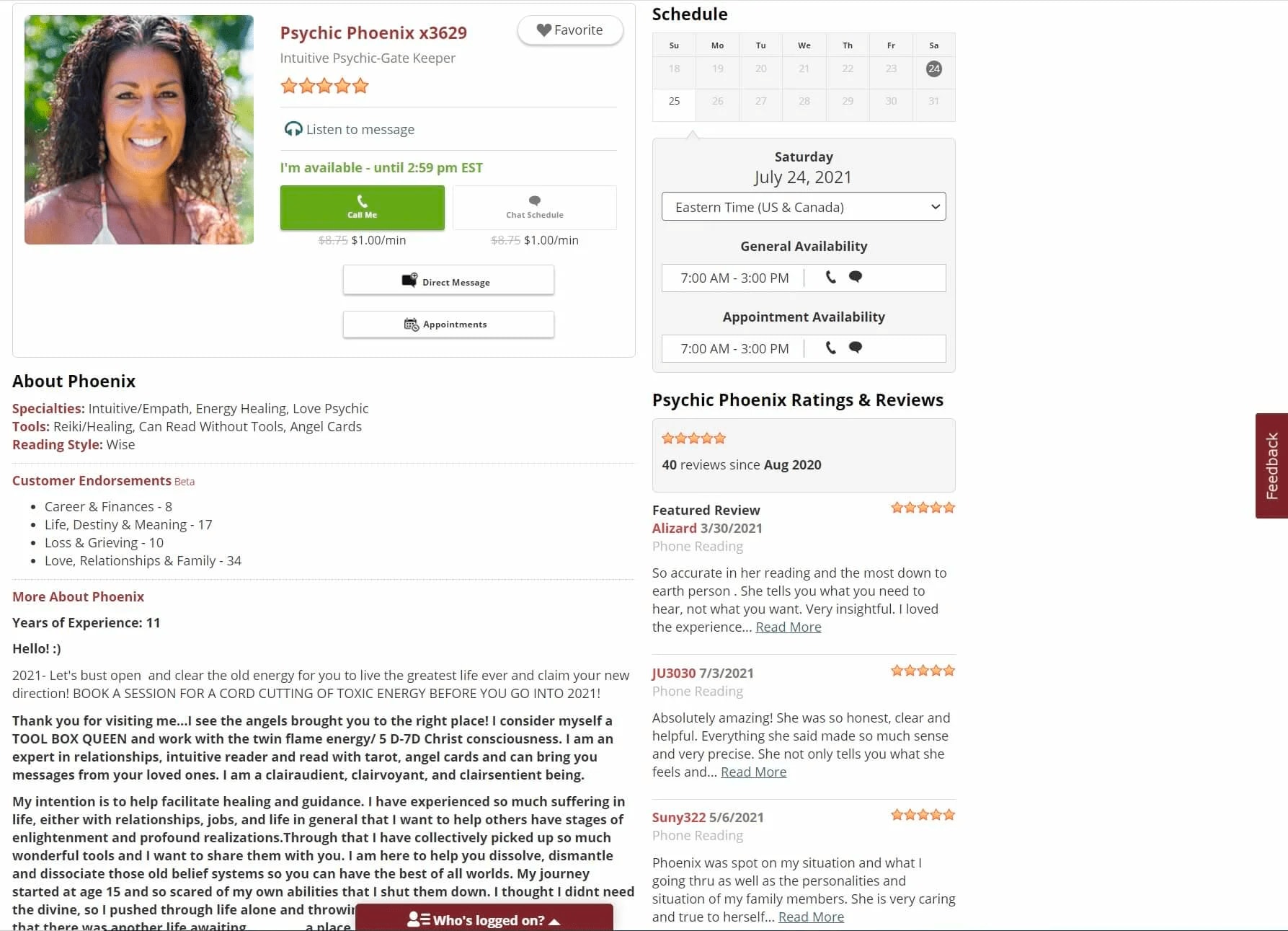 All past Psychic Source reviews are available to the public, so you can do a detailed examination of readers and reviews if you're so inclined — just Google "psychic source ricky reviews" to get an idea. The website has also introduced a breakdown of Customer
Endorsements for each psychic, providing quantified feedback about which areas of life that the reader was able to help with, such as Career & Finances or else Love, Relationships & Family.
How easy is it to book a reading?
It is very easy to book a reading with Psychic Source. If you're using the website, all you need to do is find a psychic who is currently online (and not indicated as "Busy") and make the call or start a chat with them. If a psychic is currently offline or busy, you can schedule a Return Call, or arrange a call for a future date.
If you opt for a Return Call, you can also have Psychic Source connect you with a different reader during the first 30 minutes while you wait. If you do and then go on to have the original reading, you will receive a discount. Alternatively, if you use the phone service, you simply need to provide your account ID, or email and password, to connect with an available psychic or get in line for a return call.
How can you connect with a Psychic Source advisor?
Psychic Source was founded as a psychic phone service and that is still a major part of their business model. However, most psychics also offer readings via live chat on the website and video calls. You can filter the types of psychics to find ones using your preferred method, or look at the options listed in the reader's profile.
Can you block or unblock a psychic advisor?
No. You cannot block or unblock a reader. However, you will never need to use this feature because readers are never given user account/contact information. All communication is mediated through Psychic Source.
Can I get horoscopes from Psychic Source?
On Psychic Source you can get daily, weekly, and even annual horoscope digests. It's possible to see how the stars affect your life with an expanded guide to the zodiacs. Understand symbolism, gender insights, compatibility with other signs, complimentary crystals, guiding principles, chakras, recommendations for self-discovery, and more. If you really look to the stars for advice, there's an option to go even deeper with your horoscope. You can order an astrological reading and see what your chart says with the help of an experience guide.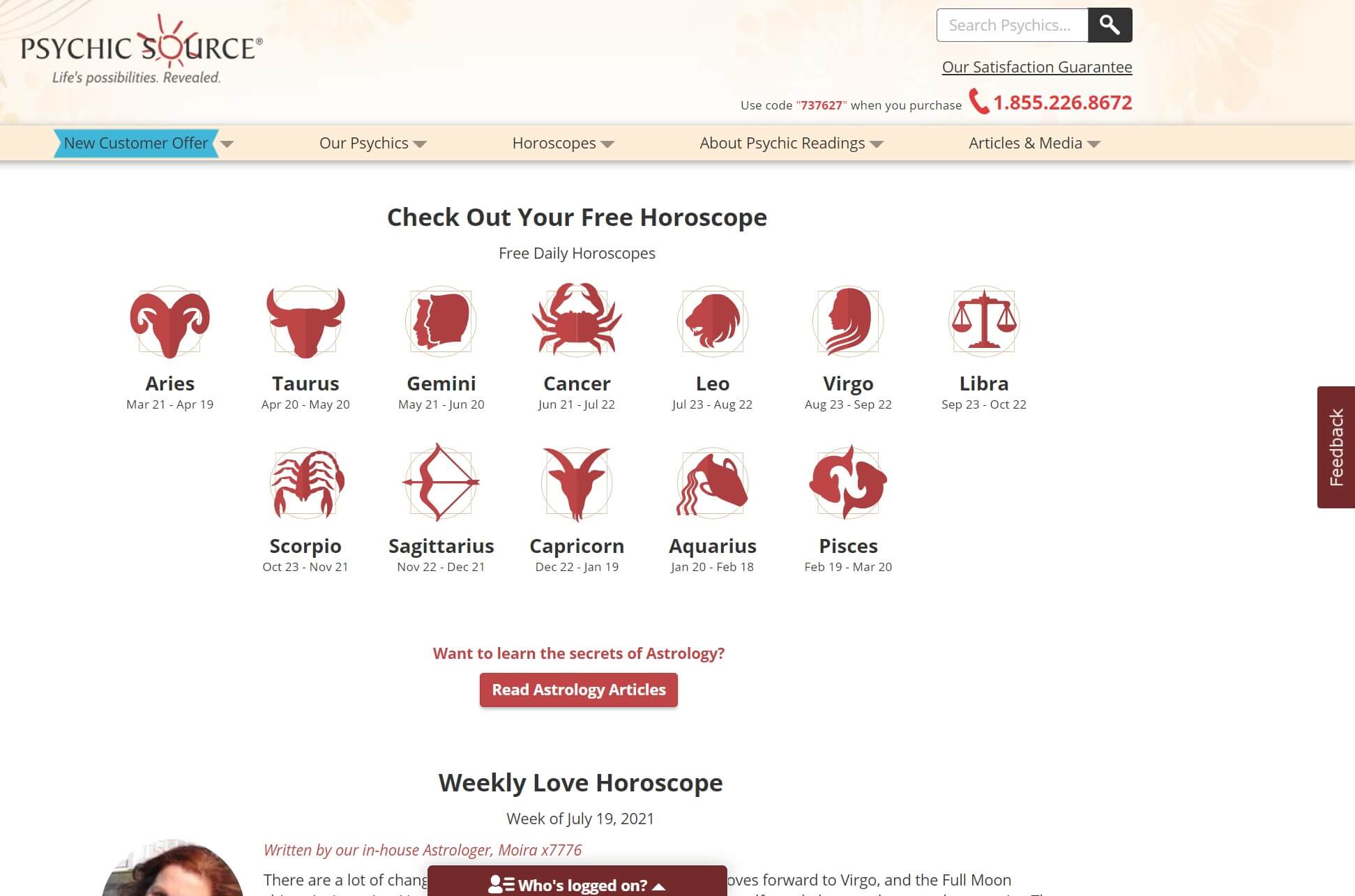 Can you leave feedback or rate an advisor?
Yes. After each call or chat with a reader, you have the option to (and are encouraged to) leave feedback about the reading and rate the reader on a 5-star scale. The feedback can range from just a few words to several paragraphs, all up to the user.
Can you create a favorite list?
Yes. You're able to add readers to a list of favorites so you can more easily return to readers that you liked. The list will also help you to see which of your favorites are currently online.
Can you ping your personal advisor?
Yes. Users can message any reader at any time, although there is no guarantee that a reader will respond immediately.
Is Psychic Source Legit?
How does Psychic Source screen potential readers?
Psychic Source requires a video interview from potential readers, as well as a background check before signing a contract with the site. The site also ensures that their psychics adhere to Psychic Source's code of ethics, which emphasizes protection and privacy for the users. Psychic Source screens their readers not only for their psychic talents, but also for their ability to care for and compassionately interact with users.
What's the process for becoming a reader?
Once a potential reader applies on the website, the Psychic Source team decides whether the candidate should be asked to interview. The candidate then submits a 30-minute video responding to a set of questions. After the interview, the candidate is then invited to perform readings for the Psychic Source staff before their services are offered to the public.
Do Psychic Source psychics work for the company?
As with most other online psychic services, Psychic Source psychics are independent contractors offering their services on the platform. The site handles all marketing, operations, customer service, and technology so the readers can be solely focused on offering the best service to their users.
How do users feel about Psychic Source?
The user reviews of Psychic Source are overwhelmingly positive. After a reading, you are encouraged to use the 5-star rating and comment system to provide feedback on the reader. While there are a few low ratings for most of the readers, these are few and far between the much greater number of good Psychic Source reviews. Psychic Source has also been in business for over 30 years, and they work hard to maintain their status as a reputable source for psychic readings.
Psychic Source Mobile
Psychic Source has an app for both Android and iOS. The app has a clean and smooth user interface, allowing you to have a reading on the go. The app is also useful because it can tailor the user experience based upon your preferences, previous uses, etc.
If you're using your smartphone, the app will end up using less data and provide clearer images and video quality than if you just visit the website. App users are also offered additional discounts that they wouldn't have access to otherwise. Lastly, the app streamlines communication and allows for quicker notifications, such as when a psychic is ready for your return call.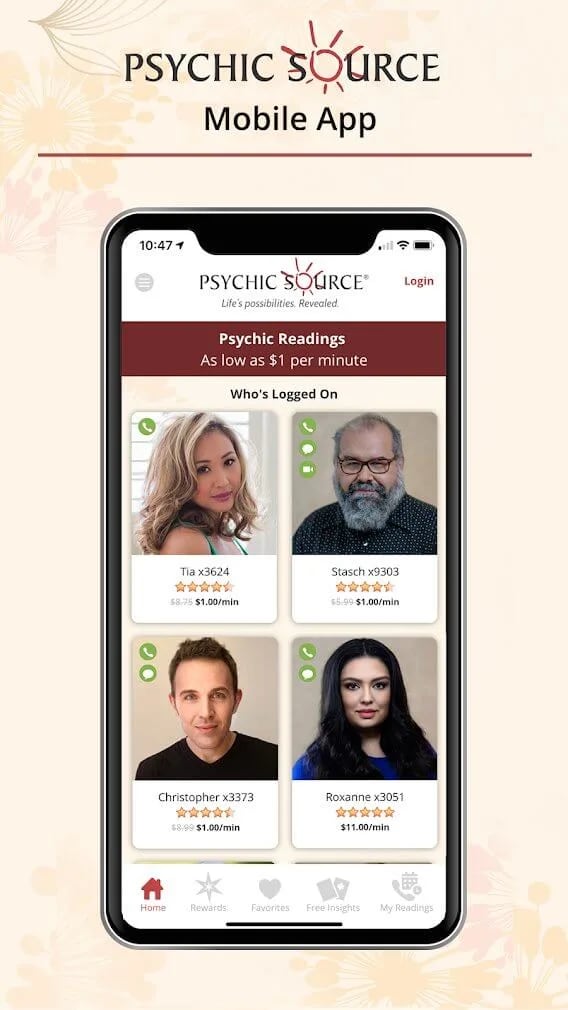 How Does the Psychic Source App Work?
The Psychic Source app works just like the website and phone service, along with the benefit of being streamlined for smartphone use. Similar to the website, you can filter and select a reader to immediately begin a chat or call if the reader is available, or schedule a return call for when the reader is ready for you.
Psychic Source Support & Customer Service
The FAQs for Psychic Source are top-notch. Their general FAQ page shows many tabs, each with a substantial amount of detailed and straightforward information. This is where you'll find general information about Psychic Source, including their Manifesto, Code of Ethics, Pricing, and Satisfaction Guarantee.
The first questions you'll see upon visiting the FAQ page ask how the users know that the site's services are reputable and whether the readers are legitimate. This demonstrates the very up-front attitude that Psychic Source takes to its customers, and shows its commitment to providing the best service for its users.
In addition to the detailed FAQ pages, Psychic Source com also has a 24/7 live chat customer service option to immediately help users deal with any issues. There is also the option of more traditional support through email or over the Psychic Source phone number.
How to Get a Refund From Psychic Source
Psychic Source allows any user to request a refund within 24 hours of the reading. If you are unhappy with a reading for any reason, the site's Satisfaction Guarantee refunds up to 20 minutes worth of that reading. A refund may only be issued once per reader and all refunds are returned as bonus dollars to your account.
How easy (or difficult) is it to request a refund?
You can easily request a refund for an unsatisfactory reading that occurred within the last 24 hours by contacting their Customer Care at 1.855.226.8672 or sending an email by visiting their Contact Us page.
How long does it take to get a refund?
Although there is no direct statement of time it takes to get a refund, the terms of the Satisfaction Guarantee indicate that refunds will be issued rather quickly.
Pricing
The normal rate for readings on Psychic Source is between $4.99 to $15 per minute. The price varies based upon the psychic you choose as well as the method of the reading: phone, online chat, or online video. Psychic Source ensures that you will always know the psychic's rate before signing up for a reading. The site also offers Price Protection for recurring users. If you receive at least one reading from the same psychic every 30 days (or 45 days if enrolled in the Membership Rewards program) you are guaranteed the original rate.
Psychic Source also has a great introductory offer. New users get 3 free minutes plus a rate of only $1 per minute for 10, 20, or 30 minutes. This is a fantastic way for new users to start building a relationship with one of the readers on the site. However, the Price Protection does not apply to the introductory offer. Those who sign up for Membership Rewards may also receive bonus dollars depending upon how many readings or total talk time per month.
In addition, Psychic Source has many different types of ever-changing special offers, including Psychic Source promo codes. Psychicsource.com promo codes are made up of 4-5 digits or letters and are only available to existing members. However, some special offers don't require a promo code, meaning that the discount will be automatically added to your account. You can sign up for notifications on special offers to ensure you're saving as much as possible.
Top Payment Methods
Credit Card (Visa, Mastercard, Discover, AMEX, Diner's Club)

Debit Card

PayPal

Visa, Mastercard, AMEX Gift Cards
Do you have to deposit funds before being able to choose a reader?
Yes. Psychic Source requires you to deposit funds into your account before choosing a reader. Also, if you sign up for the Membership Rewards programs, you earn 3% bonus dollars.
Price per minute from $0.60 to $15 per minute.
Introductory package of $1 per minute for the first 10, 20, or 30 minutes.
Psychic Source Alternatives
How Does Psychic Source Compare to Other Psychic Reading Sites?
Psychic Source is a strong contender among its competitors. Its pricing structure places the site right between most other big online psychic reading services, which means you get a good deal no matter what. Phone, video, and chat readings are also offered by other services, but usually not all at once. Generous introductory packages for up to 30 minutes at rock-bottom prices let you test the site without fear of getting overcharged or taken advantage of—a feature that most users appreciate.
Introductory value package of $1 per minute for 10, 20, or 30 minutes
$1 per minute for new customers
5 free minutes (CODE: "ADD5") + 80% Off
Introductory free 3 minutes or $1.99 for 10 minutes
3 free minutes and 70% off first session (up to $50)
Psychic Source vs. California Psychics
Psychic Source and California Psychics are two sites that pride themselves on the highest quality customer service, as well as a long history of trustworthy psychic readings. Psychic Source is a little pricier, $4.99 - $15 per minute versus $1 - $15 at California Psychics; however, both have great offers for new clients at just $1 per minute. Both sites also have membership rewards programs, which is a fairly rare perk among psychic websites. Overall, these sites are a pretty even match, although Psychic Source does offer video call readings: a service that California Psychics lacks.
Psychic Source vs. Keen
Compared to Keen, Psychic Source ranges from $0.60 to $15 per minute, whereas Keen charges anywhere from $1.99 to $30 per minute. Keen also has an overall cheaper introductory rate of $1.99 for 10 minutes, but with Psychic Source, you can get a whopping 30 minute reading for just $1 per minute. Both sites have a wide variety of reading styles to offer, but Psychic Source does have an edge in that you can receive readings via video chat. Although you may be able to find slightly cheaper psychics on Keen, Psychic Source really shines in their long and trustworthy history of psychic services.
Psychic Source vs. Kasamba
Psychic Source is superior to Kasamba on several fronts, especially when you consider that the latter only provides readings via text, compared to video, phone, and text readings at Psychic Source. While you may be able to find cheaper rates at Kasamba, as low as $1 per minute, the $0.60 - $15 range of Psychic Source looks really good compared to Kasamba's $30 high-end rates. Kasamba seems to have a better introductory offer: 70% (up to $50) off your first reading, but you ultimately get better value from Psychic Source's 30 minutes for $30. Combined with Psychic Source's impressive history of reliability and amazing customer service, it definitely comes out ahead of Kasamba in overall quality.

Psychic Source Visit Site
The Bottom Line
Psychic Source is probably one of the best options on the market. Their dedication to finding reliable and caring readers is plain to see, and they back it up with their Satisfaction Guarantee. Their reputation as the oldest psychic service — over 30 years — demonstrates a long-term commitment to their clients and their website design shows a very compassionate and forthright attitude. The access to 24/7 customer service, and their efficient response time, also sets them apart from other online services.
Combine their dedication to high-quality service with a huge variety of psychic readers and reading types, and you'll find exactly what you need. The reader profiles, along with the review features, gives you an in-depth look at all of their psychics and it is nicely designed to help you find the reader that will be the perfect match for your needs. Even if you're on the fence about getting a reading, the amazing introductory offer is a relatively low-risk place to start. And lastly, don't forget their handy app, which makes the user experience so much smoother for those who choose to do readings through their smartphones.