Purple Garden Visit Site
Overview
How Purple Garden Works
How easy is it to sign up?
Users can sign up for Purple Garden on both the psychic reading websites and the app. To sign up on the website, users can click "Sign In" in the upper-right hand corner. Then click "Don't have an account?" to create a profile.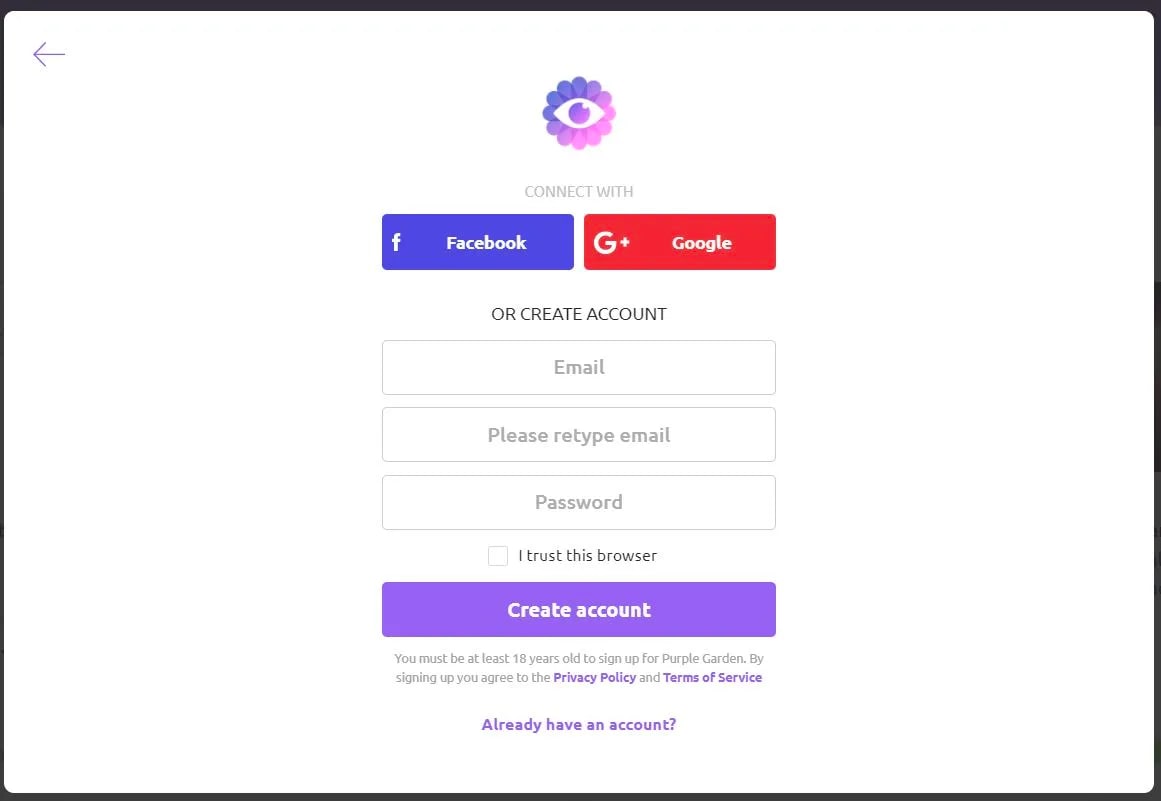 For the app, an account must be created to even browse the psychics and log in to Purple Garden. You can choose to create an account using Apple, Facebook, Google, or an email address. To use Apple, Facebook, or Google, you will have to agree to Purple Garden's Terms and Conditions, including tracking done by the site. To sign up with email, you will have to create a new password.
What personal information do you have to provide?
To create an account, an email address and personal password must be provided. Once you want to purchase credits to have a reading, you must provide their full name, address, phone number, and personal payment information.
Purple Garden Features and Tools
Psychic access through a streamlined app

Category and psychic filters to make selection easy

Well-made psychic video introductions on profile

2% cash back program for monthly account credit

Frequent promo credits and discount codes
How to Choose a Reader at Purple Garden
Types of readings at Purple Garden
The main reading categories are Purple Garden psychic readings, tarot readings, relationship coaching, palm reading, astrology and horoscopes, oracle guidance, angel insights, and dream analysis. There are also plenty of subcategories that readers specialize in within these categories such as spiritual advising, career advice, relationship advice, pendulum reading, twin flame readings, chakra cleansing, life coaching, mediumship, clairvoyance, clairsentient, and energy healing.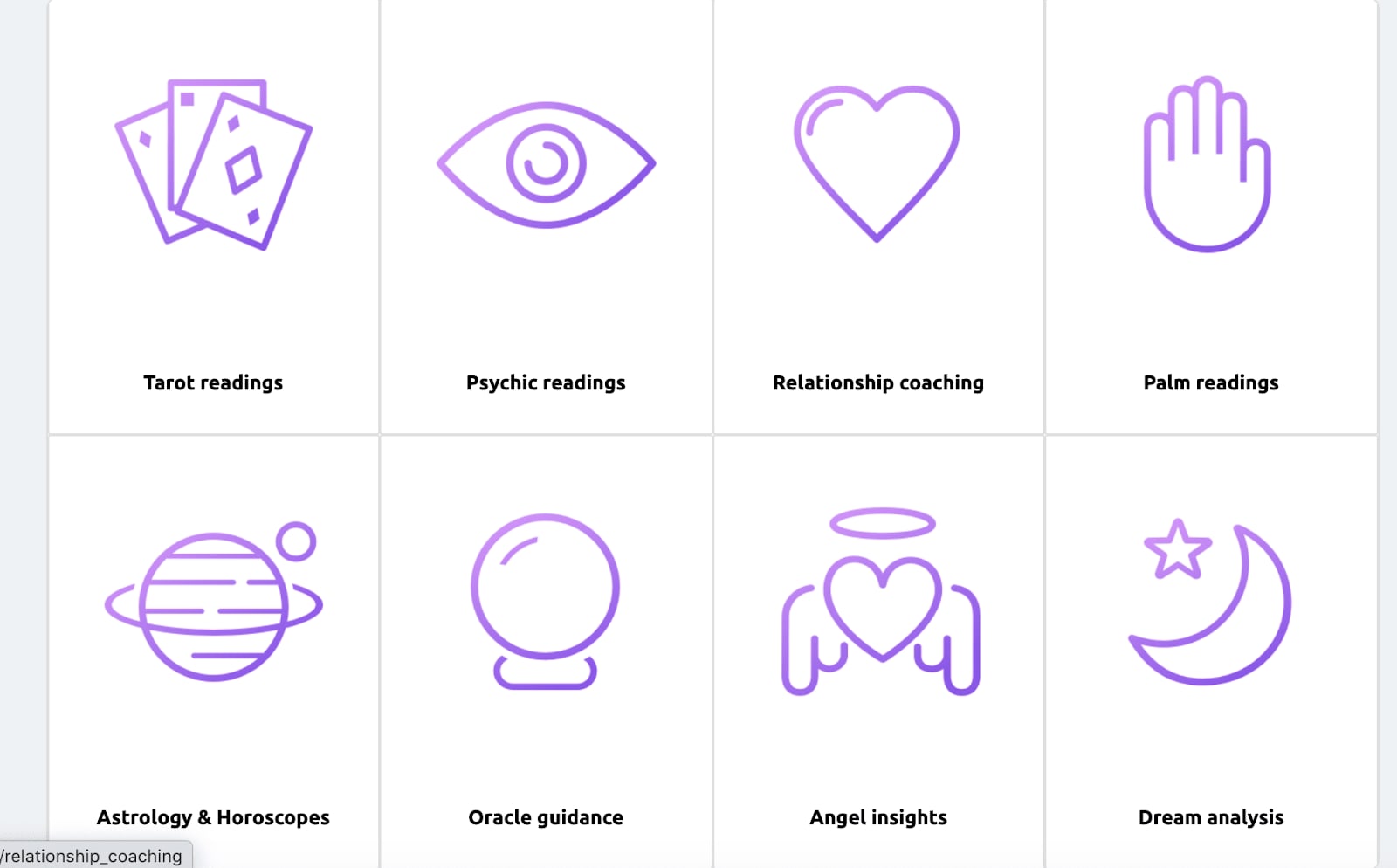 What type of reader information is available?
Purple Garden psychics have very detailed reader profiles filled with their experience, credentials, reviews, and services offered. At the top of the profile, the advisor's 5-star rating is posted, along with their video introduction, the number of readings done on Purple Garden, year joined, and the amount of good or bad reviews.
Below this, the advisor lists the prices for the different services that they offer, as well as detailed information about their unique services, an "about me" section, and the categories of readings they cover. Finally, at the bottom, there are customer reviews about the advisor.
Are there customer reviews of readers?
Yes, all Purple Garden psychics have reviews from customers about how the readings went. While many simply say "thank you" or give a short description of how the advisor assisted them, there are the occasional bad reviews. Purple Garden does not remove bad reviews, though an advisor has two weeks to reach out to clients who left them to ask them to change or delete their comments. Additionally, there is a 5-star rating system for every reader on the site too.
How easy is it to book a reading?
To book a reading with a Purple Garden psychic, you have to be logged into your account. Select the reader and click on the button for the type of reading desired (chat, phone, video). If a button is grey or unable to be clicked, that method of reading is not available at that time. A green button indicates that the method of reading is available instantly.
The advisor's availability will be noted by a green circle in the upper left-hand corner. If a reader has a red dot in the corner, it means they are currently busy with another client, while a grey dot indicates the advisor is offline.
If a reader is busy, there is no way to connect with them. However, if you are offline, you can set an alert for when the psychic becomes available again. To set an alert, click on the profile picture of the advisor, then tap the icon of the bell in the upper right-hand corner of their profile. Select the reading type they'd like to receive a notification for and then tap "done" when you're finished. A notification will now be sent when the advisor is available, but time will vary based on their personal schedule.
How can you connect to Purple Garden advisors?
Purple Garden has three types of readings available: phone call, video chat, and chat. All of these readings can be done on a computer or cell phone via the app. The readings take place on secure channels to ensure privacy and discretion. Video chat tends to be pricier than phone calls and chat, and the user can choose their reading type based on their intended prince point.
Can you block or unblock an advisor?
No. There is no way to block or unblock an advisor. If a user is experiencing any problematic behavior, threats, or inappropriate behavior from an advisor they should contact customer service immediately.
Can you leave feedback or rate an advisor?
Yes. You can leave feedback for a Purple Garden psychic if the live reading lasts 5 minutes, otherwise, there is no option. If the reading was beyond 5 minutes, an option to leave a review will appear once the reading is finished.
Can you create a favorite list?
Yes, psychic advisors are automatically added to a favorite list once you've had a reading with them. To add additional psychics simply click the heart button in the upper right-hand corner of the advisor's profile. To remove a psychic from the favorite list, go to "Favorite advisors" in the menu and unclick the heart. The advisor will be instantly deleted from your list.
Can you ping your personal advisor?
Yes. Once you've had a reading with a Purple Garden psychic, you can message them. However, this does not guarantee direct access to a personal advisor, as all readers create their own schedule. Readers may not be available for new orders and no response is guaranteed.
Is Purple Garden Legit?
How does Purple Garden screen potential readers?
Purple Garden psychics must submit a video reading as a test in order to be hired for the job. Other than this, there is no real screening process, and Purple Garden openly acknowledges that accuracy cannot be guaranteed.
What's the process for becoming a reader?
Psychics who are interested in becoming a Purple Garden reader must download the Purple Ocean app (Purple Garden's sister site). On the app, advisors must create a profile and submit their legal name, address, and telephone number for identification purposes. PayPal account information must also be shared so that they can be paid for services offered. For their profiles, all advisors must upload a real photograph of themselves (no icons or illustrations), create an introductory video, and describe the services they offer.
After the profile is complete, potential readers must create and submit a sample video call reading to be reviewed. From there, Purple Garden will notify the psychic if they are selected or not. It is up to the online psychic advisor to ensure their profile is appropriate, all information is true, and that content accurately reflects their credentials.
Do Purple Garden psychics work for the company?
Purple Garden psychics offer their services on Purple Ocean and their parent company, BitWine. All psychics are independent contractors that work through the platform Purple Garden to connect with clients.
How do users feel about Purple Garden?
Customers who are comfortable with app-based services enjoy Purple Garden. However, there are many reviews that describe glitches with the app and troubleshooting. If this occurs while engaging with a psychic advisor, the reading can easily be cut short. Purple Garden's sister site, Purple Ocean, has much higher ratings, as well as the same psychic advisors. This seems to be the better choice of the two.
Purple Garden Mobile
Does Purple Garden Have an App?
Yes, Purple Garden is primarily an app-based psychic service website. While users can access Purple Garden psychics on the website, the app is specifically designed to connect advisors and users easily through text chat, phone calls, and video chat.
How Does the Purple Garden App Work?
Similar to the website, the Purple Garden app is very simple; it only features users' profiles and prices. To access psychic profiles on the app, you must first log in. Once logged into your account, you can browse the psychic profiles. The app has the same filter feature as the website, allowing you to customize the search based on category, price, and reading type. If an advisor is available, simply click the button to instantly connect.
Purple Garden Support & Customer Service
Customer service is available for Purple Garden through messages right on the app and website. Go to the Menu tab in the upper-left-hand corner and scroll to select "Customer Support" at the bottom. Users are taken to a feedback page. On this page, users can view FAQ, give feedback, and fill out a contact message for customer support. Feedback is shared in a forum with other users, allowing everyone to see ideas and concerns posted.
Customer support can also be contacted via email (support@purplegarden.co) for any questions or concerns. Purple Garden ensures a response within 1 business day. If no response has been received, they encourage users to reach out again in case their reply email was lost in a spam mail. Unfortunately, there is no immediate way to contact customer service (such as a phone number or chat option) for pressing concerns.
How to Get a Refund From Purple Garden
There are no guaranteed refunds with Purple Garden. Their policy states they do not give refunds at all because they cannot guarantee what advisors say, advise, or share with users. However, the rare refund is possible at Purple Garden's discretion.
How easy is it to request a refund?
Very hard. Purple Garden generally has a no refund policy, but technically some refunds are possible. Purple Garden retains the right to decide if the refund will be fulfilled and if the refund will be in the form of account credit or money. If the user would like to try to request a refund, an email must be sent to support@purplegarden.co within 3 days of the completion of the order. The refund request email must detail the date and time of the order and the psychic advisor's name.
Customer support will follow up with the refund and let the user know if they have been granted a refund. Refunds will never exceed the value of the order, and Purple Garden maintains the right to refund in full or partially, or else refuse the refund request.
How long does it take to get a refund?
Purple Garden does its best to answer customer concerns in a timely manner and will usually respond within 1 business day. However, this site is very "try at your own risk" in regard to its lack of satisfaction guaranteed policy so there's no guarantee a refund will be issued (or how long it will take to receive once issued).
Pricing
Pricing and Special Offers
Price per minute: $0.99 - $14.99 per minute
Yes, $10 credit on first reading
What payment methods are accepted?
Purple Garden accepts PayPal, debit cards, and credit cards (American Express, Discover, MasterCard).
Do you have to deposit funds before being able to choose a reader?
Yes, the minimum deposit of funds is $15, but Purple Ocean will list prices for 5 minutes, 10 minutes, 15 minutes, etc. with a specific reader when a user goes to contact them. If those funds are not used in the session, they will remain on the account credit balance.
Purple Garden Alternatives
How Does Purple Garden Compare to Other Psychic Reading Sites?
Purple Garden's services are available exclusively via its mobile app—that can be a downside if you prefer using your computer. Prices start at $0.99 per minute, which places Purple Garden among the most affordable psychic reading services. Readings are available via phone, chat, or video call—pretty standard among psychic reading sites.
$10 reading credit for new users
Introductory free 3 minutes or $1.99 for 10 minutes
Introductory value package of $1 per minute for 10, 20, or 30 minutes
$1, $2, or $4 per minute for new customers
5 Free Minutes (CODE: "ADD5")
Purple Garden vs. Keen
While Keen has been a top psychic reading site for a while, Purple Garden is quickly catching up to take the lead. While both sites offer phone and chat readings, additionally Purple Garden offers video calls, and Keen offers mail. This shows how Purple Garden is more up-to-date in its offerings, as video chat is becoming much more popular. Additionally, Purple Garden understands the busyness of modern life and offers pre-recorded readings as well. Pricewise, both sites have competitive introduction rates, though Purple Garden is a bit lower in pricing for return users. It's worth noting that Keen has more positive customer feedback and a great refund policy, whereas Purple Garden for the most part will not refund under any circumstances, even dropped calls, which customer feedback indicates happens occasionally.
Purple Garden vs. Psychic Source
Purple Garden and Psychic Source offer the same reading types: phone, video call, and chat. What differentiates these two psychic reading psychics is their price and customer service. Purple Garden offers an introductory special offer of a $10 reading credit for new users. Psychic Source has introductory value packages of $1 per minute for 10, 20, or 30 minutes. Therefore, users get a free first reading with Purple Garden, while having to pay right off the bat with Psychic Source. For return users, the price range for both sites is about the same, ranging from $1-$15 (Psychic Source) or $0.99-$14.99 (Purple Garden). Purple Garden makes it clear it does not offer refunds based on customer satisfaction, whereas Psychic Source has a satisfaction guaranteed policy and caters more to ensuring users' expectations are met.
Purple Garden vs. California Psychic
Purple Garden and California Psychic take different approaches to how they engage with users. Purple Garden, the up-and-coming premier site, rewards users with an enticing cash-back loyalty program, but it also makes it clear the site should be used at the user's own risk. California Psychic has over 25 years of experience offering customers quality reading and stands out among competitors for its customer satisfaction guarantee. California Psychic has a more rigorous screening process for readers compared to Purple Garden where readers can make their own profile with no real testing of ability. One drawback of California Psychic is that it does not offer video calls like Purple Garden, but both sites have user-friendly apps that make it easy to get a reading over the phone.

Purple Garden Visit Site
Bottom Line
Purple Garden is a dedicated mobile app that focuses on delivering high-quality psychic readings to truth-seekers. The beauty of this mobile app is that you get a direct line straight to a huge network of reliable, vetted psychics. Purple Garden excels at convenience, offering both recorded readings and live sessions with psychics.
Cost per minute is varied based on the different reading types (video chat, phone call, and text chat), giving users different price point options. Users also begin to earn 2% cashback almost instantly on their purchases, which is applied to the next month's account credit. The only drawback is the lack of a satisfaction guaranteed policy, which makes psychic experiences on Purple Garden riskier than other sites for users who may be out of good money for a bad reading.