Kasamba Visit Site
Video Review: Kasamba - Just About Every Form of Reading You Could Think Of
Overview
How to Get Started with Kasamba
How easy is it to sign up?
Kasamba's registration process is simple. As soon as you sign up with your email address, Google, or Apple account, all you need to do is add funds to your account and start a reading.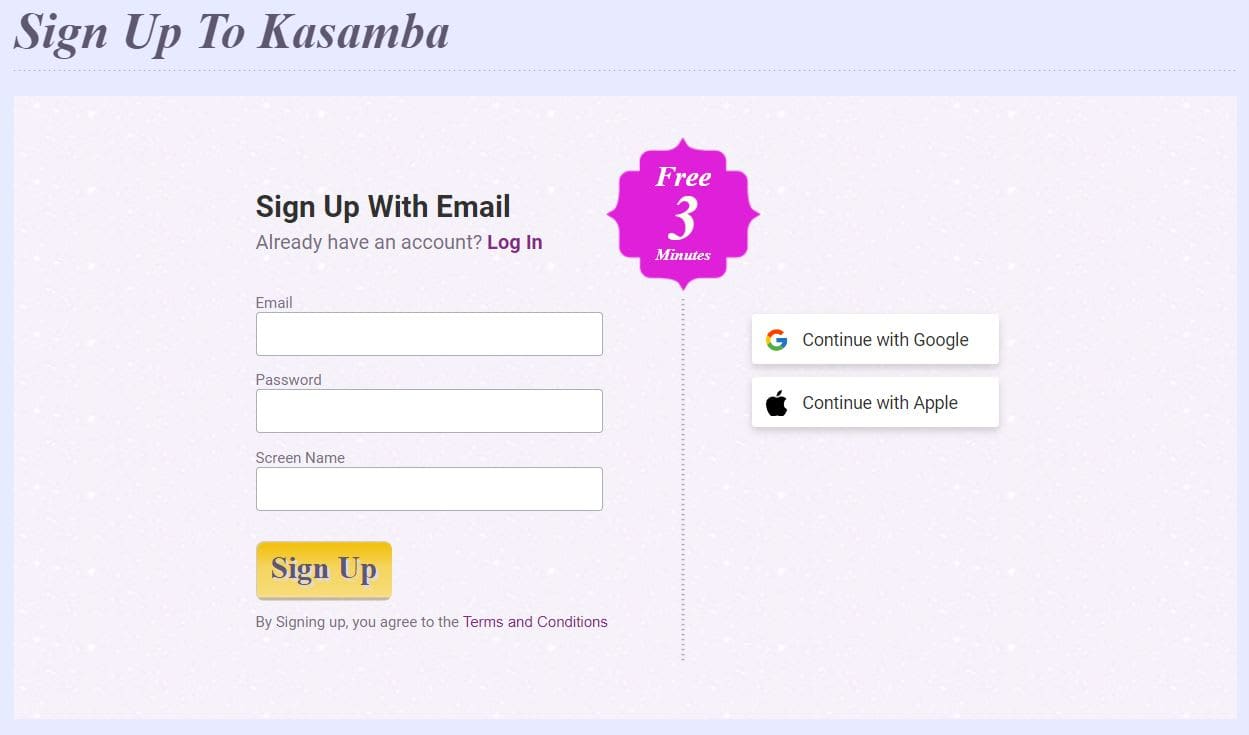 What personal information do you have to provide?
Kasamba com only requires your email address and payment information, including your address if you use a credit/debit card. Your phone number will also be required if you want to do a phone reading. This is a nice feature, as other sites tend to ask for a bit more of your information.
Do you have to deposit funds before being able to choose a reader?
You may choose to add money to your account, but this is not required. Otherwise, you are billed for the session once it ends. Kasamba will put a hold on your payment method when you first add it to your account or when you start a session.
Kasamba Features and Tools
Tons of available psychics available 24/7, usually many more online than other sites.

Huge variety of reading types and topics. A few unique ones are Kabbalah, Graphology, and Picture Readings.

Lots of features over and above readings, such as daily/weekly/monthly horoscopes and articles on a huge variety of topics.

Frequent deals and discounts emailed to users.

Readings available by live chat, phone, and email.
How to Choose a Reader at Kasamba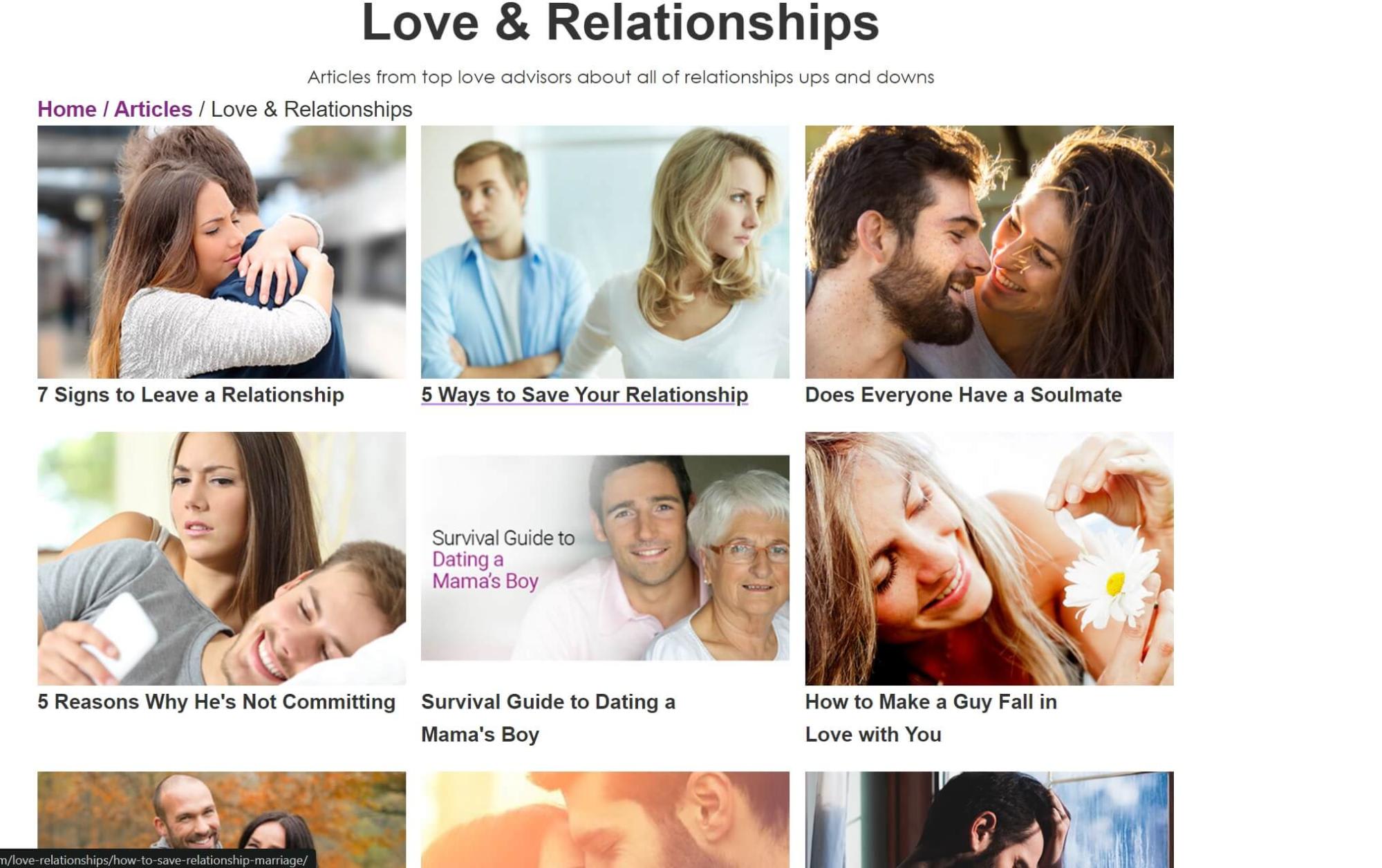 Types of readings at Kasamba
Kasamba has a huge array of reading types available. Whether you're looking for tarot, dream analysis, astrology, or career forecasts, you'll find it here. Some of these types also have many sub-categories. Love & Relationships, for instance, has: Break-up & Divorce, Single & Dating, Gay & Lesbian Friendly, and so on. Seeking something a little more unusual? You'll also find readings for past lives, the occult, the paranormal, graphology, and more.
What type of reader information is available?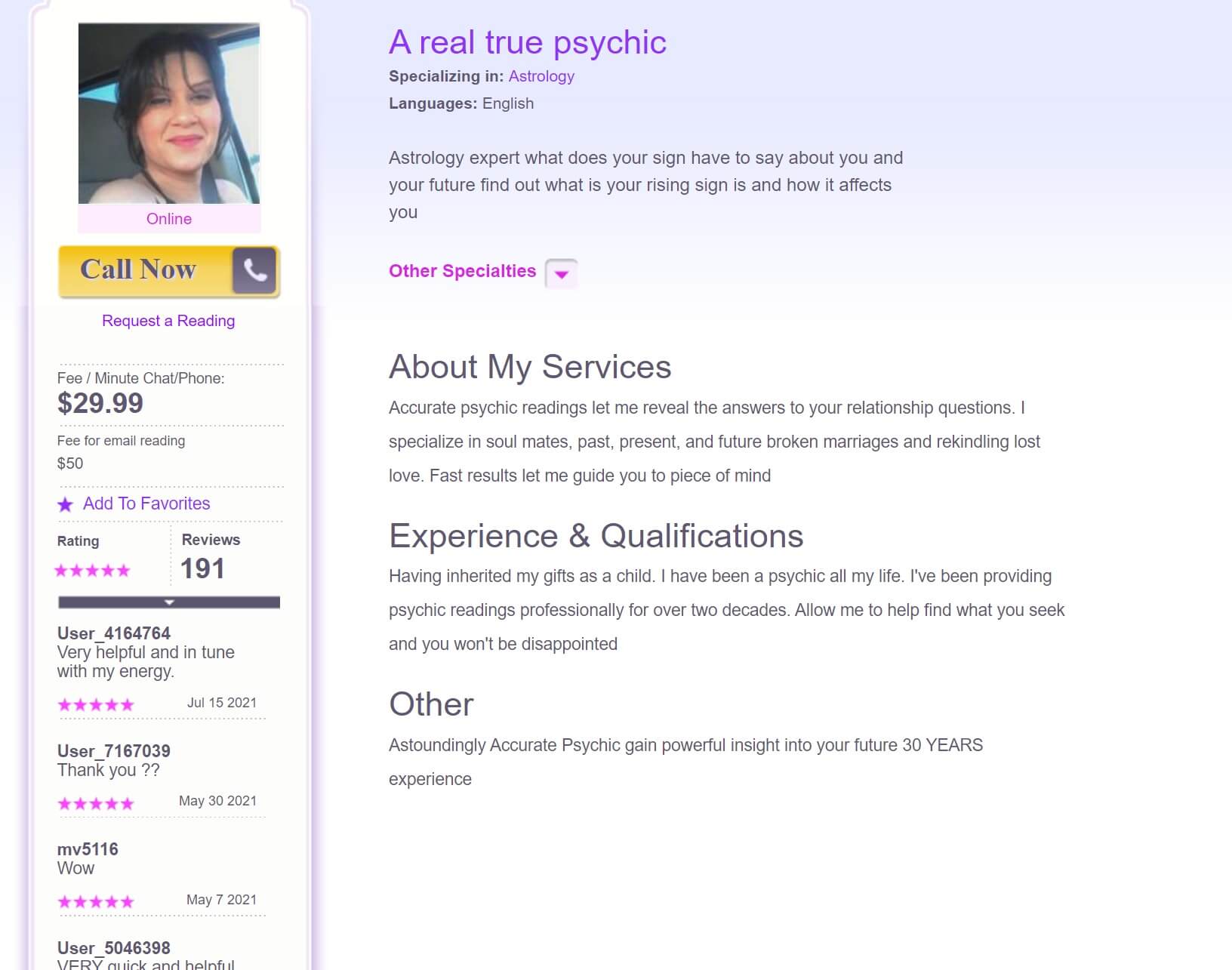 Reader profiles on Kasamba can be quite long compared to many other sites, while others are quite short. Psychic profiles include descriptions about their services as well as their experience and qualifications. From a drop-down menu, you'll also see a list of the reader's specialties.
While helpful, many psychics tend to list (too) many specialties, which gives the impression that they just want to be included in the wide array of reading sub-topics to expand their client base.
A fair number of readers list their college degrees and professional credentials on their profile, which is not something you see on other sites. Many of these degrees are in psychology or counseling, which gives the impression that some of the readers are counselors or life coaches rather than actual psychics.
Are there customer reviews of readers?
Yes. You will clearly see psychics' ratings and reviews on their profile. The vast majority of the readers are 5-star psychics. You can also look through the history of a reader's reviews, but Kasamba only allows you to see reviews in groups of ten, so moving through many reviews to get a feel for the reader is tedious.
Most reviews are also short — usually not even a full sentence — and it can be difficult to get a comprehensive impression of the reader. As mentioned earlier, Kasamba's psychics can also be clients of each other, which could motivate them to leave positive reviews for one another.
How easy is it to book a reading?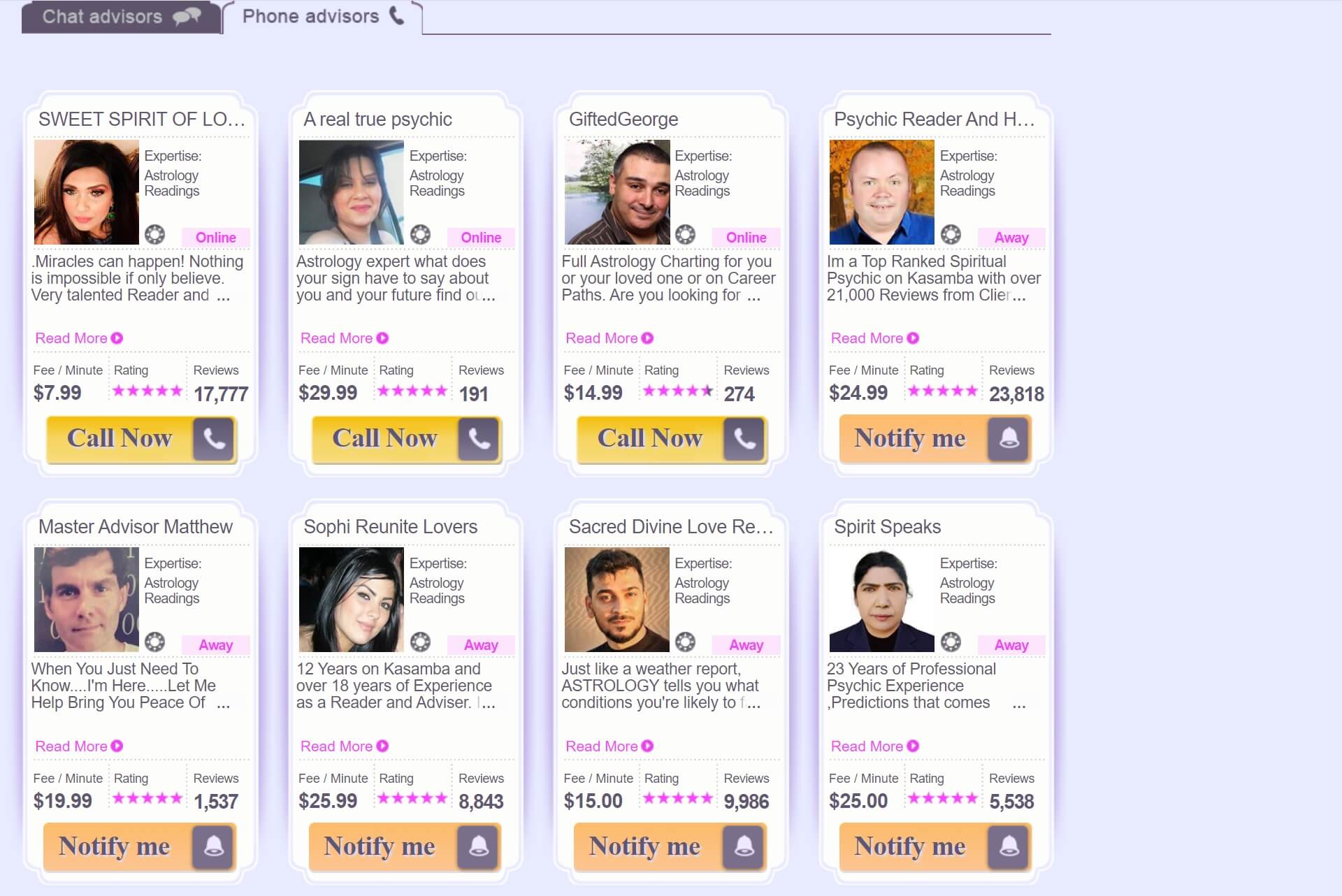 Once you have created an account and had your payment method verified, all you need to do is find an available psychic and start a call. If the psychic you want is currently unavailable, there's an option to have a notification sent to you once the reader returns.
How can you connect with Kasamba advisors?
Kasamba offers chat, phone, and email readings.
Can you block or unblock an advisor?
Yes. You can block/unblock a psychic from contacting you by updating the "My Psychics" section of your account. However, this only prevents the reader from initiating a new live session — existing message threads and email will be unaffected.
Can you leave feedback or rate an advisor?
Yes. After ending a session, you're given the option to rate the psychic out of 5 stars and add written feedback. You can also choose to wait and leave feedback later, up to 30 days. Note that Kasamba manually reviews all feedback and reviews may be removed according to the Terms of Use. As with some other online psychic sites, negative/low feedback may often be removed.
Can you create a favorite list?
Yes. You can add a reader to your favorites list, which allows you to more easily track the psychic's online status should you want another reading.
Can you ping your personal advisor?
Yes. You may send an email to a reader through Kasamba's website whenever you wish. Otherwise, you only have the option to initiate a session with a reader.
Is Kasamba Legit?
How does Kasamba screen potential readers?
Kasamba does not state any specific method of screening or vetting for potential psychics. Kasamba seems to offer a lot of advice to readers, and it even has private forums for readers. While this may be helpful in assisting new Kasamba psychics build a client base, it also seems to emphasize marketing over the reader's talents selling themselves.
What's the process for becoming a reader?
The Kasamba psychic sign-up process may be difficult for potential new psychics as the linked page seems to be broken, which doesn't instill confidence. The only information available is that if a psychic considers themselves a professional in their field, they can apply with a $50 fee to receive all the tools they'll need to start doing online readings. Nothing is mentioned about an interview process or a test of abilities, and this is one of the only instances seen where new readers must pay a fee to apply to be a reader on an online psychic website.
Do Kasamba psychics work for the company?
Kasamba's psychics are independent contractors and the site stresses that it merely acts as a platform to bring clients and psychic readers together.
How do users feel about Kasamba?
Almost all of Kasamba's psychics have 5-star ratings, with even the lower-rated ones still sporting 4.5 stars. This might be impressive if it wasn't a little fishy. The site doesn't have an easy way of searching through or filtering reviews, so it's quite tedious trying to gain a little more of a feel for the psychics.
If you do, most of the reviews are just a few words. Since Kasamba's psychics can (and are encouraged to) seek readings with other psychics on the site, this may be a tactic to enrich ratings with good reviews.
Kasamba Mobile
Kasamba has an app for both Android and iOS. Both apps are very well-reviewed on the Apple Store and Google Play Store, each with thousands of reviews. As with the ratings on the site, it's possible that some of these are from the site's readers, e.g., on Google Play, there are two 5-star reviews from the same day that give the exact same word-for-word review.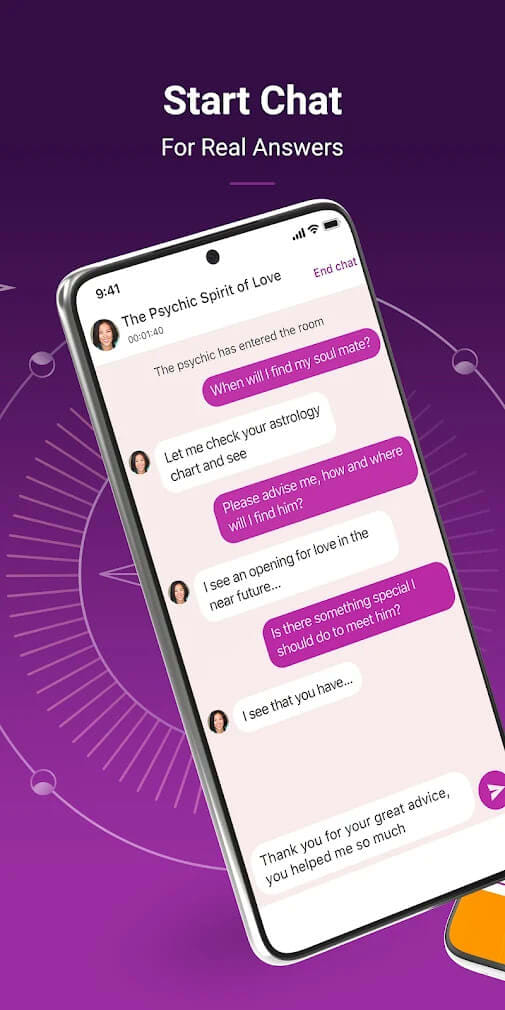 That aside, the app is also well-regarded for its design. Also, many prefer the Kasamba tarot card features and daily horoscopes over any of the psychic services. Since Kasamba's services are heavily chat-based, this app might be a great choice for those who prefer text-based readings that can be done anytime, anywhere.
How Does the Kasamba App Work?
The app functions just like the website. Once you create an account and verify your payment information, you can start talking to psychics immediately. The app is also great for receiving your daily horoscope and tarot card pull, as these will appear right on your phone.
Kasamba Support & Customer Service
Kasamba seems to have a fairly comprehensive help and support system. They have a great number of FAQs and topics addressed on their Support page, with roughly 10 to 20 questions listed under different general topics such as Kasamba App Queries, How To, and Client Payment Questions. However, not all questions are immediately visible/accessible on the support home page, so finding your question can be a little difficult. But, to make up for this, the support section also has a search function, which is super helpful at narrowing these down.
If your issue goes beyond what's offered in the FAQs, you can contact customer support by phone, email, or live chat. This last feature is great, as not all sites offer this range of options. When negative Kasamba reviews appear on third-party sites, there is often (though not always) a follow-up from Kasamba's customer support team. While this demonstrates attention to clients, these follow-ups don't usually offer any help directly and basically just tell the reviewer to contact the support team. But there also don't seem to be any complaints about customer service directly, so that's generally a good sign.
How to Get a Refund From Kasamba
You can request a reading from Kasamba within 7 days of an unsatisfactory reading. However, Kasamba refunds are limited to $50 and are only applicable to a user's first reading. This is a far more limited "Satisfaction Guarantee" policy than you'll find elsewhere, and Kasamba reserves the right to refund you partially, in full, or not at all. You may also request a refund of your current account balance.
How easy is it to request a refund?
Kasamba refund requests must be submitted to customer support and include the reading's date, psychic's name, and reading fee. Kasamba then reviews your request and decides whether to issue a refund. They do not specify whether the refund is returned to your Kasamba account or your payment method.
How long does it take to get a refund?
Kasamba does not specify a turn-around period for refunds. Since they also don't say whether refunds are deposited into your account or payment method, it's difficult to estimate how long refunds would take.
Pricing
Rates on Kasamba range anywhere from $1.99 per minute to $30 per minute. This is one of the widest ranges of rates that you'll find for online psychic services. The price varies based upon the psychic, with phone readings generally being more expensive.
Kasamba doesn't have any standard payment plans or packages, so you can choose to either load funds onto your account or opt for a pay-as-you-go model. For the latter, Kasamba also pre-verifies your payment method by placing a holding fee on it — up to $15 — which is removed one hour after the reading. A holding fee is also issued when you enter a payment method for the first time.
Although Kasamba's rates have a greater range and maximum than many other sites, they also offer more frequent ways to reduce the price of a reading. Any time you start a chat reading with a new Kasamba psychic, the first 3 minutes are free, and the first-ever reading also receives 70% off.
After your first reading, you may receive promotions via email that give 10% to 50% off, or a one-time credit toward your next session. Any coupon or special offer is only valid for up to $50 off unless stated otherwise. For readings via email, the user and psychic must agree on a rate/fee.
Top Payment Methods
Credit Card

Debit Card

PayPal

Google Pay
Price per minute, from $1.99 to $30 per minute.
3 free minutes and up to 70% off for the first reading.
Kasamba Alternatives
How Does Kasamba Compare to Other Psychic Reading Sites?
Kasamba's prices start at just $1 per minute, which puts it among the cheaper services out there. Convenient readings via phone, chat, or email are not unusual but great to have. Kasamba also lets you test the service for free for 3 minutes and gives up to 70% off your first session—you won't find a better deal with other services. Kasamba's competitors, especially Keen, seem to have a better selection of genuine psychics though, meaning you might want to prefer testing them as well before you commit.
3 free minutes and up to 70% off first session (up to $50)
Introductory free 3 minutes or $1.99 for 10 minutes
Introductory value package of $1 per minute for 10, 20, or 30 minutes
$1, $2, or $4 per minute based on tier level for new customers
5 Free Minutes (CODE: "ADD5") + 80% Off
Kasamba vs. Keen
Kasamba and Keen are pretty evenly matched when it comes to pricing: Kasamba's rates can be just $1 per minute, compared to Keen's $1.99, and both sites may charge up to $30 per minute. Both sites have good introductory offers, with Kasamba giving you up to 70% off your first reading (up to $50) and Keen giving you 10 minutes for $1.99. However, Kasamba's text-only readings might leave a little to be desired if you prefer speaking directly with your psychic. Both sites have well-regarded customer service, so between Kasamba and Keen, it ultimately comes down to whether you prefer a reading by text or over the phone.
Kasamba vs. Psychic Source
Psychic Source is superior to Kasamba on several fronts, especially when you consider that the latter only provides readings via text, compared to video, phone, and text readings at Psychic Source. While you may be able to find cheaper rates at Kasamba, as low as $1 per minute, the $5 - $15 range of Psychic Source looks really good compared to Kasamba's $30 high-end rates. Kasamba seems to have a better introductory offer: 70% (up to $50) off your first reading, but you ultimately get better value from Psychic Source's 30 minutes for $30. Combined with Psychic Source's impressive history of reliability and amazing customer service, it definitely comes out ahead of Kasamba in overall quality.
Kasamba vs. California Psychics
California Psychics seems to be an overall better choice than Kasamba, as the maximum rate of the second site is double that of the first, up to a huge $30 per minute. Kasamba does have a slightly better special offer, giving you 70% off your first reading, compared to the $1 - $4 introductory rates at California Psychics. However, California Psychics gives you much more for your money: not only phone readings, but even free natal chart readings and a members reward system, in addition to top-tier customer service.

Kasamba Visit Site
What Customers Say About Kasamba
Is Kasamba Legit/Trustworthy?
Although Kasamba does have a great number of positive reviews, both on their site and elsewhere on the internet, it's difficult to understand how real these reviews are. While it's up to you to decide the reliability of psychic services — no matter what online service you choose — the signs that Kasamba uses potentially deceptive tactics are higher than other online psychic sites.
How Can I Find a Good Psychic on Kasamba?
The best way might be looking at reviews on third-party websites where users specifically endorse one or more psychics by name. This does not guarantee those same psychics will have a good connection with you, but it might be a good place to start. Kasamba has so many psychics available, almost all with 5-star average ratings, that it is difficult to tell which ones would be a good match for you. Definitely look through a reader's profile and feedback as far as you can in order to get the best feel for them
Does Kasamba Have Good Customer Support?
Yes, Kasamba's customer service seems fairly good overall. With extensive and searchable FAQ pages and live support chat, you'll be able to find help no matter what sort of issue you're having. Their customer support seems generally well-rated and friendly. One potential issue with this aspect of Kasamba is that their refund policy is limited to just your first reading, and only up to $50. This policy is quite limited compared to other sites — other sites generally allow a refund once per psychic or once per month — which helps users feel more secure about trying different readers, methods, etc.
The Bottom Line
With positive reviews both on their site and from other sources on the internet, Kasamba could be a good choice if you're looking for psychic advice. With so many readers to choose from and with a great variety of topics and reading methods available, there is a good possibility of having your psychic needs fulfilled. If you're a returning customer, Kasamba can also be a good option because they send out coupon codes and other discounts. This sets them apart from other sites which provide discounts more through buy-in-bulk methods.
However, there are many small factors that might make you think twice about using this site. Most basic is their pricing structure — psychics may charge anywhere from $2 to $30, and there is no clear indication of the level of service you get by paying more. Since nearly all readers on the site have a 5-star average rating, it's hard to know if the person charging $25 is actually worth more than someone charging $5. Plus, prices vary wildly on a day-to-day basis.
The service may be a good choice if you're just looking for advice, life coaching, or counseling, but if you are looking for genuine psychic ability, Kasamba might not be your best bet.