In a Nutshell
PsychicCenter is an online psychic service providing members with insightful guidance for some of life's most complicated questions. From love and relationship advice to visions gleaned from astrological signs, talented readers give members the answers they're seeking. A fair introductory rate, range of quality psychics, and rewards program make PsychicCenter stand out.
pros
Screening process based on user feedback
Rewards program earns 10% back each month
Convenient call back feature
cons
Limited number of psychics
Not as wide a range of psychic services as other sites
PsychicCenter Visit Site
PsychicCenter Video Review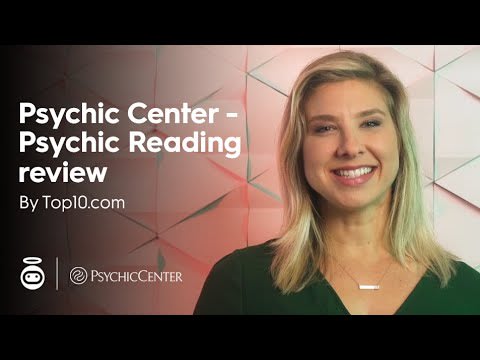 Is PsychicCenter Trustworthy?
When searching for an online psychic, one of the main concerns is trustworthiness. There's no denying the existence of bad actors and frauds, who cast a dubious shadow over the field and its more legit practitioners. So how do you separate the 2? How can you tell a legit psychic from somebody just out for your money?
The short answer is, it's difficult, but not impossible. Psychic readings are by nature mysterious, personal, and unquantifiable. However—there are some fairly reliable criteria that, when applied to a psychic or psychic website, can either weed out questionable practices or spotlight the signs of a transparent, honest business. Here's how PsychicCenter looks under scrutiny:
Screening Process?
Yes. Unlike most online psychic sites, PsychicCenter doesn't have hundreds or thousands of mediums available at your service. Instead, it has only a handful of quality readers, less than 100 in fact. The reason the site keeps its numbers so low is because it wants to ensure the quality of the readers being offered on the website. This small, hand-picked group is more easily screened and monitored for top of the line service.
What's more, PsychicCenter has a strict advisor policy dictating several rules about which psychics are authorized, or not authorized, to advise their clients. For example, psychics are not allowed to diagnose an illness, provide prescriptions or drugs, or attempt to convey medical treatments. Advisors may not have any spam, pop-up, or banner ad programs either, ensuring you are getting the exclusive and quality service you deserve.
Psychic bios?
Yes. Click on any of PsychicCenter's practitioner and you'll be able to glean information about their experience, background, approach, and specialties. The pages can be a bit erratic, however, with some bios written in long blocks of text or all capital letters. Some psychics have voice intros as well, which we found to be a nice touch.
User reviews?
Yes. You can read what past customers had to say on each psychic's bio page. Reviews are ample; the psychics we viewed had anywhere between 40 and 3,000 reviews that you can read, a helpful feature for deciding on the right psychic, although the fact that all psychics have a 5-star average rating gives us a little pause.
Community resources?
Yes. Since PsychicCenter is smaller than some of its competitors we didn't expect to find community forums or an extensive multimedia library. We were pleasantly surprised by the resources offered, however. The website features a detailed psychic glossary and a wiki with articles covering a range of relevant topics.
100% money-back guarantee?
Yes. PsychicCenter does have a satisfaction guarantee, though it's a bit murkier than others we've seen. According to the FAQ, members are privy to 3 refund requests, though they can only make the request for calls 5 minutes or less. Furthermore, the refunds are not issued by cash or credit card but instead as credits to use on the site.
VERDICT: TRUSTWORTHY
Despite PsychicCenter's customer guarantee policy, which leaves room for improvement, and the curious 5-star ratings of all psychics, the site met enough of our criteria to convince us it stands behind its services and cares about its customers. It's a smaller company than others on our list and we expected less flair resources than some of the heavy hitters. Nonetheless, the presence of personal psychic bios and supplemental articles and glossaries demonstrate the kind of transparency and community engagement we look for when judging online psychic websites.
A final note about trustworthiness
Given the nature of psychic readings, it's difficult, but not impossible to determine with absolute certainty the legitimacy of a practitioner. Furthermore, there are factors that can influence the success or failure of a reading that may have nothing to do with the legitimacy of the psychic. For that reason, make sure you choose a psychic that specializes in your field of inquiry, and communicate your questions and goals clearly. Nothing's black and white when it comes to psychic readings—hey, that's part of the fun, right?—but judging online psychics by certain criteria can drastically increase your chances of finding one who's in it for the right reasons.
Pricing & Special Offers
Ranges from $2-$9 per minute
PsychicCenter has a pretty wide range of pricing for its psychics, so you can easily find one that fits your budget. Each psychic is allowed to set their own rate, so it has nothing to do with the service itself. Some psychics charge more, some charge less. Generally, the more experienced a psychic is, the more they will charge since their time is more valuable than someone just starting out.
The advisors on PsychicCenter charge anywhere from $2 up to $9 per minute. What's nice about the way this service sets up its search functionality is that you have the ability to search via price.
In addition to the regular rate, you can get a special introductory offer of 10 minutes for $5. What's even nicer about this deal is that it comes with no expiration date. That means you can use the free minutes whenever you are ready and feel comfortable starting a session. The special offer is a great way for you to get to know a specific medium on a deeper level or to try out a few new psychics to see if they are a good fit for you.
Types of Psychics & Services
PsychicCenter has a strong backing and reputation in the online psychic world. It offers readings via telephone, email, or even private mail. This last one is a specialty service that not many other sites offer. It is basically a safeguard for people who don't want their own email address sent out to the psychic they're communicating with. Instead, you'll be able to send an email via the PsychicCenter network, and it will go through your account. This way only your username is seen and not your actual email address. It's a level of privacy that many people appreciate.
PsychicCenter readers come in various forms, including tarot card readers, love and relationship psychics, mediums, and astrologers, with specific readers who specialize in clairvoyance, empath, clairsentience, clairaudience, and more. Though they can help you with many areas of your life, including questions regarding your job, death and bereavement, and unsettled issues from your past, many of the psychics on PsychicCenter focus on love and relationship advice.
Call Backs
Another unique aspect of PsychicCenter's services is the call back feature. If you want to reach a specific advisor, but they're not available when you go to connect, you can request a call back with the Arrange a Call feature on the website. Here's how it works:
Go online and find the psychic you love, but you see they're unavailable right now

Click the Arrange a Call button found right near the psychic's name

Choose a wait time, the amount of time you are willing to wait for the advisor to become available

Confirm your call details on the next page (the name of the psychic, how long you'll wait, what phone number to receive the call back on, and how much time you have for the session based on your current account balance)

Click okay, and you'll receive a call back within the specified time frame
What's Unique About PsychicCenter?
PsychicCenter has a lot going for it with reliable psychics that are rated via real user feedback, a range of prices, and a good help center for members to troubleshoot.
Here are some other things that make PsychicCenter shine:
Rewards Program
It's rare to find a psychic service that gives money back to its customers, but that's exactly what PsychicCenter does. With its loyalty rewards program, PsychicCenter gives its clients 10% back on what they spend. Here's how it works: when you spend $50 or more in any given month, you'll automatically get 10% of the month's total as a credit to be used the following month. So, if you spend $100 in January, you'll get a $10 credit to be spent in February. That's a nice offer considering you're spending the money anyway.
Satisfaction Guarantee
While you will see satisfaction guarantees on other online psychic websites, few are as clear to understand. PsychicCenter guarantees that if you are unhappy with the consultation for any reason (other than technical issues on your side) within the first 5 minutes of the session, your account will be fully credited according to the amount that the psychic charges. It's a solid policy that is straightforward, and what's more, easy to request. Just fill out the online credit request form, and PsychicCenter will credit your account automatically.
What Users Are Saying About PsychicCenter
"She blew my mind! Knew things that I had never mentioned to anyone. Connected to a loved one. She gave me so much peace. I'll be calling back. Thank you, Maggie! Have a blessed 2021." - User421215
"Kathleen is the best! My consigliere for many matters. Always smart and on the ball. Straightens out impossible situations. Just love her." - User172288
"I typically do not leave feedback because I wanted to see if things that a psychic says manifest. Ulysses is one of those rare breeds that has the ability to articulate things in ways that makes sense. He describes things as if they are happening or about to happen. Then they do. His predictions have come to pass for me. He has this sincere desire to help others. A call to him is worth every penny." - User256254
PsychicCenter Visit Site
Customer Support
PsychicCenter customer support is available via the telephone hotline Monday thru Friday from 7:30am-6pm PT. You can also reach out to PsychicCenter via the online contact form on the Contact page.
PsychicCenter also has an active online community of members and psychic guides that's available to members 24/7. So, you can reach out to someone any time of day or night whenever you feel the need.
Bottom Line
PsychicCenter has a lot to offer anyone seeking guidance and advice. With insightful readers who have been screened and rated according to real users like you, an excellent welcome promo, and good rates across the spectrum, PsychicCenter is a solid choice if you want a quality reading at a reasonable price.