In a Nutshell
PsychicCenter provides users with insightful guidance for some of life's most complicated questions. From love and relationship advice to visions gleaned from astrological signs, talented readers give members the answers they're seeking. A fair introductory rate, range of quality psychics, and loyalty rewards program make this site stand out as a good choice for people looking to build long-term relationships with advisors.
pros
Rewards program earns 10% back each month
Ability to schedule appointments with psychics
Special promo codes for users' birthdays
cons
Only a few reading categories
Very basic website with limited features

PsychicCenter Visit Site
PsychicCenter Video Review - Quantity Over Quality

How Much Does PsychicCenter Cost?
PsychicCenter offers an introductory offer of 10 minutes for $5. After this promotion, the rates for PsychicCenter advisors range between $2 to $10.99, which is a medium range for psychic websites and a relatively lower cap rate. Psychics set their own rates, and the prices set are not necessarily reflective of skill level, though newer psychics tend to have lower prices until they build up a clientele.
While PsychicCenter does not offer bundle packages, it does have the AstroRewards loyalty program. Users who spend $50 or more a month will automatically have 10% applied back to their account to use the next month. For instance, if a user spends $60 in November, they will have $6 credited to their account to use in December. PsychicCenter also offers loyalty bonuses throughout the year, along with a special bonus for a user's birthday.
Top Payment Methods
PayPal
Visa
MasterCard
American Express
Discover
Pre-paid Debit or Gift Cards
Pricing and Special Offers
Price per minute: $2 - $10.99 per minute
Is PsychicCenter Legit?
How does PsychicCenter screen potential readers?
PsychicCenter psychics are screened by a third-party site, but no further information is provided about the process. The main form of vetting readers on the site is through PsychicCenter's customer feedback and review system. Only high-ranked psychics are able to continue reading for PsychicCenter, while low performing psychics will be removed.
What's the process for becoming a reader?
To become a PsychicCenter advisor, users must first create an account. Once the account is set up, they can create an advisor listing. Advisors must be approved and verified by a third party before connecting with customers. From there, advisors can complete their profile and begin to offer their services.
Do PsychicCenter psychics work for the company?
PsychicCenter is a platform that mediates between users and readers. All readers are independent contractors that adhere to PsychicCenter's User advisor rules.
How do users feel about PsychicCenter?
Overall, users seem very satisfied with PsychicCenter. Negative feedback from users is very hard to find about PsychicCenter services.
How to Get Started with PsychicCenter
How easy is it to sign up?
Signing up with a PsychicCenter com account takes less than a minute. In the upper right-hand corner of the home page, click "Register." From there, all that is needed is an email address and a password. Immediately, you are logged into your account and eligible for Psychic Center's reward program. Once you are ready to connect with a PsychicCenter psychic, you will have to provide payment information.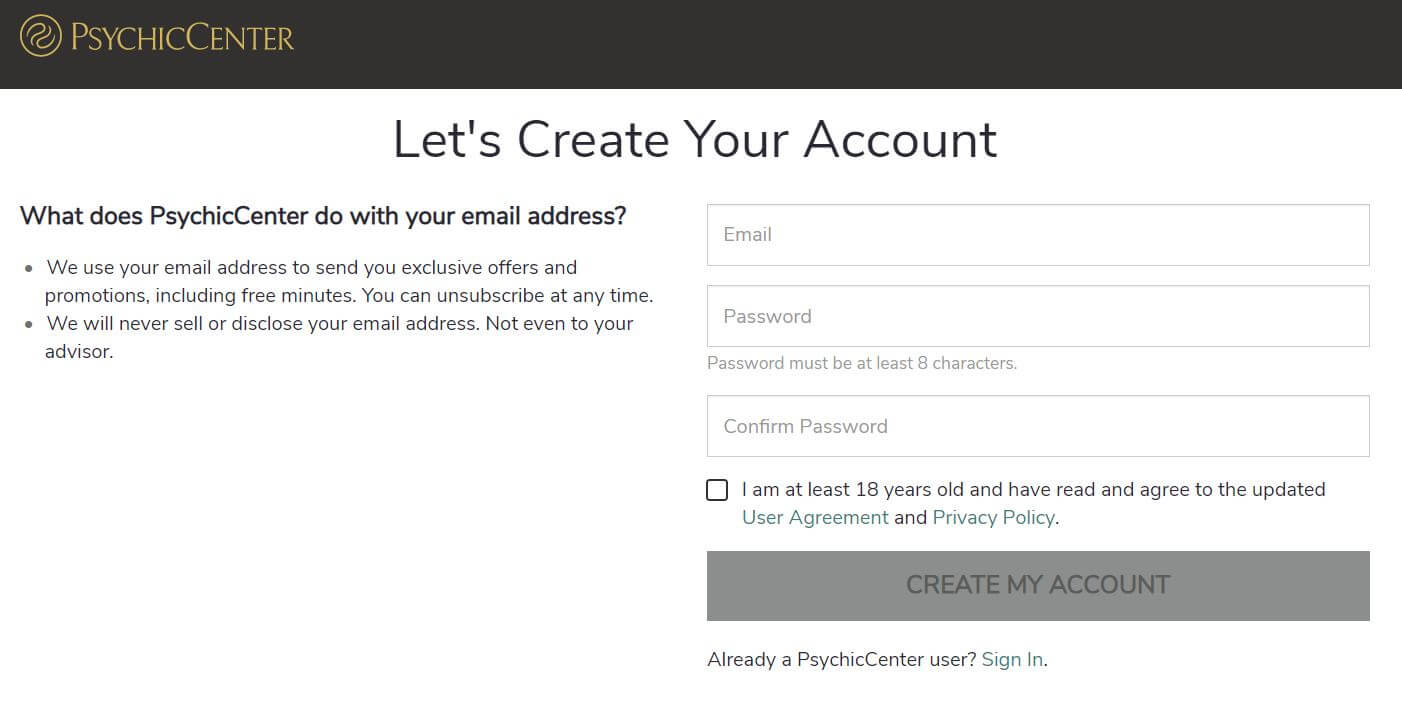 What personal information do you have to provide?
To initially create an account, only an email address and a password are needed. However, to pay for a reading, you must enter your legal name, telephone number, mailing address, and billing information. Other personal information that may be needed is the date, time, and location of birth (for an astrology reading) and the time zone for scheduling appointments.
What payment methods are accepted?
PsychicCenter users can pay with PayPal, credit card (Visa, MasterCard, American Express, or Discover), and pre-paid debit or gift cards.
Do you have to deposit funds before being able to choose a reader?

You can browse reader profiles for free, but to connect with a PsychicCenter advisor, payment information must first be entered. For the initial special offer, users must deposit $5 before receiving their 10-minute consultation.
PsychicCenter Features and Tools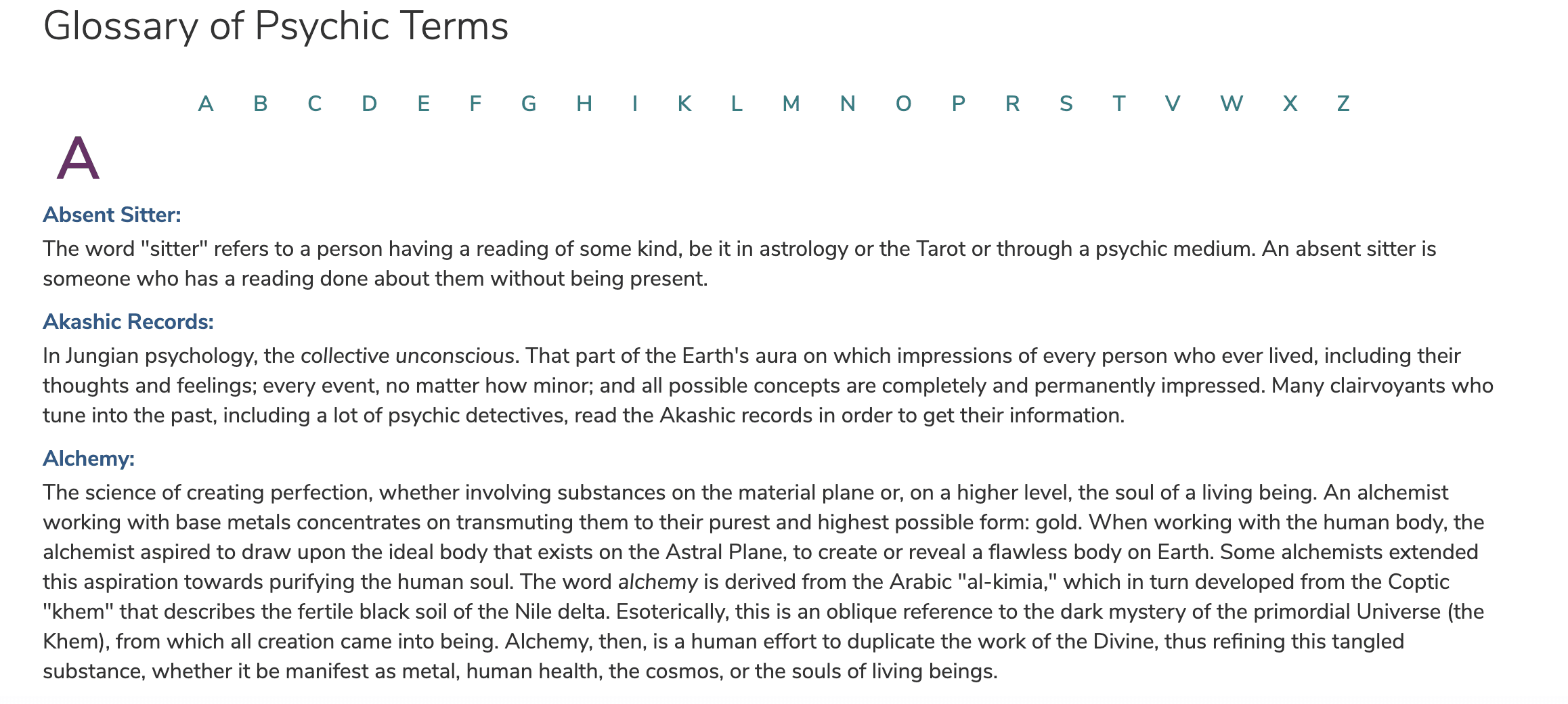 PsychicWiki features short blog posts on spiritual topics
Psychic glossary of terms for users to become familiar with spiritual lingo
Ability to send mail (emails) via PsychicCenter's platform for privacy
Voice introduction on a psychic's bio page
AstroReward money-back loyalty program
How to Choose a Reader at PsychicCenter
Types of readings at PsychicCenter
PsychicCenter is a bit more limited in the types of readings they offer. The only categories to choose from are love and relationships, mediums, tarot readers, and astrologers. However, browsing advisor profiles reveals that each PsychicCenter psychic has their own expertise — from numerology to clairaudience — that they also incorporate into these categories during their readings.
What type of reader information is available?
All Psychic Center psychics have detailed profiles for users to get to know them and their unique offerings. At the top of the profile are the advisor's name, five-star rating, voice introduction, professional titles (ex. psychic, medium, energy reader), short pitch, and the number of readings they've done and reviews posted about them. Then there is an About Me section where more information is provided about their services. At the bottom are reviews left by previous clients.

Are there customer reviews of readers?
There are customer reviews for almost every reader on PsychicCenter. A few new psychics might not yet have Psychic Center reviews, but top-rated advisors will often have thousands. PsychicCenter relies upon user feedback to ensure high-quality psychic service and encourages users to leave feedback about the reading.
How easy is it to book a reading?
When you are ready to book a PsychicCenter reading, click on the category they want or simply click all psychics. Buttons on the advisor's profile will indicate if you can call or chat immediately (yellow), chat later (grey), arrange a call (black) or send mail (black).
You can schedule a time for a call or put yourself on the advisor's waitlist. You decide how long you're willing to wait for the advisor to become available before you are removed from the waitlist. On the next page, call details will be confirmed such as the name of the psychic, how long you want to wait, the phone number to receive a call back on, and how much time is available for the session based on the current account balance.
Go to the "Arranged Call" page in your account to see your current callbacks and place in line, as well as any scheduled appointments. Be aware that appointments may require a deposit, and if the appointment is canceled with less than 24 hours' notice the deposit will not be refunded.
How can you connect with PsychicCenter advisors?

Readings are available by phone call and chat. However, certain readings, such as tarot readings, are only available by phone. This is because PsychicCenter understands the value of discussion to facilitate a good tarot reading.
One benefit of chats though is that the conversation is stored in the "Chat Transcripts" section of users' accounts for 12 months to refer back to later. A handful of advisors also offer readings by mail; however this can take up to 10 business days from the time of payment to receive a response.
Can you block or unblock an advisor?
No. There is no way to block or unblock an advisor. If you ever feel harassed, threatened, or uncomfortable with an advisor, you should end the session immediately and contact customer support.
Can you leave feedback or rate an advisor?
Yes. All users are encouraged to leave feedback and a rating based on PsychicCenter's five-star system. PsychicCenter attributes its high-quality services to clients providing valuable feedback, which is vital to building trust between users and advisors. Most of the reviews are positive ones offering gratitude for the reading or sharing how it was just what the person needed to hear.
Can you create a favorite list?
Yes. You can create a favorite list of PsychicCenter advisors to keep track of psychics whose reading they enjoyed or wish to consult with in the future. To add someone to their favorite list, simply click the heart icon in the upper right-hand corner of their profile picture.
Can you ping your personal advisor?
Yes. You can send a message to psychics via the Mail function on PsychicCenter's platform. This feature can be used to schedule phone appointments, send payments, or request mail readings.
Does PsychicCenter Have an App?
No. PsychicCenter does not currently have an app.

PsychicCenter Visit Site
Help and Support
Customer support is available by contacting the Psychic Center phone number (1-866-692-7876), mail on their platform, or an online contact form on the "Contact Us" page. Hours of operation are Monday through Friday 7:30 AM - 6:00 PM Pacific Time. It can take two to three business days to receive a message back via the mail or online contact form. Calling during business hours is often an immediate way to connect with customer support.
For general questions, PsychicCenter has a FAQ section under the "Help" section of User Support at the very bottom of the website. It covers a range of questions about adding funds to an account to redeeming promotions.
How to Get a Refund From PsychicCenter
PsychicCenter's Satisfaction Guaranteed Policy allows users to receive up to 3 refunds during the lifetime of the account. To qualify for a refund, the call must be 5 minutes or less and the refund needs to be requested within 72 hours of the call. Additionally, users can only request one refund per advisor.
How easy (or difficult) is it to request a refund?
It is easy to request a refund by contacting customer support. However, there are criteria that must be met for the refund to be eligible. To qualify for a refund, the call must be 5 minutes or less and the refund needs to be requested within 72 hours of the call. Additionally, you can only request one refund per advisor. Introductory offers and promotional funds are not eligible for refunds, and technical issues on the user's end are not covered by the refund policy either. PsychicCenter refunds are credited to your account and are never refunded to the original payment method.
How long does it take to get a refund?
Once the refund is approved, the credits are immediately available in the user's account to use towards another reading. Depending on the method of communication used to contact customer support, it can take anywhere from a few minutes to a few days for the credit to be applied.
How PsychicCenter Compares to Other Psychic Reading Sites
PsychicCenter offers cheap readings starting at $2 per minute via phone, chat, or email. Only a few other sites can offer cheaper prices than this, with most offering fewer options to connect with your psychic reader. New customers get a 10-minute reading for only $5. That's a good price, but other services such as Keen let you test the service for free for the first few minutes.
Introductory price of $5 for a 10-minute reading
Introductory 3 free minutes or $1.99 for 10 minutes
Introductory value package of $1 per minute for 10, 20, or 30 minutes
$1-$4 per minute for first reading based on tier level
PsychicCenter vs Keen
PsychicCenter and Keen are both highly-rated sites founded upon a cornerstone customer satisfaction of quality psychic readings. However, PsychicCenter distinguishes itself through a generous money-back AstroRewards program that refunds 10% of credits spent each money if the user spends over $50. It's extremely easy to navigate PsychicCenter's site and find the perfect match. Both of these sites are wonderful choices for new users, for the introductory 10-minute reading, Keen's pricing is better.
PsychicCenter vs Psychic Source
PsychicCenter aims to provide white-glove service to users, while Psychic Source is focused on a kind and compassionate user experience. Both of these sites have well-vetted psychics, who offer a wide range of services. One advantage of Psychic Source is an opportunity for video chat, which PsychicCenter does not offer. However, PsychicCenter has less expensive introductory offers and better prices-per-minute compared to Psychic Source.
PsychicCenter vs California Psychics
PsychicCenter and California Psychics are leading psychic sites. Price-wise, most PsychicCenter readers are at a lower per-minute rate than those on California Psychic, making for an affordable user experience. Both sites have loyalty programs though that make it advantageous for return users to continue using their services. Though there are not as many categories of readings compared to California Psychics, PsychicCenter has a range of readers with specific focuses, including women's issues, money and prosperity psychics, and angelic spirit guides.

PsychicCenter Visit Site
Bottom Line
PsychicCenter may not have as many reading categories as other online psychic services, but it does offer high-quality experiences for the users. The introductory offer is a small taste of all the site has to offer, which becomes more visible to customers as they continue to use the site. Throughout the year, promotional rates are offered, along with special birthday bonuses, and the AstroRewards program continually credits 10% of the previous month's money spent to the user's account.
There's not much to see on PsychicCenter's website, nor is there an app to connect with readers, but the simplicity of the site makes it easy to use for customers who are okay with the bare essentials and just want to get down to their reading without too much fanfare. With insightful readers (who have been screened and rated by real users), an excellent welcome promo, and good rates across the spectrum, PsychicCenter is a solid choice if you want a quality reading at a reasonable price.