Fortune telling digs deep into your soul, providing insights beyond logical perception about your past, present, and future. And by using the right tools, an intuitive psychic will create an intense spiritual experience while helping you feel supported and comforted.
Finding the right psychic reading website that offers quality fortune-telling services can be challenging. To help narrow down your search, we've researched the best online fortune-teller platforms to help you unravel the mysteries of your life.
How We Reviewed the Best Online Fortune Teller Websites - Our Methodology
To rate and review each fortune teller website, we considered the following key factors:
Ease of use

Mobile app availability

Extra features like articles and media

Communication methods

Psychic's personality

Prediction accuracy

Customer satisfaction

Money-back policy

Range of psychic specialties and types of readings
Our Best Online Fortune Teller Websites in 2023:
A Closer Look At The Online Fortune Teller Websites - Quick Reviews:
1. Keen
Ancient wisdom via a smart modern platform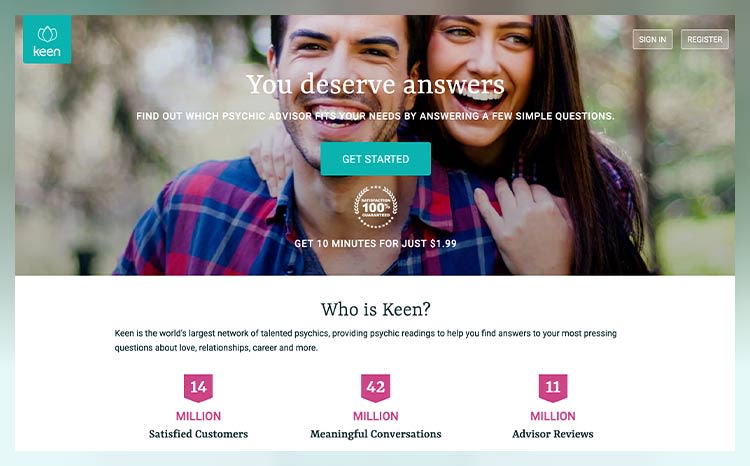 Best for - 24/7 readings

Price - From $1.99/minute

Money-back guarantee - Yes, site credit only
Keen is a life guidance platform with plenty of carefully selected predictors and mystics specialized in love, dream interpretation, or financial advice. Their psychics are also available 24/7 to answer your questions using spiritual tools like crystal balls, tarot cards, playing cards, and Chinese fortune sticks.
"Keen is an online psychic site I can trust to provide high-quality readings," says Emily Newman, a counselor at Best of Psychic Reader. She also remarks that Keen "carefully reviews each of its psychic applicants."
Why we chose Keen: Keen has detailed descriptions of the seer's skills, specialties, and methods, which helps you clearly determine if a mystic can read your fortune. Not all psychics are fortune tellers. Thus this page defining each diviner and their specialty helps you to decide which expert psychic to contact for a reading.
Our experience: Diviner's systematic approach to the reading was impressive. We could hear the tarot cards shuffling over the phone as they pulled each card to represent our situation while explaining its meaning and relating it to our tarot spread. The reading was concise and flowed perfectly, clarifying what was to come for us.
Pros
Diverse divination techniques

24/7 readings

Readings via mobile app
Cons
No video readings

Limited customer guarantee

Keen Visit Site
2. Psychic Source
Longstanding & trusted community of clairvoyants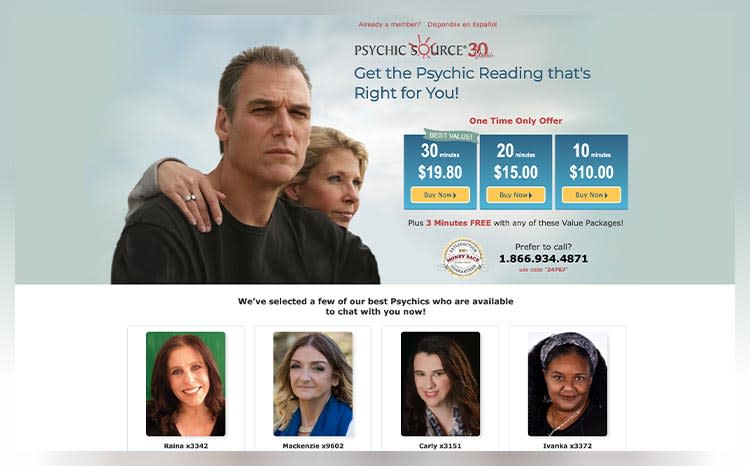 Best for - Trusted and qualified clairvoyants

Price - From $8.75/minute

Money-back guarantee - One business day, site credit only
Psychic Source has an extensive screening process, recruiting only professional clairvoyants who'll perform an authentic reading. You can search for a seer using detailed filters or sign up for one of the many free resources like horoscopes, guides, and podcasts. Customer service is also available around the clock.
"My psychic was clearly trying to get a good understanding of what brought me to the service. She asked a few basic and personal questions, which helped to make me feel like we established a connection before diving in fully," says Tiffany McGee, founder of Nomadrs. The reader was "friendly and warm," even though she "opted for a psychic with a direct approach."
Why we chose Psychic Source: Psychic Source's website has a page explaining different kinds of spiritual advisors, like astrologers, prophets, shamans, and even pet psychics. They also offer a single business day money-back guarantee, so you can try the service without losing your money if the reading doesn't meet your expectations.
Our experience: We liked Dara at Psychic Source because she created a supportive and encouraging atmosphere. She delved into the past, future, and topics about our lives only we could know. Time also flew by due to her enchanting presence, which kept us engaged and eager to ask more questions.
Pros
Serving the psychic community for 30 years

Extensive checks for all diviners

Kindness Initiative donates to a charity of your choice
Cons
Not all psychics are available for video calls

Phone connections can be unstable at times
View full Psychic Source review

Psychic Source Visit Site
3. California Psychics
Two decades serving the psychic community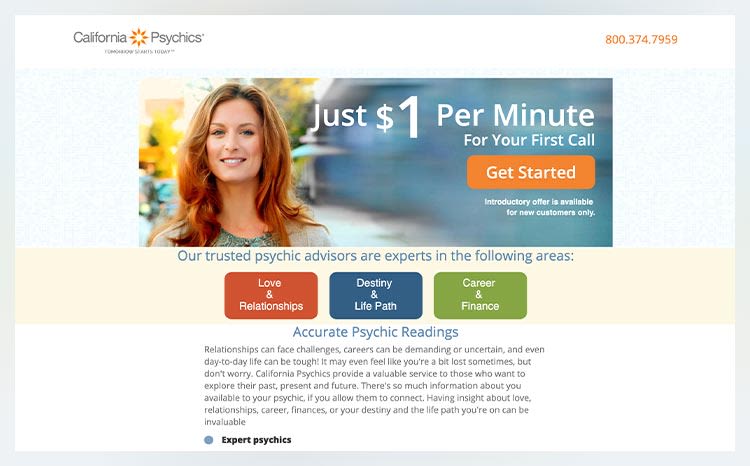 Best for - California residents

Price - From $4/minute

Money-back guarantee - Yes
California Psychics prides itself on forging meaningful relationships between clairvoyants and their clients, offering guidance through life's journey. Their horoscope page also gives general predictions based on your zodiac sign, providing quick fortune-telling methods.
What goes around comes around with California Psychics—they offer a return on investment with their Karma Rewards program. When you purchase their special rated offers or "top up" to speak with a tarot reader, you receive karma points, which you can redeem for future sessions.
Why we chose California Psychics: They offer free horoscopes and blogs which cover subjects like destiny, astrology, numerology, dream interpretation, and psychic tools. This wealth of information prepares you before seeking guidance from a psychic.
Our experience: When we signed up, we encountered a minor issue with someone else having the same account name, but the customer support team swiftly resolved it for us. It was reassuring to see how dedicated they are to ensuring a smooth experience for their users. It was clear to see that the providers at California Psychics have been truly gifted, as they offered profound insights and and empathetic approach.
Pros
Best value for the introductory price

Good return on investment with Karma Rewards program

Security measures
Cons
No free trial

No video readings
View full California Psychics review

California Psychics Visit Site
4. Kasamba
Esoteric readings on-demand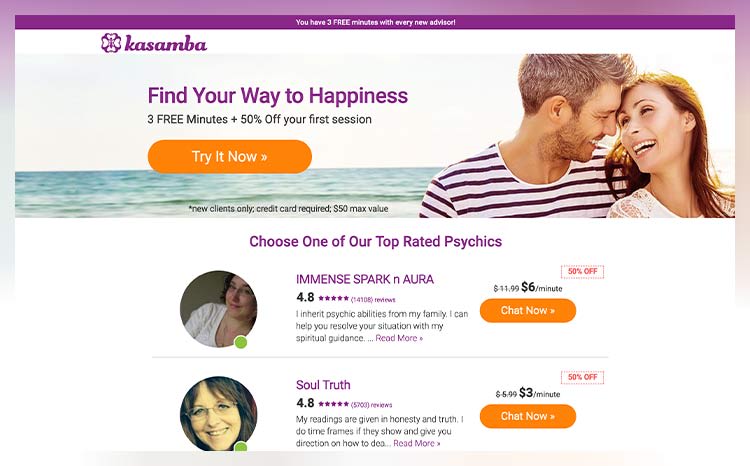 Best for - Love and career advice

Price - From $1.99/minute

Money-back guarantee - Yes
Kasamba has been in business for over 20 years, providing a trusted marketplace where you can find clairvoyants specializing in methods like astrology, pendulums, and tarot cards. The variety of service menu lists fortune telling at the top of the home page, making it easy to search for mystics gifted in breakups, money, or parenting.
Rates start from $1.99/minute up, so you're sure to find a reader that you can both afford and rely on because each diviner's profile lists their services, skills, experiences, and qualifications.
Why we chose Kasamba: Kasamba delivers a to-the-point service via chat, email, or phone. Though the seers take a minute or two to tune into your situation, they're fast and concise with their subsequent reading. And as a bonus, you'll receive the first three minutes free upon registering.
Our experience: We liked forging bonds with our psychics by emailing them for free or chatting on the platform without paying for a reading. Our tarot reader sent emails concerning the energies we might be experiencing, making us feel connected to them as they showed the utmost care on our spiritual journey.
Pros
Wide range of more esoteric reading options

Detailed psychic profiles

The first three minutes of reading are free
Cons
Not the most user-friendly website

No video chat

Kasamba Visit Site
5. PsychicCenter
Non-pretentious spiritual advice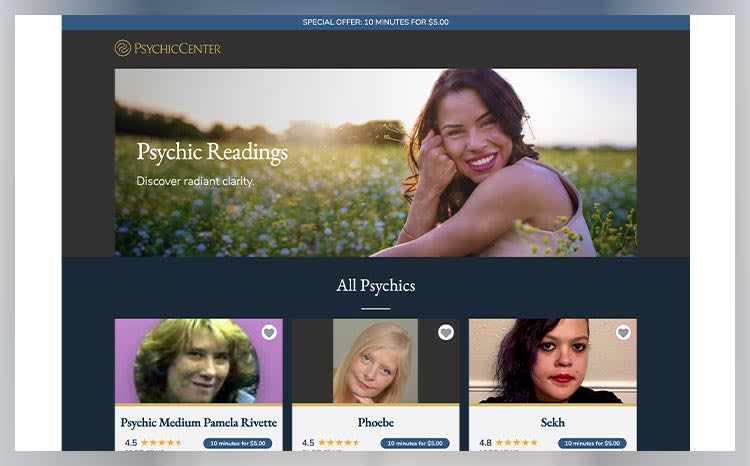 Best for - Straightforward spiritual guidance
Price - From $2/minute
Money-back guarantee - Yes
PsychicCenter connects you to clairvoyants who can advise you on questions like love, relationships, and career by using tools such as tarot, reiki, pendulum, astrology, and dream interpretation. The mystics are screened by way of user feedback, where you, as the client, can leave feedback for all paid conversations in the past 14 days in your account section.
Psychic Centre offers a $5 10-minute introductory rate for new users. Their Astro Rewards program also gives 10% of your money back in site credits if you spend $50 or more in a single month.
Why we chose PsychicCenter: They aim to provide budget-friendly, straightforward, and practical guidance. The minimalist design limits any distractions and helps you stay focused on finding the perfect psychic for your needs.
Our experience: Kira from the Psychic Centre was calm and steady during the session. She quickly tuned into our situation, giving us insights into our life's purpose, and the knowledge and wisdom we gained from our previous lives. We liked that she pointed out our talents and the intensity of our energies, and her reading helped us gain perspective on our careers and higher purpose.
Pros
Affordable readings

Straightforward, practical guidance

Astro Rewards program
Cons
A smaller selection of psychics

Search filters don't have many options

PsychicCenter Visit Site
6. MysticSense
Tailor-made & customizable readings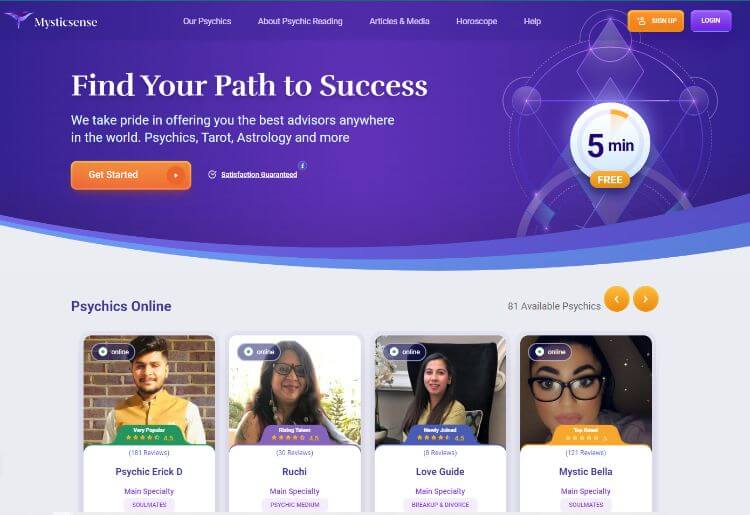 Best for - Providing transparent customer reviews
Price - $1.16/minute
Money-back guarantee - Yes
MysticSense offers top-quality fortune-telling services, ensuring customer protection through strict house rules, while banning any discussions of evil spirits or bad omens. The platform's diviners have diverse specialties, such as life path guidance, family issues, and energy healing. They also use various divination tools like tarot cards, crystals, angel cards, and astrology.
With a strong focus on customer trustworthiness and protection, MysticSense provides a helpful resources page that explains what you can expect from a reading. It also teaches you how to avoid online scams, i.e., by reading reviews, trying out different psychics, and watching out for oracles who use fear tactics to manipulate you.
Why we chose MysticSense: Psychics on Mystic Sense provide chat, video, and phone readings with responsive customer service. You can also consult the helpful horoscope section, or articles and media they have on topics like astrology, love, spirituality, psychology, and life direction.
Our experience: We were impressed by Mystic Angel. She quickly tuned in, answered our questions, and replied to all the follow-up questions. Using tarot cards and her psychic abilities, she predicted our near future and the feelings of those around us, compelling us to call back and ask more questions.
Pros
Wide variety of psychic services to choose from

Responsive customer service

Fair and trustworthy business practices
Cons
A relatively new psychic website with few reviews

Experienced readers can charge high prices for their services

MysticSense Visit Site
7. Oranum
24/7 fortune teller live stream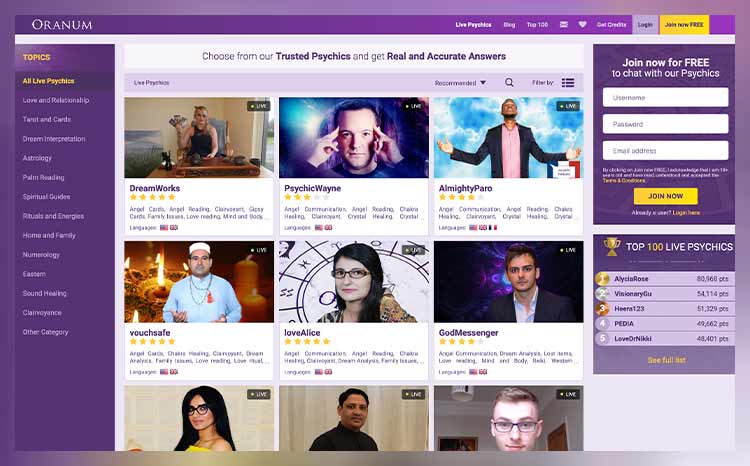 Best for - Online Palm Reading
Price - $0.98/minute
Money-back guarantee - No
Oranum is a spiritual community with many palm readers, soothsayers, and augurs offering their service through live video streams. The site doesn't follow a traditional template, as the homepage only displays streams of the diviners that are currently online. You can tune in live and get a feel of the reader at work, which is a unique feature most sites don't have.
Once you choose a reader, you hop into stream rooms where they perform spiritual practices like energy work, channeling, and divination. You can then also connect with them directly and ask questions before requesting a private reading.
Why we chose Oranum: Oranum instantly welcomes you into a divination experience. As you enter a psychic's stream, you can chat with them without paying, giving you enough time to decide on a mystic that best suits your needs. The live-streaming feature also helps you feel like a part of a community.
Our experience: When you call for a private chat, psychics get straight to the point and tell you what you need to know. We had a heartwarming experience on the platform. Diviners are sympathetic, friendly, and enjoy sharing their talents with others.
Pros
24/7 live streams

Many less-common methods offered

Large community
Cons
Live streams aren't always stable

The website can feel cluttered at first

Oranum Visit Site
8. Horoscope.com
Massive knowledge library on zodiac signs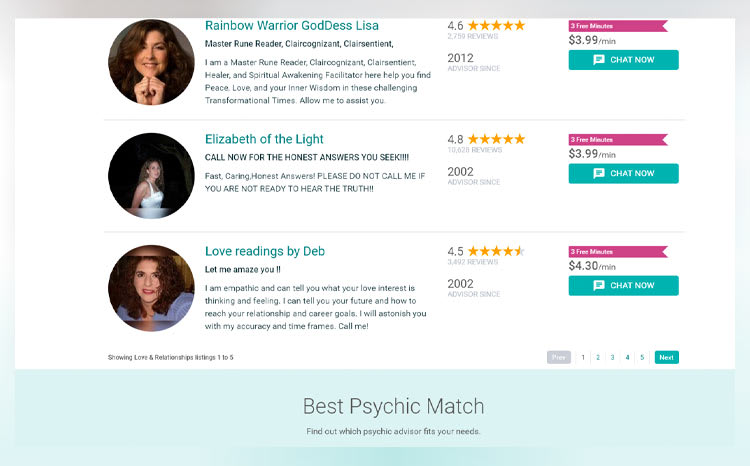 Best for - Astrological readings
Price - From $2.50/minute
Money-back guarantee - No
Horoscope.com's psychics offer readings by phone or chat, specializing in a wide range of techniques like fortune telling, tarot readings, and dream interpretation. You can spend hours browsing the website's many articles on topics like zodiac signs and astrology.
Setting an appointment with a fortune teller is quick, although slightly confusing, given the basic search function. They'll redirect you to Keen's website, where you'll be asked to create a profile on their page instead.
Why we chose Horoscope.com: Their unique features set them apart. For example, they have a store where you can purchase a one-time reading after pulling a set tarot card spread. Their instant advice and fortune teller games, such as Fortune Cookie, Luck Meter, and Ask the Genie, are also fun to play with and give you an idea of what fortune telling is about.
Our experience: We purchased a "Follow Your Dreams" report, which instantly downloaded after pulling a set of cards. An empty virtual tarot spread appeared, asking us to choose the cards. We liked that you don't need to sign-up to purchase the report. The guide was clear, making us want to explore the many other readings on this website.
Pros
Countless free articles and games

Detailed reader bios

Instantly downloadable reports available in their store
Cons
Page can be tough to navigate

Limited search functionality
View full Horoscope.com review

Horoscope.com Visit Site
9. AskNow
Daily horoscopes, articles, and psychic advice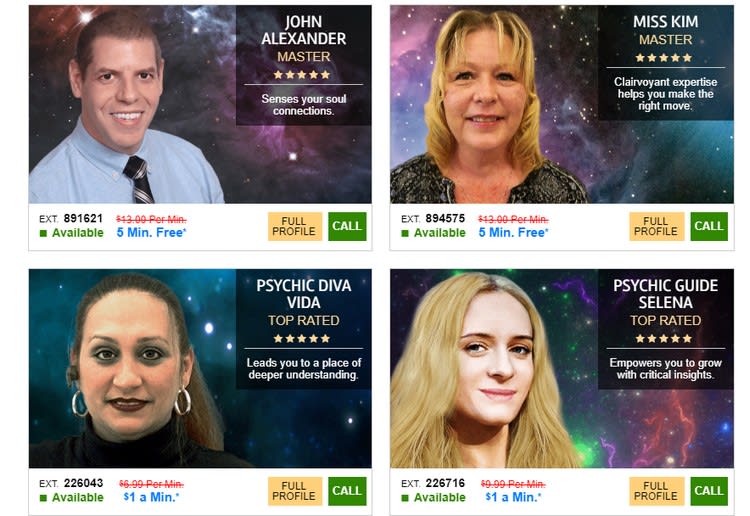 Best for - Scheduled appointments
Price - $6.99/minute
Money-back guarantee - No
AskNow has detailed and personable fortune-telling services provided by clairvoyants and numerologists with decades of experience. Psychics also have calendars listing their availability, making it easier to schedule appointments.
Their mobile app gives you on-the-go access to horoscopes and psychic readings. Diviners can also perform clear and spot-on readings via phone calls or chat to help you clarify your uncertainties. Plus, once you become a trusted client, they'll email you daily, weekly, and monthly horoscopes, providing you with a constant connection to the platform.
Why we chose AskNow: AskNow has well-organized profiles which list the psychics' availability, helping you schedule an appointment at a suitable time. Also, with an initial $30 purchase, you'll receive 30 top-rated and five elite master minutes. This offer works by selecting any predictor that matches these tiers and spending your minutes in a session with them.
Our experience: Master psychic Christina was enlightening and inspiring, and made us feel comfortable. She confirmed our feelings and the hidden details in our subconscious, which made us feel confident about the fortune she predicted.
Pros
Detailed reader profiles and interviews

Daily love horoscopes and moon phases

Long-standing experience in providing spiritual guidance
Cons
A small selection of fortune tellers

You can't re-listen to your phone reading with a psychic

AskNow Visit Site
10. Astrology.com
Astrological insight from beginner to novice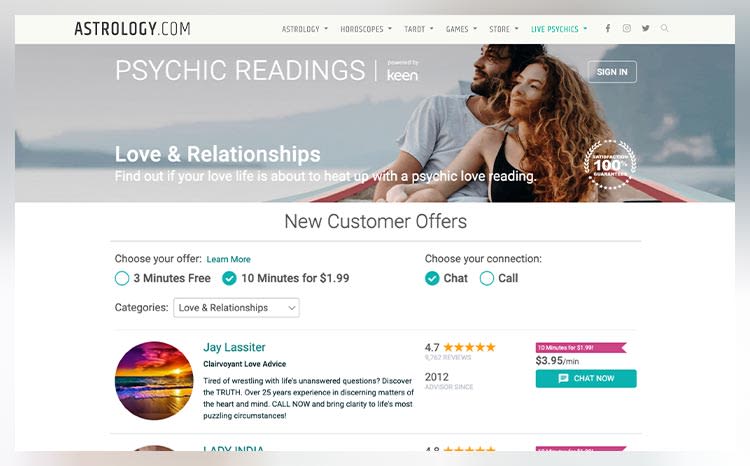 Best for - Detailed astrology information
Price - From $7.95/digital report
Money-back guarantee - No
With a huge selection of educational articles, guides, and free horoscopes, Astrology.com is ideal for novice astrologers and tarot readers. They also sell several basic reports and readings generated based on your birthday and questions.
Purchasing a membership gives you a birth chart reading, daily and weekly horoscopes, and 30 minutes of free time with a psychic from Keen.com. Keep in mind that the auto-generated readings are based on more broad and general interpretations.
Why we chose Astrology.com: Astrology is one of the most popular fortune-telling tools. If you enter your birth chart information, the general interpretation will be narrowed, offering educational aspects of your planets and zodiac signs. This allows you to be open to cosmic knowledge and deepens your understanding of horoscopes.
Our experience: The birth chart analysis we received provided accurate predictions. We appreciated the various features available, like moon readings, daily and weekly horoscopes, and the study of planetary aspects in our birth chart. We also enjoyed the predictions made on financial matters and sports.
Pros
Instantly delivered reports

Huge selection of free readings and reports

Better tailored to those specifically interested in astrology
Cons
Psychics don't write the auto-generated reports

No refund or satisfaction guarantee on digital readings
View full Astrology.com review
What Can a Fortune Teller Help You With?
A fortune teller will give you insights into future challenges and opportunities. They sharpen your intuition by connecting you to your higher self, grounding you, and focusing you on the present. With their guidance, you'll make better choices for a brighter future. They'll also answer any questions about love, money, or career.
Choosing the Right Fortune Telling Service for You
Plenty of fortune-teller websites are available, but how do you find the best one? Considering the personal nature of psychic services, you should follow your intuition. Check out online reviews and do research to help you narrow down your options and find the right online fortune teller.
Ask yourself the following questions:
What's important for me to get out of a fortune teller?

What's my budget?

What's my preferred communication method?

Which reading techniques do I feel drawn to?
How Much Do Online Fortune Tellers Cost?
Online fortune tellers' costs start at around $0.98/minute, though this varies depending on the communication methods, such as live chat, phone calls, or video sessions. The type of service you choose can also affect the price. For example, a pre-recorded video tarot reading can cost about $80, whereas a detailed astrology birth chart reading can cost around $200.
Why Are Online Readings Better Than Free Virtual Tools?
Free, computer-generated, virtual tools aren't always accurate and lack personal interaction. However, online readings have more variety in tools and specialties, and provide more personalized guidance based on your questions, which is why they're better.
Advantages of Using an Online Fortune Teller Over a Fortune Teller Near You
In a digital age, you no longer need to commute or visit a psychic in person. Although the second option is still available, many online platforms host numerous experienced mediums, ensuring you can access the best in the field from the comfort of your home.
Here are some advantages of using an online fortune teller over a fortune teller near you:
You don't need to travel: Sometimes commuting to an in-person psychic can be too inconvenient. Thankfully, with online fortune-telling, you can stay home and enjoy personalized readings.

It's less time-consuming: Psychics can perform online readings via chat, audio, or video, making divinations easily accessible if you lack time to visit a fortune teller near you.

Your aura and energy field are safe and protected: Your aura surrounds you at home, making it difficult for a malicious psychic to penetrate your energetic field.

You're less likely to encounter interruptions: An in-person psychic might introduce distractions or chaotic energies. With online fortune telling, you can experience the reading surrounded by what you know and trust without unexpected disturbances.

You can safely reflect on your reading: After a session, the energies involved may lead you into a meditative state, making it difficult to travel home. Online fortune telling allows you to experience this state safely.

You can exit the reading at any time: You're not obligated to stay for the whole reading during an online session. This sense of liberty can bring you peace and help to establish boundaries if you don't resonate with a psychic's energy.
Tips for Getting the Most Out of Your Session With a Fortune Teller
Here are some of the tips to get the most out of your session:
Receive the reading in a private place: Find a spot free of noise or distractions, so you can calm your mind and focus on the questions you're about to ask.

Write down what you want to discuss in advance: Consider specific areas of your life. This will help you organize your thoughts and ensure that you cover all the essential topics during your session.

Observe and communicate: Pay close attention to any thoughts or impressions that arise during the reading. Take note of symbols, images, or messages that resonate with you, and don't hesitate to share them with your psychic.

Elevate your energy levels: Take a moment to reflect on things that make you grateful, and think of any joyful events that can happen and how they might feel.
How Can You Tell if an Online Fortune Teller Is Legitimate and Genuine?
A legitimate online fortune teller won't tell you what you want to hear to make you happy or reassure you. They'll let you know the truth as they see it in the moment, and won't ask for any background information as they don't want you to lead them toward a specific answer. A genuine reader will be concise and avoid vague phrases like: "A change in your fortune is soon to arrive."
Fake psychics will play on your fears and insecurities by telling you that some catastrophe is going to happen if you don't heed their advice, or pay them more money to remove an energetic block or ancestral curse.
What Questions Can You Ask a Fortune Teller?
Before having online fortune-telling sessions or phone fortune sessions, determine what questions you'd like answered. To help you with this, we've listed some examples below, though the fortune teller can provide better answers if you ask them more specific, contextual questions.
Love: What are the energies involving the future of this connection?

Career: Are there any upcoming changes in my career?

Personality: What are my strengths, and how can I apply them to my day-to-day life?

Relationships: How do I attract more meaningful and trusting relationships?

Health: How can I be healthy and happy?

Life: What destined encounters or events can I expect on my life path?

Finance: What is the nature of my financial situation, and which actions should I take to fulfill its potential?

Spirituality: What spiritual lessons is my higher self preparing me for now?
Read More Articles on Fortune Telling
What Fortunes Does Your Future Hold?
The availability of online fortune teller websites has opened up a world of possibilities for individuals seeking insights into their future. The top 10 websites listed here have proven reliable sources, offering a range of divination methods and experienced practitioners. Whether you are curious about love, career, or general life guidance, these platforms provide accessible and convenient avenues to explore.