People tend to use the term 'fortune tellers' to refer to anyone with the gift of reading patterns and trends and using them to give a person guidance about their future opportunities and challenges.
Fortune tellers use different methods to find answers about your future. Some will read your future in the lines on your hand (these are palm-readers or users of palmistry). Others use tarot cards, crystals, numerology, or the patterns in tea leaves. The method used is simply a tool to shut out external distractions and concentrate on channeling your future. By tapping into this information, clairvoyants can give revealing answers about your life.
One of the most popular topics is love prediction. Everyone wants to find love. If you want to know what your future partner will be like, where you'll meet, when you'll get married, and other important questions about your love life, fortune tellers online may be able to help you.
Here are the top online fortune telling websites:
1. Psychic Source
Longstanding & trusted community of clairvoyants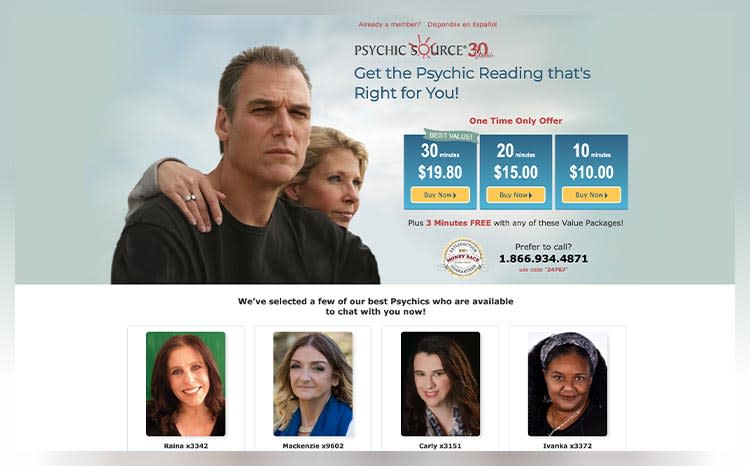 Best for - Trusted and vetted clairvoyants
Price - $0.66-$15 per minute
Money-back guarantee - Yes, site credit only
Psychic Source prides itself on being a highly respected psychic website and is careful to maintain that reputation. All readers are screened through an extensive testing process and the website offers a 'satisfaction guarantee' so you can claim back your money within 1 business day if you aren't completely satisfied. Search for a fortune teller or psychic using detailed search filters and check out each reader's background, profile, and customer feedback, all before making a call.
Pros
Serving the psychic community for 30 years
Extensive screening for all psychics
Kindness Initiative donates to charity of your choice
Cons
Limited satisfaction guarantee
Services tend to be more mainstream

Psychic Source Visit Site
2. Keen
Ancient wisdom via a smart modern platform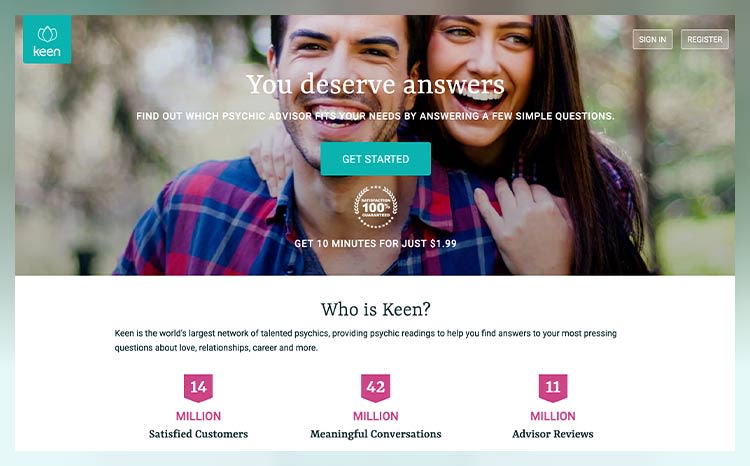 Best for - 24/7 readings
Price - $1.99-$34.99, per minute
Money-back guarantee - Yes, site credit only
Keen is a life guidance platform with an abundance of carefully selected psychics, mystics, clairvoyants, and readers, so it's no surprise that it also offers a multitude of fortune tellers. You can choose to consult an advisor who specializes in love questions or turn to one for financial advice and guidance about your career. Advisors on Keen use a full range of methods including crystal ball, tarot cards, playing cards, and Chinese fortune sticks.
Pros
Diverse divining techniques
24/7 readings
Readings via mobile app
Cons
No video readings
Limited customer guarantee

Keen Visit Site
3. California Psychics
Two decades serving the psychic community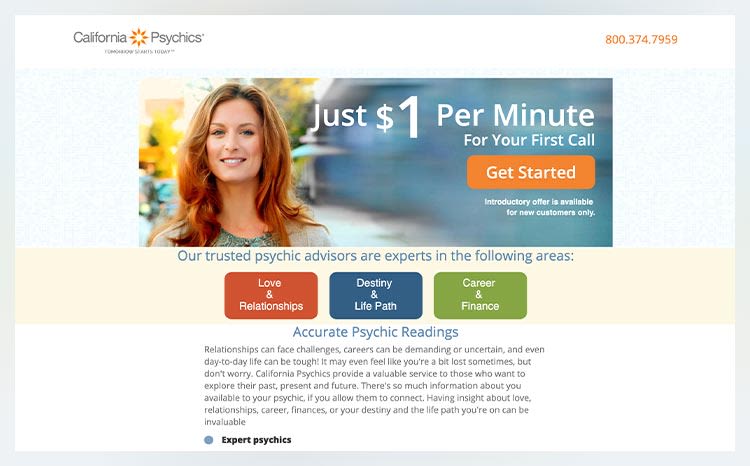 Best for - Wide selection of readings
Price - $4-$15, per minute
Money-back guarantee - Yes
California Psychics helps you find the right reader to reveal your future. Choose your preferred method of divination – tarot, palmistry, astrology, etc. The site screens all psychics and fortune tellers so you know you're choosing someone reliable. Customer feedback is available for each advisor and a handy callback button means no wait-time if your preferred psychic is busy when you log on.
Pros
All fortune tellers are screened
See reviews of each advisor
Myriad techniques and specialties
Cons
Phone readings only
Limited customer satisfaction guarantee

California Psychics Visit Site
4. Kasamba
Esoteric readings on-demand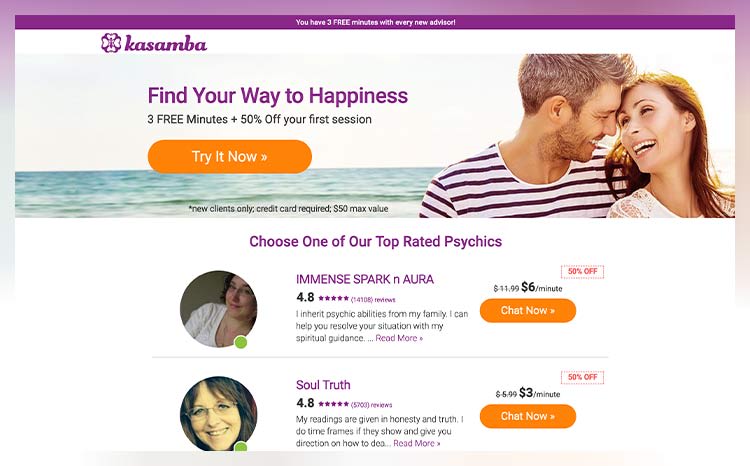 Best for - Answers on love and career
Price - $1-$20, per minute
Money-back guarantee - Yes
Kasamba has been in business for 20 years as a marketplace for all types of psychic readers. You can have your future told on Kasamba through methods including astrology, pendulums, and tarot cards. Kasamba makes it easy to search for fortune tellers with particular gifts in the realms of love, money, career, and life in general. Rates vary widely, from $1.99 per minute up to $19.99 a minute. You're sure to find a reader with a price that you can both afford and rely on.
Pros
Diverse range of techniques
Hard-to-find esoteric options
Great satisfaction guarantee
Cons
Not the most user-friendly website
No video chat

Kasamba Visit Site
5. PsychicCenter
Non-pretentious spiritual advice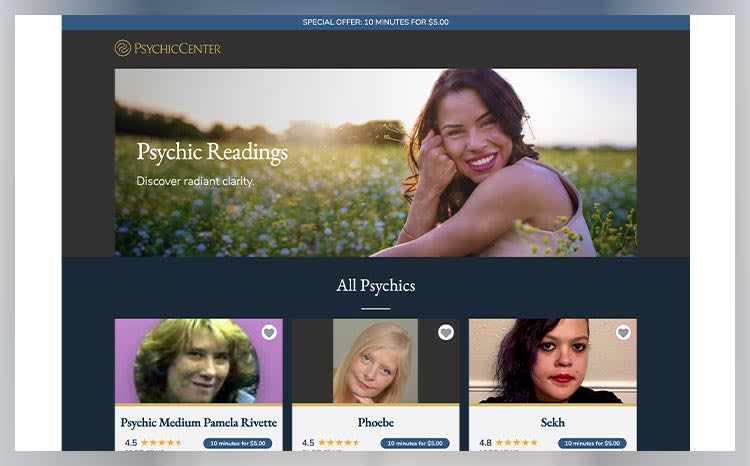 Best for - Straightforward spiritual guidance
Price - $2-$9, per minute
Money-back guarantee - Yes
PsychicCenter gets you connected to psychic readers who can provide guidance on all types of questions from love and relationships to career advice, using a variety of tools. The readers are screened by way of user feedback and with a fair introductory rate and a friendly rewards program that allows you to earn back 10% every month, it's a pretty sweet deal.
Pros
Affordable readings
Straightforward practical guidance
Rewards program
Cons
Lower selection of psychics
Not many search options on site

PsychicCenter Visit Site
Advantages of Using an Online Fortune Teller
The advantages of using an online fortune teller are obvious. You'll be able to rely on their answers much more when you know that your body language, dress, and facial expressions aren't being mined for clues. If you have an urgent question in the middle of the night, you'll be able to get answers without having to get dressed, leave your house or even leave your bed. An online psychic reading is always available no matter what time it is, without needing to wait for an appointment.
Why Online Readings are Better Than Free Virtual Tools
Some free virtual fortune telling tools may be tempting due to being cheap and fast, but they're also highly inaccurate. Fortune telling isn't one-size fits all. Everyone has their own life journey, and telling what your future has in store cannot be done by robot or an algorithm. These tools are programed to provide you with an answer from a limited pool of default outcomes, which have nothing to do with your future. To get a valuable, personalized reading, you'd have to see a human fortune teller. The online services discussed in this article make that an easy, simple, and instant process.
Choosing the Right Fortune Telling Service for You
There are many parameters based on which you can choose the right fortune telling online service for you. If you're a first-timer and don't know if the experience is worth your money, you can opt for one with a free-minute offering or money-back guarantee. If you're nervous about the credibility of your psychic, you may want to select a website with an extensive screening process. And lastly, if you care about the teller's method (i.e. crystals, Tarot, or Chinese fortune sticks) and area of expertise (love, career, etc.) you should make sure the service offers professionals that match your preferences.
Face Your Future Confidently
Consulting a fortune teller gives you the chance to come to terms with what awaits you and prepare yourself to meet it head-on with the best possible attitude. Whether you prefer video, phone or live chat, tarot card, palm-reading or astrology and want your information straight up or delivered gently, you'll find an option that suits you on one of these top fortune telling platforms.