Fortune tellers provide guidance to help you get unstuck so that you can consider your future. Most want assurance that today's choices will lead to a brighter tomorrow. Fortune tellers help lead clients by examining patterns, options, and exploring possible futures.
Fortune tellers use different methods to find answers about your future. Some will read your future in the lines on your hand (these are palm-readers or users of palmistry). Others use tarot cards, crystals, numerology, or the patterns in tea leaves.

The method used is simply a tool to shut out external distractions and concentrate on channeling your future. By tapping into this information, clairvoyants can give revealing answers about your life.
Our Top 10 Best Online Fortune Teller Websites in 2023:
A Closer Look At The Online Fortune Teller Websites - Quick Reviews:
1. Psychic Source
Longstanding & trusted community of clairvoyants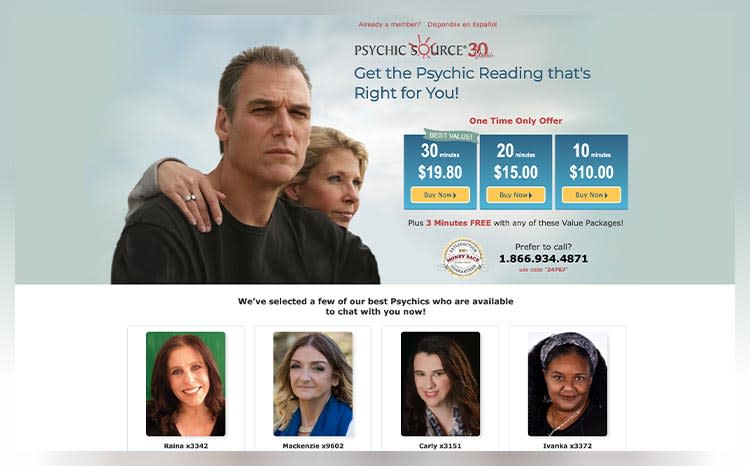 Best for - Trusted and vetted clairvoyants
Price - $0.66-$15 per minute
Money-back guarantee - Yes, site credit only
Psychic Source prides itself on being a highly respected psychic website and is careful to maintain that reputation. All readers are screened through an extensive testing process and the website offers a 'satisfaction guarantee' so you can claim back your money within 1 business day if you aren't completely satisfied. Search for a fortune teller or psychic using detailed search filters and check out each reader's background, profile, and customer feedback, all before making a call.
Pros
Serving the psychic community for 30 years
Extensive screening for all psychics
Kindness Initiative donates to charity of your choice
Cons
Limited satisfaction guarantee
Services tend to be more mainstream

Psychic Source Visit Site
2. Keen
Ancient wisdom via a smart modern platform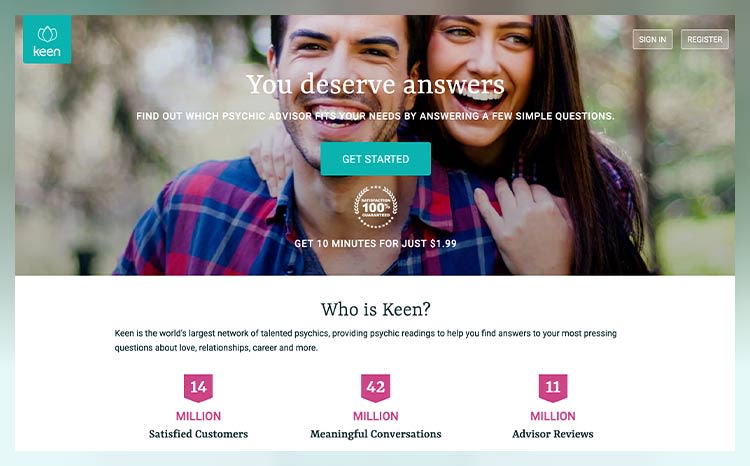 Best for - 24/7 readings
Price - $1.99-$34.99, per minute
Money-back guarantee - Yes, site credit only
Keen is a life guidance platform with an abundance of carefully selected psychics, mystics, clairvoyants, and readers, so it's no surprise that it also offers a multitude of fortune tellers. You can choose to consult an advisor who specializes in love questions or turn to one for financial advice and guidance about your career. Advisors on Keen use a full range of methods including crystal ball, tarot cards, playing cards, and Chinese fortune sticks.
Pros
Diverse divining techniques
24/7 readings
Readings via mobile app
Cons
No video readings
Limited customer guarantee

Keen Visit Site
3. California Psychics
Two decades serving the psychic community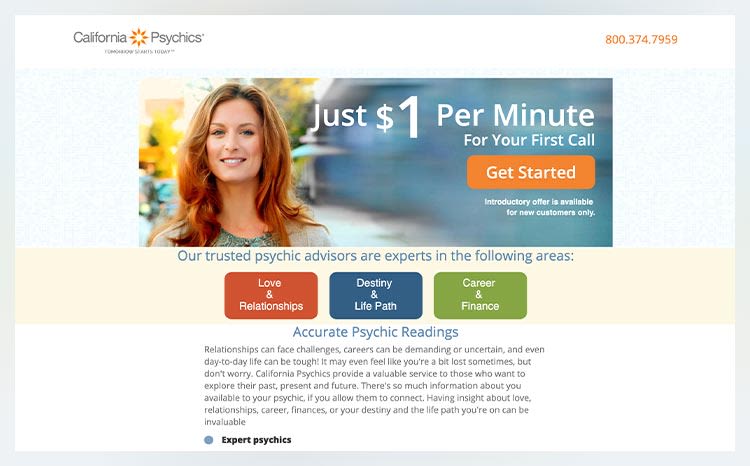 Best for - Wide selection of readings
Price - $4-$15, per minute
Money-back guarantee - Yes
Psychic Encounters helps you find the right reader to reveal your future. Choose your preferred method of divination – tarot, palmistry, astrology, etc. The site screens all psychics and fortune tellers so you know you're choosing someone reliable. Customer feedback is available for each advisor and a handy callback button means no wait-time if your preferred psychic is busy when you log on.
Pros
All fortune tellers are screened
See reviews of each advisor
Myriad techniques and specialties
Cons
Phone readings only
Limited customer satisfaction guarantee

California Psychics Visit Site
4. Kasamba
Esoteric readings on-demand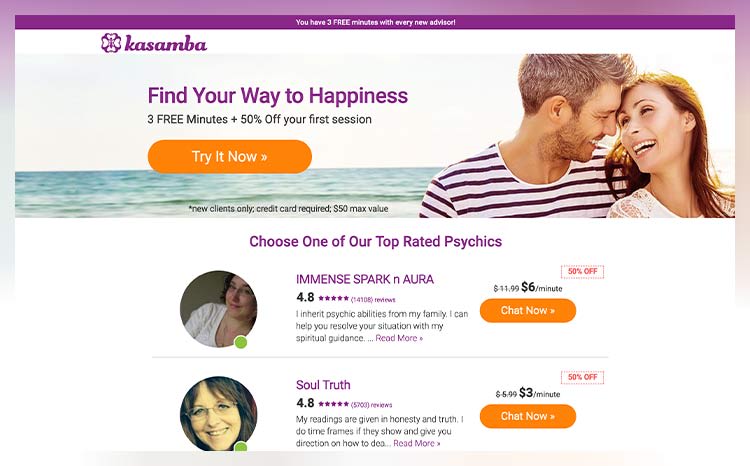 Best for - Answers on love and career
Price - $1-$20, per minute
Money-back guarantee - Yes
Kasamba has been in business for 20 years as a marketplace for all types of psychic readers. You can have your future told on Kasamba through methods including astrology, pendulums, and tarot cards. Kasamba makes it easy to search for fortune tellers with particular gifts in the realms of love, money, career, and life in general. Rates vary widely, from $1.99 per minute up to $19.99 a minute. You're sure to find a reader with a price that you can both afford and rely on.
Pros
Diverse range of techniques
Hard-to-find esoteric options
Great satisfaction guarantee
Cons
Not the most user-friendly website
No video chat

Kasamba Visit Site
5. PsychicCenter
Non-pretentious spiritual advice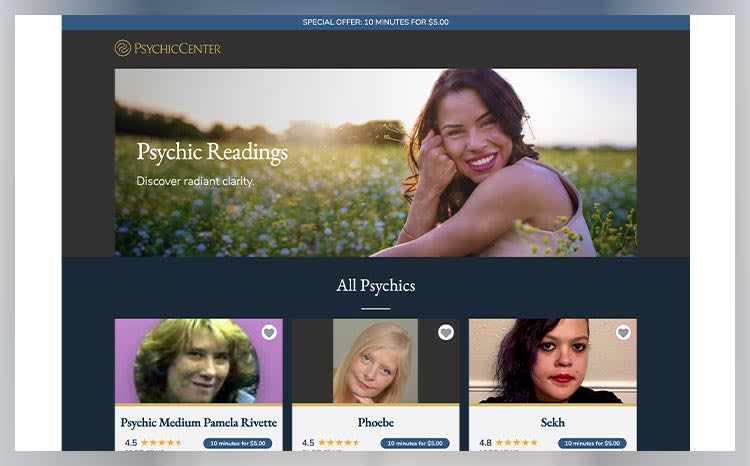 Best for - Straightforward spiritual guidance
Price - $2-$9, per minute
Money-back guarantee - Yes
PsychicCenter gets you connected to psychic readers who can provide guidance on all types of questions from love and relationships to career advice, using a variety of tools. The readers are screened by way of user feedback and with a fair introductory rate and a friendly rewards program that allows you to earn back 10% every month, it's a pretty sweet deal.
Pros
Affordable readings
Straightforward practical guidance
Rewards program
Cons
Lower selection of psychics
Not many search options on site

PsychicCenter Visit Site
6. MysticSense
Tailor-made & customizable readings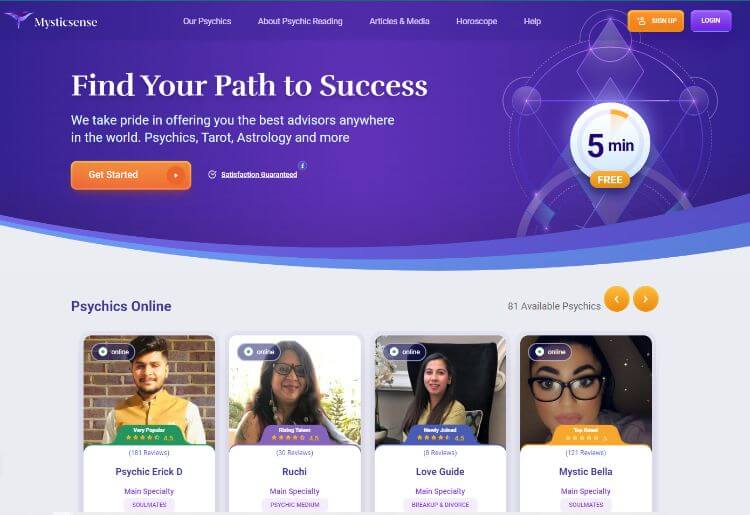 Best for - Providing transparent customer reviews
Price - From $1
Money-back guarantee - Yes, 48 hours
MysticSense offers top-notch fortune teller services, backed by a strict set of house rules designed to protect customers from dishonest psychics (Discussions of evil spirits, bad omens, and curses are not allowed). With its strong focus on customer trustworthiness and protection, MysticSense is the right choice for anyone looking for psychic reading services.
Pros
Wide variety of psychic services to choose from

Responsive customer service

Fair and trustworthy business practices
Cons
Can be hard to decide which reader is best for your needs

Experienced readers can charge high prices for their services

MysticSense Visit Site
7. Oranum
24/7 fortune teller live stream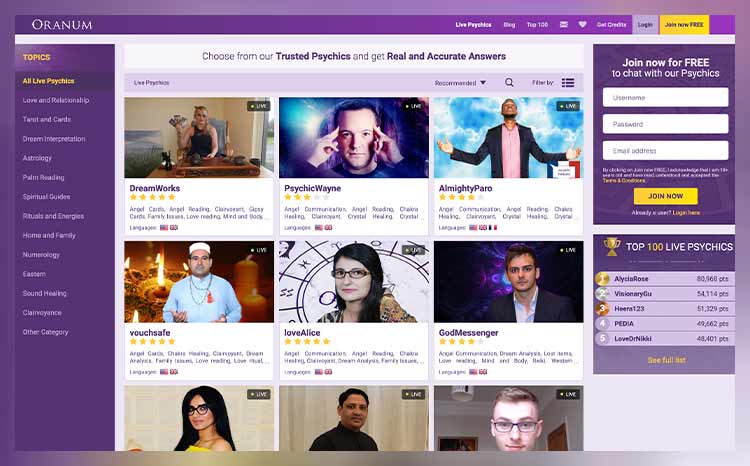 Best for - Online Palm Reading
Price - Starting at $0.39 per minute
Money-back guarantee - No
Oranum is a large spiritual community with a plethora of fortune tellers, psychics and healers offering their service in live video streams. While the site can be a little confusing at first, the option to tune into any live stream and get a feel of the reader at work is incredible. At any given time, dozens of readers are online and they are as numerous in number as they are diverse in their practices. It take some time to get used to this format, but you'll love it.
Pros
24/7 live streams
Many less-common methods offered
Large community
Cons
Live streams aren't always stable
Website can feel cluttered at first

Oranum Visit Site
8. Horoscope.com
Massive knowledge library on zodiac signs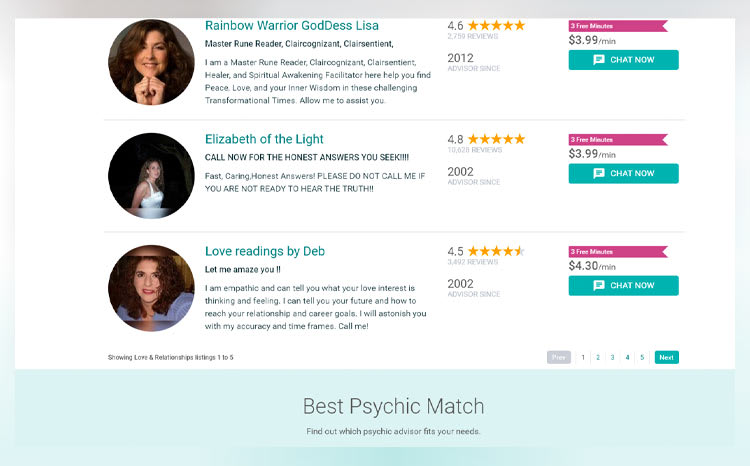 Best for - Astrological readings
Price - $2.50-$5.99 per minute
Money-back guarantee - No
Horoscope.com offers readings by phone or chat and specializes in a wide range of techniques from fortune telling to tarot and dream interpretation. The site offers a huge variety of articles on anything to do with zodiac signs and horoscopes and you can spend hours browsing the many articles and learning new things. Setting an appointment with a fortune teller is quick, albeit a bit frustrating given the basic search function.
Pros
Countless free articles and games
Detailed reader bios
Thousands of happy customers
Cons
Page can be tough to navigate
Limited search functions

Horoscope.com Visit Site
9. AskNow
Daily horoscopes, articles, and psychic advice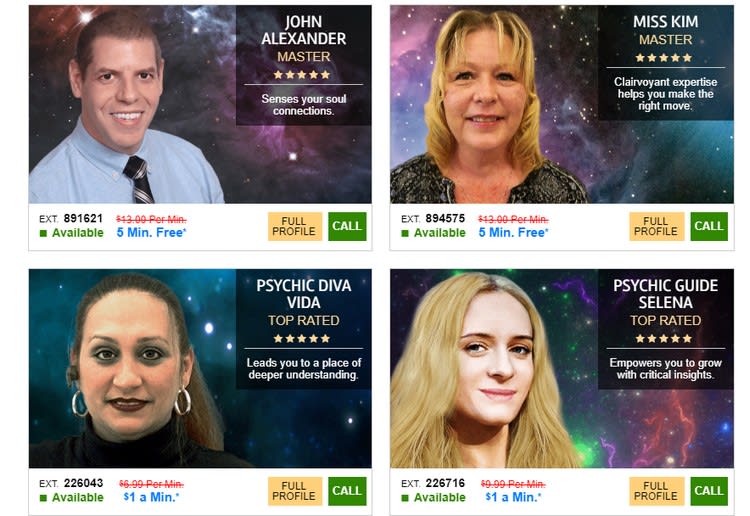 Best for - Scheduled appointment times
Price - $5.99 - $13 per minute
Money-back guarantee - No
AskNow is a decent website for anyone seeking a look into their future. Finding a reader can be difficult as the site has only a small selection of fortune tellers to choose from and you'll likely run into the same people again and again. AskNow's dubious privacy policies also don't instill a lot of confidence and it's common for credit card information to be shared with third parties.
Pros
Detailed reader profiles and interviews
Daily horoscopes, lovescopes, and moon phases
Readings available by appointment
Cons
Small selection of fortune tellers
Your information may be shared with others

AskNow Visit Site
10. Astrology.com
Astrological insight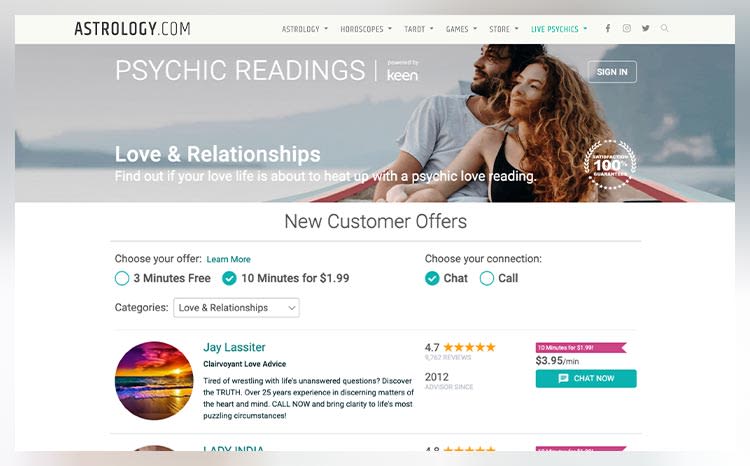 Best for - Detailed astrology information
Price - $6.95 to $24.95 per digital report
Money-back guarantee - No
Astrology.com is great for novice astrologers and tarot readers to learn through the site's huge selection of articles, guides, and free horoscopes. Readings are delivered instantly to your email inbox and can cover almost any topic. As long as you're aware that there is no real customer support available or money-back guarantee, Astrology.com can be a good choice for you.
Pros
Best for those interested specifically in astrology
Huge selection of free readings and reports
Instant delivery of reports
Cons
Reports are generated by software
No refund or satisfaction guarantee on digital readings
What Can a Fortune Teller Help You With?
The three most common reasons people seek a fortune teller are love, money, and their career. Perhaps your relationship is at a point of uncertainty, and you need help figuring out your options. Or maybe you have two job offers and want clarity on where each one will lead.
A fortune teller can help you approach life's different challenges and think about which aspects could be improved. Or perhaps you are facing uncertainty in a specific area of your life. Everything that we dream of and desire will come to us when we are ready. Fortune tellers are simply there to help you recognize opportunities and different paths. Spiritual workers also help to sharpen your intuition and connection to your higher self. In this way, you can slow down, focus on the present, and make the right choices for a bright future ahead.
Choosing the Right Fortune Telling Service for You
Given the huge number of fortune teller websites, how do you find the best one? Not surprisingly, it is very much like finding any other service. Considering the personal nature of fortune telling services, it is most important to follow your intuition. Online reviews and research can help to narrow down your options to find the best fortune teller online (for you).
Ask yourself the following questions:
What is most important to you?
Are you on a tight budget? Many people search online for readings or the most accurate fortune teller online for free. While most of us want to spend the least amount of money possible, it is not the route to take if you want an in-depth reading or a more extended consultation.
What is your preferred way of communicating: chat, phone, or maybe video call?
Are there reading techniques you feel drawn to, such as palm reading, tarot cards, crystal balls, or tea leaves?
Why Online Readings Are Better Than Free Virtual Tools
Free virtual readings provide limited resources. Very often, free readings offer a taste or a free sample offer. With most fortune tellers, you get what you pay for, and it is best to research and read reviews before spending your money. Once you do your homework, be prepared to pay for quality. Everyone needs compensation for their services, mainly if they invest time and education in becoming good at what they do.
Advantages of Using an Online Fortune Teller Over a Fortune Teller Near You
Virtual fortune tellers provide the same services as in-person advisors. It is often best to consult online simply due to the convenience, ease, and accessibility. Online fortune tellers are available at any time, and you can meet them in the comfort of your own home. Some fortune tellers offer a video chat/call option if you prefer to meet face-to-face.
Tips for Getting the Most Out of Your Session with a Fortune Teller
Once you find a fortune teller and set up your appointment, there is homework that you can do to get the most out of the session.
First, it is crucial that the reading happens in a quiet, private place, free of noise or distractions. Sit and calm your mind.
Write down questions or anything that you wish to discuss.
Focus on your question(s) and observe any thoughts or impressions.

It's great to

take a moment to raise your energy

or think of some things that make you feel grateful. If that is difficult, think of any joyful events that can happen in the future and how those might feel.
How Can You Tell if an Online Fortune Teller Is Legitimate and Genuine?
A good online fortune teller won't tell you what you want to hear just to make you happy or reassure you about your concerns. They will, however, tell you the truth as they see it in the moment. In addition, they won't typically ask for any background information as they won't want to be led toward a specific answer or appear to have impossible insight into your life.
Any decent reader will try to be as clear as possible, avoiding vague phrases like, "a change in your fortune is soon to arrive." This eliminates confusion or misinterpretation of the message being delivered.
In contrast, sham psychics will tend to play on your fears and insecurities. They'll often tell you that some catastrophe is absolutely going to happen if you don't heed their advice or pay them more money to remove an energetic block or ancestral curse.
Remember, you create your own reality. Don't allow the fears projected by a mystic to manipulate you.
What Questions Can You Ask a Fortune Teller?
Before having any online fortune telling sessions or phone fortune sessions, it's important to know what questions you'd like to have answered. To help you with this, we've listed some examples below. Remember, the more specific you are in asking your question, the more specific your fortune teller can be.
Love: What do I need to know about this relationship?

Career: Is there a place where I have more room to grow?

Love: Is there anything I should let go of in order to move forward?

Relationships: As I've never really had a close connection with my sibling, what can I do to heal our relationship to bring us closer?

Career: Have I hit a plateau in my current career?

Life: What is my soul's purpose this lifetime?

Finance: What is the best way for me to navigate my current financial situation?

Future: What should I be doing to prepare for a future move?
Having a game plan and a list of questions will ensure that you go into your reading relaxed and sure of what you expect in its outcome.
Our Online Fortune Teller-Related Articles
There are so many tools and ways of gaining insight into the future, that it can be hard to know which to choose.
Our article - 10 Different Fortune Telling Methods to Predict Your Future breaks down some of the most popular psychic methods so you can make an informed decision about which one is most suitable for you.


The most fielded questions by a psychic tend to be centered around love and romance. But what happens once you've found that person you want to say 'I do' to?
In our article - Top 10 Questions to Ask a Fortune Teller Before Getting Married you'll find a series of thought-provoking questions that you may want to consider before heading down the aisle.
Bottom Line
There are a plethora of online fortune telling services available, and it can be challenging to sift through the sheer volume of information. When deciding on the best online fortune telling sites to use, be sure to look at the site's longevity, reputation via Better Business Bureau, and customer reviews.

Also, check if they have phone, live chat or email options, and find out if they offer free minutes or a free trial before you commit.
As long as you go into your reading with clear questions and you keep your eyes open for frauds, your experience should be pleasant, and at the very least, entertaining.

Remember that no future is set in stone, and no matter how a fortune teller may answer your questions, the final decision is always yours to make. However, it doesn't hurt to have a little guidance along the way.