In a Nutshell
Horoscope.com offers detailed horoscopes, tarot readings, and inspiration channels, all designed to deliver accurate and up-to-date advice when it comes to all areas of your life: relationships, career, health, dreams, and everything in between. Whether you want to know what to expect today, this month, or even over the next year — this site has you covered.
pros
Detailed information for all zodiac signs and personality traits
Variety of free online computer-generated tarot readings
Multiple apps make it easy to check horoscopes on the go
cons
No in-house live psychic readings
Multiple ad pop-ups while browsing site

Horoscope.com Visit Site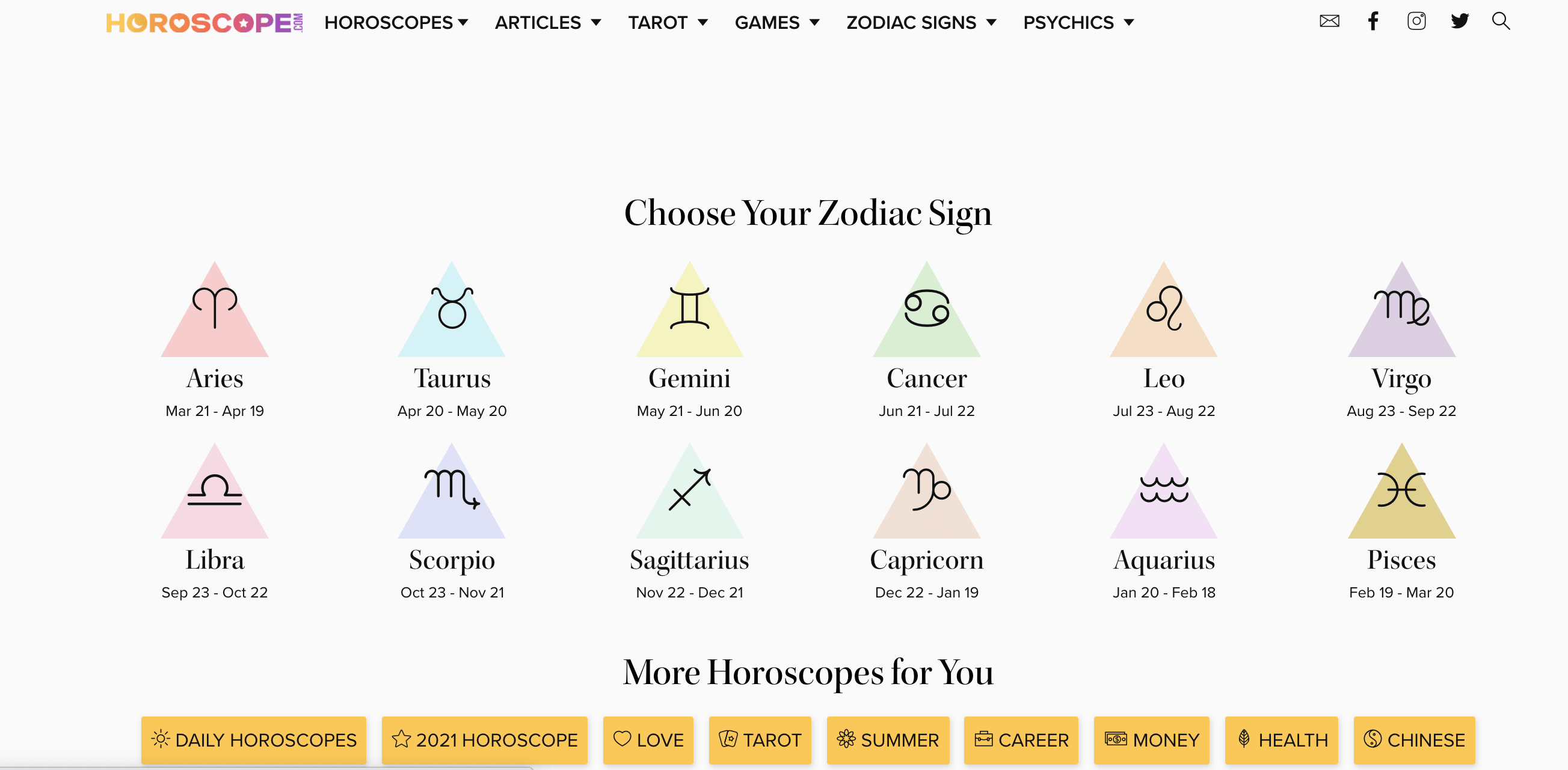 How Much Does Horoscope.com Cost?
A good amount of the content on Horoscope.com — from astrology updates to tarot readings — is completely free. There is a flat rate for digital readings, which are sent through to the customer after filling in personal details (such as the date, time, and location of birth). These include horoscope readings for the year or month, tarots, and love scores, and compatibility reports. Prices vary and currently range from $7.99 to $24.99.
Live psychics readings are available through Horoscope.com's partnership with Keen. As per Keen's standard introductory offer, new users can choose either $1.99 for 10 minutes or 3 free minutes. After this initial discount, Keen psychics generally charge between $2.99 to $30 per minute.
Top Payment Methods
Visa
MasterCard
American Express
Discover
Diner's Club
Pricing and Special Offers
Flat fee, $7.99 to $24.99 per digital reading

Is Horoscope.com Legit?
How does the brand screen potential readers?
There is no information provided about how Horoscope.com's digital reports are generated. Since the results are instantaneous, likely all the information is software-generated for users. While this method is reliable for astrology readings, for tarot readings, it takes out much of the nuance of the experience, making it more of a "chance" reading rather than a psychic experience.
While Horoscope.com does not have any live in-house psychics, it does have an affiliate partnership with Keen for those seeking to connect with advisors. The only screening Keen does for readers is identity verification. Anyone can decide to offer their services on Keen as long as they adhere to the User Agreement.
What's the process for becoming a reader?
Psychics can open an account right away on Keen by going to the Give Advice section on the website. It takes about 30 minutes to create a listing on the site, verify their identity, and provide payment information. Once their profile is complete, the psychic receives a toll-free number to start receiving calls and chats from customers.
Do Horoscope.com psychics work for the company?
Horoscope.com is a partner of Keen and connects users of their website to Keen psychics.
How do users feel about Horoscope.com?
Users seem to accept that you get what you pay for on Horoscope.com. Since most of the content is free, it's not as reliable as other sites. Even in regard to the premium content, there is little information known about the reports created, leaving users to assume it's computer-generated rather than authentic psychic feedback.
The most common complaints about Horoscope.com are that there are too many ads and that the readings are generic. Given that all the users are simply clicking around the website while the computer spits out random "readings," it's not surprising that most people don't seek genuine psychic knowledge on this site. For most, it's clear the site is for fun and games rather than a real psychic connection.
How to Get Started with Horoscope.com
How easy is it to sign up?
Since Horoscope.com doesn't offer its own psychic reading services but forwards you to Keen, you can't easily open an account with the site. The only way to create an account on Horoscope.com is to purchase a digital report from the store. The site will store the users' login information, which allows them to access the report at any time.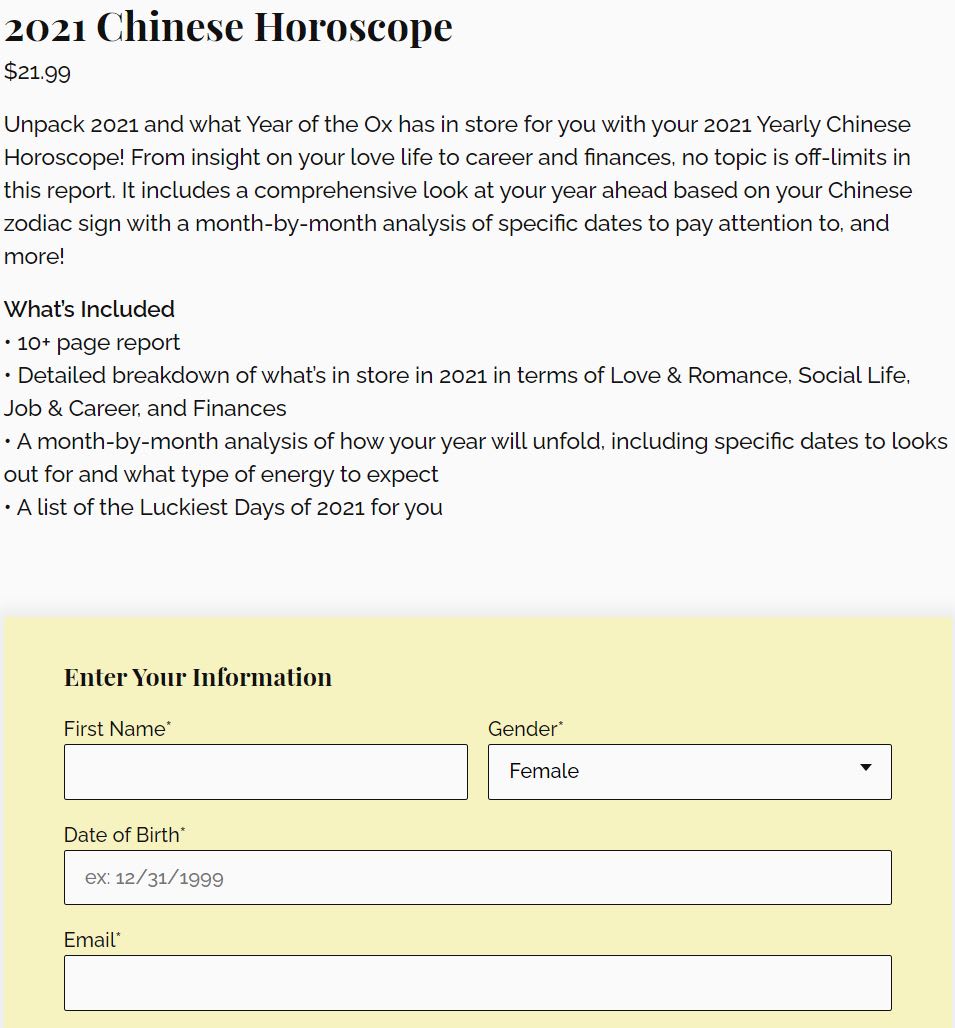 What personal information do you have to provide?
To sign up for Horoscope.com's newsletter or create an account, you must provide your email, first name, gender, birthday, time of birth, location of birth, country, and personal payment information. This information is needed to create the paid horoscope you are buying from the site's store.
What payment methods are accepted?
Payment methods accepted for premium digital reports are Visa, MasterCard, American Express, Discover, and Diner's Club.
Horoscope.com Features and Tools
Spirit, Style, Success, Sun, and Sex articles
Overview of all twelve zodiac signs
Free instant advice and fortune-telling games
Daily, weekly, monthly, and yearly horoscopes and tarot readings
Affiliate links to live psychics, tarot readings, and astrologers
How to Choose a Reading at Horoscope.com
Types of readings offered on Horoscope.com
Horoscope.com offers 17 astrology and tarot digital report readings. Most of these readings focus specifically on the current year (Premium Horoscope, Chinese Horoscope, Tarot Reading, Love Tarot, Numerology Forecast, Vedic Astrology).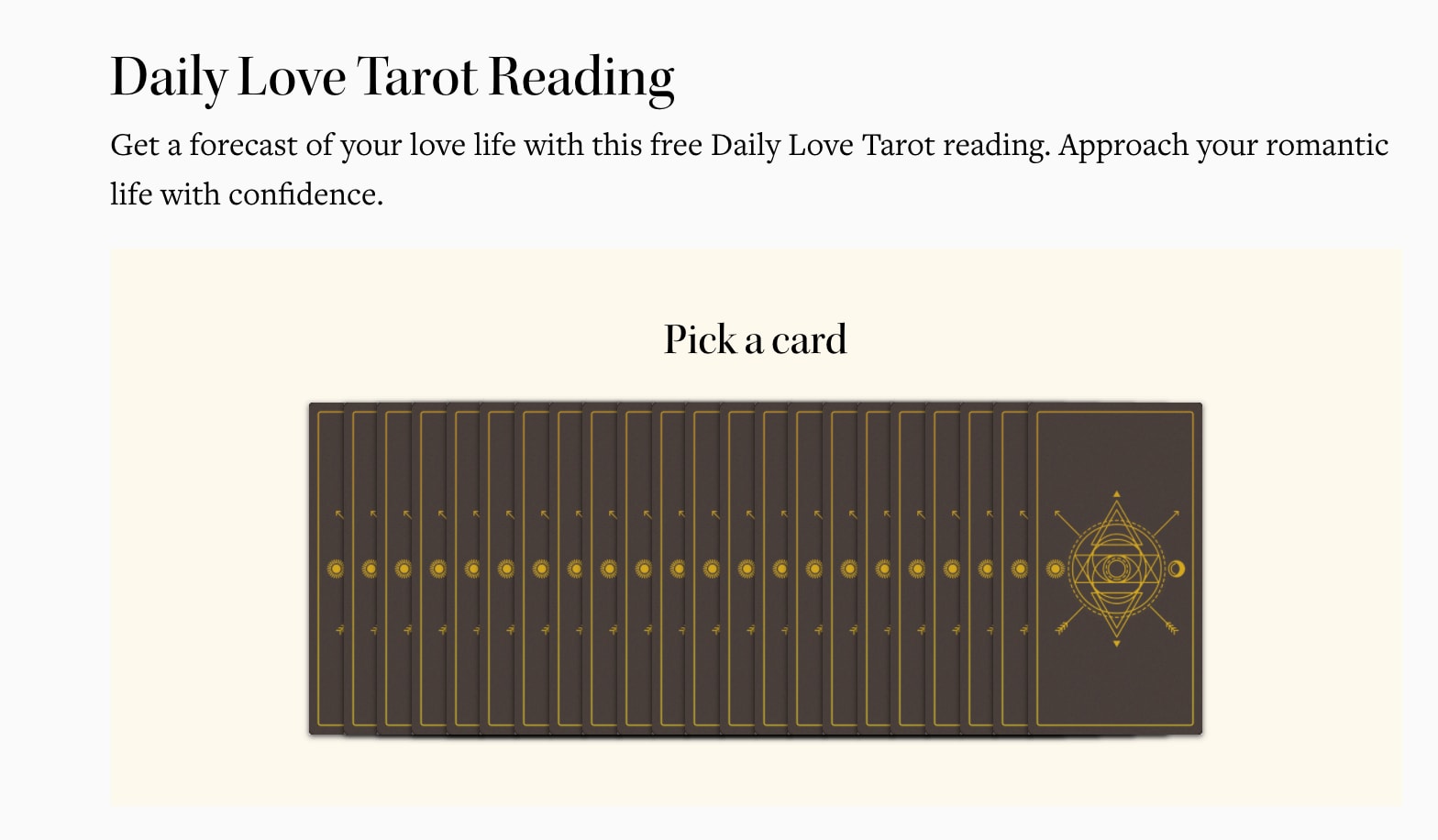 The remaining astrology reports include Moon Sign Reading, Personalized Career Horoscope, Love Compatibility, Compatibility Score, Birth Chart, and Monthly Premium Reading. The remaining tarot reports are Yes/No Tarot, True Love Tarot Reading, Crystal Ball Tarot, Guardian Angel Tarot, and Magic Genie Tarot.
What type of reading information is available?
Before purchasing a digital report reading, users get a brief overview of the purpose of the reading, along with a detailed explanation of what's included in the report (ex. Image of 3-card spread, 6-page description of the cards, planetary career qualities & keywords). For tarot spreads, there is an image of what the spread will look like and users can click to reveal their cards.
Are there customer reviews of the readings?
There are two or three reviews for every digital reading report. However, they all offer praise for the report as a promotional feature. There is no place for customers to review the product.
How easy is it to book a reading?
If you can actually find Horoscope.com's store (it is not linked on the site's homepage) it's fairly easy to purchase a paid horoscope. For an actual psychic reading, you will be forwarded to Keen. Find out more about how to book a reading with Keen in our in-depth review.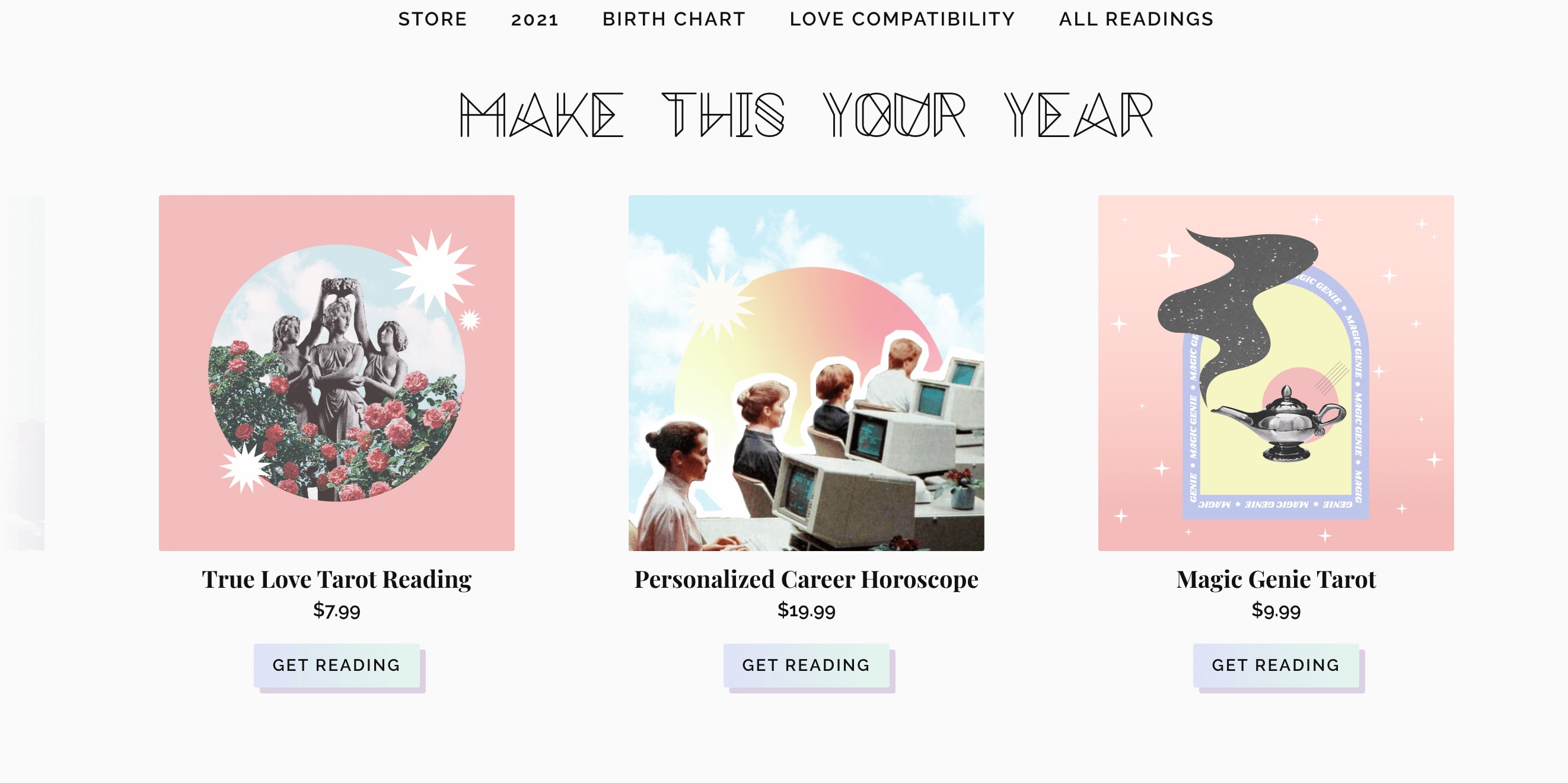 After selecting a reading, users must fill in the required details, which for astrology readings include birth information. The next page is for checking out. Once everything is confirmed, the digital report is either delivered instantly or within a few hours.
How can you connect to Horoscope.com psychics?
Horoscope.com only offers digital reports sent via personal email. For a live psychic experience, users can visit their affiliate partner Keen's website for phone, chat, or mail readings.
Can you leave feedback?
No. There is no place on Horoscope.com for users to leave public feedback about their digital reports. The only way to offer feedback is to reach out to Horoscope.com through a contact form.
Does Horoscope.com Have an App?
Horoscope.com has three apps available: Sun Signs: Horoscopes; Yes No Tarot - Instant Answer; and Horoscopes for Facebook. The first two apps are available for free on the Apple App Store and the Google Play Store, while Horoscopes for Facebook is a free installed app available for Facebook on Android devices.
How Does the Horoscope.com App Work?
Sun Signs: Horoscopes is highly rated by app users, with a 4.7/5 rating in the Apple App Store. Users can view their natal chart and see their daily horoscope every day, which many say is extremely accurate.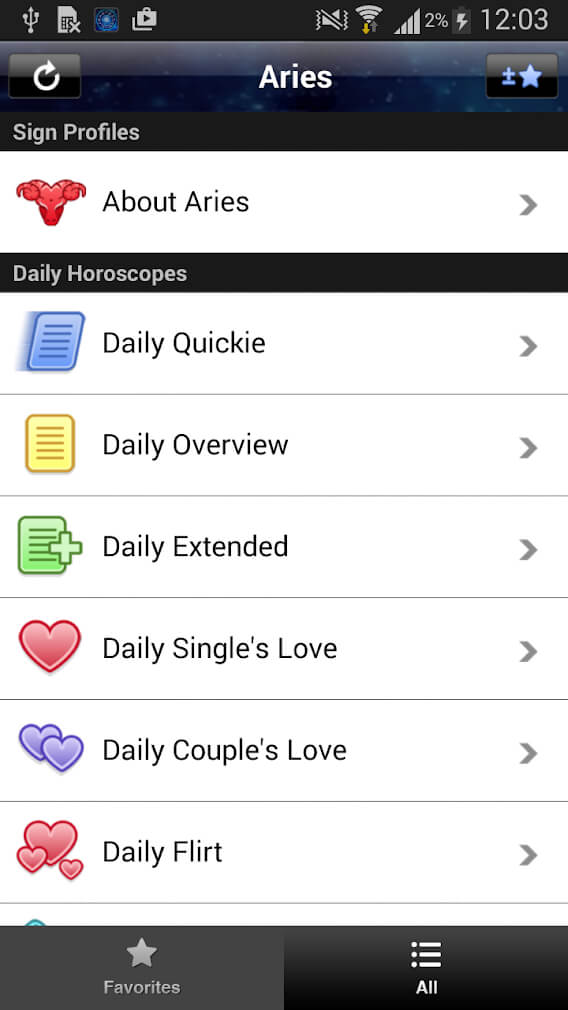 Yes No Tarot - Instant Answers also has a 4.7/5 star rating in the Apple App Store. While users report that it's not super in-depth, the quick ability to get a yes or no answer to pressing concerns is very useful when immediate guidance is needed.
Horoscopes for Facebook is rated at 4.5/5 stars in the Google Play Store. Horoscopes are available daily and for the next day, along with a tarot card of the day. Despite occasional glitches, users tend to enjoy this one, too.
Help and Support
Horoscope.com has a contact form available on the site. To access the form, go to the bottom of the website and click "Contact Us." Then users must enter a subject, their email address (twice for confirmation), and a short 255-character message. There are no details about how long it will take to receive a response or a guarantee if anyone will respond.
Customers who need support for psychic readings purchased through Keen can find answers to most questions on Keen's knowledge base or on their blog. You can make use of the customer support form online to file a query or call customer service during regular business hours (Pacific Time) at 1-877-533-6435. If you'd like to request a refund for a psychic reading, fill out a refund request on a special online form that can be found on Keen's website.
How to Get a Refund From Horoscope.com
Horoscope.com does not have a refund policy, which means users should be aware there is no guarantee they will get money back if they are unhappy or unsatisfied with any purchases.
How Horoscope.com Compares to Other Psychic Reading Sites
Like its competitor Astrology.com, Horoscope.com offers astrological reports and some tarot readings for a flat fee. If you're seeking actual psychic advice, you're better off with other services such as Keen, Kasamba, or Psychic Source.
Flat fee, $7.99 to $24.99 per digital reading
Flat fee, $6.95 to $24.95 per digital reading
Occasional sales on digital reports
3 free minutes and up to 70% off first session (up to $50)
Introductory value package of $1 per minute for 10, 20, or 30 minutes
Horoscope.com vs. Astrology.com
Horoscope.com and Astrology.com are very similar sites that both offer customized digital readings sent through email to users. Reading topics include astrology, tarot, and numerology. Occasionally Astrology.com has a subscription service for premium content, while Horoscope.com offers only fixed-price readings. Both sites offer free daily astrological readings based on the user's Sun sign, but Horoscope.com provides a bit more detail, as Astrology.com saves the more in-depth content for their paid subscribers. On Horoscope.com, Users can click through to view their horoscopes, love, retail, career, money, health, and more. What's beneficial for users is that both Horoscope.com and Astrology.com have an affiliate partnership with Keen.com, so it only takes a few clicks to be connected with a psychic advisor.
Horoscope.com vs. Kasamba
Horoscope.com and Kasamba offer very different services. Horoscope.com is focused on providing a free daily horoscope for users with the option to purchase additional digital readings for more insight. The reports are computer-generated and sent through email. Kasamba allows users to chat directly with live psychics. What both these sites do have in common though is the ability to obtain information, either through digital readings or online chat, without having to speak with anyone on the phone. All information will be stored to refer back to later on both sites, which can come in handy later on. Horoscope.com has a lower price point, but the trade-off is a computer-generated digital reading rather than a live psychic reading.
Horoscope.com vs. Psychic Source
Horoscope.com and Psychic Source don't have much in common with each other. While Horoscope.com users will see Keen affiliate links on the site, Horoscope.com primarily offers users computer-generated astrology, tarot, and numerology digital readings. The exact opposite is true for Psychic Source, which is entirely dedicated to users getting satisfaction-guaranteed readings from live psychic readers. The difference of services offered is reflected in the price points of each site, but an introductory reading on Psychic Source is comparable to a digital reading, making either site a good option for first-time users depending on the level of engagement with a psychic they are seeking.
Bottom Line
Horoscope.com is a fantastic site to use for detailed, free daily, weekly, and monthly horoscope and tarot readings related to all aspects of your life. There is a ton of free content on their website, along with premium digital reports available for purchase, which instantly provide astrology information and guidance for pressing concerns.
However, if you specifically want a live and personal psychic reading, it might be better to go directly to one of the top psychic websites instead. While the digital reports are fun for beginners to learn a bit about their astrology, especially what the upcoming year might hold, there is much more to be gained from a live psychic reading.