In a Nutshell
AskNow is a good option for new customers who are seeking a scheduled appointment with a specific psychic advisor. While the introductory rate is very affordable, it only grants access to readings with the lowest tier psychics. For more experienced readers, users must pay more per minute, which is higher than other psychic websites. The Satisfaction Guarantee only applies to new customers, leaving return customers without much reassurance.
pros
Detailed reader profiles
Variety of interesting articles on a range of spiritual topics
Readings available by appointment
cons
Satisfaction guarantee only credits up to 10 minutes

AskNow Visit Site
AskNow Psychics Video Review - Not Your Typical Psychic Reading Network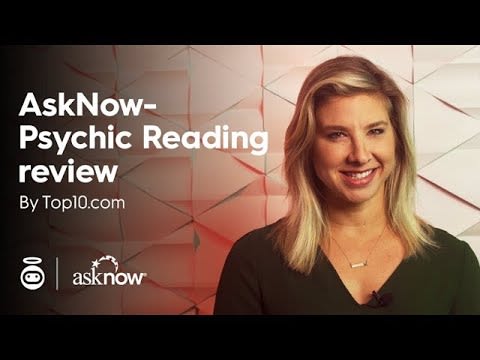 How Much Does AskNow Psychics Cost?
As a new AskNow user, you have the option to purchase an introductory package of either 30 minutes for $30 or 20 minutes for $20 with a Top Rated advisor (this is the lowest-costing third tier of advisors). The introduction package also includes 5 free minutes with an Elite or Master reader (the higher priced second and first tier of advisors). The regular rates for returning customers are $5.99-$9.99 per minute for Top Rated advisors, $10-$11 for Elite advisors, and $12-$13 per minute for Master advisors.
During registration, you can join the Monthly Program, which is automatically billed each month to your account. The Monthly Program, also known as The Club, provides monthly minutes to use with Ask Now Top Rated Psychics, as well as 3 free minutes with an Elite or Master psychic. The number of minutes and the price is not available to view on the website, and AskNow reserves the right to change the price at any time.
Top Payment Methods
Visa
Mastercard
American Express
Discover
Pricing and Special Offers
Price per minute
Top Rated: $5.99-$9.99
Elite: $10-$11
Master: $12-$13
Monthly subscription
Price not specified and subject to change
$20 for 20-minute reading or $30 for 30-minute reading with Top Rated psychic
Is AskNow Psychics Legit?
How does AskNow screen potential readers?
AskNow assures that its readers are screened and tested by Master Psychic Managers, the highly experienced readers who handpick the advisors on the site. AskNow asserts that, of the hundreds of psychic applicants, only a handful are accepted to join the Ask Now psychic network. AskNow also clearly states that it supervises readers once hired.
What's the process for becoming a reader?
To become a reader for AskNow, potential readers have to sign up through One Sun, a company that does the hiring and interviewing process for AskNow psychics.
Do AskNow psychics work for the company?
AskNow readers work as independent contractors that you can contact only through AskNow. Psychics set their own prices and are responsible for their readings.
How do users feel about AskNow?
The majority of user reviews warn about AskNow scams in regards to pricing. Users complain of being charged extra minutes, multiple charges on their bank account, and very poor customer service. While there are a few AskNow reviews of good psychic experiences, a good number of users have felt the advisors were simply making conversation to extend the time and that they did not provide genuine insight.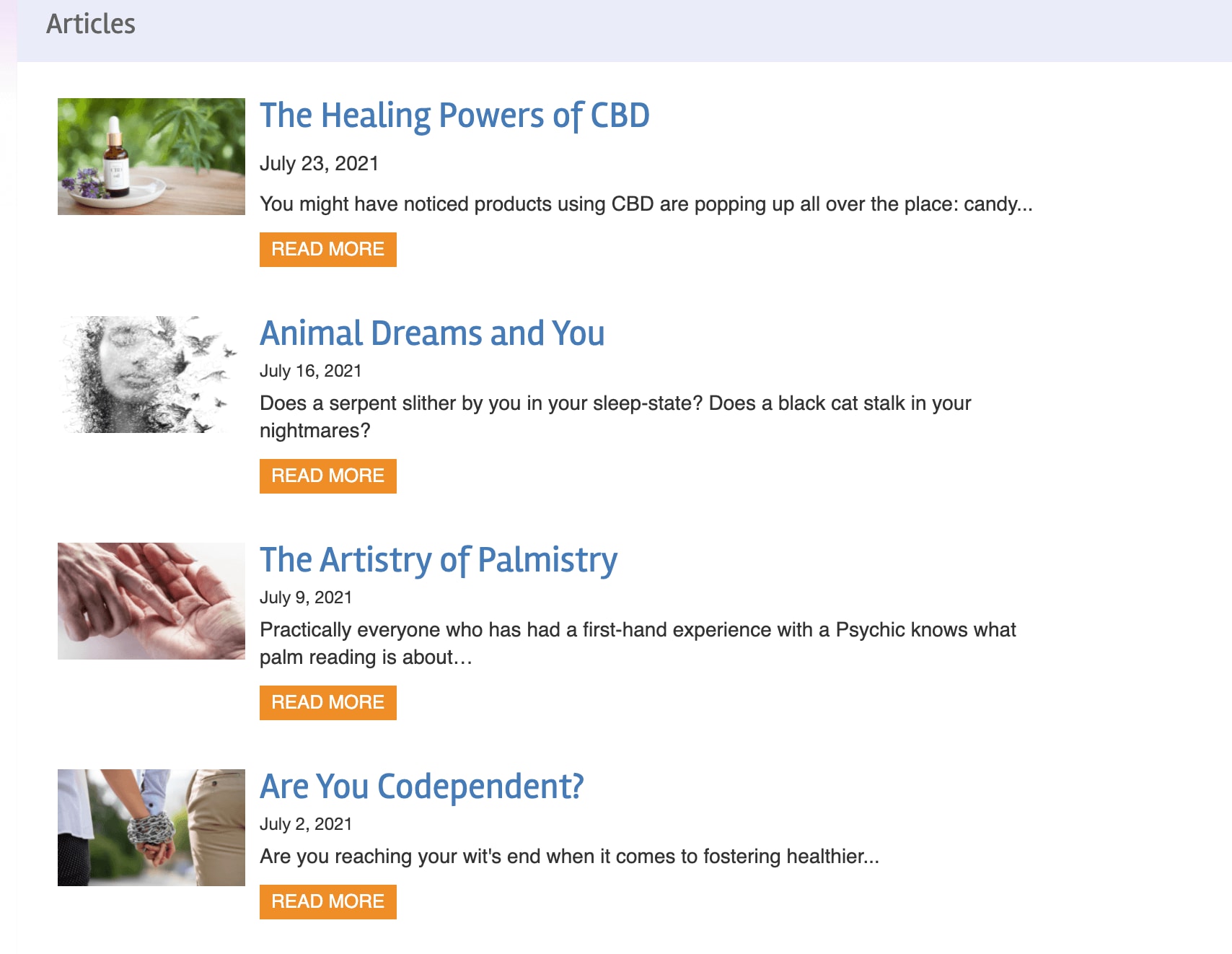 How to Get Started with AskNow Psychics
How easy is it to sign up?
It is an easy process to sign up online. Along with providing personal information, users create a username and pin number for account and security purposes. Signup is also available over the phone.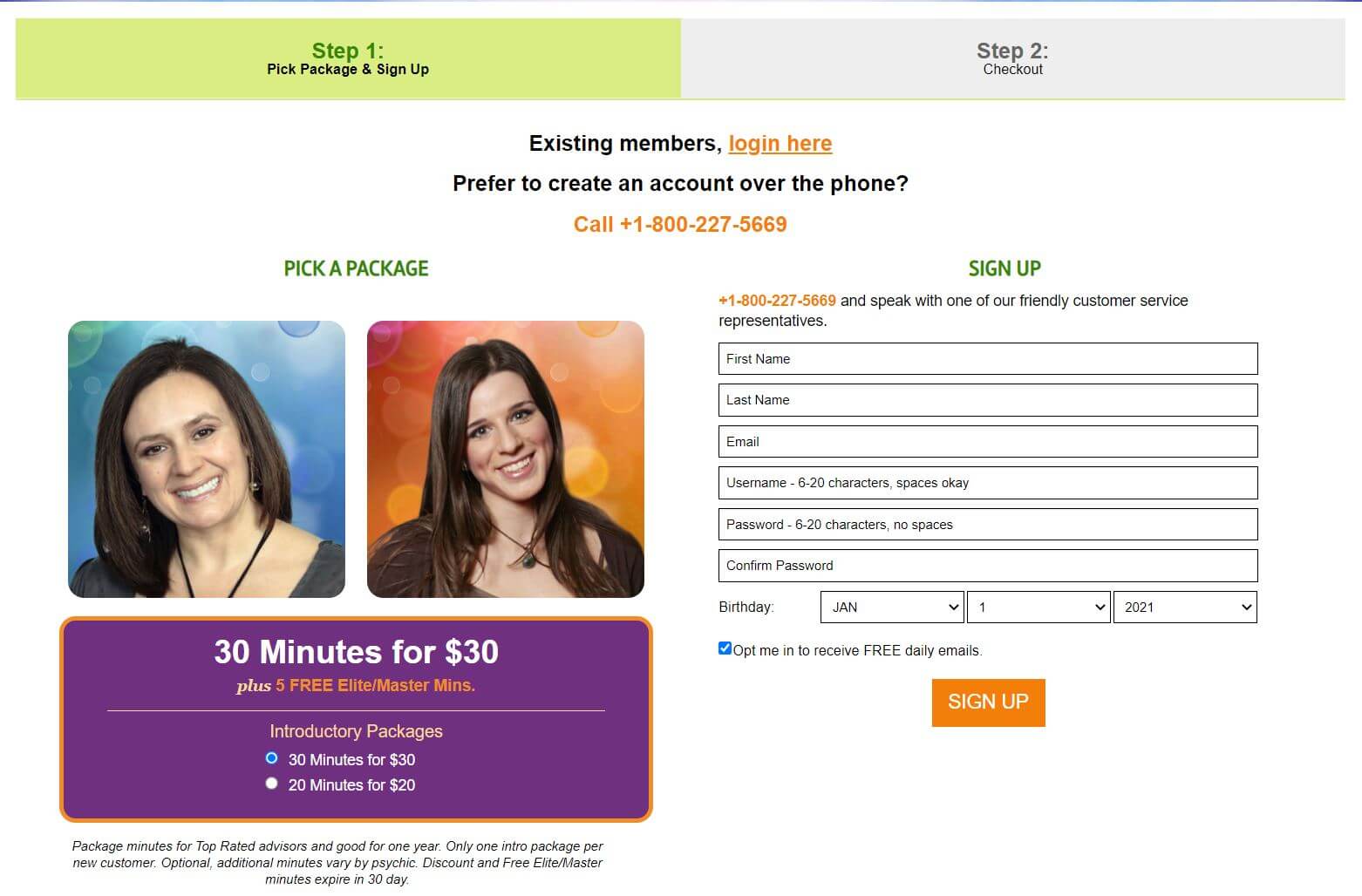 What personal information do you have to provide?
To sign up, you must provide your first and last name, email address, birthday, and credit card information.
What payment methods are accepted?
AskNow only accepts credit cards (Visa, MasterCard, American Express, Discover).
Do you have to deposit funds before being able to choose a reader?
No. You can browse psychic profiles before making a payment. However, to connect with a reader for the first time, you'll have to provide payment information.
AskNow Features and Tools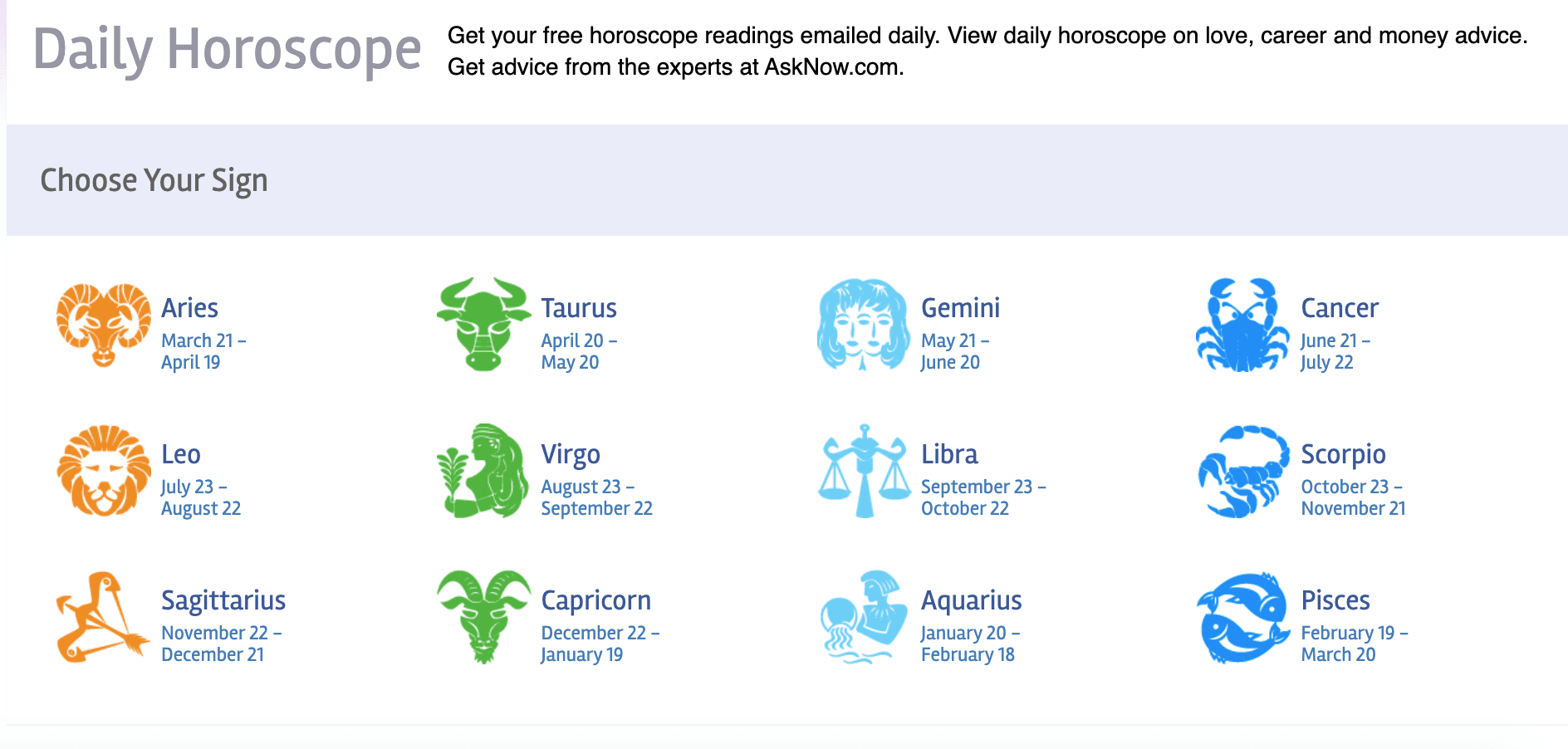 Easy-to-use filter to find the best psychics
Daily AskNow horoscope readings available on site and emailed to users
Many interesting articles in a wide range of categories
Psychic spotlight interviews about readers' experiences and practice
Well-produced videos about psychic readings to assist users
How to Choose a Reader at AskNow Psychics
Types of readings at AskNow
The main categories users can choose from are:
Love & Relationship
Money & Finance
Careers & Goals
Tarot Readers
Spiritual Guides
Numerology
Astrology Readings
Past Lives
Dream Analysis
Advisors select certain categories they can read, but the style of each is very different.
What type of reader information is available?
There is a good amount of reader information available such as the reader's categories, language, credentials, tier level (top rated, elite, master), star rating, years of experience, and zodiac sign. There is also a one-sentence description of their services, along with their availability, contact options, price, and extension to call.
If you click on Full Profile, you can also see when the reader became an AskNow reader, along with how many readings they've done. Below is an About section, which features a biography of the reader and Reviews & Ratings.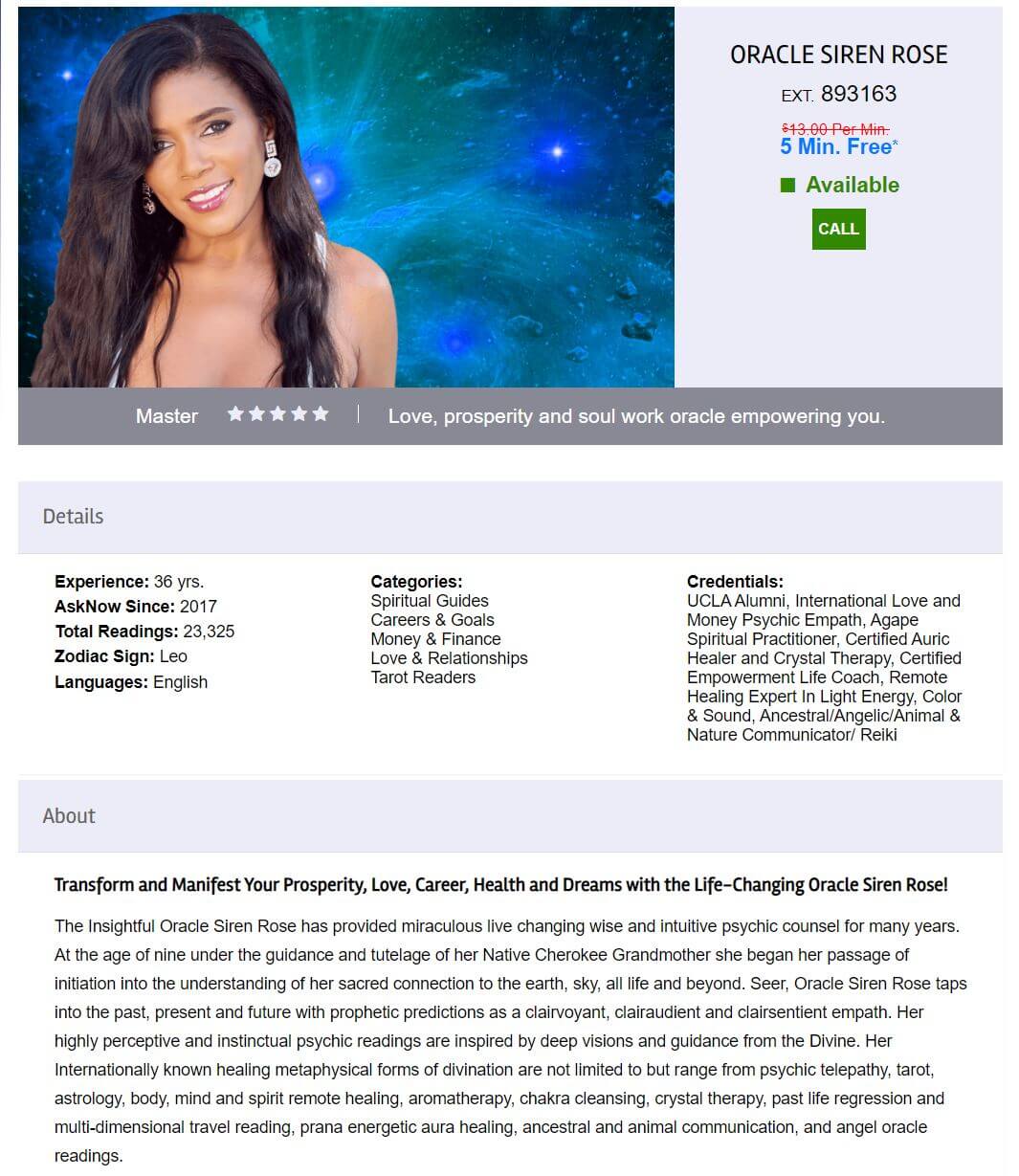 Are there customer reviews of readers?
Yes. There are customer reviews of the readers, however many of them are simply "thank you's" for the reading. Scanning through the profiles, almost every rating is either 4 or 5 stars. There are dozens of pages of AskNow psychic reviews for popular readers, while newer readers tend to only have a handful. The dates are shown for every review as well, which is helpful for users to ensure the reader's quality has been good recently.
How easy is it to book a reading?
Once the user completes their profile, they can immediately contact an advisor to begin the reading. AskNow does a good job of listing whether an advisor is available or not, and you can use a filter to show only available ask now psychic lines. If the psychic the user wants to speak with is not available, a call back can be scheduled or the user can schedule a designated appointment time within the advisor's listed hours.
How can you connect with AskNow advisors?
Only phone and chat readings are available on AskNow. However, many readers do phone only, and chat isn't as readily available. While you can speak to a phone reader at any time, there is often only one or two chat readers available, if any at all.
Can you block or unblock an advisor?
No. There is no block or unblock feature on AskNow.
Can you leave feedback or rate an advisor?
Yes. Following a reading, you have the option to rate and review a psychic. There is a five-star rating option to select from and space to leave written comments as well. Many users write feedback expressing their gratitude and thanks for the reader or share how the reading benefited them.
Can you create a favorite list?
Yes. If you enjoyed your reading with an advisor, they can be added to a favorite list.
Can you ping your personal advisor?
No. You can only contact an advisor during a reading. There is no messaging system on the platform to engage in communication otherwise.
Does AskNow Psychics Have an App?
AskNow used to have an app, but it is no longer available in the United States.
Help and Support
AskNow com has an organized and detailed FAQ page. From questions about psychics' authenticity to resetting one's pin number, most users' questions can be answered by looking this page over. All questions are answered thoroughly and can help the user to gain a clear understanding of the AskNow platform.
For any further questions or concerns, customer service is available for AskNow via email (CustomerService@AskNow.com), phone (1-800-227-5669), or mail (AskNow / 3665 East Bay Dr. Suite 204 E. / Largo, FL 33771). Users will get a reply from a customer service representative within three business days. All concerns are addressed as soon as possible by customer service representatives, as it is AskNow's policy to address problems immediately to provide high quality service.
How to Get a Refund From AskNow
AskNow has a Satisfaction Guaranteed policy, but only for new members' first call with a psychic advisor. Otherwise, you're likely out of luck.
How easy is it to request a refund?
It is fairly easy to request a refund. The user must send written feedback within 72 hours to AskNow psychics customer service email (customerservice@asknow.com) or call a customer service representative (800-227-5669) to explain why the reading was unsatisfactory in as much detail as possible, including the advisor's name and time of the reading.
How long does it take to get a refund?
If a reading does not meet the satisfaction of the user, AskNow will provide a one-time credit of either the amount paid (up to a maximum of the cost of the initial ten minutes of the call or chat) or credit the account with five free minutes of time so the user can speak or chat with a different psychic advisor. The refund is issued immediately, but it may take up to two weeks to be reflected on a bank account statement.
How AskNow Compares to Other Psychic Reading Sites
AskNow is definitely among the more expensive services, with prices starting at $5.99 per minute. While its introductory package brings prices down to $1 per minute, that's a one-time offer. Keen, which starts at $1.99 per minute and also offers readings per email, in addition to phone and chat readings, might be a better option to try.
Introductory package of 20 minutes for $20 or 30 minutes for $30
Introductory free 3 minutes or $1.99 for 10 minutes
Introductory value package of $1 per minute for 10, 20 or 30 minutes
$1 - $4 per minute for first reading based on tier level
AskNow vs. Keen
AskNow has a slightly higher range of per-minute rates than most sites, $5.99 - $13, but you can end up paying a good deal more at a site like Keen which may charge up to $30. AskNow has a great introductory offer, with up to 30 minutes for $30, whereas Keen only gives you 10 minutes for $1.99. AskNow does have a unique feature, allowing you to schedule readings in advance to make sure you get the reader that is best for you. If you don't schedule in advance, however, AskNow can leave you waiting for a while since there are fewer psychics online at any given time. AskNow does lose some ground to Keen when it comes to customer service, as AskNow may even sell some of the user's payment information.
AskNow vs. Psychic Source
AskNow and Psychic Source are very similar in their pricing models: $5.99 - $13 and $4.99 - $15 per minute, respectively. Even their introductory offers are almost identical, paying only $1 per minute for up to 30 minutes. Although their pricing is almost equal, AskNow leaves a lot to be desired when compared with the much more established and respected Psychic Source - not only does Psychic source offer video chat readings, they also have a much larger pool of psychics available at any given time. Psychic Source is well known for their high-quality service, whereas AskNow leaves much to be desired in that area, potentially even selling users' financial information.
AskNow vs. California Psychics
AskNow and California Psychics have comparable rates, ranging from $5 - $15 per minute. AskNow has a slight edge when it comes to their special offer: 30 minutes for $30, whereas California Psychics may charge up to $4 per minute for your first reading. But aside from a slightly better introductory offer, AskNow falls short of California Psychics in almost every other dimension. AskNow has few psychics available at any given time and do not deliver anywhere near the level of customer service given by California Psychics.

AskNow Visit Site
Bottom Line
The best thing AskNow has going for it is the ability to schedule appointments with readers. This being said, the selection of readers is much smaller than other sites. You are limited in your choice of reader, especially with the tier system of AskNow that divides readers into three levels based on experience and price point.
With multiple complaints online of payment scamming and AskNow's privacy policy that states it sells the last four digits of users' credit cards to third parties, users might want to think twice before entering the payment information on this site. Unlike other psychic websites, which accept prepaid gift cards or PayPal (adding an extra measure of security), AskNow only accepts credit cards. Additionally, AskNow customer service representatives frequently attempt to upsell to users, but users don't actually receive a better deal.
Since the Satisfaction Guaranteed policy is only applicable to new members, AskNow might be best for a one-time reading if a user wants to take the chance of entering their personal information. Otherwise, the prices are higher in comparison to other sites, there is a limited selection of readers, and there is no refund policy available for unsatisfactory readings.