In a Nutshell
Oranum is a top-notch psychic reading site that offers a massive variety in both the number and specializations of their readers. This is one of the only psychic websites to provide video chat and live chat rooms for users. The website is very interactive, user-friendly, and good for those who enjoy face-to-face communication. Users can also really get to know their readers, as many post selfies, pictures, and story reels from social media.
pros
Free live chat with a psychic before getting a reading
Huge variety of specialties and filters
Hundreds of psychics available
cons
No ratings/reviews for individual psychics
Limited refund policy
Oranum Visit Site
Oranum Video Review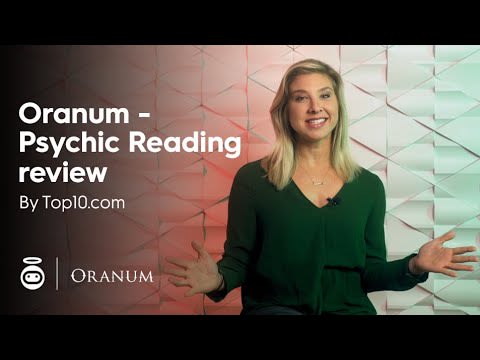 How Much Does Oranum Cost?
To use this site, you must purchase Coins, which you can spend on its various services such as pre-recorded videos or live sessions with the psychics. In order to do this, you must create an account for the site. This site only accepts credit or debit cards, so no PayPal, cryptocurrency, etc. However, you get 10,000 free coins — essentially $10 worth — once you simply validate your credit/debit card. From there, you can purchase more Coins to spend on their services.
Top Payment Methods
Credit Card (Visa, Mastercard, Discover, JCB)
Debit Card
Pricing and Special Offers
Price per minute, starting at $0.39
Coin packages from $28-$98
$10 worth of coins when signing up
Is Oranum Legit?
How does the brand screen potential readers?
Unfortunately, Oranum provides no clear indication of how their psychics are screened. However, whenever a reader is featured as the psychic of the hour, they give free demonstration readings in their live chat, so users have the opportunity to judge that psychic for themselves.
What's the process for becoming a reader?
It's likely that potential readers must undergo a trial reading process for approval to read on the site, but the details aren't available to the public.
Do Oranum psychics work for the company?
Oranum is a platform that only mediates between users and readers.
How do users feel about Oranum?
A fair number of users in the past have been less than satisfied with Oranum, but its reputation seems to have increased more recently. The key to a good experience with this site is to find particular psychics that work best for you. The Top 100 ranking on their site and the free pre-reading open chat feature can be very helpful for this.
How to Get Started with Oranum
How easy is it to sign up?
It's very simple to sign up on Oranum com. Simply create an account via the Oranum psychic center using an email address and password. Once the user creates an Oranum sign-in, all they need is a payment method to get going.
What personal information do you have to provide?
The only personal information Oranum requires is an email address and credit/debit card information.
What payment methods are accepted?
The only types of accepted payment on Oranum are debit and credit cards.
Do you have to deposit funds before being able to choose a reader?
You may choose a reader through the live chat feature before making any payments. However, before you can receive a reading, you must purchase and pay the reader a number of Coins.
Oranum Features and Tools
Free live chat/stream where you can observe and interact with readers before deciding on a reading
Great variety and filters of reading styles and systems
Video chat readings
Pre-recorded videos from psychics that can help you get a feel for the reader
Top 100 ranking system for the psychics so you can see which readers are most popular with other users
How to Choose a Reader at Oranum
Types of readings at Oranum
There are many types of readings available at Oranum. The filters at the top of the home page allow you to narrow down which readers would be a best fit for you. You can select a method of reading, such as numerology, tarot, or astrology. Or, you can filter the psychics by topic: love, career, family, and even pets.
What type of reader information is available?
Psychics on Oranum can have several types of background information available for users. Although some psychics don't have much in their profile at all, others may have a bio and even videos to help the user get to know them before going into a reading. Oranum doesn't seem to require the reader to provide any specific information about themselves or their reading style, so it is up to the psychic themselves to decide what and how much to tell the users.
Are there customer reviews of readers?
There are no customer/user reviews of the psychics on Oranum. The features that come closest to Oranum com reviews are the Favorites system and the Top 100 ranking. Users can choose to favorite/follow a psychic if they like the reading, making it easier for the user to access that psychic in the future.
The profile of a psychic also shows how many followers they have, giving an indication of the reader's general popularity. The Top 100 ranking system allots points to a reader whenever they've been paid for a service, again giving the user a general idea of the readers' popularity.
How easy is it to book a reading?
If a psychic streams live sessions, you can receive a reading almost immediately. All you have to do is join the live reading and then start talking with and paying the psychic to start a reading. For other readers, you must message them to request a private reading. There is no indication about how quickly a given psychic will get back to you in order to start a session.
What types of readings are available?
The main types of readings on Oranum are video and voice calls. However, when a reader is doing a live chat stream, you are able to ask questions via chat and correspond with psychics through the website messaging system.
Can you block or unblock a reader?
Oranum does not include any feature to block/unblock a reader.
Can you leave feedback or rate a reader?
Users cannot leave any direct feedback on Oranum readers.
Can you create a favorite reader list?
You can create a favorite reader list, which will also allow you to follow the reader. This will make it easier for you to see the notification: Oranum psychics online.
Can you ping your personal reader?
Users can message any reader at any time, although there is no guarantee that a reader will respond immediately.
Does Oranum Have an App?
The Oranum app is available on the Google Play Store and Apple App Store. The app is free and offers pretty much all of the services available on the main website: live video streams, video and voice readings, and the ability to favorite and filter the best psychics for you. One cool feature of the app is that it will send you a notification when one of your favorite readers comes online. However, recent Oranum reviews of the app say that it is very difficult to use on newer phones due to its frequent crashing, likely because the app hasn't been updated in a while.
The Oranum app works pretty much the same as the main website — simply use your Oranum psychic login. The live streams are featured first, just like the website, and you still have access to your entire favorites list. The app also supports all the same chat functions you'll find on the website.
Oranum Visit Site
Help and Support
Oranum has several options for customer support. If you have basic questions, you can check out their FAQ page, which features some general information about Oranum registering, How to Get Coins?, Account Information, Oranum Broadcasters, Technical Help, and Billing Help. For questions about Billing that aren't available in the FAQ, Oranum also provides a phone number.
The answers in the FAQ are fairly basic, so if you have a more complex issue you can easily send a message with their Online Support page, which will allow you to receive live chat support. Oranum recommends using their live chat support feature for pretty much all of your technical issues while using this site, whether video/call quality or general connection issues. While answers to live chat questions may not be instantaneous, they will usually be fairly quick.
How to Get a Refund From Oranum
Users may request refunds from Oranum, however, the site does not offer a full-on satisfaction guarantee. Users must submit a refund request within 24 hours of the service and will only receive site Coins if the refund is approved.
How easy (or difficult) is it to request a refund?
Although requesting a refund is fairly simple — you must make a request through the live chat support page — Oranum's refund policy is much more difficult to find. This information is buried within their Terms and Conditions page and presented in difficult legal language.
How long does it take to get a refund?
There is no stated period of time for a refund to come through. All refund claims must go through an investigation process, so it's unlikely refunds will be issued immediately.
How Oranum Compares to Other Psychic Reading Sites
Video chat, phone, chat, mail
10,000 credits, $9.99 value after verifying a credit/debit card
$1-$4 per minute for first reading based on tier level
Introductory value package of $1 per minute for 10, 20, or 30 minutes
3 free minutes and 70% off first session (up to $50)
Bottom Line
Oranum offers some of the best variety of psychic readers. There are so many to choose from and there are always plenty of Oranum psychics doing live stream sessions no matter the time of day. This means users will not only find a reader when they want one, but also that the range of reading types is almost unlimited. Whether looking for psychics specializing in love or career, or seeking a reader that uses a specific method of reading like vedic astrology or palmistry, Oranum has someone to do it.
The option to enter a free live-chat 24/7 to observe or speak with psychics before purchasing a reading is a big plus, especially since there are no direct ratings or customer feedback available. This helps users to make their own judgments and vet Oranum psychics before any transactions, as it is unclear how rigorous Oranum is when screening their readers. The round-the-clock customer service availability is also a great feature, should a user ever have any issues using the site. Though, the refund system is filled with legal jargon and might be more of a hassle than other sites.