People get their palms read around the world, making the practice just as diverse as your fingerprints. The thing is that you don't need to seek out people with crystal balls anymore to get your palm read.
Both experienced advisors and well-developed algorithms can give you interesting insights into your destiny. However, it's valuable to find a palm reader or online palm reading platform you can trust.

That's why we have compiled a list of the top 10 best palm reading sites and apps to help you find answers to your burning questions.
Our Top 10 Best Online Palm Reading Sites and Apps:
Our Top 10 Best Palm Reading Sites and Apps - Quick Reviews:
1. Keen
A friendly network where you can get matched with your next psychic.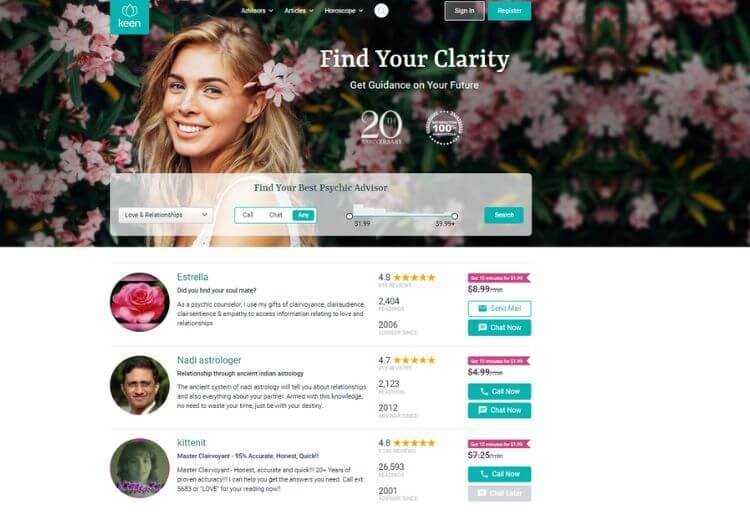 Best for: Lots of different specializations
Price: From $1.99 to $30/minute
Free version: No
Keen is one of the most user-friendly platforms available to get you the readings you need. The clean, sleek design makes it easy to navigate the website to find just what you're looking for. With more psychic advisors than most sites, live readings are available constantly. Keen is diverse in offerings, well-rated, affordable, and reliable.
The service does screen its readers, though it's only an identity verification. At the very least, this step will prevent random people without a track record from signing to give readings. You can easily read reviews of each profile on the site.
Regarding paying for your advisor, you have to deposit funds into your account before receiving a reading. There are plenty of free features that you can take advantage of before you go ahead and commit, like browsing advisor profiles and filling out the questionnaire to get matched with a psychic.
Why we chose Keen: Keen's strong reputation, built over two decades, offers customers peace of mind with reliable and trusted palm reading services. The platform's extensive network of skilled readers ensures users can find the best fit for their unique needs.
Pros
Lowest rates available: As low as $1.99/min
Trustworthy readers
Money-back guarantee
Cons
No video chat options
Fewer reading options on app

Keen Visit Site
2. Purple Garden
Extremely easy-to-use palm reading app interface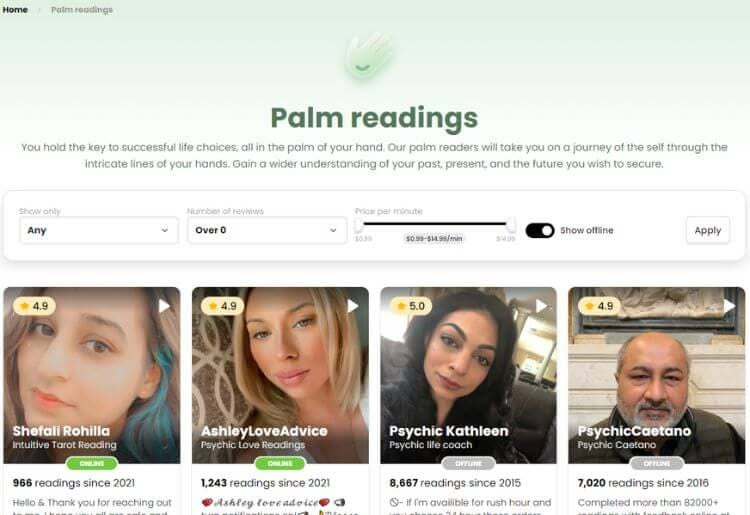 Best for: Simple and well-designed platform
Price: $0.99 - $14.99 / min
Free version: No
Purple Garden is a leader of palm and psychic reading apps. One of the best things about Purple Garden is how modern-looking the interface is. When entering the app, you'll be able to filter according to what service you want. Psychic profile "cards" will appear so you can get information about them, how you can talk to them, and their ratings. You can get a lot of useful information about the psychics from their profiles.
Keep in mind though that getting a refund from Purple Garden can be pretty difficult. The positive thing is that Purple Garden's advisors and clairvoyants are quite affordable for all the services they offer.
Why we chose Purple Garden: This platform stands out due to its intuitive and user-friendly interface, which helps users effortlessly connect with genuine, vetted palm readers. Additionally, its one-of-a-kind video chat feature allows for a more personalized and interactive reading experience. Ensuring peace of mind, Purple Garden's satisfaction guarantee policy assures clients receive a positive and illuminating session during their palm reading journey.
Pros
Live chat, phone, and face-to-face video sessions
Detailed psychic profiles for accurate pairings
Plenty of psychic reading styles, methods, and tools
Cons
Near non-existent refund policy
App frequently glitches, creating technical problems

Purple Garden Visit Site
3. Kasamba
A no-frills psychic advising service that's available around the clock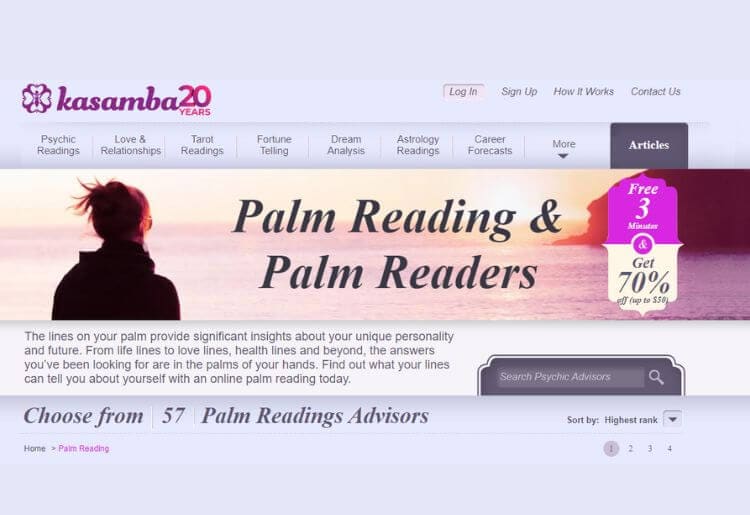 Best for: Variety of psychics and reading types
Price: From $1.99 to $30 per minute
Free version: No
Kasamba's psychic services have been around for a long time and their app provides a network of palm readers, psychics and clairvoyants. One of the best things about Kasamba are their offers.
Currently, with a $50 minimum value session, you can get 3 free minutes and 70% off your first session. And, you can also enjoy 3 free minutes at the start of every psychic chat session with each new advisor you try. If you're not happy with your reading, they have a Satisfaction Guaranteed Policy.
Though Kasamba has pretty flexible policies, their site is outdated and difficult to navigate through. The app's interface is much simpler to use. You can literally get your palm read at any time of the day with just a few taps on the app. Keep in mind that Kasamba doesn't vet their readers heavily and the reviews may be curated, so use your intuition to pick the right reader for you.
Why we chose Kasamba: Kasamba's user reviews and ratings provide a transparent look into the expertise of each palm reader, empowering users in their decision-making process. Additionally, the platform's seamless mobile app integration allows for conveniently accessing insightful palm readings anytime, anywhere
Pros
Large number of psychics and diverse range of readings
Good customer service features and 24/7 availability
Frequent deals/coupons sent by email
Cons:
Not clear whether you're getting actual psychic advice
Website can be difficult to navigate

Kasamba Visit Site
4. Oranum
A unique place to get your palm read online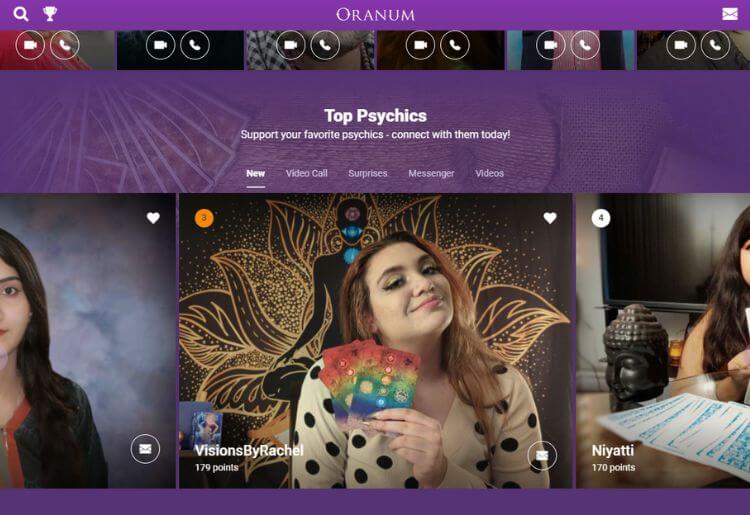 Best for: Face-to-face communication
Price: Starting at $0.39 per minute
Free version: Yes
Oranum is a pretty unique psychic reading platform. Upon entering, you'll be greeted with a wall of psychics sorted into various groups, including the Top 100. This sorting feature is where you'll be able to see the most popular advisors, as no customer reviews exist on the site.
The platform has lots of interesting features, though it is not the most transparent of sites. The app is One setback to Oranum setup is that they only accept debit or credit card payments. And, before you can receive a reading, you must give a deposit. This deposit is for the "coins" in your account that you can use for a variety of purchases in-site.
Why we chose Oranum: The platform truly excels with its unique live chat feature, enabling real-time interaction between users and skilled palm readers for a more personalized and engaging reading experience. Some advisors even offer pre-recorded videos, allowing users to get a feel for their approach. One of the coolest features is the live chat rooms where users can observe advisors in action, free of charge.
Free live chat with a psychic before getting a reading
Huge variety of specialties and filters
Hundreds of psychics available
Cons
No ratings/reviews for individual psychics
Limited refund policy

Oranum Visit Site
5. Basirly
A well-developed palm reading app for those seeking clues about destiny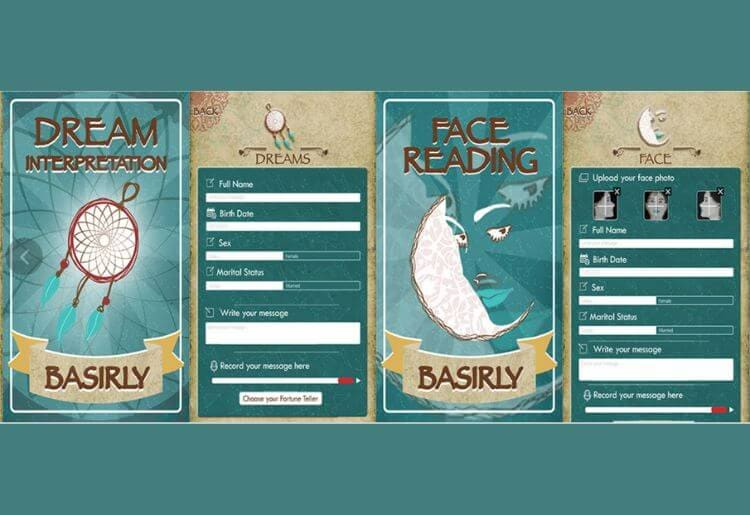 Best for: Combining different practices in one app
Price: Free
Free version: Yes
Basirly is an interactive and entertaining divination app where you can get a few different kinds of readings with just a few taps. This app is pretty easy to explore and has an interesting, mystical design. You can use Basirly to answer questions close to your heart and future from anywhere.
How it works is that you can send a request for a reading with your questions by voice or text message and psychic advisors will get back to you with a recorded audio prediction. It's a bit different than other fortune telling apps as real psychics contribute to the information, letting you even reach out and connect with these advisors for spiritual counseling, love counseling, and general long term psychic advice.
Another great feature is the amount of languages offered: English, Arabic, French, Portuguese, Spanish, and Turkish speakers can all enjoy Basirly. The mobile app is available both on Android and on iOS platforms.
Why we chose Basirly:The platform's AI-based palmistry solution offers users a modern and innovative approach to palm reading. Basirly's quick turnaround times ensure prompt responses from skilled palm readers. Coupled with in-app text and image sharing features, the platform simplifies communication, ultimately enhancing user experiences in their quest for insightful palm readings.
Pros
Easy-to-use app interface
Real psychics actually contribute advice
Lots of features on free version
Cons
Possibly limited psychic features
Unclear whether there are paid features

Basirly Visit Site
6. Psychic Source
Extensively screened, reasonably priced mediums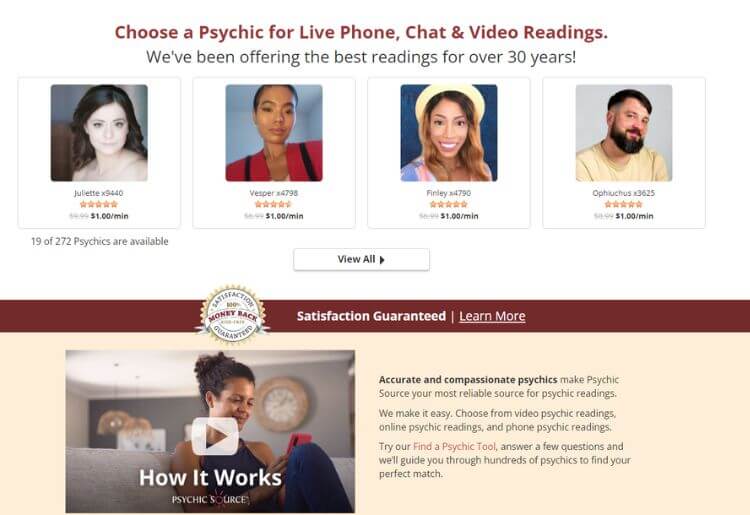 Best for: Psychic service with top-notch customer service
Price: $4.99 to $15/minute
Free version: No
Psychic Source is one of the most extensive providers of psychic readings and spiritual services. After completing a questionnaire to better match you with an advisor, you can head out onto your journey for getting answers.
There's a substantial amount of services offered, including palm readings, horoscopes, energy work, love readings, and more. You can get both structured and unstructured psychic advice, live or recorded sessions. Most of the features are paid, though some things can be acquired for free.
Both the website and mobile app are really easy to handle. The mobile app uses a lot less mobile data than the website, and the video and image quality is much better than on your computer. Psychic Source provides a Satisfaction Guarantee and the app definitely works to this promise, as you can get additional discounts you won't find online.
Why we chose Psychic Source: The platform's rigorous screening process for advisors guarantees users access to top-notch and seasoned palm readers, ensuring quality and reliable guidance. Plus, the availability of multiple communication methods, including phone, chat, and video, accommodates users' diverse preferences for their palm reading sessions.
Pros
Highly experienced psychics dedicated to superior service
Comprehensive psychic profiles to help you find the best fit
Membership rewards program
Cons
Rates may vary based on the type reading: video, phone, or chat
No way to talk with a psychic before starting a reading

Psychic Source Visit Site
7. Psychics.com
Expansive psychic network with lots of niche services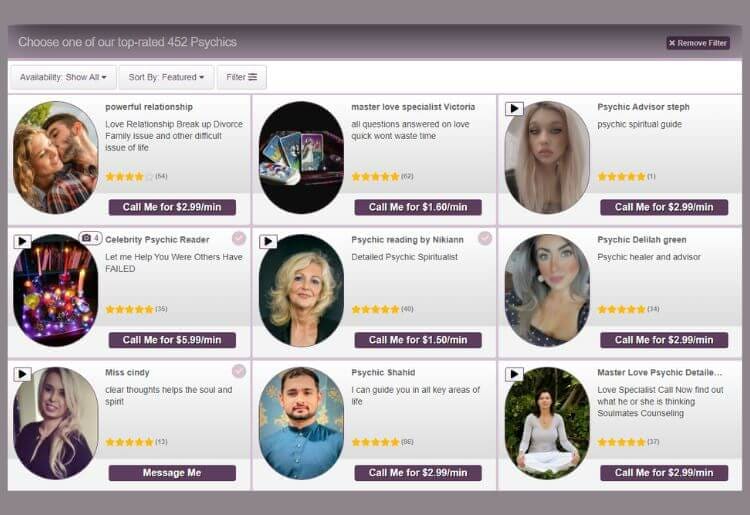 Best for: Inexpensive psychic services
Price: From $0.69 to $5.99/minute
Free version: No
Psychics.com is an easy-to-access psychic advising service, available on the web and Android devices only.
It's an open platform where anybody who is clairvoyant or psychic can sign up. Currently, there are 925 featured psychic advisors on the site. Psychics.com doesn't screen the people that sign up to provide their services, though there is a "Verified Advisor Guarantee". This means that Psychics.com picks advisors who may give the best service.
It can be overwhelming to pick one service when there's so many choices. You can have Psychics.com match you with a recommended advisor. Advisor profiles can give you a lot of clues: how to communicate, reviews, detailed scorecards, and information about their consultation styles.
Why we chose Psychics.com: The platform's user-friendly search functionality makes it easy for clients to find the perfect palm reader from a vast pool of talented advisors. Additionally, the platform's pay-per-minute pricing model provides users the flexibility to tailor their palm reading sessions according to their budget and specific needs.
Pros
A variety of reading rates starting at as low as $0.69 a minute
$10 credit for new customers
Some psychics offer video readings
Cons
Advisors set up accounts independently without being screened
Customer service is only available through voice mail

Psychics.com Visit Site
8. Palm Reading Personality Test
Simple self-learning palm reading app for beginners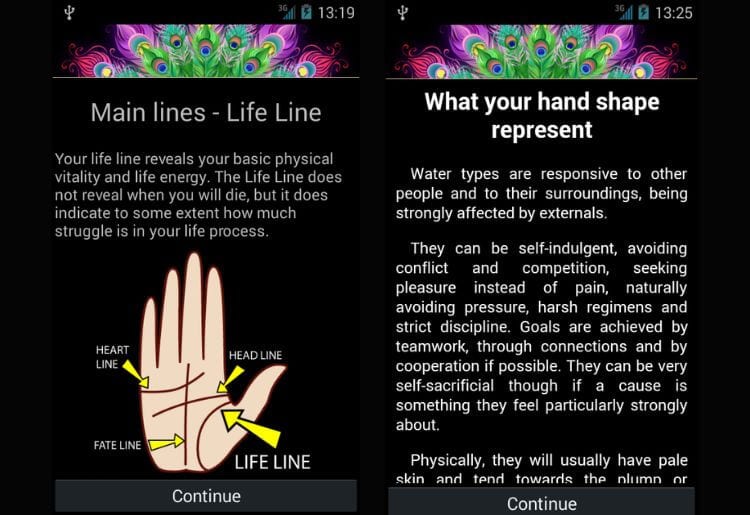 Best for: Self-learning to palm read
Price: Free download
Free version: Yes
Over 500,000 users have downloaded the Palm Reading Personality Test app. This is a great way to get your palm read without leaving your home, or spending hours trying to pin down the best palm reader for you.
Android users can download this app and quickly learn about the basics of palmistry. Then, using easy-to-read diagrams, you can compare your hand with the explanations provided.
This app is pretty simple to use, but it doesn't offer so much information nor is it personalized to your palm. There's not much information on who compiled the details, either. The interface of the app is pretty flat and simple which doesn't get in the way of learning some palmistry tips. This app is a good place to start if you want to do some quick solo exploration on the topic of palm reading.
Why we chose Palm Reading Personality Test: The app's easy-to-use interface offers users an engaging introduction to palmistry, opening the door for beginners to explore their personality traits. Combining quick and accurate results with user-friendly explanations, it provides insights for users looking for a simpler approach to palm reading.
Pros
Simple app interface
Great app for palmistry beginners
Free to download
Cons
Limited information on the app
Available only on Android

Palm Reading Personality Test Visit Site
9. PalmistryHD 
A feature-filled app for those into palmistry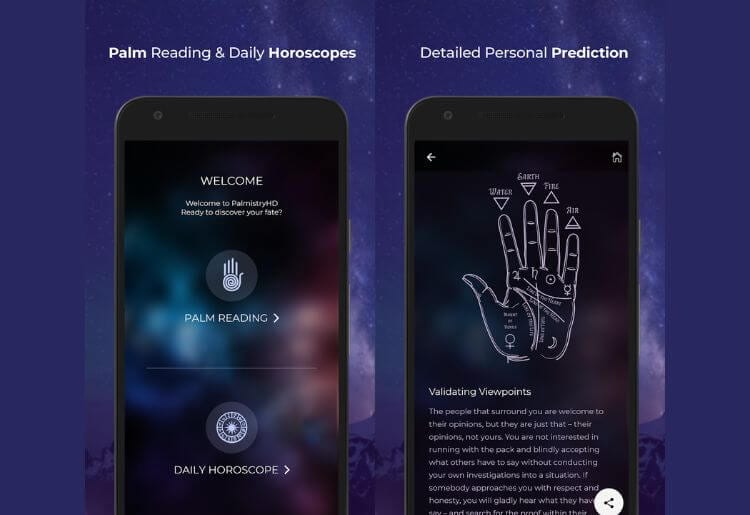 Best for: Those who don't mind spending on extra insights
Price: Freemium, £7.99/month premium access
Free version: Yes
PalmistryHD is a palm reading guide and daily horoscope app that's available both on iOS and Android. Compared to other palmistry apps, this one really does try to focus solely on the art of palm reading. You can get a lot of personalized insights just by taking a picture of your hand, including compatibility, love readings, health readings, and looks into your career or success paths.
This app's interface is pretty slick and really makes you focus on the mystical aspect of palm reading.
Even though the app is filled with interesting features, it's reasonable to take the biorhythm reporting system with a grain of salt as biorhythms are a pseudoscience and it is unclear how the app exactly monitors them.
Why we chose PalmistryHD: This app combines both traditional and contemporary elements of palmistry, offering users deep insights into their personality, love life, and career through easy-to-understand interpretations. Leveraging advanced scanning technology, PalmistryHD ensures a high level of accuracy and user-friendly navigation.
Pros
Entertaining palm reading app
Extensive daily horoscope
Free to download
Cons
Limited free use
Difficult to get ahold of customer support

PalmistryHD Visit Site
10. Life Palmistry
Filled with fun features revolving around your destiny, future, and health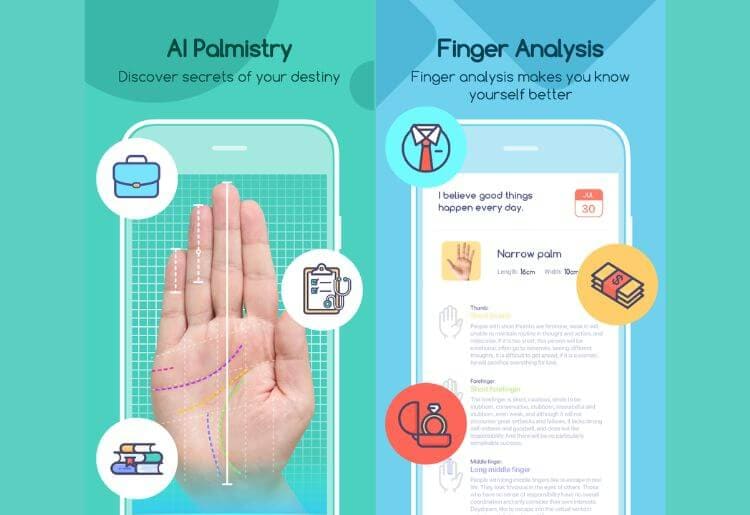 Best for: Lighthearted palmistry fun
Price: Freemium, Life Palmistry Pro starting at $1.99/week
Free version: Yes
Life Palmistry is a palm reading app available both on Android and iOS. There's no site for the app so you have to download to find out all its features. This application seemingly promises AI-powered palmistry, giving insights into your destiny based on a photograph of your hand.
You can also use a few features that already exist on your phone to measure your heart rate and get a sense of your health through palmistry.
This app isn't just about palm reading. You can also find other features such as selfie magic filters, where you can see what you'd look like as an old person. This app is more of an amusing approach to palm reading, and it's unclear whether the texts are written by real psychic advisors.
Why we chose Life Palmistry: The app's well-organized and intuitive layout simplifies the palm reading process, making it an inviting platform for users seeking easy-to-follow guidance. Its continuous updates and improvements also demonstrate the developers' commitment to providing an enriching and reliable palmistry experience.
Pros
Fun app for gamifying palmistry
Well-designed interface
Often updated with new features
Cons
Not backed up by any reliable source
Hard to reach customer support

LifePalmistry Visit Site
How to Choose the Best Palm Reading Sites and Apps
Learning about your destiny can be a daunting task. Luck may be on your side: there are tons of online and on-the-go resources for palm reading.
Though it's important to do some research and figure out which of these sites are legit. There are lots of "advisors" out there who want to try out fortune telling with no prior experience. By going through commonly asked questions, you can see what platform is really in the cards for you.
What Is Palm Reading?
Palm reading, also known as palmistry, is the ancient art of studying palms for clues about yourself or the future ahead. This form of fortune telling has been practiced throughout the ages, across different cultures and nations. It's been mentioned in the Old Testament, in Hindu astrology teachings, during the age of Greek philosophy, and more.
It's believed that the left hand is read to understand your personality traits and your past. Your right hand gets read to see into the present and the future. The most well-known feature of palm readings is the 'life line', which represents how long someone will live for. This 'life line' palm feature is the curved one parallel to your thumb.
Palm readers look at lines to see how long palm life lines are, if there are any unique shapes on your palm, if your palm lines have breaks, or if any lines are missing. There are other lines existing on your palm to keep in mind: your fate line, head line, heart line, travel lines, bracelet lines (which can determine your future health and luck), relationship lines, marriage lines, and more.
What Will a Palm Reader Tell Me?
Palm reader predictions depend on many different factors. These predictions especially depend on the structure of your palm's lines. If you look at your palm, you'll see how complicated it looks. After all, your fingerprints are entirely unique to you.
You may come to a palm reader with a specific question or ask them about your future. Your chosen palm reader may tell your future, or they may give you some advice on how to improve your inner health and vitality. The knowledge of your advisor may factor in their years of experience, what technique they use, what parts of the hand they focus more on, or even what part of the world they may be from.
How Accurate Is Palm Reading?
The accuracy of palm reading online depends on two factors: the unique palm of the person and the perspective of the reader. As you grow older, your palm lines may change and more may appear, possibly changing your readings.
Getting your palm read is kind of like getting advice about how to improve your daily routine and what to do to avoid negative situations. You can do what you want with the information you get from a palm reader. In the end, the outcomes of your reading depend on your free will.
How Can I Guarantee an Accurate Palm Reading?
You can guarantee an accurate palm reading only by doing your research on the reader and seeing how they are reviewed, how trustworthy they are, what site or store they may be working for, and what kind of palmistry they practice.
Palm reading is usually based on the advisor picking up different clues based on your appearance while using intuition to give different suggestions on your life. A good palm reader who gives "accurate" readings is one that won't make false promises and try to tell your future in great detail, as this information won't exist on your palm.