Whatever the reason that you are seeking a connection to your family member, lover, or friend, a medium can provide guidance in these challenging times and help you get the answers that you need.
Finding a trustworthy and reliable online medium isn't easy though, which is why we've compiled this list of the best online medium readings and psychic sites to help give you the solace, answers, and peace you need.
The Best Online Mediums Reading Sites in 2023:
A Closer Look At The Best Online Mediums Reading Sites:
1. California Psychics
Over 160 online mediums available
Mediums for lost people and pets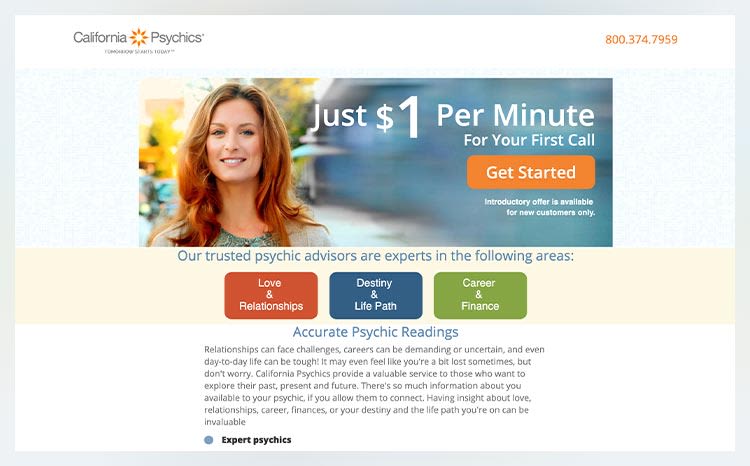 California Psychics mediums feel a true connection to those who have passed on to another realm. This makes them the perfect candidates for helping you to communicate. If you are yearning for one more chance to connect with a loved one that left this world before you were ready to say goodbye, then a California Psychics medium is an excellent resource. Focusing on your emotional well-being and the readiness of the spirits, these mediums can bring you the closure and transition process you need.
Read the full California Psychics review

California Psychics Visit Site
2. Keen
First 3 minutes free with an online medium
Dozens of online mediums to choose from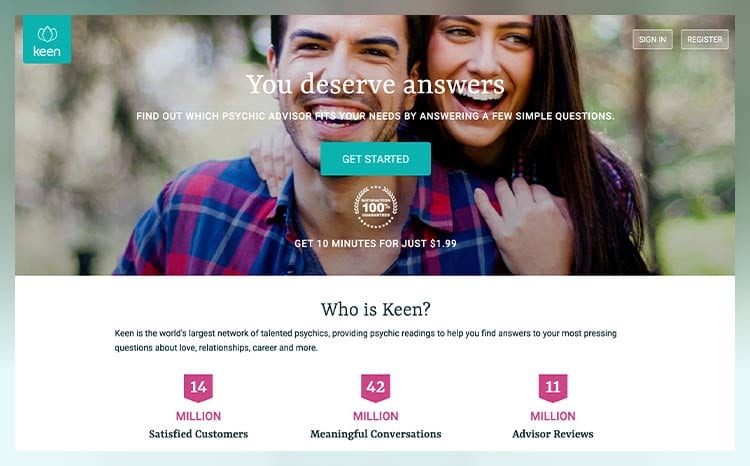 Keen's database of mediums allows members to communicate the way they are most comfortable. Some mediums speak directly and see spirits, while others simply sense mental images. While no one can just call a loved one on demand, Keen online mediums are in tune enough to create a safe and comfortable atmosphere, so you get the best results from your sessions.

Keen Visit Site
3. Psychic Source
Strong medium profiles for easy filtering
Around 80 online psychic mediums available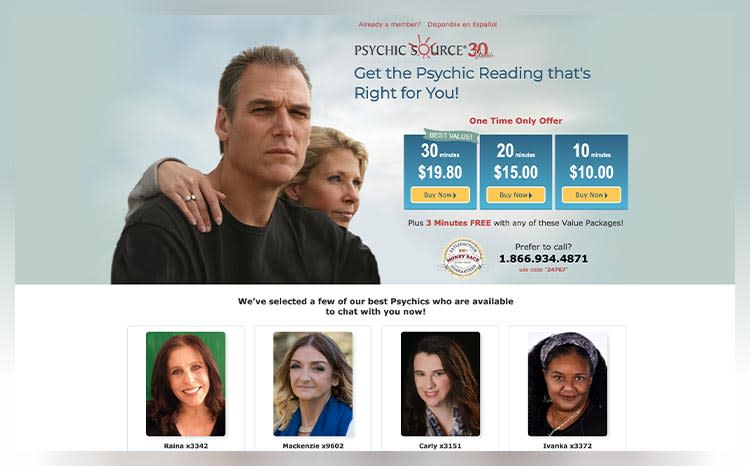 Psychic Source is a reliable network for finding mediums with real talent in speaking with individuals on the other side. With many mediums that specialize in this service, Psychic Source makes it easy for you to find a reader you can relate to so you can connect directly with friends and family members, and be guided through the conversation.
Read the full Psychic Source review

Psychic Source Visit Site
4. Kasamba
Choose from a large variety of mediums
Email sessions available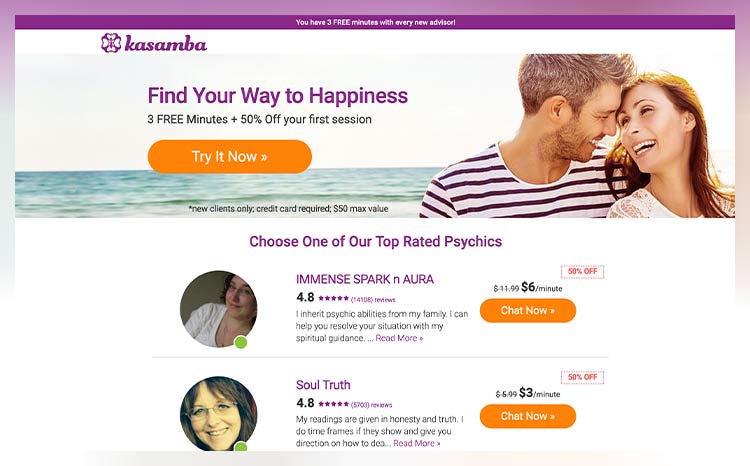 With more than 100 mediums that specialize in communicating with the deceased, you are sure to find a fitting go-between on this renowned medium psychic website. Kasamba's mediums are particularly sensitive, a trait that is very welcome when dealing with such a sensitive subject as the death of a loved one. Kasamba is also an excellent source if you are looking for alternative reading styles such as Wicca, crystals, and astral projections.

Kasamba Visit Site
5. Purple Garden
Video readings available
Psychics feature video bios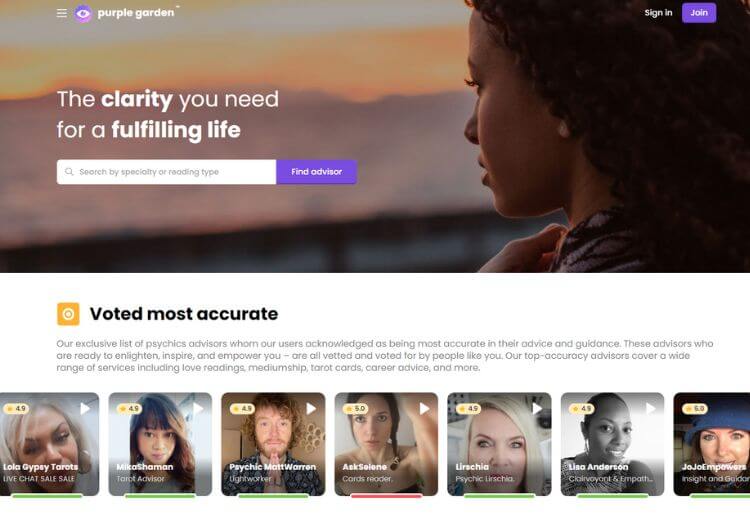 If you're looking for easy access to psychics from your phone, then Purple Garden may be your answer. The network features a wide range of psychics that offer video, chat and voice readings on an easy-to-use app available for both Android and iPhone devices. Browsing through psychic profiles is as easy as using the social media apps you're used to, and psychics even have a video bio you can check out to get a better feel for their vibe before you choose them for a reading.
Read the full Purple Garden review

Purple Garden Visit Site
6. Oranum
Live streaming
Credit-based pricing
Oranum calls itself a spiritual community and offers a twist with its Twitch-style video readings. Browse the streams of one of the dozens of readers until you find someone you feel a connection with and jump into their video medium chat rooms.
Oranum's has a wide range of diverse mediums. New users get $9.99 in free credits that'll help you find a medium you can truly connect with. Availalbe on iOS and Android, the app is simple to use and makes getting in touch with a medium easy, no matter where you are.

Oranum Visit Site
7. PathForward
Competitive pricing
Gifted psychics and mediums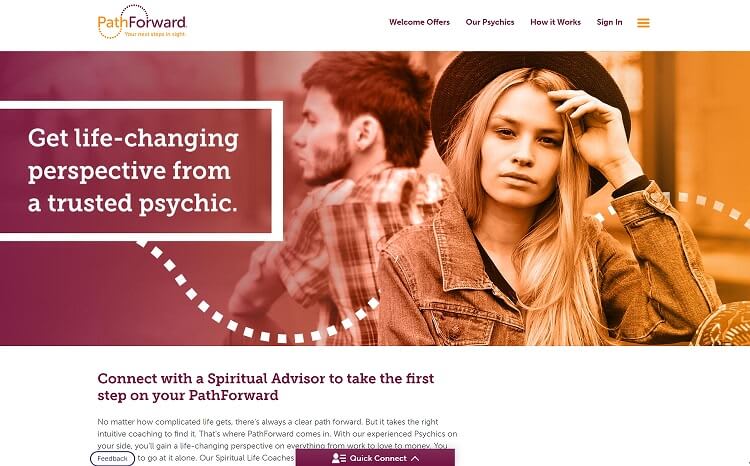 Providing the emotional healing we all need after the passing of a loved one, PathForward mediums offer a therapeutic alternative to the more traditional approaches to death and bereavement. Possessing abilities to communicate with spirit guides and departed loved ones, these online mediums can give you sound advice to help you go on.
PathForward is a reputable network that offers an incredible depth of talent with so many different reading styles. Additionally, PathForward's website provides detailed reader profiles and even lets you listen to a recorded message to get to know the reader better.. This gives you the added confidence that this delicate conversation will be handled with confidence and discretion.
Read the full PathForward review

PathForward Visit Site
8. PsychicCenter
Loyalty rewards program
Birthday promo codes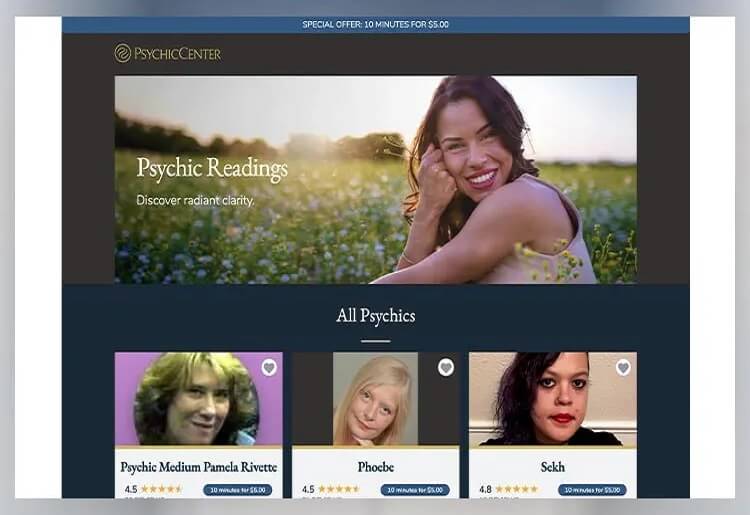 PsychicCenter connects you with a skilled mediums who may be able to connect you to the spirit world and communicate with loved ones who have passed on. You can have sessions with mediums at PsychicCenter over the phone if you don't want to use the platform. Even better is that you can get 10 minutes for only $5 on your first online medium reading.
Read the full PsychicCenter review

PsychicCenter Visit Site
9. Mysticsense
Reading starting from $1.20 per minute
A variety of reading styles and tools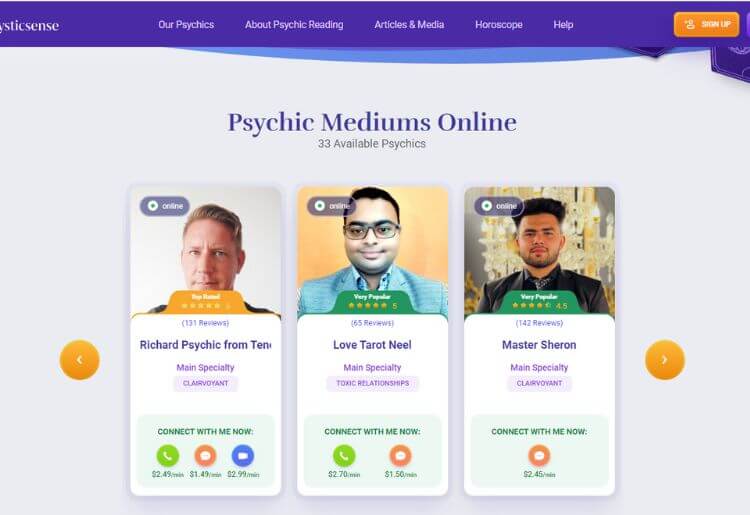 It can be difficult to find a medium that you trust. There are many options on the market but many of them will not deliver the results you want. Mysticsense is a website that spends time vetting their psychics and mediums, making sure they have had training and experience in their field. They offer a lot of variety, too, with over 180+ vetted psychics and mediums to choose from. If you're looking to connect with departed loved ones, Mysticsense is a good place to start.
Read the full Mysticsense review

MysticSense Visit Site
10. AskNow
Introductory offers
Easy to filter medium listings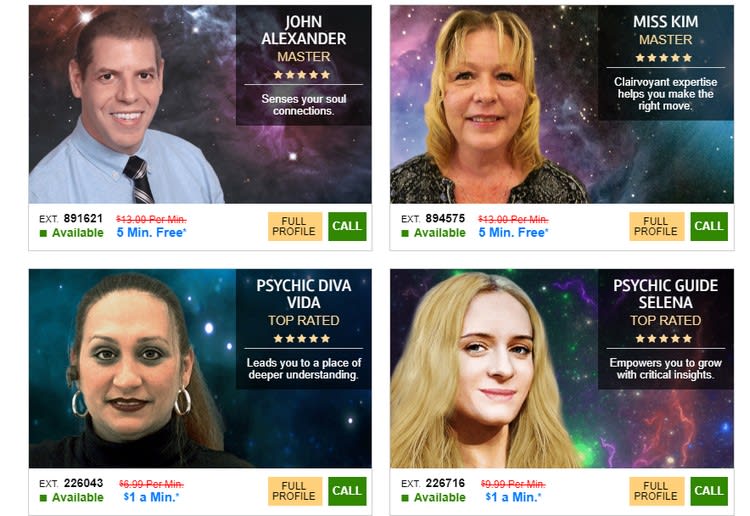 AskNow mediums have decades of experience under their belt, so they know what they're doing. With online mediums that specialize in every area of clairvoyance from love and relationships to analyzing your dreams and what they mean for your future, AskNow mediums hone in on the areas of your life that you want clarified. Of course, communicating with spirit guides and those in the next world is a category that some of their readers truly excel in, providing validation and closure. AskNow also offers members a satisfaction guarantee, so if you aren't completely satisfied with your session, you get reimbursed entirely!

AskNow Visit Site
What Is an Online Medium?
In their most basic form, a medium is a psychic who uses their abilities of intuition to tap into past, present, or future events. Regarding the deceased, mediums can even communicate with these individuals, transmitting messages back and forth, and checking on someone's status in another realm.
Dealing with the passing of a loved one is never an easy process, but it's also not one that you have to go through alone. With the help of a caring, sensitive, and trusted online medium, you can reconnect with the deceased, communicate final messages, and eventually move on with your life.
And, after all, isn't that exactly what your loved ones would want? Seek the kind of loving guidance you deserve with a competent medium from a trusted psychic network, and get back to living your life once more.
How Can You Find the Right Online Medium for You?
Involving a medium in your personal life can be the solution you need to finally move on. The question is how to find the right one for you. There are certainly plenty of imposters out there, and you don't want to waste a lot of money seeking out phonies. Fortunately, there are also plenty of legitimate mediums who truly can and want to help you.
The most important thing for a successful reading is ensuring you feel trust and connection with your psychic medium. Before you embark on a reading, be sure that you listen to your intuition. Read the medium's profile, customer reviews, and trust your instincts.
A mediumship reading is an emotional and intimate experience that can open up a lot of old wounds. You want to be sure that you can open up safely and start your healing process.
How to Prepare for a Session with a Medium?
Before you talk to a medium, you need to be fully aware of the reason you are trying to contact your loved one. Ask yourself what it is that you want? Do you need closure? Do you have questions? Do you want to relay a message? Understand the level of grief you are currently dealing with and how much you can handle emotionally.
It is also a good idea to familiarize yourself with your family history. You never know which family member will reach out on behalf of your loved one. Be sure that you will understand the message they are trying to pass on to you.
We have created an in-depth guide on how a medium can help you find closure and clarity after a loved one passes that we recommend you read before your first reading to make sure you get the answers you are looking for.
What's the difference between a Psychic Reader and a Psychic Medium?
While both mediums and psychics readers can help you, they're not built the same. Mediums are all also psychic readers, but not all psychics are mediums. Psychics can provide some guidance on your life and soul but they would need some more direction through questions. You should usually come prepared with a list of open-ended questions.
Psychic readers use your current context to draw conclusions and predictions. Mediums can usually see into your past without much aid, and spiritually connect with your passed loved ones or animals.
Both mediums and psychics can bring a lot of comfort to you using similar but different practices. Mediums are worthwhile to explore if you're looking to expand and heal spiritually. Psychics are best used to get guidance for your life questions.
Bottom Line
If your loved ones passed and left you with a feeling of emptiness, a psychic medium can help you understand what's happening in the spirit world. They can provide guidance as you're going through this difficult time in your life. You'll be able to connect with those who have passed on so that you can continue to have a relationship with them even though they aren't physically here anymore. Even if you go through this spiritual process virtually, online medium readings and psychic sites can provide a great deal of comfort.