Whatever the reason that you are seeking a connection to your family member, lover, or friend, a medium can provide guidance in these challenging times and help you get the answers that you need.
Finding a trustworthy and reliable online medium isn't easy though, which is why we've compiled this list of the best online medium readings and psychic sites to help give you the solace, answers, and peace you need.
Our Top 10 Best Online Mediums Reading Sites in 2023:
A Closer Look At The Best Online Mediums Reading Sites - Reviews:
1. California Psychics
Over 160 online mediums available
Mediums for lost people and pets
Phone, chat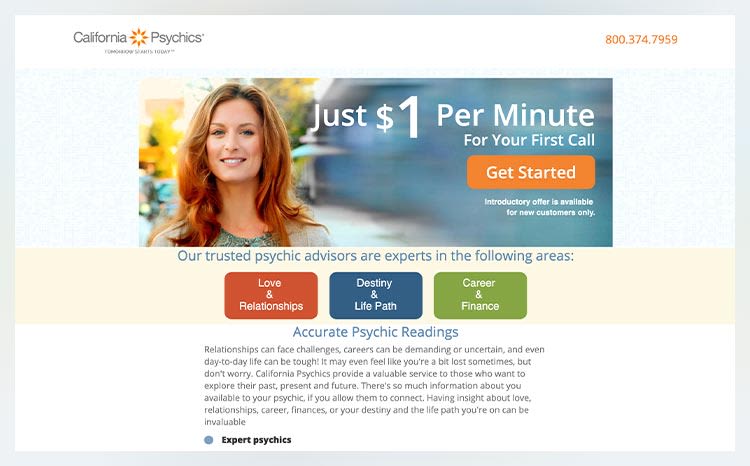 California Psychics mediums feel a true connection to those who have passed on to another realm. This makes them the perfect candidates for helping you to communicate. If you are yearning for one more chance to connect with a loved one that left this world before you were ready to say goodbye, then a California Psychics medium is an excellent resource.
What We Like About California Psychics
A highly selective screening process
California Psychics ensures that only the most gifted and experienced psychics are available on their platform. This rigorous screening process includes four stages and takes about a month to complete.
This provides clients with the assurance that they are receiving quality services from professionals who are passionate about their work.
The Unique and Resourceful Blog Section
The website's blog section is a valuable resource for those who seek to heal and grow after experiencing a loss. It offers a variety of informative content covering topics that can help individuals navigate the grieving process, such as coping with loss, finding meaning in difficult times, and developing a deeper understanding of life's mysteries.
Pros
Has a generous rewards program
Advisors available 24/7
The user-friendly mobile app
Cons
Only offers readings over the phone
Limited refund policy
Pricing
Karma Rewards customer loyalty program
Buy 20 minutes for either $1, $2, or $4 per minute
Read the full California Psychics review

California Psychics Visit Site
2. Keen
First 3 minutes free with an online medium
Dozens of online mediums to choose from
Phone, chat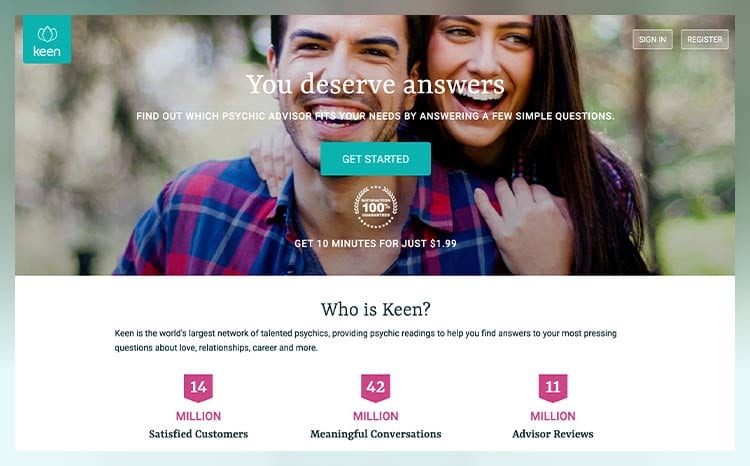 Keen's database of mediums allows members to communicate the way they are most comfortable. Some mediums speak directly and see spirits, while others simply sense mental images.
While no one can just call a loved one on demand, Keen online mediums are in tune enough to create a safe and comfortable atmosphere, so you get the best results from your sessions.
What We Like About Keen
It has a huge pool of readers to choose from
With over 1,700 advisors available 24/7, users have a wide range of options to choose from, making it easy to find an advisor that fits their needs and preferences.
With a search bar to filter results by keywords or specific advisors, users can easily find an advisor that can help them find the closure they are looking for.
Exceptional customer service
Keen's user-friendly platform makes it easy to book and schedule appointments with advisors, and their support team is available 24/7 to assist users with any questions or concerns they may have.
The site also offers a satisfaction guarantee, ensuring that users are happy with their experience and that they receive a refund if they are not.
Pros
Money back guarantee
Low introductory reading rate
Easy-to-use website
Cons
No video chat options
No value packages, bundles, or bulk credits
Pricing
3 minutes free or 10 minutes for $1.99

Keen Visit Site
3. Psychic Source
Strong medium profiles for easy filtering
Around 80 online psychic mediums available
Phone, video, chat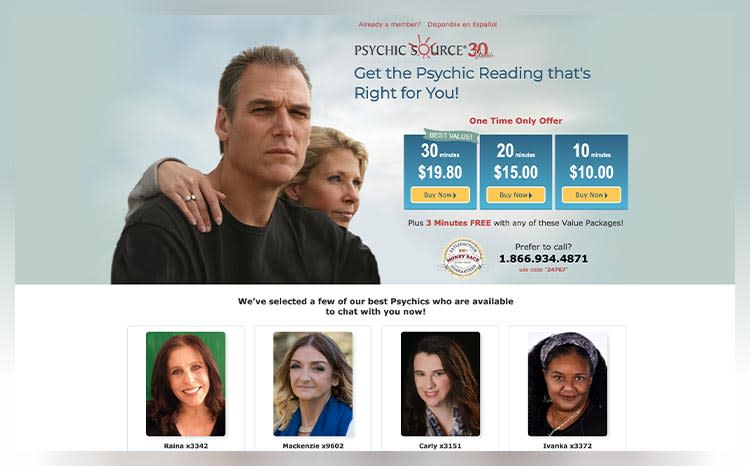 Psychic Source is a reliable network for finding mediums with real talent in speaking with individuals on the other side. With many mediums that specialize in this service, Psychic Source makes it easy for you to find a reader you can relate to so you can connect directly with friends and family members, and be guided through the conversation.
What We Like About Psychic Source
A longstanding reputation in the industry
Psychic Source is the oldest psychic service in the market, having been in business for over 30 years. Their services have been enjoyed by millions of customers worldwide. This reputation for excellence gives users peace of mind and instills confidence in the readings they receive.
The diverse range of reading options
The site offers a range of different types of readings, such as tarot, angel, and numerology readings, providing users with a comprehensive selection to choose from.
This diversity in readings ensures that users can find an advisor that resonates with them and their individual needs, making it an ideal platform for those looking to connect with a medium and find solace in the afterlife.
Pros
Huge variety of psychic readers
Attractive introductory offer and membership rewards program
24/7 customer service
Cons
Rates may vary depending on the reading type
You can't talk to a psychic before starting a reading
Pricing
Membership rewards programs

$1 per minute for the first 10, 20, or 30 minutes
Read the full Psychic Source review

Psychic Source Visit Site
4. Kasamba
Choose from a large variety of mediums
Email sessions available
Phone, chat, email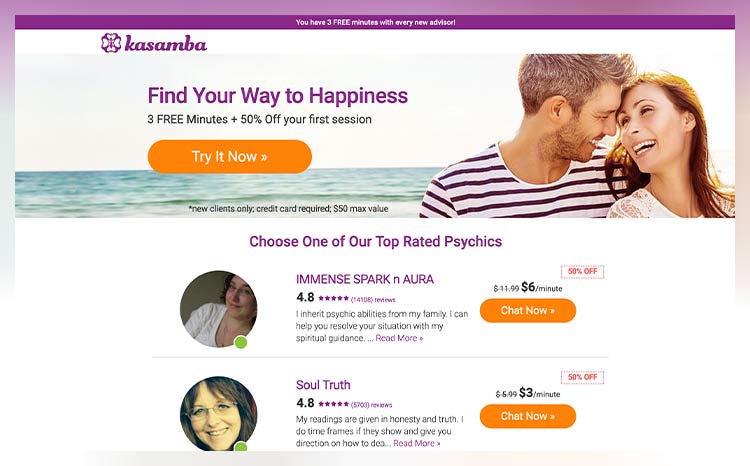 With more than 100 mediums that specialize in communicating with the deceased, you are sure to find a fitting go-between on this renowned medium psychic website.
Kasamba's mediums are particularly sensitive, a trait that is very welcome when dealing with such a sensitive subject as the death of a loved one. Kasamba is also an excellent source if you are looking for alternative reading styles such as Wicca, crystals, and astral projections.
What We Like About Kasamba
The loyalty program for returning customers
If you've used their services before, you can sign up for their loyalty program to receive exclusive benefits such as coupon codes and other discounts. This is a great option for those who want to continue seeking guidance and support through Kasamba's network of advisors, without breaking the bank.
User-friendly mobile app
The app is available for both iOS and Android devices and provides a convenient way for users to connect with their chosen advisor on the go. Users can easily browse through different categories and specialties, schedule appointments, and receive notifications when their advisor is available.
The app also allows users to chat with advisors via text or video, making it easy to connect with an advisor at any time and from any location.
Pros
Coupon codes for returning customers
100% satisfaction guarantee refund policy
The app has personal horoscopes section
Cons
Unclear pricing structure
Expensive compared to competitors
Does not provide live customer service chat
Pricing
Frequent deals/coupons sent by email

3 free minutes and up to 70% off for the first reading

Kasamba Visit Site
5. Purple Garden
Video readings available
Psychics feature video bios
Phone, chat, video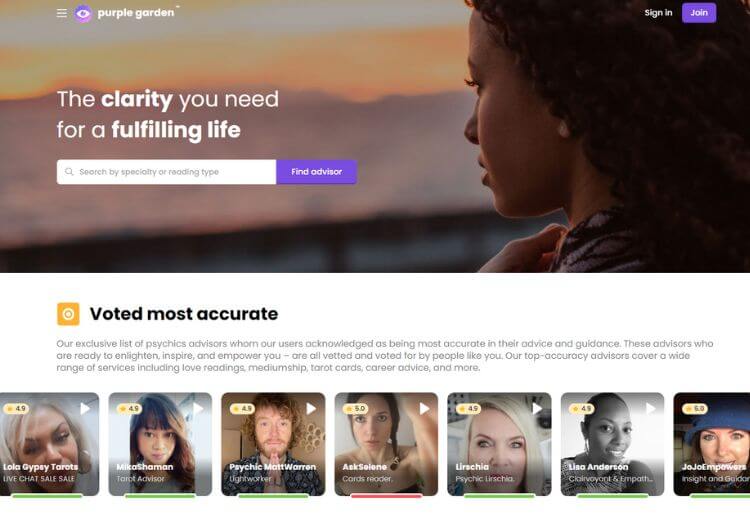 If you're looking for easy access to psychics from your phone, then Purple Garden may be your answer. The network features a wide range of psychics that offer video, online chat and voice readings on an easy-to-use app available for both Android and iPhone devices.
Browsing through psychic profiles is as easy as using the social media apps you're used to, and psychics even have a video bio you can check out to get a better feel for their vibe before you choose them for a reading.
What We Like About Purple Garden
Detailed psychic profiles
Each psychic on the Purple Garden site has a comprehensive profile that includes their areas of expertise, reading style, and customer reviews, giving you a clear picture of what to expect from your session.
This level of detail and transparency is crucial for accurate pairings and ensures that you are matched with a psychic who can provide the guidance and support that you need.
Wide range of communication methods
Users can choose to connect with psychics through voice calls, video calls, or even chat sessions. This flexibility ensures that users can communicate in the way that they are most comfortable with and find the most effective for their needs.
The site also offers both recorded readings and live sessions with psychics, giving users the flexibility to choose the format that works best for them.
Pros
Attractive introductory offer
User friendly platform
Cons
lack of satisfaction guaranteed policy
Screening process unclear
Pricing
cash-back loyalty program

$10 credit on the first reading
Read the full Purple Garden review

Purple Garden Visit Site
6. Oranum
Live streaming
Credit-based pricing
Video, phone, email, live chat stream
Oranum calls itself a spiritual community and offers a twist with its Twitch-style video readings. Browse the streams of one of the dozens of readers until you find someone you feel a connection with and jump into their video medium chat rooms.
Oranum's has a wide range of diverse mediums. New users get $9.99 in free credits that'll help you find a medium you can truly connect with. Availalbe on iOS and Android, the app is simple to use and makes getting in touch with a medium easy, no matter where you are.
What We Like About Oranum
Free Advisor Chat Feature
One of the key features we appreciate about Oranum is the ability to chat with an advisor for free before purchasing a reading. This allows users to get a feel for the advisor's personality and approach, ensuring that they find the right fit before committing to a paid reading.
Readings are affordable
With prices starting at just $0.39 per minute, it's one of the most affordable services on the market. Despite the low prices, Oranum still offers high-quality readings from experienced and knowledgeable psychics.
Their advisors are trained to provide guidance on issues related to grief and loss and can help you to find the peace and understanding you seek.
Pros
Free live chat with a psychic before purchase
Round-the-clock customer service
Many communication options
Wide range of specialties
Cons
No direct ratings on individual physics
Screening process unclear
Refund system unclear
Pricing
Starts at $0.39 per minute
Coin packages from $28-$98

$10 worth of coins when signing up

Oranum Visit Site
7. PathForward
Competitive pricing
Gifted psychics and mediums
Phone, chat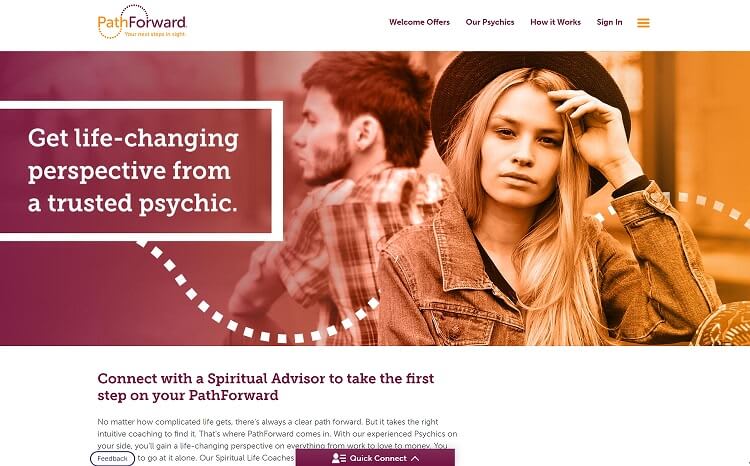 Providing the emotional healing we all need after the passing of a loved one, PathForward mediums offer a therapeutic alternative to the more traditional approaches to death and bereavement. Possessing abilities to communicate with spirit guides and departed loved ones, these online mediums can give you sound advice to help you go on.
PathForward is a reputable network that offers an incredible depth of talent with so many different reading styles. Additionally, PathForward's website provides detailed reader profiles and even lets you listen to a recorded message to get to know the reader better.
What We Like About PathForward
Affordable and Accessible Support
PathForward prioritizes affordability and accessibility for all users. The platform offers key features such as the In Sight Rewards program and Inner Circle membership, designed to cater to loyal customers seeking additional benefits. New users can take advantage of the platform's affordable introductory rates and exclusive deals, providing a risk-free opportunity to explore the platform's suitability.
Commitment to Building Lasting Client-Advisor Relationships

Another key feature we like about PathForward is its focus on building long-term relationships between clients and advisors. Users have the option to choose an advisor they connect with and schedule regular appointments with them, fostering a sense of continuity and support over time.
Pros
Rewards program and monthly subscriptions for repeat customers
Introductory offers for new customers
Best online safety protections to protect users' information
Cons
No video chat
No app
Limited availability of physics
Pricing
Inner Circle monthly subscription service
$1 per minute for a 10, 20, or 30-minute session + 3 free minutes
Read the full PathForward review

PathForward Visit Site
8. PsychicCenter
Loyalty rewards program
Birthday promo codes
Phone, chat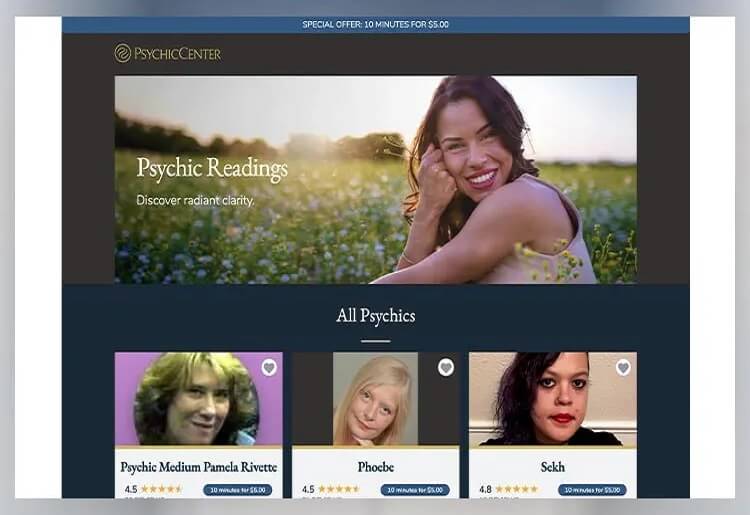 PsychicCenter connects you with a reputable medium that may be able to connect you to the spirit world and communicate with loved ones who have passed on. You can have sessions with mediums at PsychicCenter over the phone if you don't want to use the platform. Even better is that you can get 10 minutes for only $5 on your first medium reading online.
What We Like About Psychic Center
Low Prices and Credit-Back Incentives
Psychic Center offers some of the lowest rates in the industry, with each advisor setting their own rate per minute. For those on a tight budget, the site's price filter is particularly helpful, allowing users to find advisors who offer the lowest rates. Additionally, Psychic Center offers a 10% credit-back incentive for those who purchase over $50 worth of credit within a month.
Star Rating System Helps Users Find Reliable and Authentic Advisors
Every advisor on the site is rated using a star system and personal review, allowing users to check their credentials and authenticity before booking a session. This system allows users to get a sense of an advisor's strengths, communication style, and effectiveness, ensuring a transparent and accountable experience.
Pros
Promotional rates throughout the year
Introductory offer
Easy sign-up process
Cons
Does not have as many reading categories as other sites
The website is simple and no app
Pricing
Money-back AstroRewards program

Read the full PsychicCenter review

PsychicCenter Visit Site
9. Mysticsense
Reading starting from $1.20 per minute
A variety of reading styles and tools
Video, phone, chat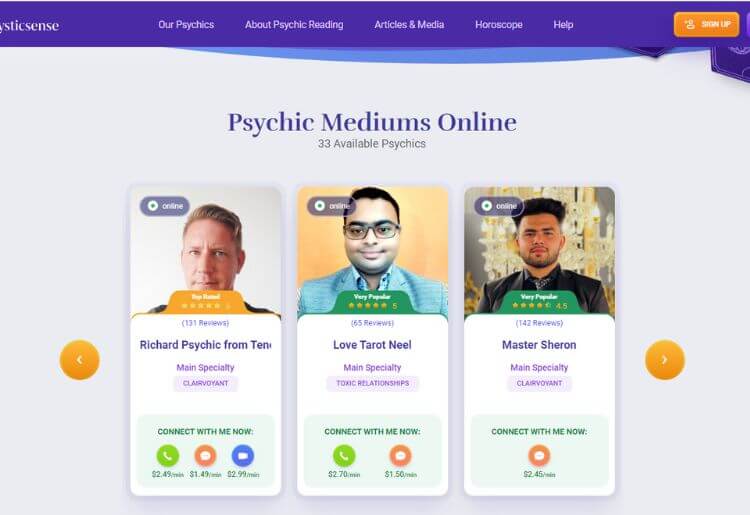 It can be difficult to find a medium that you trust. There are many options on the market but many of them will not deliver the results you want. Mysticsense is a website that spends time vetting their psychics and mediums, making sure they have had training and experience in their field.
They offer a lot of variety, too, with over 180+ vetted psychics and mediums to choose from. If you're looking to connect with departed loved ones, Mysticsense is a good place to start.
What We Like About Mysticsense
A personalized approach to readings
With over 80 advisors who specialize specifically in grief counseling, users can choose the advisor they feel most comfortable with and work with them to create a personalized reading that addresses their specific needs and concerns.
This personalized approach ensures that users receive accurate and helpful guidance during their readings, making it easier for them to find peace and clarity in the afterlife.
Strict Screening Process Ensures Reliable and Trustworthy Readers
MysticSense requires each reader to undergo a rigorous screening process before being approved to offer services on the platform. Users can trust that they are receiving guidance from experienced and trustworthy professionals who are dedicated to helping them find clarity, closure, and peace during difficult times.
Pros
Extensive help center
A wide range of divination tools and methods
No minimum session time
Cons
Doesn't have a specific money-back guarantee.
Higher prices than the competition
Does not have an app
Pricing
3 minutes free or 10 minutes for $1.99
Read the full Mysticsense review

MysticSense Visit Site
10. AskNow
Introductory offers
Easy to filter medium listings
Phone, chat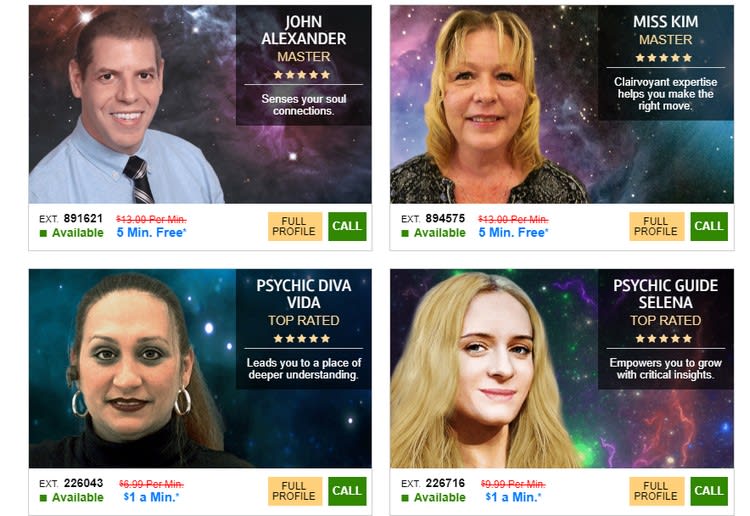 With online mediums that specialize in every area of clairvoyance from love and relationships to dream analysis and what they mean for your future, AskNow mediums hone in on the areas of your life that you want clarified.
Of course, communicating with spirit guides and those in the next world is a category that some of their readers truly excel in, providing validation and closure. AskNow also offers members a satisfaction guarantee, so if you aren't completely satisfied with your session, you get reimbursed entirely!
What We Like About AskNow
It's easy to connect with a psychic
The site's interface is simple and easy to use, allowing users to quickly and easily find the psychic they want to work with and connect with them for a reading. AskNow's user-friendly platform makes it an ideal choice for those seeking closure and energy healing after the passing of a loved one, as it reduces the stress and confusion that can come with finding a reputable psychic.
Emphasis on Astrological Compatibility
The site highlights the astrological sign of each psychic, making it easier for users to choose someone who is most compatible with them for a reading. This emphasis on compatibility ensures that users receive accurate and helpful guidance during their readings, as they are more likely to connect with a psychic who shares their worldview and perspective.
Pros
You can browse psychic profiles before making a payment
The psychics are screened and vetted
Cons
No refund policy
Satisfaction Guaranteed policy is only applicable to new members
Poor customer service
Among the more expensive services
Pricing
$20 for 20-minute reading or $30 for 30-minute reading with Top Rated psychic

AskNow Visit Site
What Is an Online Medium?
In their most basic form, a medium is a psychic who uses their abilities of intuition to tap into past, present, or future events. Regarding the deceased, mediums can even communicate with these individuals, transmitting messages back and forth, and checking on someone's status in another realm.
Dealing with the passing of a loved one is never an easy process, but it's also not one that you have to go through alone. With the help of a caring, sensitive, and trusted online medium, you can reconnect with the deceased, communicate final messages, and eventually move on with your life.
And, after all, isn't that exactly what your loved ones would want? Seek the kind of loving guidance you deserve with a competent medium from a trusted psychic network, and get back to living your life once more.
How Can You Find the Right Online Medium for You?
Involving a medium in your personal life can be the solution you need to finally move on. The question is how to find the right one for you. There are certainly plenty of imposters out there, and you don't want to waste a lot of money seeking out phonies. Fortunately, there are also plenty of legitimate mediums who truly can and want to help you.
The most important thing for a successful reading is ensuring you feel trust and connection with your psychic medium. Before you embark on a reading, be sure that you listen to your intuition. Read the medium's profile, customer reviews, and trust your instincts.
A mediumship reading is an intimate experience that can open up a lot of old wounds in order to help in channeling your emotions. You want to be sure that you can open up safely and start your healing process.
How to Prepare for a Session with a Medium?
Before you talk to a medium online, you need to be fully aware of the reason you are trying to contact your loved one. Ask yourself what it is that you want? Do you need closure? Do you have questions? Do you want to relay a message? Understand the level of grief you are currently dealing with and how much you can handle emotionally.
It is also a good idea to familiarize yourself with your family history. You never know which family member will reach out on behalf of your loved one. Be sure that you will understand the message they are trying to pass on to you.
We have created an in-depth guide on how a medium can help you find closure and clarity after a loved one passes that we recommend you read before your first reading to make sure you get the answers you are looking for.
What's the difference between a Psychic Reader and a Psychic Medium?
While both mediums and psychics readers can help you, they're not built the same. Mediums are all also psychic readers, but not all psychics are mediums. Psychics can provide some guidance on your life and soul but they would need some more direction through questions. You should usually come prepared with a list of open-ended questions.
Psychic readers use your current context to draw conclusions and predictions. Mediums can usually see into your past without much aid, and spiritually connect with your passed loved ones or animals.
Both mediums and psychics can bring a lot of comfort to you using similar but different practices. Mediums are worthwhile to explore if you're looking to expand and heal spiritually. Psychics are best used to get guidance for your life questions.
Bottom Line
If your loved ones passed and left you with a feeling of emptiness, a psychic medium can help you understand what's happening in the spirit world. They can provide guidance as you're going through this difficult time in your life. You'll be able to connect with those who have passed on so that you can continue to have a relationship with them even though they aren't physically here anymore. Even if you go through this spiritual process virtually, online medium readings and psychic sites can provide a great deal of comfort.