There are many delicious alternatives to regular pasta, such as keto noodles, on the market these days. There is something for everyone, even those who can't always take the time out of their busy schedules to cook.
Meal delivery services are a great option for those of us with less time on our hands to prepare home-cooked meals. Meal planning apps are also an excellent choice if you're looking for some inspiration for your keto noodles.
These keto noodles won't kick you out of ketosis and are the perfect alternative to your nonna's pasta—just healthier!
» Ready to embrace the ketogenic diet and turbo-burn fat? Check out our top picks for the best keto meal delivery services.
1. Shirataki Noodles
Also known as konjac noodles or miracle noodles, shirataki noodles are made from the root of the konjac plant (elephant yam). They consist of a special fiber called glucomannan. It can absorb around 50 times its weight in water and is one of the most viscous dietary fibers.
As it becomes a gel, even a small amount of these noodles can make you full and help you lose weight. It is a prebiotic that is very low in calories and highly effective in reducing cholesterol, insulin, and blood sugar levels.
Preparation
Rinse them well, heat them up, and drain the excess water.
Put some olive oil and any seafood of your choice in a skillet.
Add a spoonful of grated garlic and any seasonings of your choice.
Cook thoroughly and add the noodles. Serve hot, and enjoy.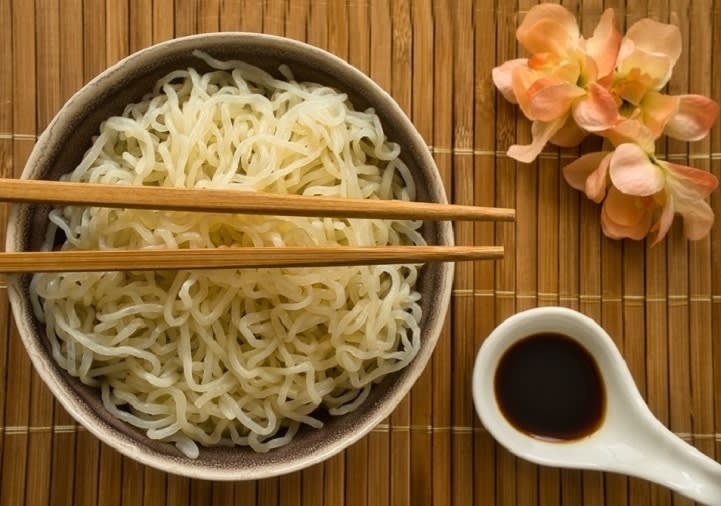 2. Spaghetti Squash Noodles
Spaghetti squash noodles are one of the most popular gluten-free noodles. They are nutrient-dense and packed with antioxidants, fibers, vitamins, and minerals. Because squash is a low-carb vegetable, it only has 42 calories per cup.
Preparation
Slice the squash in half and roast it cut-side down in the oven.
You can drizzle some oil on it before cooking. It takes around 45-60 minutes to cook.
Once it's tender, run a fork through the cooked flesh to get noodle-like strands.
Scrape out the cooked noodles and mix them with your favorite sauce.
You can go for a cheesy spaghetti squash casserole, enchilada boat, or any other variety of your choice.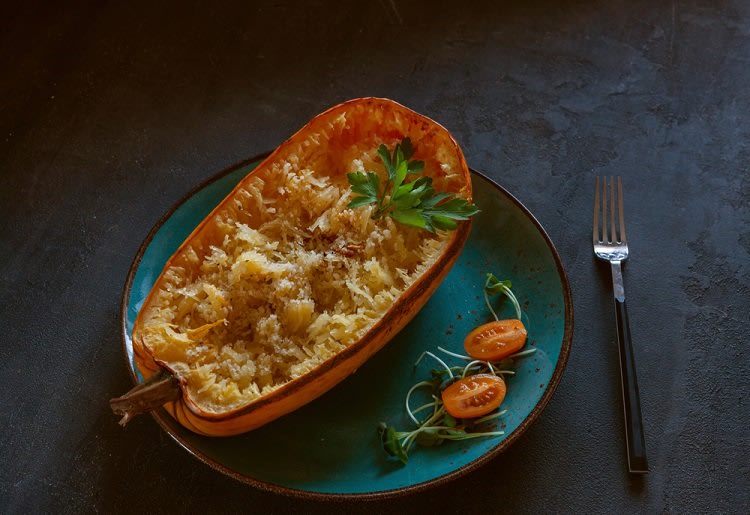 3. Zucchini Noodles
Zucchini noodles or zoodles are one of the most trendy pasta noodles used in a keto diet. It ranks very high on the keto list and has only 2.12 g of net carbs per 100 g. You can also get very high doses of vitamin A, vitamin C, B vitamins, and potassium from eating it (1).
You can enjoy these noodles with as many toppings as you want. They are easier to digest than most traditional pasta.
» Tired of sacrificing homemade meals for fast food? Save time and money with these meal-planning tips for beginners.
Preparation
Cut off the end of the zucchini and use a spiralizer to create your zucchini pasta.
Pat dry and cook over medium heat in a skillet with some oil.
Mix in a sauce of your choice.
You can also add meat and veggies if you want.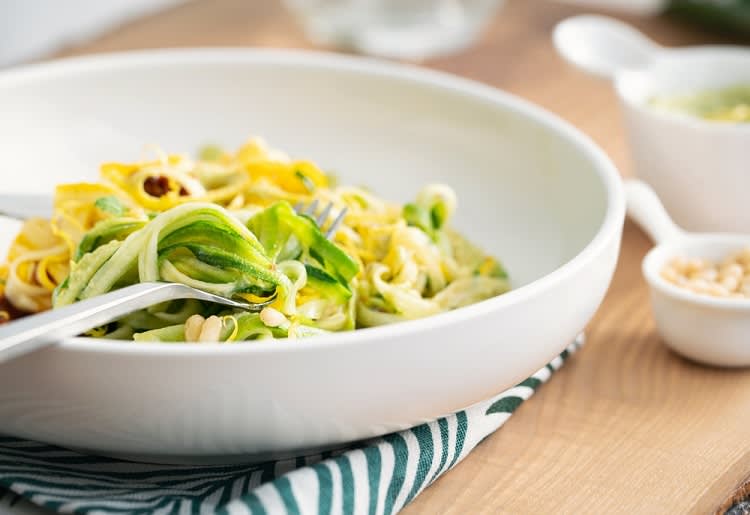 4. Cabbage Noodles
For every 100 g of cabbage noodles, you'll get only 6 g of carbohydrates. They are high in vitamin C, K, and folic acid.
Preparation
Chop the cabbage head into thin noodles.
Add onions, garlic, bacon, butter, salt, pepper—absolutely anything you like.
Serve raw or cooked in pad thai or any pasta dish.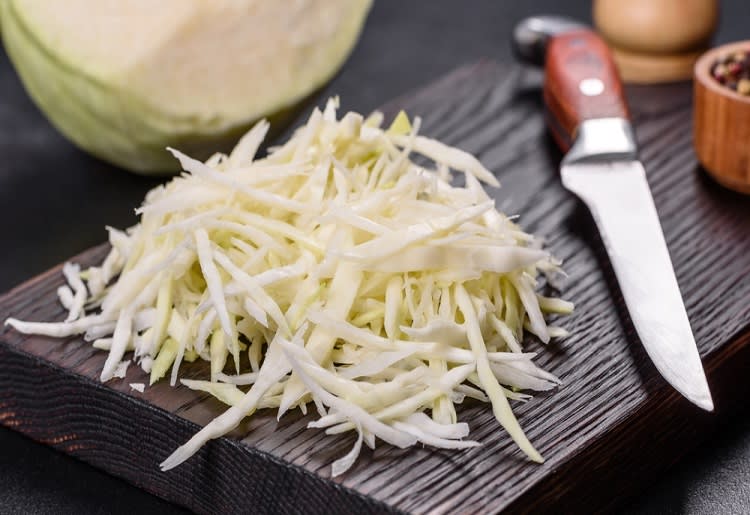 5. Kohlrabi Noodles
Kohlrabi is a kind of vegetable that belongs to the mustard family and is related to cabbage and broccoli. Also known as German turnip or cabbage turnip, kohlrabi is an excellent source of nutrition (2). The keto diet can be safely followed for more extended periods if you regularly include nutritious foods such as these in your diet.
One cup of kohlrabi noodles contains only 36 calories. It is an excellent source of vitamin C and vitamin B6. It is high in potassium and contains a good amount of fiber. The net carb content is 3.6 g per cup.
There are many ways to cook kohlrabi noodles. Some prefer them raw as a part of cold salad, while others love them with tossed veggies and sauces. You can also use it to make Thai noodle soup—healthy and delicious.
Preparation
Kohlrabi noodles are prepared the same way you would prepare zoodles.
Cut them into spirals or noodle shapes.
Toss them in some oil.
Add your preferred condiments.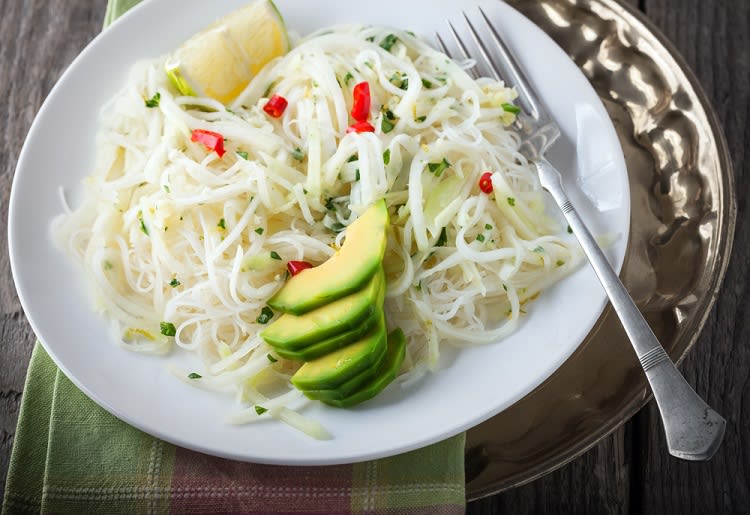 6. Kelp Noodles
Kelp noodles are semi-transparent noodles that are made from seaweed. They can be eaten raw in salads or cooked. These gluten-free, low-calorie noodles are a perfect addition to any diet. One cup of kelp noodles contains 0 g net carbs and only 6 calories.
They have a chewy texture and are fat-free, sugar-free, and loaded with vitamins A, B, and C. Kelp noodles are also high in magnesium, calcium, zinc, and iron.
Preparation
Rinse them thoroughly in warm water for about 30 seconds to soften them.
Mix 2 tablespoons of lemon juice and one tablespoon of baking soda in a bowl.
Add this to the noodles and toss everything together.
Add around 3 cups of hot water and let it soak.
Drain them. If your noodles are soft, they are ready to enjoy.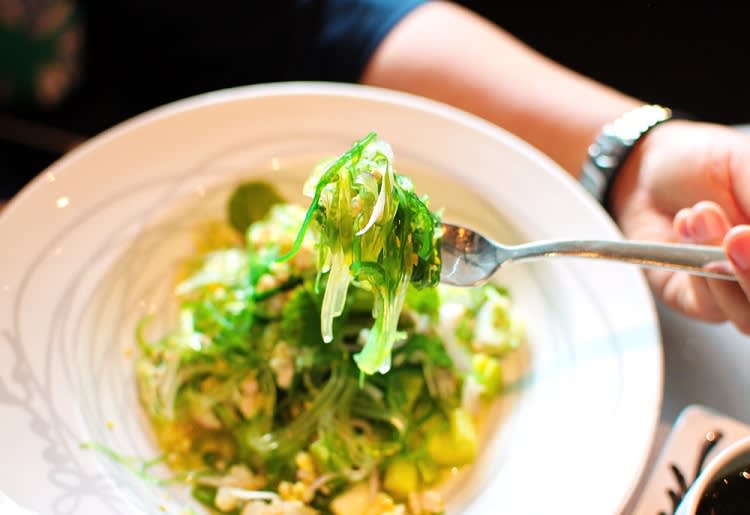 7. Keto Egg Noodles
A serving of keto egg noodles contains 3 g of net carbs, whereas traditional egg noodles contain 49 g of carbs. This makes them a great option to eat without fearing weight gain.
They are usually made with almond flour, eggs, cream cheese, butter, and salt to taste. But they can also be made with mozzarella cheese, egg yolks, and lupin flour—made from lupin beans that are in the same family as peanuts.
» You need to include these 10 healthy fat sources in your keto diet.
Preparation
Cook the pasta in boiling water for a few minutes.
Heat oil in a skillet.
Add some veggies of your choice and sauté.
Add some sauce, such as soy or oyster sauce, and toss well. Serve hot.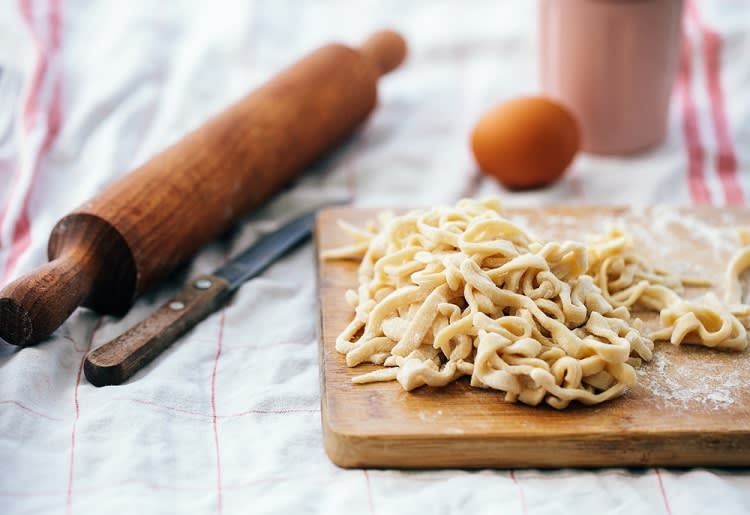 8. Eggplant Noodles
Like any other noodles made of vegetables, eggplant noodles are also made by cutting them into spirals or noodle shapes. Eggplant noodles are healthy and absorb sauce well. They go great with Bolognese and carbonara sauce. One cup of eggplant noodles provides 6.5 g of net carbs.
Preparation
Cook the noodles in a skillet with oil, salt, and pepper.
Add any sauce of your choice to taste how the flavors shine through.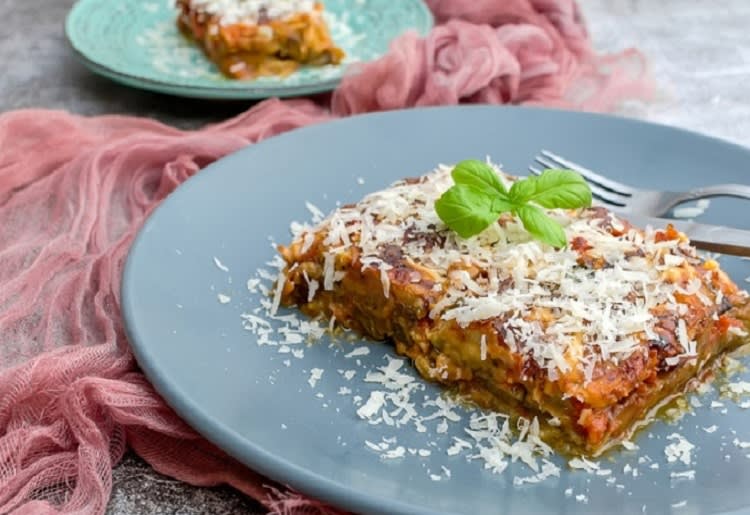 9. Celeriac Noodles
Celeriac noodles are a great addition to your diet as celeriac is high in fiber, low in carbs, and rich in vitamins B6, C, and K. These root vegetables also contain potassium, phosphorus, and manganese.
Raw celeriac is crunchy and contains only 3 g of net carbs per half-cup. It is a great replacement for starchy vegetables such as potatoes and sweet potatoes.
Preparation
Peel the skin with a vegetable peeler, and cut each vegetable into four pieces.
Use a spiralizer to make noodles from each piece.
Boil the noodles in hot water with a pinch of salt for 2-3 minutes.
Drain them, pat them dry and serve with a sauce of your choice.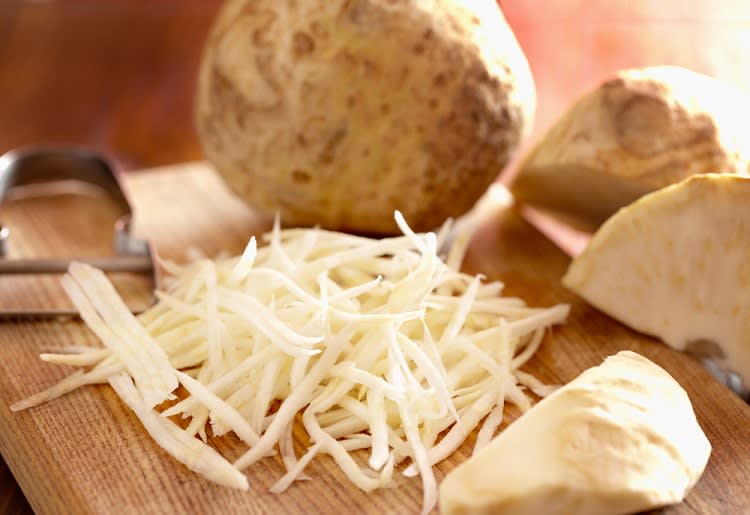 10. Cauliflower Noodles
Cauliflower pasta noodles are low in carbs, rich in fiber, and a great source of folic acid and vitamins C, E, and K. A 100 g serving of cauliflower noodles contains 3.2 g of net carbs. It also contains 24 mg of calcium and 320 mg of potassium.
Preparation
Steam the cauliflower florets for 10-12 minutes.
Dry them and put them in your food processor with eggs, arrowroot flour, and salt until it forms a smooth mixture.
Transfer the mixture to a baking tray and bake it for 15 minutes.
Once done, let it cool and cut it into lasagna sheets or any other shape of your choice.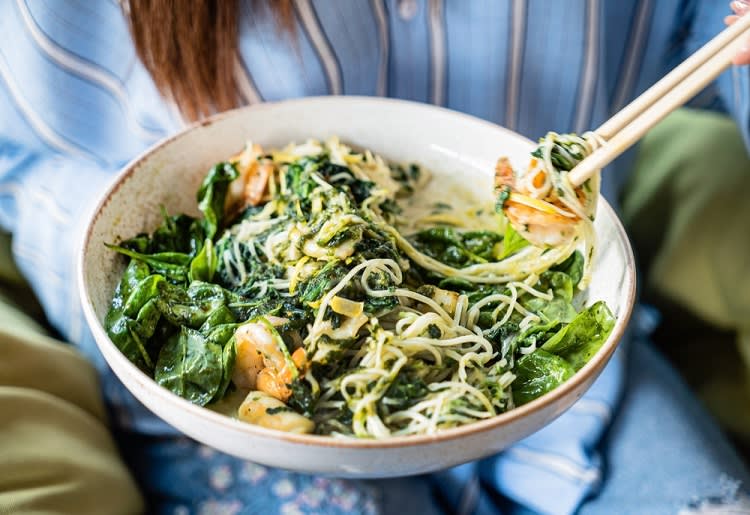 Forget All About Traditional High-Carb Pasta
Whether it is zucchini, squash, or eggplant, you can make your own keto noodles and forget all about the traditional high-carb ones. Not only are they very low in carbs, but they are also rich in essential vitamins and nutrients that can take your ordinary food to a new level. Try out these keto noodles and meet your pasta cravings the healthy way.
Short on time? Try out a meal delivery service like Factor_ or Home Chef. If you're new to keto, check out these keto tips for beginners.
» Not sure if a keto diet is right for you? Check out this comparison of low-carb vs. keto.
Resources