When it comes to eating out, especially when it comes to fast food options, it can be tricky to fit into your health and weight loss plan. However, not all diets are that limiting. If you're a fan of healthy eating like myself, you likely already heard of the Mediterranean diet.
Inspired by the traditional eating patterns of countries bordering the Mediterranean Sea, the Mediterranean diet emphasizes whole foods, healthy fats, lean proteins, and plenty of fruits and vegetables. Besides aiding in weight loss, studies show that following this diet can help reduce inflammation and ease the symptoms of rheumatoid arthritis.
The best part about the Mediterranean diet is that many popular fast food chains now offer Mediterranean-inspired menu items, allowing you to enjoy eating out with friends while still adhering to the diet's principles.
Interested in these dishes but prefer to skip the fast food chains? Fortunately, several meal delivery services provide similar Mediterranean-inspired options. To make things easier, I've done the searching for you and have put together a list of Mediterranean fast food items and their meal delivery counterparts.
» Are you on a Mediterranean diet? Avoid these foods for better heart health.
1. Warm Mediterranean Bowl at Panera Bread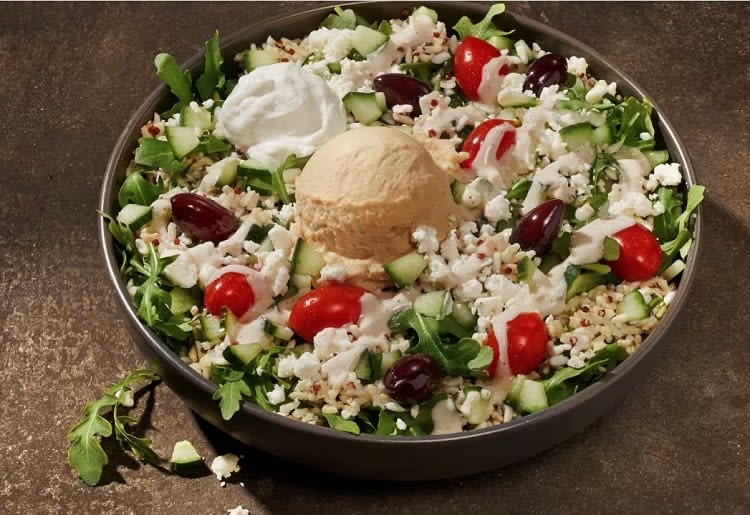 With a wide variety of crunchy vegetables, whole grains, and healthy fats, this is the go-to choice when a Panera is within reach. I like it because of its texture and warmth, which is even better on a cold rainy day.
Comprising of whole grains like quinoa and brown rice, this bowl offers essential amino acids and dietary fiber. Paired with arugula and hummus, it delivers vitamins, antioxidants, and heart-healthy fats — a nourishing meal perfect for keeping energy levels steady.
Ingredients: Cilantro, lime, brown rice and quinoa, arugula, grape tomatoes, Kalamata olives, cucumbers, hummus, lemon tahini dressing, feta, Greek yogurt
Nutrition Facts: Total Calories 510 | Protein 15g | Total Fat 28g | Total Carbs 51g | Dietary Fiber 7g
Meal Delivery Alternative: Sunbasket offers a variety of Mediterranean dishes, and their "Mediterranean Quinoa Salad" might be a close match.
2. Create Your Own Burrito Bowl or Salad at Chipotle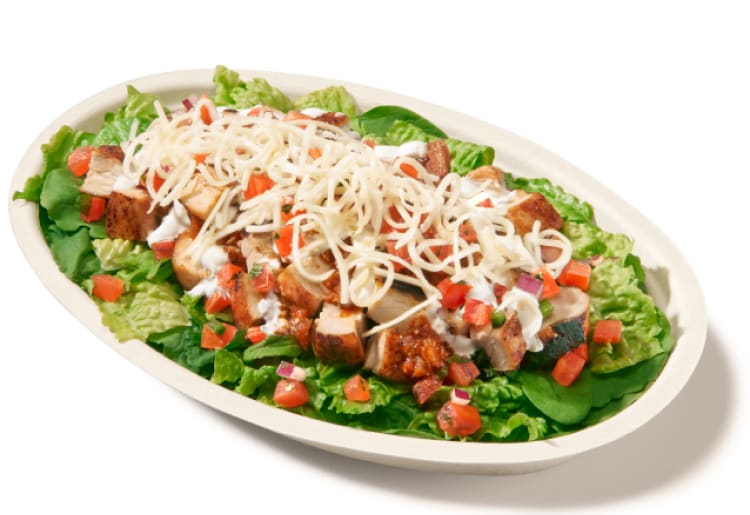 At its core, Chipotle's ingredients, such as beans, rice, and veggies, embody the Mediterranean philosophy of plant-forward eating. Beans are protein-packed, aiding muscle repair, while the veggies offer a micronutrient boost. Customization ensures optimal nutrient intake tailored to individual needs.
Ingredients: Burrito Bowl with chicken, brown rice, black beans, pinto beans, romaine lettuce, fajita veggies, fresh tomato salsa
Nutrition Facts: Total Calories 570 | Protein 45g | Total Fat 15g | Total Carbs 68g (add guacamole at an extra 22g Fat, 2g Protein, 8g Carbs)
Meal Delivery Alternative: HelloFresh has a diverse menu, and while they don't specifically cater to the Mediterranean diet, many of their recipes can fit the bill. Their "Grilled Chicken and Vegetable Bowl" could be a suitable alternative.
3. Chicken + Chipotle Pepper Bowl at Sweetgreen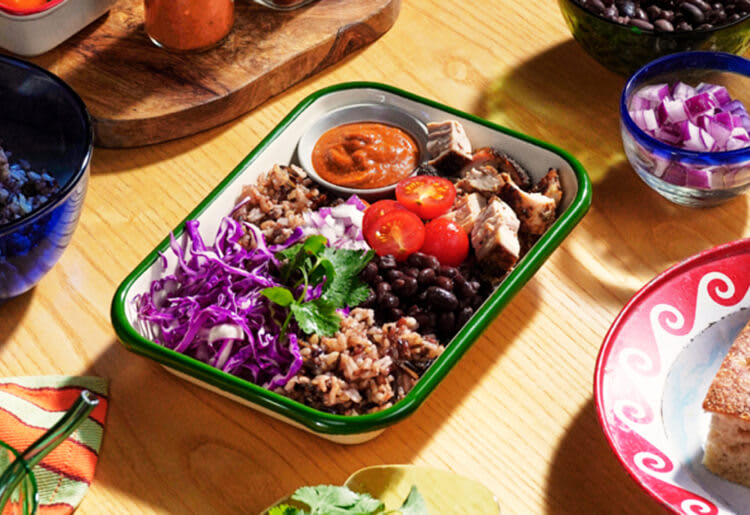 Sweetgreen, with its commitment to fresh, plant-forward, and environmentally conscious offerings, aligns seamlessly with the principles of the Mediterranean diet.
The blackened chicken in this bowl provides lean protein essential for muscle health. Meanwhile, the inclusion of wild rice and black beans makes this dish rich in fiber, promoting gut health and satiety, while roasted chipotle salsa introduces capsaicin, which can boost metabolism.
Ingredients: Blackened chicken, lime, cilantro, black beans, tomatoes, red onions, shredded cabbage, wild rice, roasted chipotle salsa
Nutrition Facts: Total Calories 665 | Protein 38g | Total Fat 17g | Total Carbs 94g | Dietary Fiber 17g
Meal Delivery Alternative: Home Chef is known for its family-friendly meals. Their "Mediterranean Chicken and Vegetable Stir-fry" might be a good match.
4. Apple Pecan Salad at Wendy's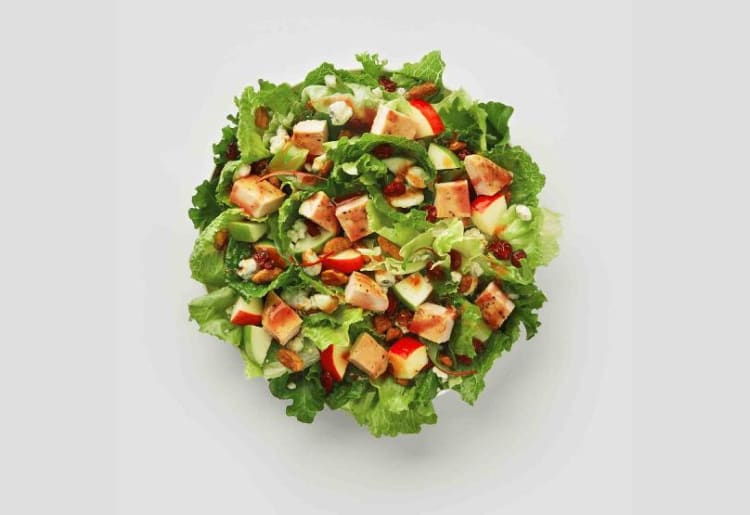 If you're short on time and looking for a light lunch, Wendy's is a top pick. For a healthier twist, consider skipping the regular dressing to avoid extra sugars and processed oils. Instead, opt for lemon wedges, squeezing them over your salad for a zesty boost. The apples in the salad provide valuable fiber and vitamin C, while the pecans are packed with beneficial fats and antioxidants. By choosing lemon juice over heavy dressings, you not only reduce unwanted calories but also introduce a citrusy flavor that helps with iron absorption.
Ingredients: Vegetables, crisp red and green apples, sweet cranberries, roasted pecans, crumbled blue cheese
Nutrition Facts: Total Calories 460 | Protein 39g | Total Fat 21g | Total Carbs 31g | Dietary Fiber 7g
Meal Delivery Alternative: Green Chef specializes in organic meals. Their "Organic Apple and Walnut Salad" could be a great alternative.
5. Hummus Crunch Salad at Sweetgreen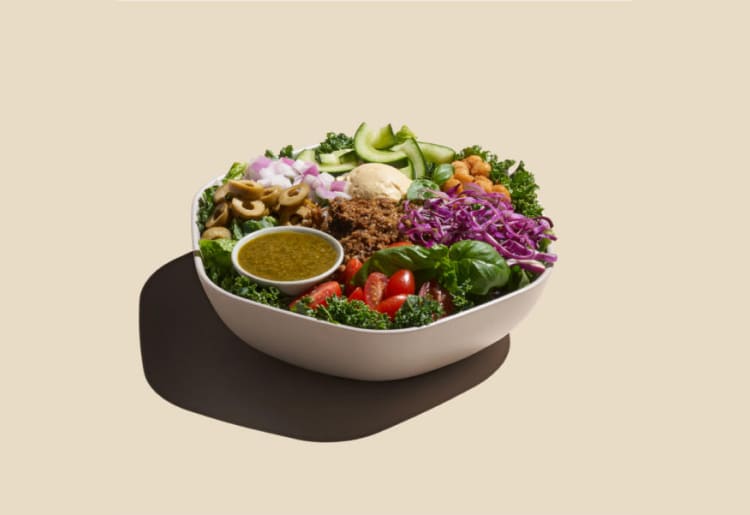 My ideal salad embodies five key elements: texture, color, freshness, flavor, and a diverse range of ingredients. This particular salad perfectly encapsulates all these qualities. With chickpeas, the foundational ingredient in hummus, it offers a robust combination of protein and fiber.
Paired with olives, which are abundant in heart-healthy monounsaturated fats, and complemented by a medley of vibrant vegetables, this salad not only delights the palate but also delivers a spectrum of phytonutrients essential for overall well-being.
Ingredients: Hummus, olives, chickpeas, tomatoes, cucumbers, shredded cabbage, red onions, basil, za'atar breadcrumbs, chopped romaine, shredded kale, pesto vinaigrette
Nutrition Facts: Total Calories 380 | Protein 13g | Total Fat 21g | Total Carbs 38g | Dietary Fiber 7g
Meal Delivery Alternative: Factor offers a range of health-conscious meals. Their "Chickpea and Vegetable Medley" could be a close match, providing a combination of protein-rich chickpeas and fresh vegetables with a Mediterranean twist.
6. Fajita Vegan Bowl at Qdoba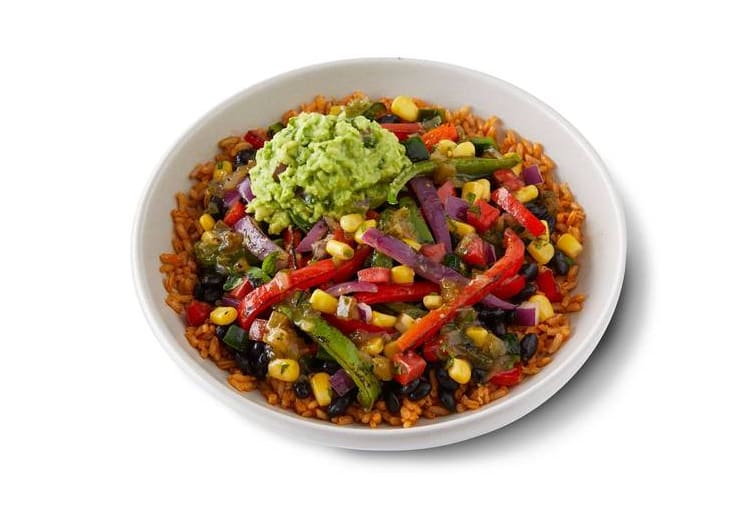 Exemplifying the versatility of the Mediterranean diet across various cuisines, this bowl boasts an array of nutritional benefits. The heart-healthy beans provide essential fibers and proteins, while the tomatoes, packed with lycopene, offer antioxidants that are beneficial for skin and heart health.
Furthermore, the brown rice is more than just a filling base; as a whole grain, it aids in maintaining steady blood sugar levels, reducing energy slumps. The choice of veggies in the bowl further elevates its nutrient content, ensuring you get a well-rounded meal that both satiates and nourishes
Ingredients: Hand-crafted guacamole, freshly made Pico de Gallo, chile corn salsa, salsa verde, black beans, seasoned brown rice
Nutrition Facts: Total Calories 530 | Protein 17g | Total Fat 17g | Total Carbs 79g | Dietary Fiber 22g
Meal Delivery Alternative: Martha And Marley Spoon is known for its diverse and flavorful menu. Their "Veggie Fajita Quinoa Bowl" might be a suitable alternative, blending the flavors of traditional fajitas with the health benefits of quinoa and fresh vegetables.
» Do you prefer cooking? Check out the best meal kits for weight loss.
7. Grain Bowl at Cava: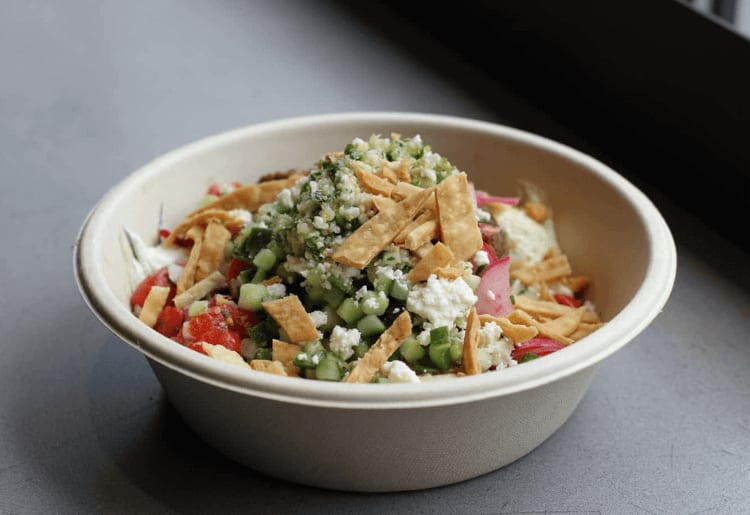 Loaded with whole grains like quinoa for steady energy, greens bursting with antioxidants, lean proteins like grilled chicken for muscle support, and complemented with probiotic-rich tzatziki and fiber-filled hummus, it's a nutritionally balanced choice. The addition of heart-healthy fats from olives and cognitive-supporting fats in feta amplifies its health benefits, making this bowl a delightful fusion of taste and nutrition.
Ingredients: Choice of grains (quinoa, rice), proteins (grilled chicken, falafel), hummus, tzatziki, Kalamata olives, feta, and various fresh vegetables.
Nutrition Facts: (Note: Nutrition facts can vary based on customization. The following is a general estimate.) Total Calories 550 | Protein 20g | Total Fat 25g | Total Carbs 60g | Dietary Fiber 10g
Meal Delivery Alternative: HelloFresh offers a diverse menu with many recipes fitting the Mediterranean diet. Their "Grilled Chicken and Vegetable Bowl" could be a suitable alternative.
8. Veggie Power Menu Bowl at Taco Bell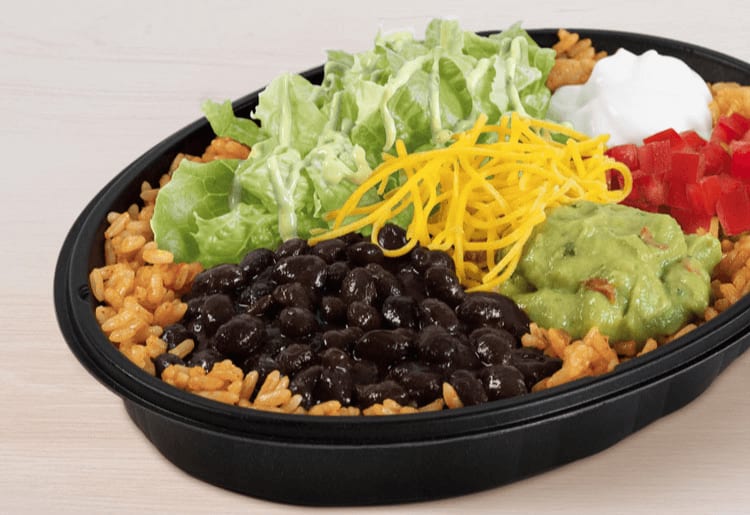 In almost all of my friend groups, I'm the most health-conscious eater. But a thing we all have in common is that we love going to Taco Bell. So when the social outing calls for it, it's good to know I can still have fun while watching what I eat. This bowl exemplifies that balance. The black beans provide protein, while guacamole offers healthy fats. Combined with an array of vegetables, it's a micronutrient-rich choice ideal for fueling a busy day without the heaviness of dairy.
Ingredients: Black beans, rice, lettuce, onions, tomato, guacamole (Remember to hold the cheese, sour cream, and ranch!)
Nutrition Facts: Total Calories 310 | Protein 8g | Total Fat 11g | Total Carbs 44g | Dietary Fiber 11g
Meal Delivery Alternative: Sunbasket again comes to the rescue with their "Veggie Power Bowl."
9. Chickpea Bites & Avocado Protein Box at Starbucks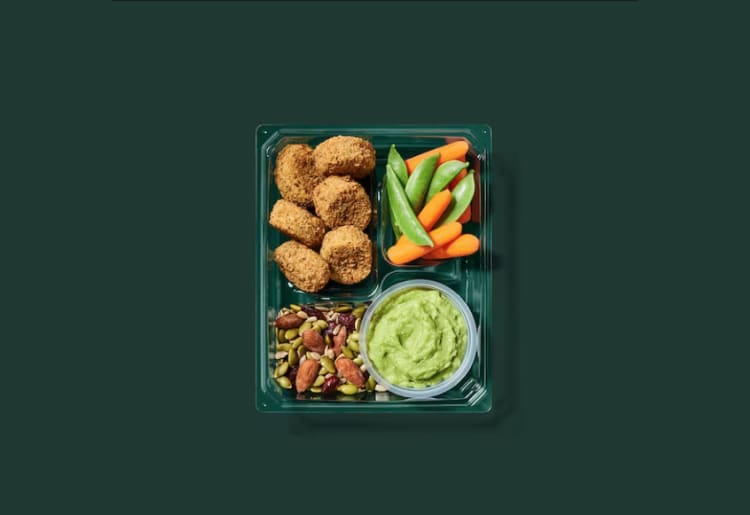 This protein box is one of my favorite grab-n-go lunch options. To add to the convenience, it also makes for a practical lunch box if you're out and about. This box is a testament to protein diversity. Chickpea bites offer plant-based protein, while the assortment of seeds delivers essential omega-3 fats. It's a filling, nutrient-dense choice for on-the-go lifestyles.
Ingredients: Chickpea bites, snap peas, mini carrots, avocado spread, dried cranberries, almonds, pepitas, sunflower seeds.
Nutrition Facts: Total Calories 560 | Protein 15g | Total Fat 37g | Total Carbs 43g | Dietary Fiber 13g
Meal Delivery Alternative: HelloFresh might have a "Chickpea and Avocado Salad" that can serve as a close alternative.
10. Greek Salad at Cava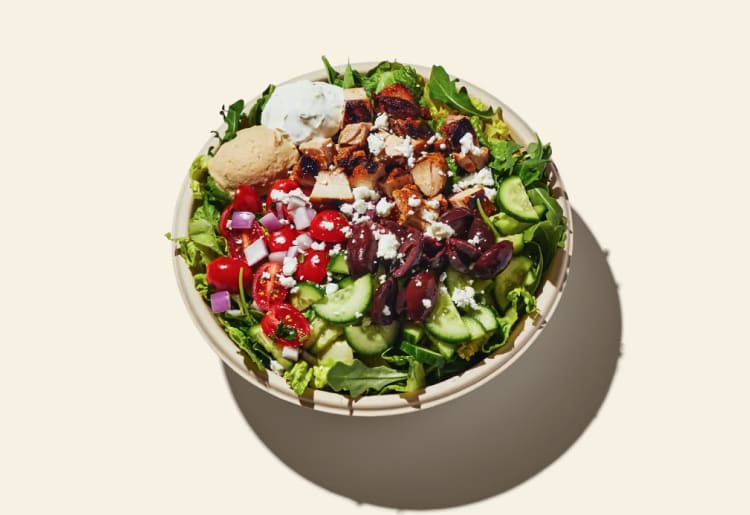 I'm particularly fond of this salad for its delightful "zing" from the arugula, complemented by the lean proteins present in Greek staples like hummus, tzatziki, and grilled chicken. When ordering, consider adding a side of roasted eggplant for an extra layer of flavor.
The tzatziki, crafted from yogurt, introduces beneficial probiotics for gut health. Together with the grilled chicken and a diverse mix of vegetables, this salad presents a well-rounded macronutrient profile. Moreover, the inclusion of olives and tomatoes ensures a boost of antioxidants, making it both tasty and nutritious.
Ingredients: Grilled chicken, hummus, tzatziki, feta, cucumber, tomato, Kalamata olives, romaine, arugula, vinaigrette
Nutrition Facts: Total Calories 600 | Protein 37g | Total Fat 42g | Total Carbs 19g | Dietary Fiber 4g
Note: Tzatziki (tsäˈtsēkē) is a Middle Eastern sauce made from yogurt, garlic, and cucumber.
Meal Delivery Alternative: Home Chef could offer a "Classic Greek Salad" that brings the flavors of Greece right to your door.
Things to Keep in Mind
Fast food doesn't have to be complicated. Focus on whole foods. Pick your favorite fruits and veggies and load up on good protein, whole grains, and healthy fats like nuts, seeds, olive oil, or avocado. Remember, not all fast foods need to say "Mediterranean" to fit into the diet, and not all foods labeled as such are healthy.
Following the Mediterranean diet also means following the culture. Eat slowly and have your friends and family join you. If you prefer to cook and eat at home, meal kits are the next best option. Check out Freshology's Balance menu or the Mediterranean meal plan from Green Chef.
» Check out our favorite Mediterranean meals on Nutrisystem's menu for more options.