The Mediterranean diet is all about whole grains and legumes, unrefined cereals, and high consumption of olive oil, fruits, and vegetables (1). These are oxygen and iron-rich foods that improve circulation and reduce inflammation. It also involves high consumption of fish, moderate consumption of dairy products, and moderate wine consumption.
Studies have identified the beneficial effects of the Mediterranean diet in reducing pain and increasing physical function in people with rheumatoid arthritis (RA) (2). This is an autoimmune condition where your body has developed antibodies that are attacking your joints.
Here are 10 delicious Mediterranean recipes to ease RA.
» Don't have much time to cook? Check out our top picks for the best meal delivery services.
1. Bourtheto Fish Stew
A beloved classic in Corfu, Greece, this dish can be made with cod or perch fillets, beautifully seasoned with pepper, salt, cayenne, paprika, and onions. Cod is believed to decrease morning stiffness, joint pain, and joint swelling (3). Plus, this meal is high in protein and good fats.
Other ingredients include tomato puree, beef tomatoes, onions, parsley, and lemon juice.
Recipe
Fry the onions, add tomato, tomato puree, salt, pepper, chili powder, and some hot water. Add the fish fillet and simmer uncovered for 10-15 minutes. Turn over the fish gently and cook the other side as well. Keep the fish covered with spice so that it doesn't turn dry.
Add a few capers and a squeeze of lemon juice before serving.
» Learn more: 10 Fat-Burning, High-Protein Meals Pescatarians Love
2. Tabbouleh
Tabbouleh is a vegan salad and one of the national dishes of Lebanon. It consists of bulgur wheat, fresh parsley, mint, cucumber, tomatoes, and red onions. Olive oil and lemon juice make up the seasoning, along with finely chopped garlic.
Bulgur wheat contains phytochemicals such as vitamins, selenium, and magnesium that have potent anti-inflammatory powers. Olive oil is also known to significantly improve handgrip strength, morning stiffness, and joint pain.
Recipe
Cook the bulgur wheat. Mix finely chopped cucumber, onions, tomatoes, fresh mint, and loads of fresh parsley. Drizzle with olive oil and lemon juice, and season with salt before serving.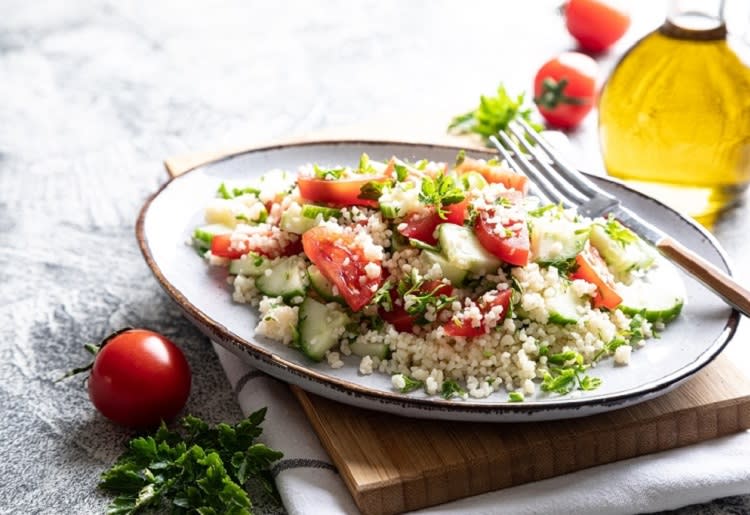 3. Hummus
Hummus is one of the most popular spreads or dips in the Middle East. It is packed with nutrients and has many health benefits. Hummus is made of chickpeas and is a great source of plant-based protein. It packs an impressive amount of iron, folic acid, magnesium, manganese, and B vitamins that help fight inflammation.
The virgin olive oil in hummus consists of an important antioxidant called oleocanthal, which has anti-inflammatory properties (4). Chickpeas and garlic contain nutrients and fiber that help ease inflammation caused by RA.
Recipe
Soak chickpeas overnight and boil them in salted water. In another pan, toast white sesame seeds.
In a mixer, grind the sesame seeds, garlic, lemon juice, salt, and boiled chickpeas until smooth. Top with extra virgin olive oil and cumin powder. Blend again until smooth and light.
» Want more keto-friendly meal options? Take a look at our top picks for the best keto meal delivery services, from HelloFresh to Sunbasket.
4. Chicken Tagine with Apricots and Almonds
This Moroccan classic is made with fragrant spices, olive oil, butter, red onions, garlic cloves, cilantro, parsley, blanched almonds, and Turkish apricots. This is a powerful anti-inflammatory food that helps to ease RA.
Recipe
Season the chicken with cinnamon, ginger, turmeric, pepper, salt, and olive oil, and allow to marinate. After a few hours, add butter and oil to a skillet to brown the chicken. Remove the chicken and set it aside.
In the same pan, add the oil, onions, and garlic. Add in some water and cilantro and parsley tied into a bundle. Add in the chicken and cook it for about 30 minutes.
In a separate bowl, prepare the apricot mixture with honey, water, a cinnamon stick, and apricots. Add this mixture and cook for 10 minutes. Discard the herbs and whole spices and sprinkle some almonds before serving.
5. Barbounya Pilaki
This Turkish dish is made using Barbunya beans, Borlotti beans, or cranberry beans available in Western Asia, the Middle East, and central Europe. These beans are a kind of kidney bean packed with the goodness of omega-3. Omega-3 has modulatory effects on RA and can reduce swelling and tenderness in the joints (5).
Recipe
Soak the beans overnight and boil them until tender. Heat olive oil, and stir in onions, carrots, tomatoes, and sugar. Season with salt and freshly ground black pepper, and give it a good mix.
Pour in some water and let it come to a boil. Add in the beans and cook until the beans soak up the flavor from the veggies. Garnish with chopped parsley and serve hot.
» Looking for easy-to-prepare meals? Give HelloFresh a try.
6. Spanakorizo
This fragrant Greek spinach and rice dish is famous for its flavor and texture. The antioxidants in spinach help to relieve inflammation associated with RA. It is high in kaempferol, which reduces inflammation and prevents the progression of osteoarthritis.
Recipe
Heat olive oil, and sauté onions with garlic, dill, and chives. Then, add spinach and cook for some time. Add salt, pepper, rice of your choice, and vegetable broth.
Cover with a lid and allow to cook for 20 minutes. Stir in lemon juice and butter, and garnish with feta cheese.
7. Mediterranean Style Salmon
Salmon is very high in vitamin D, which is considered a bone-building nutrient. Individuals living with RA often experience bone loss around inflamed joints; foods high in protein, calcium, and vitamin D can help with this. Fish oil is high in omega-3 fatty acids that help lower inflammation and control the pain and swelling related to RA.
The dish also contains oregano, garlic, olive oil, lemon juice, peppers, parsley, olives, and basil, all of which have powerful anti-inflammatory effects.
Recipe
Season the salmon with lemon juice, garlic, olive oil, and oregano, and pan-fry it with a drizzle of olive oil. Transfer it to a plate and top it off with tomatoes, olives, cucumber, parsley, basil, feta, olive oil, salt, and pepper.
8. Stuffed Medjool Dates
This is a unique delicacy with tangy, fluffy goat cheese inside the sweet caramel chewiness of Medjool dates. Topped with pistachios, walnuts, thyme, and honey, it is heaven in every bite.
This sweet-savory combo is very popular and a powerhouse of nutrients. They are very high in antioxidants, fibers, potassium, and copper, which are good for RA. In fact, people with RA should eat foods high in potassium to relieve pain.
Recipe
Pit all the dates and stuff them with a small amount of goat cheese. Press the nuts on top and lightly drizzle with some honey. Garnish with fresh thyme, and they are ready to go.
» Looking for vegan meals you can prepare in a flash? Check out Sunbasket.
9. Greek Yogurt Tzatziki
This delicious dip works well with grilled kababs, lamb, falafel, or gyros. It contains yogurt, garlic, cucumber, fresh lemon juice, olive oil, and fresh dill. Apart from the olive oil and garlic that are great for RA, yogurt has good bacteria that help decrease inflammation.
Recipe
Grate cucumber and squeeze the water out of it. Stir in the yogurt, lemon juice, garlic, olive oil, salt, and herbs.
That's it! Your tzatziki is ready.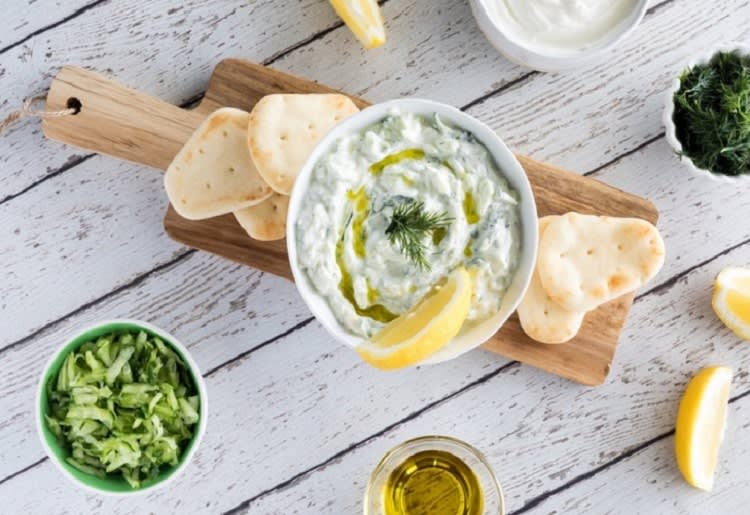 10. Kale Salad with Medjool Dates and Avocado
Kale is packed with antioxidants like vitamins A, C, E, and K that protect against free radical damage. Avocados are rich in essential fats that protect the joints from inflammation. Combined with Medjool dates, this recipe can do wonders for your RA inflammation.
Recipe
First, make a dressing with olive oil, lemon juice, sea salt, and pepper. In another bowl, combine kale, olives, garbanzo beans, avocado, Medjool dates, and fresh apricots.
Drizzle with a generous amount of dressing and serve.
Take Away
The anti-inflammatory ingredients used in the Mediterranean diet can help relieve joint pain and inflammation associated with RA. They can also help to get rid of many auto-immune conditions, including rheumatoid arthritis.
» More: Top 10 Delicious Keto-Friendly Snacks
References