Many are opting for Nutrisystem's meal delivery service for its healthy, pre-planned, and convenient eating plans. This makes it ideal for transitioning to the Mediterranean diet without hassle. This diet is especially helpful for reducing age-related health problems, such as cancer and dementia, through its high inclusion of antioxidants, fibers, and healthy fats.
It can be a bit difficult to know where to start since many are used to more traditional meal structures. So, we've put together this list of 10 Mediterranean meals for healthy aging that you can try from Nutrisystem's menu today.
» No time to buy groceries? Here are our top 10 picks for the best meal delivery services.
1. Mediterranean Chicken Edamame Power Bowl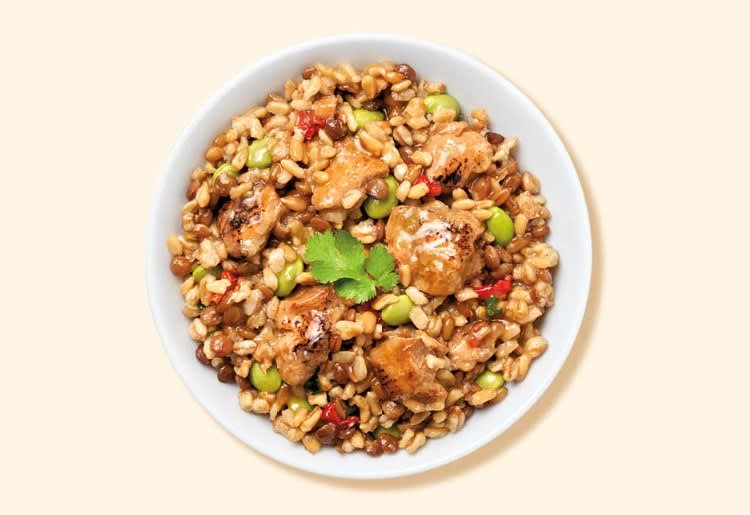 The flame-broiled chicken with the deliciousness of edamame and bell pepper is a top-notch Nutrisystem dish. Coated with a teriyaki-style sauce, the chicken is served on a bed of fluffy brown rice, lentils, and farro.
Edamame is rich in antioxidants, healthy fiber, and vitamin K. It also helps improve your cholesterol levels (1), reducing your risk of having a stroke. This meal is high in protein and fiber, keeping you full for a longer period of time. Like all Mediterranean dishes, this is also diabetic-friendly.
» Want to reduce your aches and pains? Find out how a Mediterranean diet helps with inflammation.
2. Mediterranean Spinach and Cheese Pretzel Melt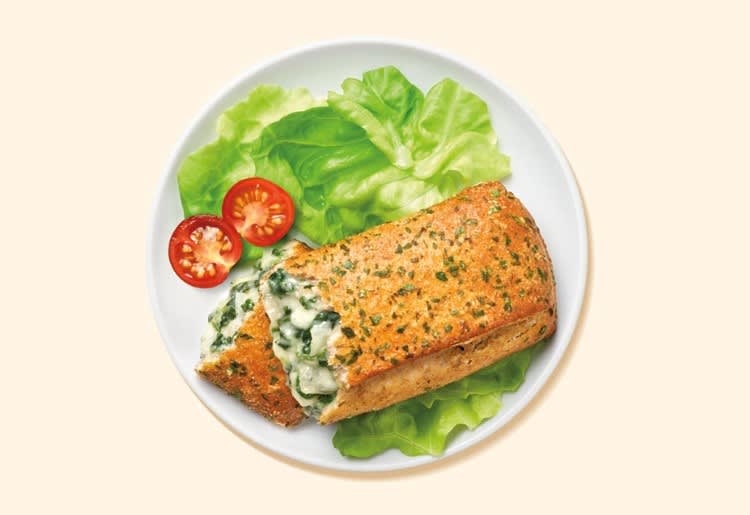 Vegetarians will love this spinach pretzel melt. It has mozzarella, fontina, and parmesan packed inside a pretzel pastry. Spinach is an extremely nutritious green full of vitamin C, vitamin K, folic acid, iron, and calcium (2). It also has plenty of vitamin A, which is great for preventing skin wrinkles.
Admittedly, this meal is not exactly of Mediterranean origin. However, its ingredients, cooking methods, and taste do mimic Mediterranean food and are, therefore, highly compatible with this diet.
3. Nutrisystem's Mediterranean Classic Tuna Salad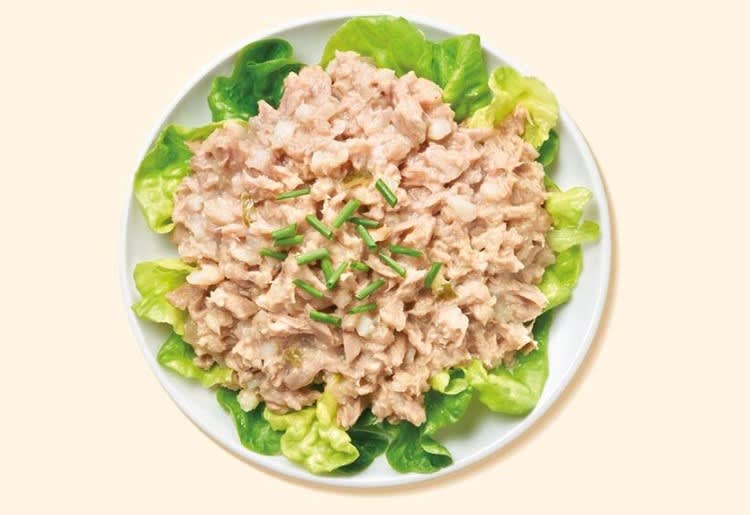 With this classic tuna salad, you get generous chunks of light tuna combined with mayonnaise, pickles, and spices. To add consistency and flavor, it comes with crunchy water chestnut.
This is quite a healthy Mediterranean meal since tuna is high in protein and essential fatty acids. Vegetables are very low in calories and high in fiber, with zero fat. Perfect for keeping your heart healthy.
» Want gluten-free and dairy-free meals delivered to your door? Try Freshly.
4. Mediterranean Roasted Turkey Medallions
Foodies and traditional eaters alike will love these slow-roasted turkey medallions slathered with savory gravy and creamy mashed potato. This dish is perfectly diet-friendly, high in protein, and filling.
Turkey has an impressive nutritional profile. It offers you 61% of your daily needs for niacin (vitamin B3), 49% of vitamin B6, 46% of selenium, and 29% of vitamin B12. Niacin is especially great for reducing the effects of age-related cognitive decline (3), keeping your brain healthier for longer.
5. Mediterranean Artichoke and Spinach Stuffed Chicken Breast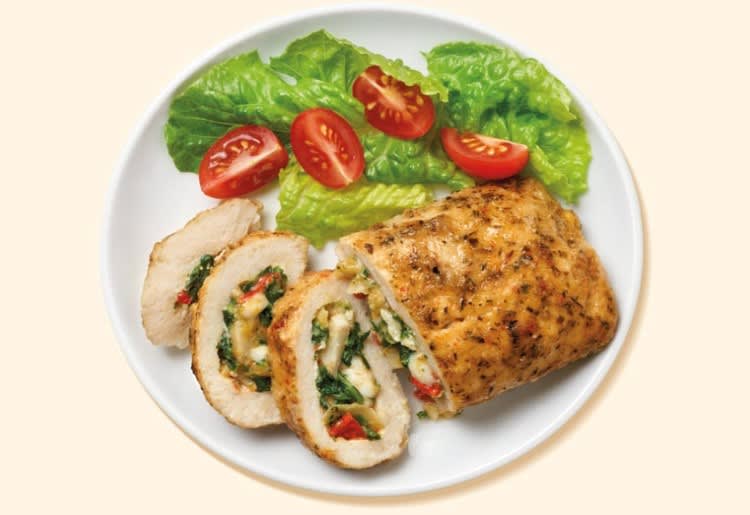 This seasoned chicken breast is stuffed with artichoke, spinach, and a different blend of cheese and will be irresistible for many. Though it looks complex, this dish is actually quite easy to prepare.
Artichokes are high in vitamins, especially folate, vitamin C, and vitamin K. The antioxidants and minerals help regulate blood pressure, improve liver health, and lower blood pressure. High in protein, this artichoke and spinach-stuffed chicken breast will be a treat for your taste buds.
» Want a diet to help with your arthritis? Try these Mediterranean meals for easing rheumatoid arthritis.
6. Mediterranean Sweet and Salty Snack Mix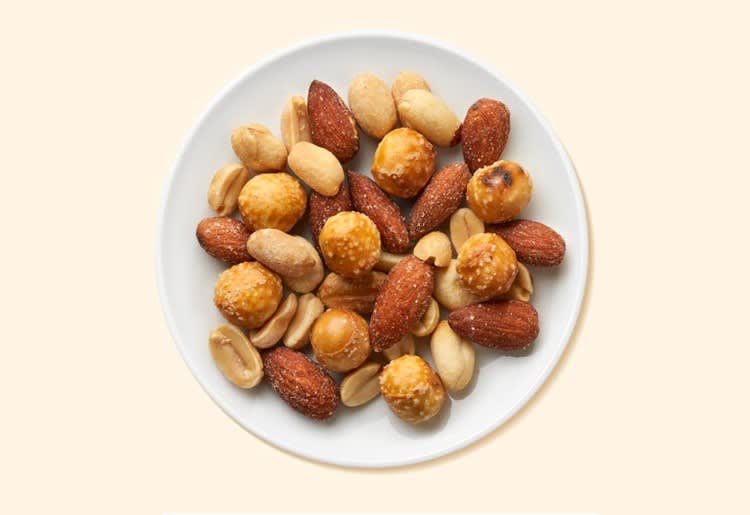 Honey-roasted almonds, peanuts, and pretzel balls create magic with every bite. Salt, sweet and crunchy, this snack mix has no artificial flavors or sweeteners.
It is high in protein and healthy fats, which can be a great complement to your evening tea. It's vegetarian and also high in fiber, which is great for managing your cholesterol levels.
7. Nutrisystem's Mediterranean Flatbread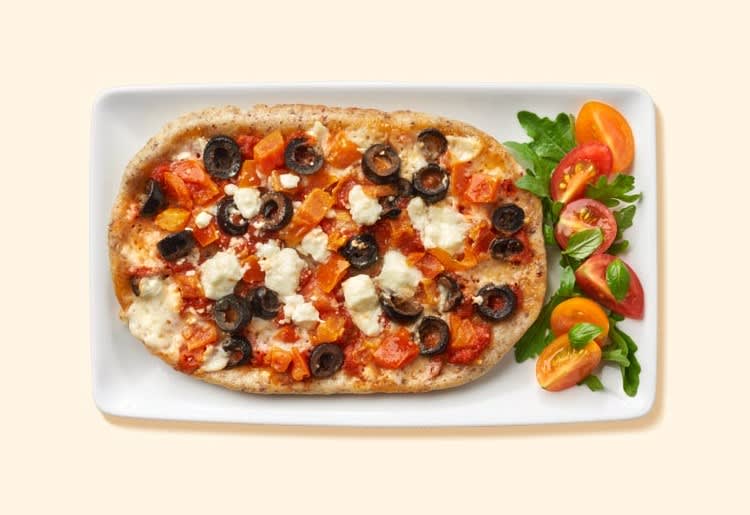 High in protein and plenty of healthy fats, the Mediterranean flatbread is a great meal for any time of the day. It comes decked with classic Mediterranean toppings, such as feta, tomatoes, and olives.
The bread itself is made out of a wholegrain quinoa crust, which makes it the perfect alternative to your usual bread. It's high in protein and fiber while ditching unhealthy carbs, great for promoting weight loss through increased satiation.
8. Mediterranean Café-Style Creamy Tomato Soup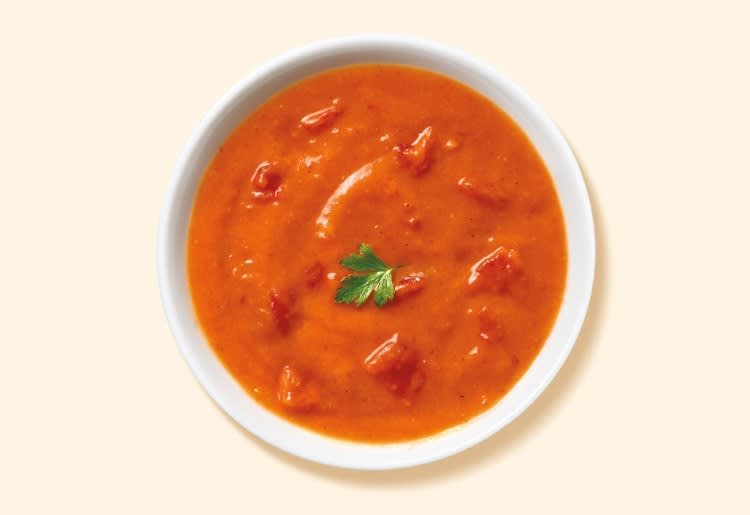 You don't have to book a table at your favorite cafe to enjoy this bowl of creamy tomato soup.
Slow-stewed tomatoes, parmesan cheese, chicken broth, and heavy cream create a soup that is difficult to resist. It can go with anything. You can have it with soup sticks, a salad, or just a nice, hot, oven-baked bread. High in antioxidants and essential nutrients, this soup is a dietitian's joy.
» Need easy-to-follow recipes in your meal kits? Try Fresh and Easy.
9. Mediterranean Sweet And Salty Nut Bar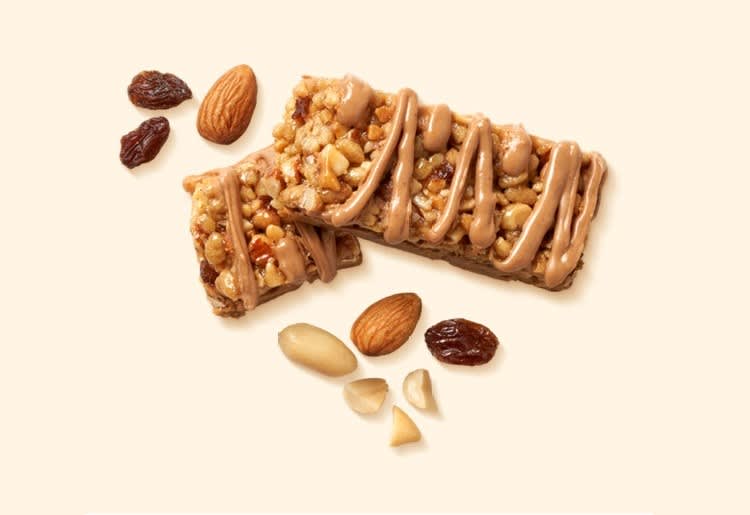 This tasty nut bar has all kinds of nuts you can think of, like almonds, walnuts, and peanuts. They are wrapped with raisins in peanut-buttery shells with a touch of honey and sea salt.
Nuts are loaded with antioxidants and help protect against cell damage. They're high in healthy fats, fat-soluble vitamins, and minerals that are crucial for important body functions. They're also a great source of fiber and protein.
10. Mediterranean Dark Chocolate Sea Salt Nut Square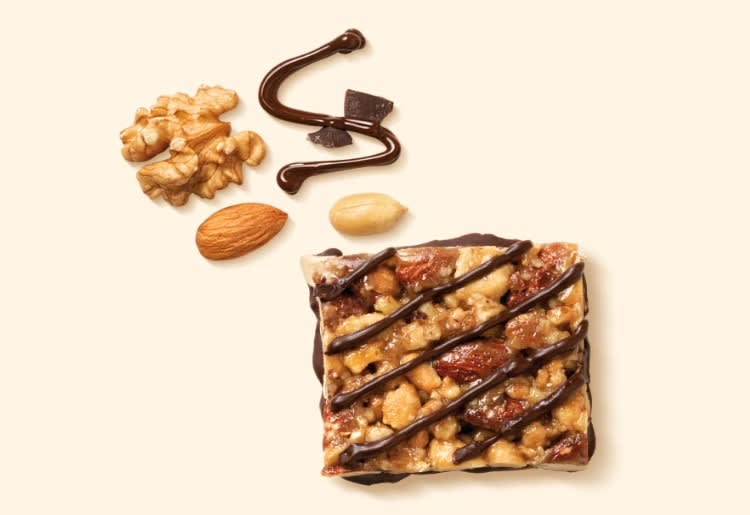 With no added sugar and full of fiber, this dark chocolate square is a perfect Mediterranean dessert. It has sea-salt-dusted peanuts, almonds, and walnuts with a dip and drizzle of dark chocolate flavor.
Want to try one of these delicious dishes?Nutrisystem has a wide selection of nutritious meals, delivered straight to your home

See Menu
Healthy and Accessible
The Mediterranean diet is extremely accessible to non-dieters, vegetarians, and diabetics. It goes to show why it's risen so much in popularity for healthy living, as it has most of the ingredients that almost anyone can enjoy.
» Want a delivery service for your keto diet? Have a look at some of the best keto meal delivery services.
References