I was happy to discover that meal delivery services like HelloFresh have delicious meals that are also suitable for people with gluten intolerance. Moreover, weekly doorstep delivery makes it far more convenient to follow a gluten-free diet without worrying about shopping or meal prep.
Finding genuinely gluten-free choices can be challenging, with research showing that gluten was present in 32% of foods labeled as gluten-free. If you're searching for convenient meal delivery options that cater to your dietary preferences, you've come to the right place.
» Check out our top picks for the best gluten-free meal delivery services.
1. Pork Chops With Vegetable Kebabs and Oregano-Mint Pesto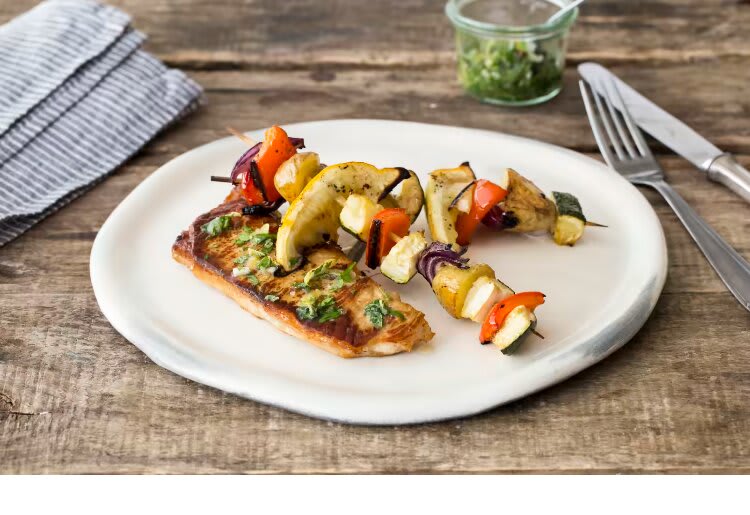 I tried—and loved—HelloFresh's gluten-free pork chop kebabs paired with fresh veggies. The zesty oregano-mint pesto infused the dish with aromatic herbs that complemented well with the vegetables and savory pork.
This delight not only accommodates those with gluten intolerance but also embodies the essence of a healthy, summer meal.
2. Yogurt-Marinated Chicken With Rice Pilaf and Zucchini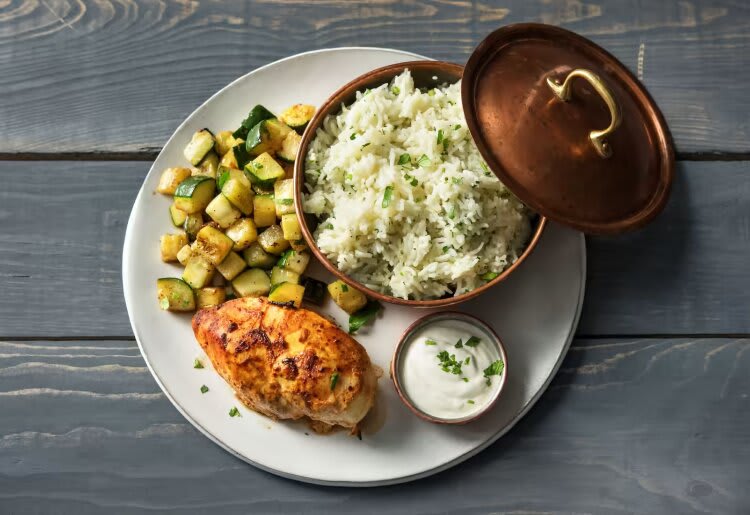 This high-protein chicken meal left me feeling satisfied and energized.
It tantalized my taste buds with tender chicken marinated in a creamy yogurt blend infused with aromatic spices. Served alongside a fragrant rice pilaf, it was a symphony of tastes and textures, with the nutty rice complementing the savory chicken perfectly.
3. Lemony Pan-Seared Chicken with Pesto, Peas, and Potatoes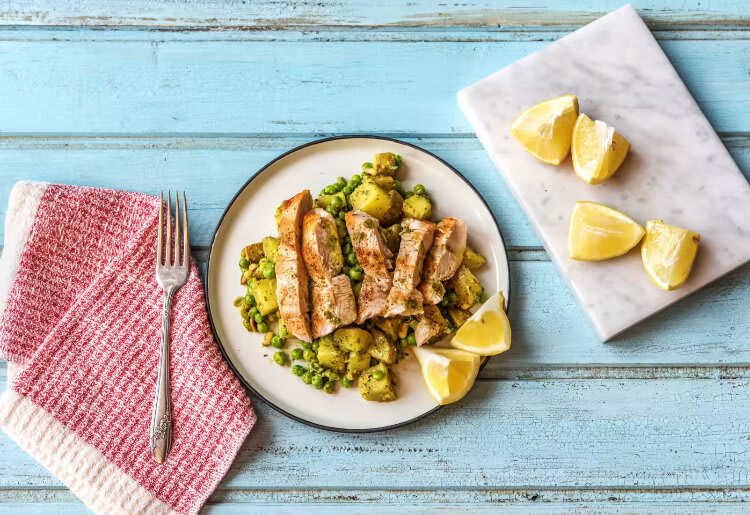 I indulged in a burst of vibrant flavors with this gluten-free recipe. It combined tender chicken breasts with a zesty, lemony kick. Served with buttery peas and roasted potatoes, it was both wholesome and satisfying.
And paired with creamy pesto, peas, and potatoes, this recipe truly showed me how gluten-free dining can be both delicious and nourishing.
4. Pork Cutlets With Mashed Sweet Potatoes and Green Beans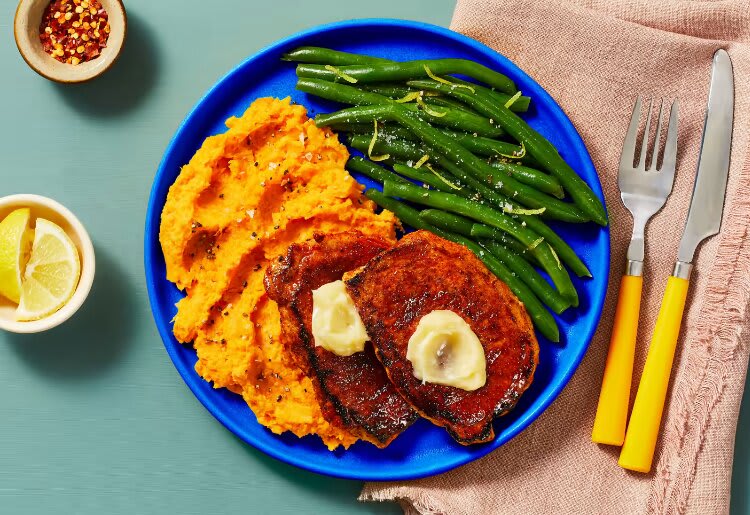 This mouthwatering recipe includes succulent pork cutlets that I coated in a luscious honey-butter BBQ glaze, offering a perfect balance of sweet and savory flavors. With mashed sweet potatoes and seasoned green beans, it's a wholesome feast that caters to gluten-free dietary needs without compromising taste.
This meal is also nutritious. It's high in protein from the pork, packed with vitamins and fiber from the sweet potatoes, and loaded with essential nutrients from the green beans. These ingredients make the dish a good substitute if you're on a paleo diet.
5. Balsamic Chicken Rustico With Roasted Root Veggies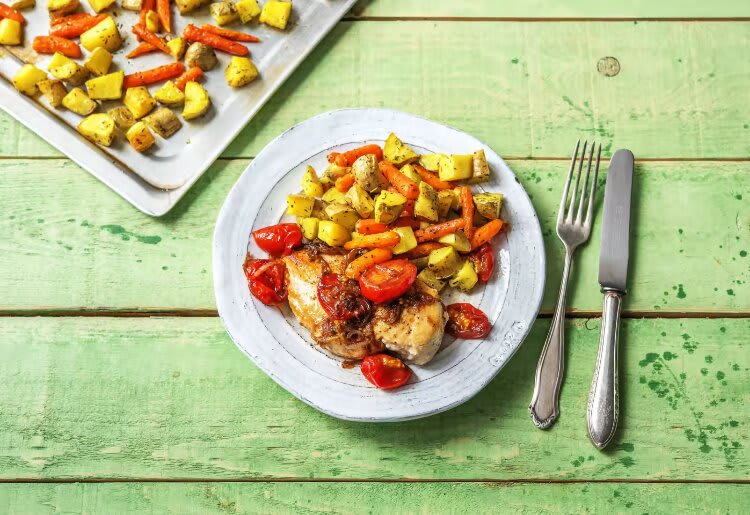 This was a delectable blend of flavors with numerous health benefits, being low in carbohydrates while rich in essential vitamins and minerals. This makes the meal an ideal health-conscious choice for following keto and paleo diets.
The added vinegar not only elevates the dish's flavor profile but contributes to better brain development.
6. Steak and Potatoes With Balsamic-Cranberry Pan Sauce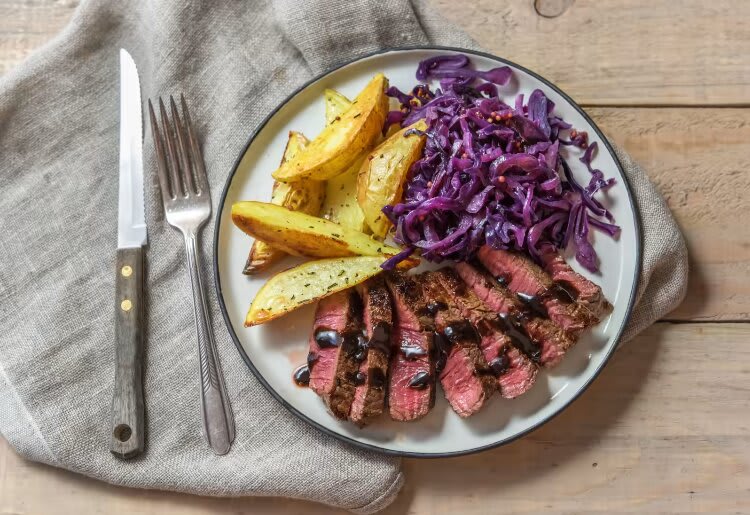 The tender steak and wholesome potatoes in this meal were a delight!
With the bonus of the tangy balsamic-cranberry pan sauce, this meal struck the perfect balance between taste and health. Low in added sugars, this is also a diabetes-friendly meal.
» Check out our top picks for the best diabetes-friendly meal delivery services.
7. Lemony Shrimp Risotto With Roasted Zucchini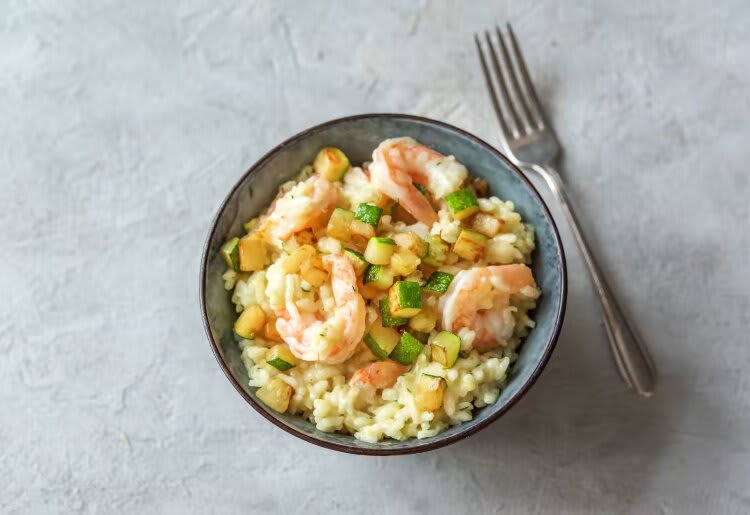 The creamy risotto, made with wholesome ingredients, was an extremely satisfying meal for me to savor.
The succulent shrimp in this recipe is also a healthy source of lean protein, essential for muscle health and overall well-being. And it's also rich in omega-3 fatty acids, which can help protect against heart disease.
8. Steak With Mashed Potatoes and Green Beans Almandine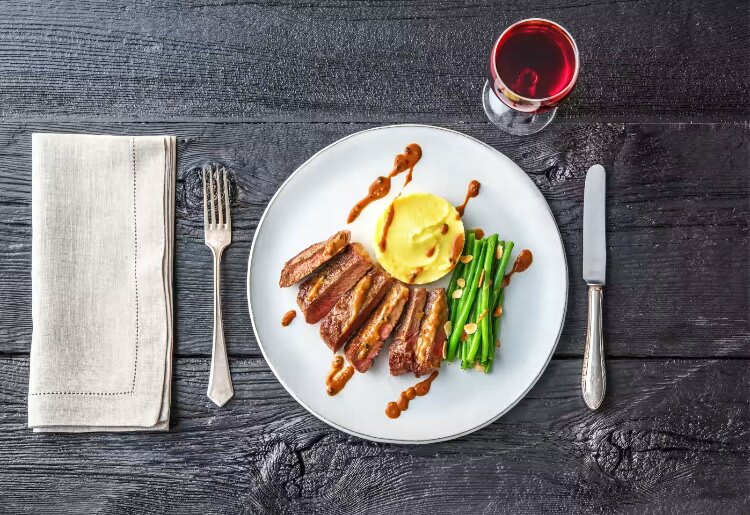 I found this meal to be a masterful blend of flavors and textures. The succulent New York strip paired with creamy truffled mashed potatoes, the earthy aroma, and the distinct flavor of truffle oil was a delight to eat.
Whether you want a protein-rich, fiber-packed, or gluten-free meal, this dish offers a balanced dining option that's both indulgent and nutritious.
9. BBQ Chicken and Sweet Potato Salad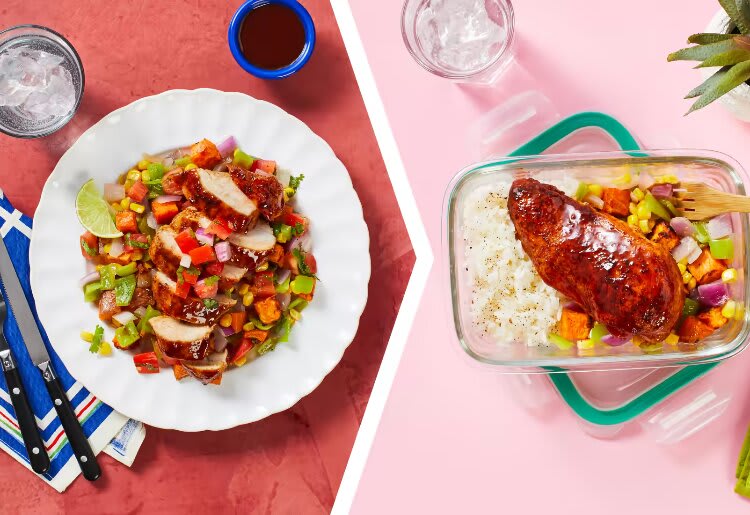 The star for me in this dish was the smoky BBQ-marinated grilled chicken. It paired beautifully with the roasted sweet potatoes, offering a balance of sweet and savory flavors in every bite.
The refreshing salad also tied the meal together with a healthy mix of leafy greens and tasty vinaigrette.
10. Coconut Curry Chicken With Bell Pepper Over Basmati Rice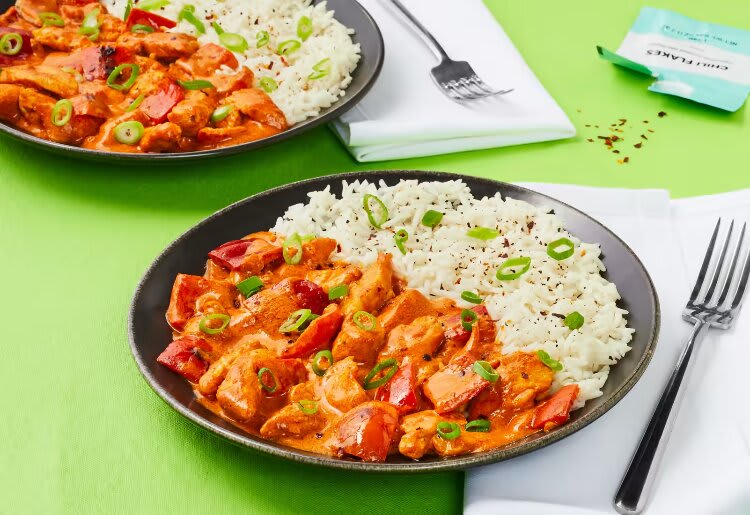 This coconut chicken curry was incredibly flavorful and spicy—and it left me wanting more. Savoring this exotic meal goes beyond its delectable taste.
The bell peppers contribute a nutritious dose of vitamin C that helps boost your immune system.
Go Gluten-Free With HelloFresh
As a dietician and foodie, I'm genuinely impressed by HelloFresh's gluten-free meals. Its menu features a wide array of dishes that cater to different tastes and other diets, including vegetarian, flexitarian, pescatarian, low-carb, and low-calorie.
Even if you aren't following a gluten-free diet yet, I think HelloFresh may be the ideal place to start.
» Hooked on HelloFresh but want to try something new? Try these HelloFresh alternatives.