Chicken breasts are an excellent addition to a healthy diet plan. They are packed with protein for building lean muscle and promoting weight loss.
Just 100 grams (3.5 ounces) of chicken breast contains 165 calories and 31 grams (1 ounce) of protein.
In this post, I've listed 10 of my favorite high-protein meals made with chicken breast. These dishes will fulfill your protein requirements and leave you feeling completely satisfied after each meal.
» Looking for a convenient way to eat healthy food at home? Check out our top picks for the best meal delivery services and companies.
1. Chicken Parmigiana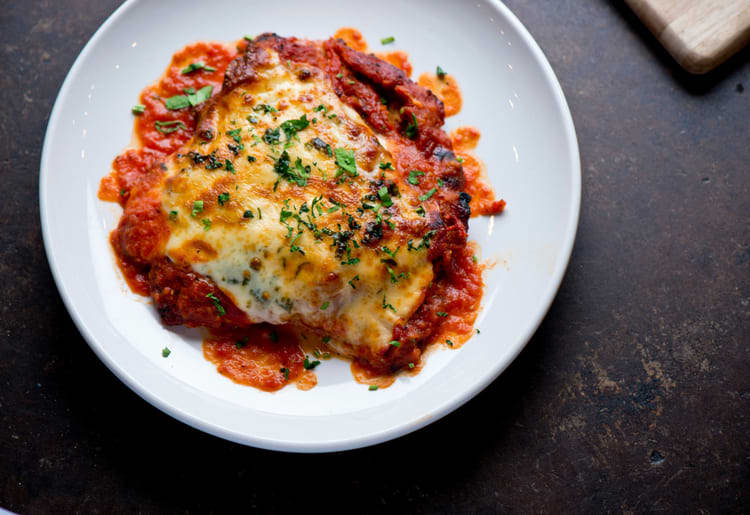 My absolute favorite dish to make is chicken parmigiana ("Parmesan").
This gorgeous dish is usually topped with marinara sauce, dripping with mozzarella and Parmesan cheese. The chicken can be marinated with salt and pepper—or seasonings of your choice—before breading and frying it.
This dish has plenty of protein and enough healthy fat to keep you feeling full for a long time. Cheese is an excellent source of protein, with just 100 grams (3.5 ounces) of mozzarella cheese having 28 grams (1 ounce) of protein and the same amount of parmesan cheese having 38 grams (1.3 ounces) of protein.
2. Bacon-Wrapped Chicken Breasts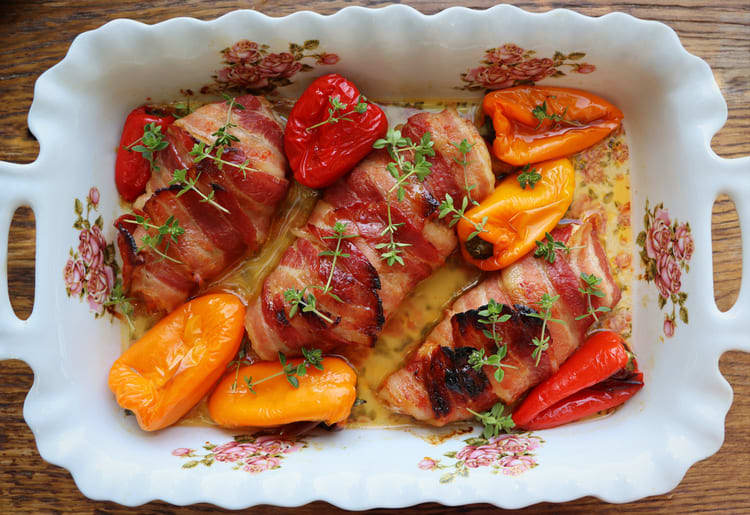 I love bacon-wrapped chicken breasts because they are quick and easy to make.
I usually make this juicy, tasty roasted chicken dish with boneless, skinless chicken breasts rolled up in bacon and filled with a cheesy onion and garlic filling.
One hundred grams (3.5 ounces) of bacon has 37 grams (1.3 ounces) of protein. So along with the chicken breast and cheese, this dish is very rich in protein and will keep you satiated for longer.
3. Lemon Chicken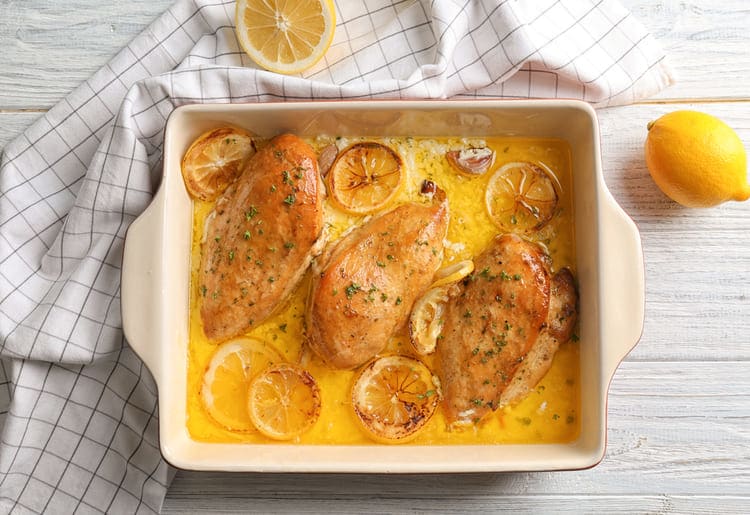 Lemon chicken is dairy-free, gluten-free, and low-carb and should only take about 30 minutes to make.
I usually make this brightly flavored, baked chicken dish with lemon zest, lemon slices, and lemon juice, which pack a citrusy punch. It can be quite garlicky, too—most recipes use garlic paste and garlic powder.
Other main ingredients typically include herbs, such as oregano and thyme, which are used to make an olive oil-based herb paste for marinating the chicken breasts.
A single serving of this dish offers 40 grams (1.4 ounces) of protein.
» You need to add these nutrient-rich foods to your diet.
4. Buttermilk-Marinated Fried Chicken Breasts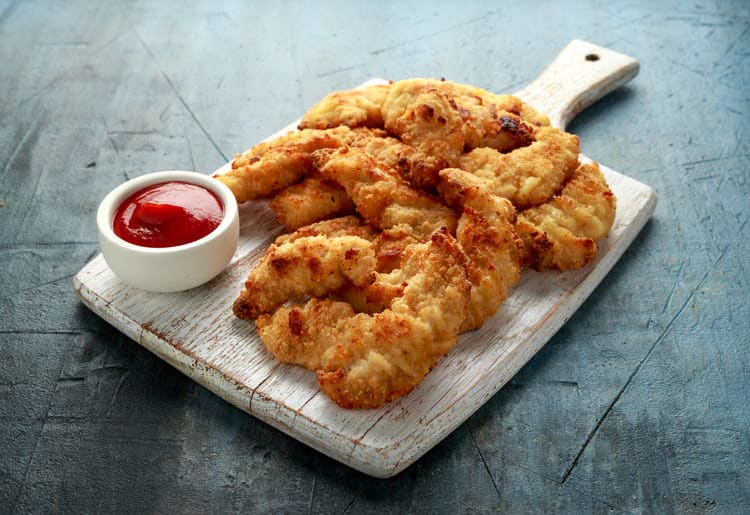 Buttermilk-marinated fried chicken breasts—the name itself tells you exactly what this dish is all about. Butterflied chicken breasts are usually soaked in a brine solution and then in a round of buttermilk to create a juicy but crispy fried chicken dish.
These chicken breasts are delicious on their own but can also be served on a sandwich.
A cup of buttermilk has about 8 grams (0.3 ounces) of protein. Buttermilk is also quite nutritious, with plenty of calcium, riboflavin, vitamin B5, and vitamin B12.
5. Sun-Dried Tomato & Pesto Stuffed Chicken Breast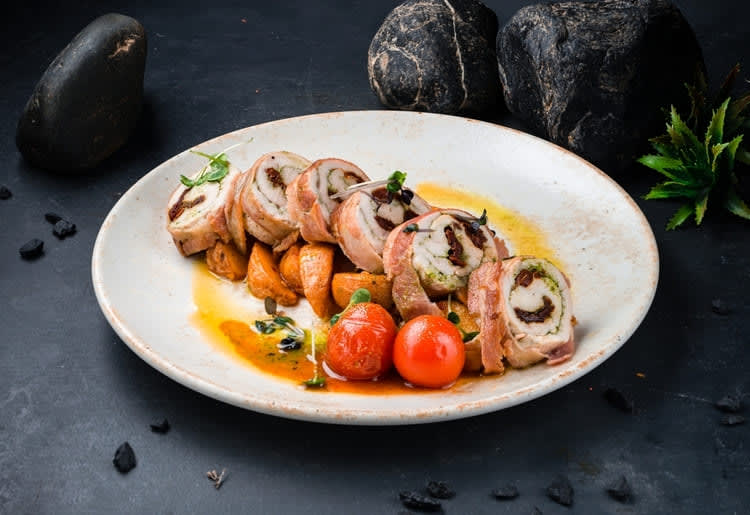 I thoroughly enjoy having sun-dried tomato and pesto stuffed chicken breasts. This savory dish usually takes just half an hour to whip up and serve. Plus, if you follow the right recipe, this dish can be gluten-free and low-carb, too.
I typically stuff these chicken breasts with mozzarella cheese, cream cheese, pesto, sun-dried tomatoes, and spinach. And then, I brown them in a skillet before baking them.
One hundred grams (3.5 ounces) of cream cheese has 6 grams (0.2 ounces) of protein, while a quarter cup of pesto offers another 6 grams (0.2 ounces) of protein.
6. Griddled Chicken With Lemon & Thyme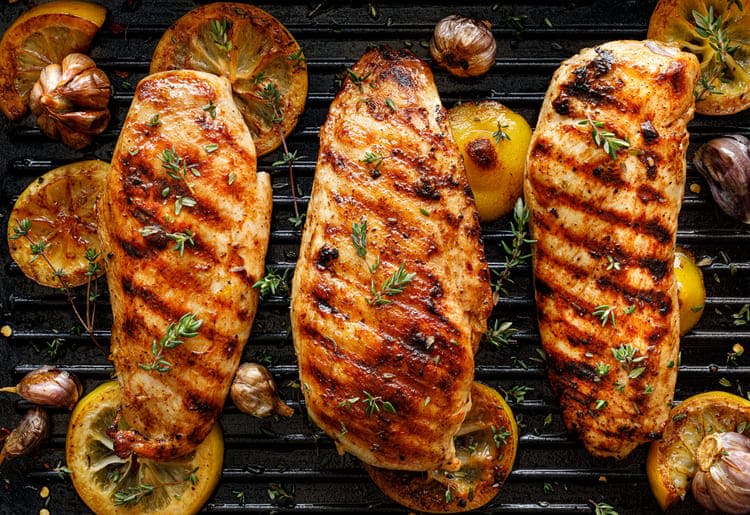 I serve griddled chicken with a dollop of hummus, garnished with lemon wedges, thyme, and olives.
I usually marinate skinless chicken breasts in olive oil, lemon zest, lemon juice, thyme, and garlic before cooking them on a heated griddle.
Hummus is a good source of protein. One serving of this dish has 34 grams (1.2 ounces) of protein.
7. Honey Mustard Chicken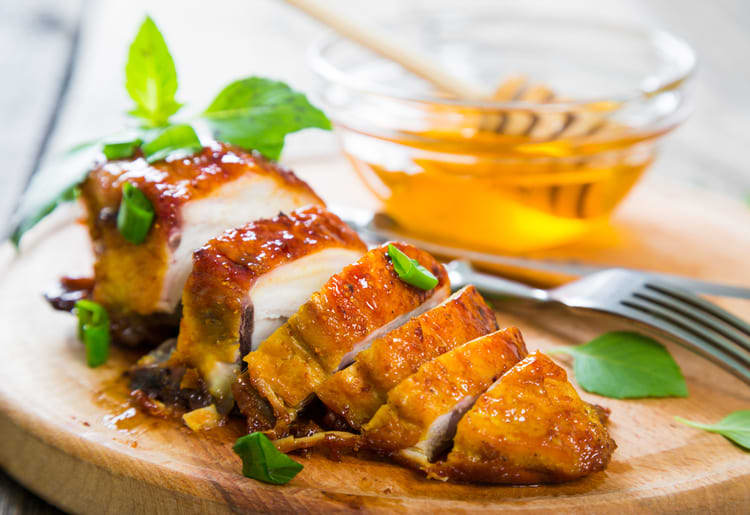 I love honey mustard chicken, especially when it's juicy and flavorful. This dish will fully satisfy your hunger pangs—always.
But beware, a good honey mustard chicken marinade will have a sweet and tangy taste that will leave you craving more—and not because you're hungry. I normally use salt, black pepper, garlic, and cayenne pepper for seasoning.
A recipe using 450 grams (1 pound) of chicken breasts will give you four servings, each offering 24 grams (0.8 ounces) of protein.
» Take a look at these high-protein breakfasts for healthy weight loss.
8. Pan Seared Garlic Butter Chicken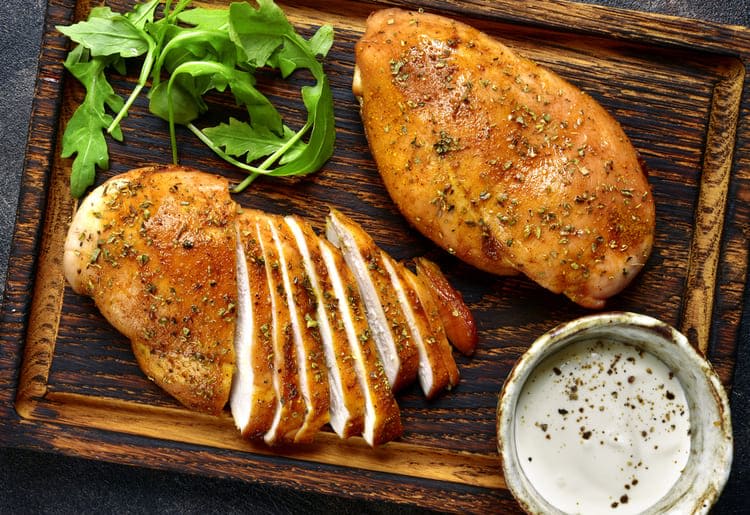 I am also a big fan of this quick and easy one-pan dish that generally only takes me about 25 minutes to make.
I usually use boneless, skinless chicken breasts that are pan-seared and served with garlic sauce—which is made by cooking the garlic in butter and then adding wine and herbs such as parsley, oregano, or dill.
You can also add lemon juice and lemon zest to boost the flavor. One serving of this dish gives you 49 grams (1.7 ounces) of protein.
9. Chicken With Mushrooms & White Wine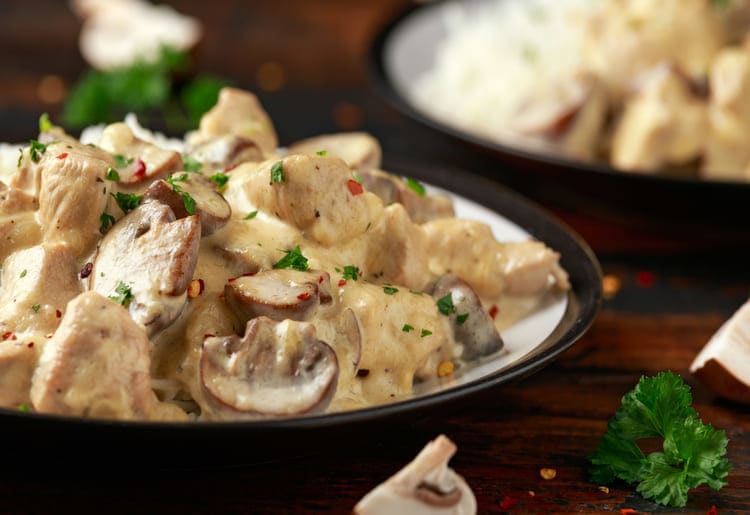 I genuinely enjoy the creaminess and richness of chicken with mushrooms and white wine. One hundred grams (3.5 ounces) of mushroom has about 3 grams (0.1 ounces) of protein, which, along with the chicken, creates a meal that's relatively high in protein.
This dish also contains other ingredients, such as shallots and herbs, which are rich sources of antioxidants and fiber.
10. Roasted Chicken Breasts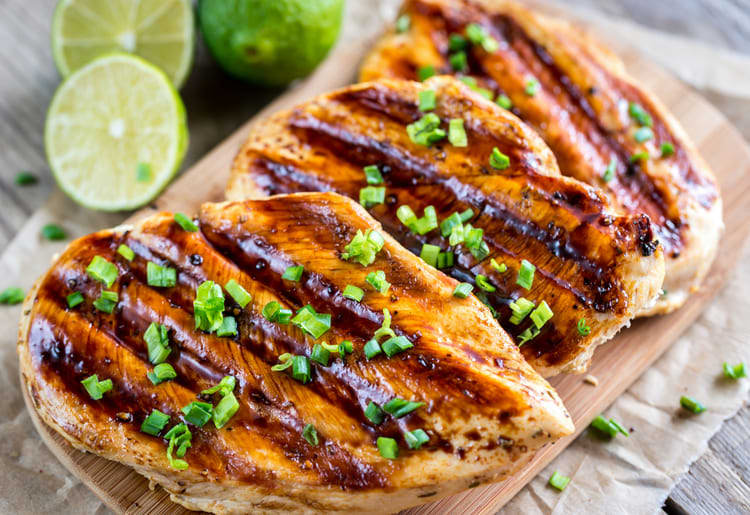 Quick and simple, roasted chicken breasts are pretty popular among moms because they can form the base of various dishes, such as sandwiches, salads, and wraps.
I like marinating these chicken breasts with salt, black pepper, olive oil, paprika, lemon juice, and garlic. I usually bake them for about half an hour—or until they're ready.
If you use 450 grams (1 pound) of chicken breasts, you'll get four servings, each offering about 24 grams (0.8 ounces) of protein.
Can You Eat Too Much Protein?
Yes, you can eat too much protein. I have seen clients go overboard with their protein intake, thinking it will lead to faster weight loss and increased muscle growth. But they just end up gaining more weight—one of many medical complications that can come from eating too much protein.
The recommended dietary allowance (RDA) for protein is only 0.36 to 0.45 grams per pound of body weight. If you weigh 130 pounds (59 kilograms), for example, you should have about 47 to 50 grams (1.6 to 1.8 ounces) of protein daily.
Chicken and fish are both good sources of protein, so to meet your protein needs, you can try high-protein pescatarian meals.
Something for Everyone's Taste
So many recipes use chicken breasts as the main ingredient because they are ideal for cooking delicious, healthy, and filling meals packed with protein.
But if searching for recipes online seems like too much work, you can always try some of the delicious high-protein dishes offered by meal delivery companies, such as Home Chef and HelloFresh. From buttermilk-ranch chicken to crispy parmesan chicken, there's something for everyone's taste.
» Hungry after eating? Try these filling low-carb foods.