Whether you're a busy professional seeking convenience without sacrificing quality or someone who simply wants to explore new culinary horizons, the world of meal delivery services is ripe for exploration. In this article, we're diving into five of the best alternatives to Amazon Fresh that not only offer delightful dishes but also cater to diverse dietary preferences and budgets.
From organic gourmet selections to family-friendly favorites, prepare to embark on a delicious journey that redefines your dining experience. Join us as we explore, taste, and recommend the 5 best Amazon Fresh alternatives to try instead.
Our Best Meal Delivery Services Like Amazon Fresh in 2023
» Looking for more options? Discover some of the best prepared meal delivery services.
A Closer Look at the Best Amazon Fresh Alternatives in 2023
1. HelloFresh
Diverse meal kits designed to take the stress out of mealtimes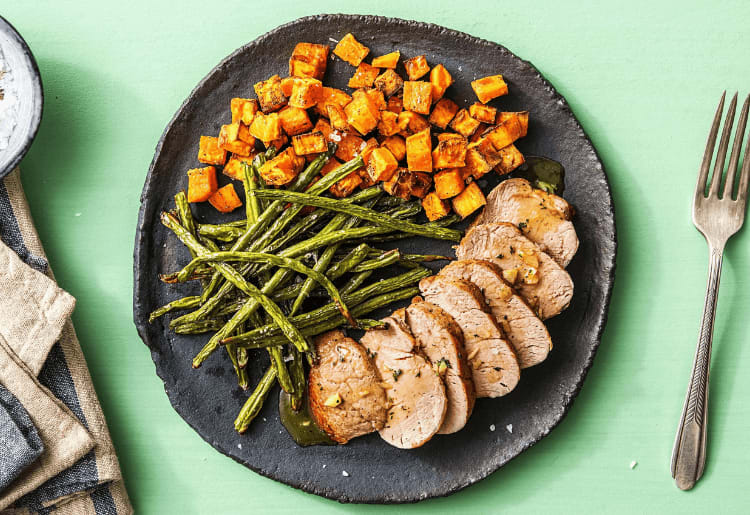 Best for - Affordable, crowd-pleasing, and healthy meals
Starting price - From $7.49/serving
Special diets - Vegetarian, flexitarian, pescatarian, low-carb, low-calorie
Choose from 100+ delicious breakfasts, lunches, dinners, and sides from HelloFresh. Filter your search to best suit your household with six categories: Quick and Easy, Family Friendly, Veggies, Meat and Veggies, Fit and Wholesome, and Pescatarian.
You can also view the nutrition facts, allergens, and ingredients to expect in your order before adding a recipe to your cart. Each meal comes with a simple, step-by-step recipe card and fresh, pre-measured ingredients to help you get satisfying meals on the table in no-time.
Pros
Fresh, seasonal ingredients
Most meals are ready in 15–50 minutes
Great for multiple age groups
Cons
Not ideal for individuals with strict dietary needs
No gluten-free, keto, or paleo plans

HelloFresh Visit Site
2. Home Chef
Delicious meals with fresh and healthy ingredients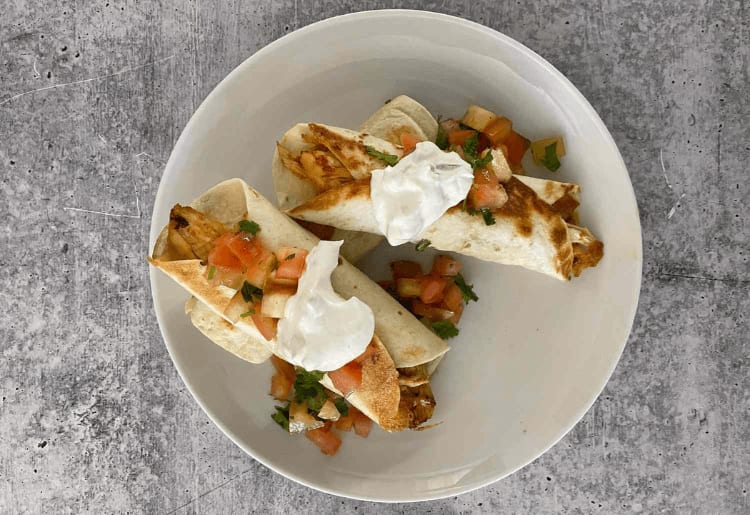 Best for - A wide variety of customizable dishes
Starting price - From $7.99/serving
Special diets - Vegetarian, low-calorie, low-carb, nut-free, soy-free, wheat-free, dairy-free
Fresh, never frozen, Home Chef allows you to choose from and customize 20 new recipes each week. Their Standard option arrives with perfectly pre-portioned, partially prepared ingredients, cutting out food waste and saving you time.
They offer a Fresh and Easy option that virtually eliminates your prep time with heat-and-serve, fully prepared, and pre-cooked meals. They also let you filter and eliminate recipes with specific allergens from your plan and provide plant-based protein options for a meat-free alternative.
Pros
Calorie or Carb Conscious plans for those looking to lose weight
Option to swap out proteins
Easily search for allergen-specific recipes
Cons
Some ingredients may contain colorants, sulfites, or artificial sweeteners
More expensive than some other meal kits

Home Chef Visit Site
» Take your meals to the next level with these weekly meal-planning hacks.
3. Factor_
Nutrition-focused, ready-to-eat meals and add-ons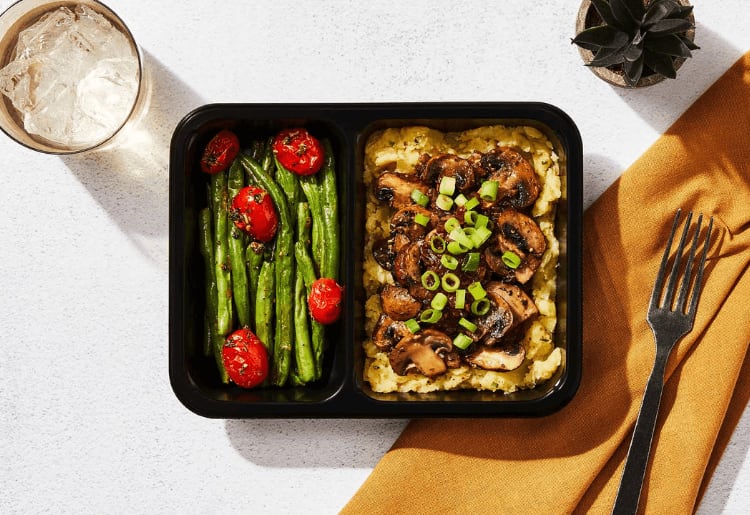 Best for - Individuals looking for low-carb and/or low-calorie meals
Starting price - From $10.99/serving
Special diets - Keto, vegetarian, vegan, low-calorie
Factor_ meals are designed to provide nutritional balance and convenience, offering flavorful microwave- or oven-ready dishes. With nutrient-dense add-ons like juices, smoothies, healthy desserts, and savory breakfasts, they aim to keep you satisfied throughout the day.
Order anywhere from six to 18 meals per week and prepare to have a fridge full of delicious meals with ingredients you can trust. Factor_ takes pride in the transparency of their ingredients, making this kit an ideal choice if you have food intolerances, dietary needs, or specific wellness goals. 
Pros
Ready-to-serve meals with "to-go" add-ons
Strict quality standards and transparency regarding ingredients
20-minute nutrition consultation with a dietician
Cons
No low-sodium option
Mostly lower-carb meals

Factor Visit Site
4. Martha & Marley Spoon
A meal kit to satisfy every cooking aficionado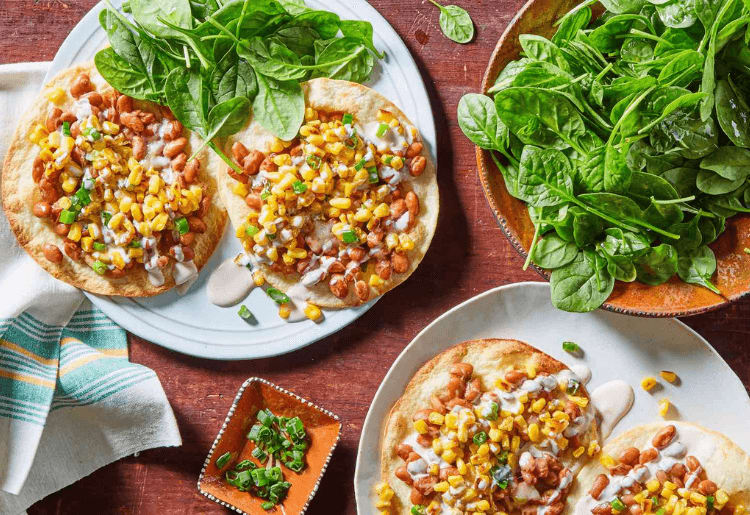 Best for - Dishes with premium ingredients that foodies will love
Starting price - From $8.69/serving charged weekly
Special diets - Vegetarian, vegan, low-calorie, gluten-free
No need to spend hours shopping and prepping to make the perfect Martha Stewart-worthy meal each evening. Martha & Marley Spoon simplifies everything. Sort through tasty recipes to find dishes that suit your lifestyle needs, whether avoiding gluten or looking for healthy meals for picky kids.
Flexible meal plans allow you to select delicious entrées for two or four people and from two to six meals weekly. Meals arrive fresh, with six-step recipe cards to guide your every step. 
Pros
Variety of healthy recipes with premium, fresh ingredients
Pre-portioned ingredients for quick meal prep and cleanup
Recyclable and reusable shipping materials
Cons
Not ideal for people with strict dietary needs or allergies
No fully vegan option
Read full Martha & Marley Spoon review

Martha & Marley Spoon Visit Site
5. EveryPlate
Smart, budget-friendly meal kits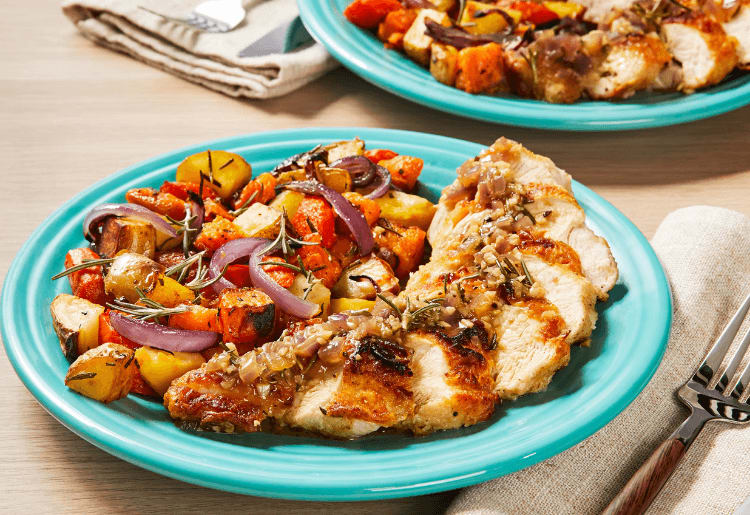 Best for - Households looking for satisfying dishes on a tight budget
Starting price - From $4.99/serving charged weekly
Special diets - Vegetarian
EveryPlate offers a flexible, value-driven meal plan for two or four people, from three to six meals weekly. Choose from over 25 weekly recipes, with categories like "Meat & Veggie," "Family Friendly," "Quick & Easy," and "Nutrish & Delish."
Recipes are designed for every skill level and take roughly 20–30 minutes to prepare with an easy-to-follow recipe card. Ingredients arrive frozen and should be placed in the refrigerator upon arrival for maximum freshness. 
Pros
Great value for money
Simple instructions anyone can follow
Very responsive customer service
Cons
Doesn't cater to special diets
A smaller variety of meals
» Here are our top picks for the best gluten-free meal delivery services.

EveryPlate Visit Site
Why Choose These Amazon Fresh Alternatives?
Shopping online for groceries can certainly simplify things, especially when you have tried-and-tested recipes.
But with these top-rated meal delivery services, you get everything you need for the perfect meal in one box without tirelessly scrolling online for ideas or resorting to takeout. Save time in the kitchen and conserve resources while knowing that nutritious meals are only a click away each week.
To Cater to Special Dietary Needs
Amazon Fresh alternatives like Home Chef make it easy to search and filter recipes based on allergens and food intolerances. They also allow you to swap out proteins where needed.
To Avoid Food Waste
HelloFresh offers a wide variety of fully pre-portioned ingredients (including sauces and condiments), making it easy to enjoy satisfying meals without food waste. No more buying a whole jar of a new condiment when you only need a little or throwing away veggies that pass their sell-by date before you use them.
To Make Eating Healthy Easy
Factor_ offers peace of mind with their strict standards when it comes to clean ingredients and a dietician-approved menu. Plus, if you're trying out a new eating regimen, Home Chef also caters to a wide range of special diets.
Amazon Fresh Alternatives: Time-Saving, Tasty Meal Solutions
Selecting the perfect meal delivery service has the power to transform your dining routine into something extraordinary. With exciting alternatives like HelloFresh, Home Chef, Factor_, Martha and Marley Spoon, and EveryPlate, there's a culinary world tailored to a wide range of preferences and needs.
These services each contribute something unique, enabling you to delve into fresh flavors, savor quality ingredients, and eliminate the hassle of meal planning and preparation. Whether you're an experienced cook or just starting to find your way around the kitchen, these meal delivery options stand ready to enhance your daily meals with convenience and pleasure.
» Find more simple ways to reduce your food footprint.