In a Nutshell
After taking over the retail industry, Amazon is now determined to take over our stomachs with its launch of AmazonFresh grocery delivery service. Not your typical meal kit delivery service, AmazonFresh offers a huge selection of products, delightfully flexible delivery options, and a monthly payment option. With so much going for it, we had to see how AmazonFresh fared against the competition.
pros
One of the cheapest options available
Very flexible delivery dates and times
Free shipping for orders over $40
cons
Not available in many areas
Requires Amazon Prime and an annual/monthly fee

Amazon Fresh Visit Site
Ideal For
People who can't get to the grocery store to shop
Those who don't have time to go through aisles or wait in line
Folks who can't or don't want to carry heavy packages home
What's Unique About AmazonFresh?
AmazonFresh is revolutionizing the way we eat. With its best meal kit delivery service, it conveniently offers members healthier options and saves them time standing in lines. While you're likely to not get the same personalized service as you would from other kit providers (more on that below), there are a few ways in which AmazonFresh stands out.
AmazonFresh has taken meal kit delivery to a new level, offering people who don't have the time, patience, or strength to do a typical grocery shopping an easier, smarter option. Not only can you buy convenient, ready-to-go meal kits from AmazonFresh, but you also get the added bonus of having all of your groceries delivered to you at the same time. This way you can add any ingredients that are missing from the meal kit (usually fresh produce, condiments, etc.) to your AmazonFresh order and get them all delivered at the same time.
The service's most impressive feature is shipping and delivery. Amazon is king of delivery, so it's no surprise that its meal delivery service is top notch as well. You can schedule a delivery for any day of the week, and it'll arrive within a 2-hour window. Considering most competitors only allow you to choose early or late in the week, that's incredibly flexible, meaning you don't have to sit at home all day waiting for your groceries to arrive.
How It Works
AmazonFresh comes with the first month free, so you can test drive the service and see how you like it. If you've ever ordered from Amazon before, you'll recognize the layout of the AmazonFresh page. Everything is divided into sections such as meats and seafood, bakery, and snack foods. You can also get baby and pet care products, health products, and other household supplies. If you don't find what you're looking for easily, you can do a quick search for meal kits (or whatever you're looking for). The rest is pretty straightforward. Add the desired items to your cart, then continue to checkout when you're done shopping.
You can connect your payments to your regular Amazon account, so checking out is a breeze. An added convenience is that AmazonFresh lets you add items to your order anytime until it gets shipped, so if you forgot one or two things, you can quickly toss them into your cart and they'll be included in that order.
All of your food comes packaged in durable, insulated bags, cushioned for support and protection, and packed with frozen water bottles to preserve freshness. Just seeing the bright green boxes is already a pick me up! The tote bags are reusable, and you can leave them outside for pick up with your next order delivery.
The only downside to the service is that you aren't getting the usual special treatment you'd get from services specifically geared towards meal kit delivery. For example, you can't set dietary preferences, allergies, or ingredient restrictions on your AmazonFresh account. You also don't receive any meal plans, information, or recipes. If that's what you're looking for, you'd be better suited with a more traditional meal kit delivery service.
That being said, AmazonFresh does sell meal kits that come complete with serving sizes, instructions, and all of the information you would expect from brands like Tyson Tastemakers, Food Network, Velveeta, and Old El Paso, to name a few. So really, you aren't getting less from AmazonFresh, you're only getting the added benefit of being able to order all of your groceries in addition to meal kits.
Meal Options
AmazonFresh offers several brand name meal kits including:
Martha & Marley
Tyson Tastemakers
Fishpeople
Food Network
Old El Paso
Velveeta
Just Crack an Egg
Trident
Frontera
Chef Boyardee
EVOL
Annie's
Betty Crocker
Knorr
Bumble Bee
Rice-A-Roni
Organic Valley
Aidells
Barilla
Kraft
Some of these meal kits aren't much more than soup in a can, ready to go, but leaving much to the imagination by way of nutritional value. Most, though, really constitute genuine meals that are healthy and easy to make. Tyson Tastemakers, for example, has loads of variety including a chicken paella dish that includes antibiotics-free chicken breast, arborio rice, and rich flavors.
Favorite AmazonFresh Meals
Here are some of the top dishes from AmazonFresh:
1. Nashville Hot and Crispy Chicken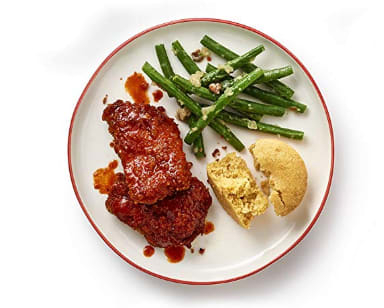 Cost per serving: $5.33
Prep & cook time: 35 minutes
Difficulty level: Easy
Ingredients: Free from artificial ingredients
2. Yakisoba Noodle Stir Fry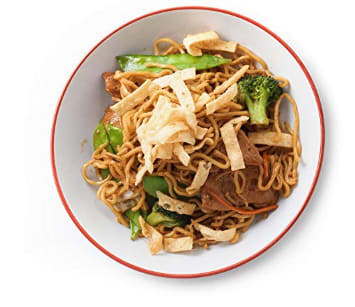 Cost per serving: $5.33
Prep & cook time: Less than 30 minutes
Difficulty level: Easy
Ingredients: Natural pre-seasoned meat, fresh vegetables, and rich sauces included
3. Argentinian Empanadas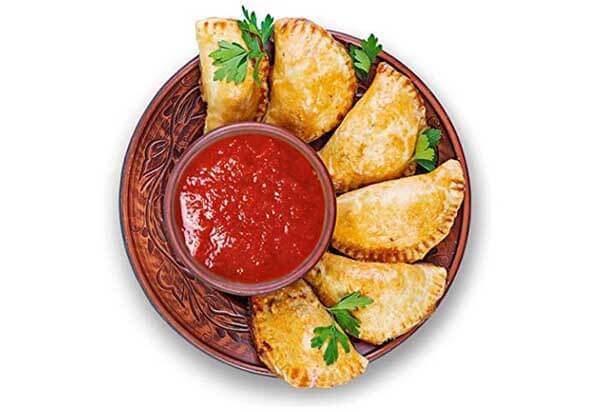 Cost per serving: $10.00
Prep & cook time: 25-40 minutes
Pricing
$179.88 (plus Prime=$299)
$9.99 for orders under $40
AmazonFresh's pricing structure is a bit complicated to understand at first, but it's nothing you can't handle. For starters, you'll need an Amazon Prime account. That membership is $119, so when you add the $179.88 a year for Fresh (for a total of $299/year), this meal delivery service seems a bit pricey. But if you already have a Prime membership, you aren't paying very much for the delivery service at all. It's really a question of whether or not you can take advantage of the benefits that come from being a Prime member or not (and most people can).
If you don't want to commit to a whole year, you can pay for AmazonFresh on a monthly basis as well. You'll pay $14.99 per month, instead. Plus, you get the first month of Fresh free to test it out. Shipping is also free for orders over $40 with a flat rate fee of $9.99 for anything less than that.
In terms of regular product pricing, AmazonFresh is fairly competitive. While you'll find some of the items like the fresh produce to be more expensive than your average supermarket, most of the packaged goods and meats come out cheaper. And don't forget, you're paying for convenience, saving time, and grocery hauling. When you factor everything in, AmazonFresh seems like a good deal.
The most important pricing component is the meal kits themselves. AmazonFresh offers a huge range of options, so you'll be able to find nearly anything your palette desires. What's amazing is that you can get these delicious delicacies for a fraction of the price of most meal kits. Ranging in price from just over a dollar to the "pricey" $15.99 for the higher end items, the average meal from AmazonFresh will cost you around $5. That's amazing!

Amazon Fresh Visit Site
Help & Support
While Amazon is known to have outstanding customer support, AmazonFresh has been criticized for not being as helpful. With time, this part of the business will surely be on par with what customers have come to expect from any Amazon service.
That being said, we had no problem reaching customer service representatives, who were very helpful and friendly. AmazonFresh also has a detailed FAQ section along with email, phone, or live chat support, keeping you covered on all fronts.
AmazonFresh - It's What's for Dinner
Basically, if you are already a Prime member, AmazonFresh is a no-brainer. For less than $15 a month, you can have your pick of the best produce, meats, dairy products, dry goods, and toiletries around, delivered right to your doorstep. Even if you aren't a Prime member now, AmazonFresh can be an excellent choice because it's one of the cheapest meal kit options out there. Add to that the flexible delivery, full-grocery service, and convenience, and AmazonFresh is easily at the top of our meal kit delivery services list.