We all want to provide healthy meals for our families, but the pressure of work, family, and kids can sometimes make it difficult. After a long day at work, a few shortcuts here and there at dinnertime can be a great help.
But can we really make incredible meals with less time and effort? It's possible with the right tips and tricks from the experts! Here are 10 MasterChef tips that can help you reduce overall cooking time.
1. Bottle Your Own Spice Mix
Whether homemade Italian seasoning or garam masala, many of us have secret recipes for creating magic in the kitchen. No secret recipe? No problem. These not-so-secret recipes are all over the internet.
You can also roast whole spices and grind them to create fresh aromatic spice powders. Saliha Mahmood-Ahmed, winner of MasterChef 2017, reveals, "Spices are in my mind almost inert until roasted to release their full potential."
However, when you are in a hurry, it is very difficult to make and use it, especially in small quantities. So, grind your spice mix ahead of time and store them in an airtight container. Be careful not to expose them to moisture, or else they will get stale (1). These will stay fresh for months, and you can also increase their shelf life by storing them in the refrigerator.
2. Make and Freeze Sauces and Purees
Make your sauces and purees over the weekend. This saves a lot of prep time, making it easy to whip up a quick meal.
You can portion them according to how much you'll use every day and freeze the rest. Take them out of the freezer early in the day and let them defrost. You can use this tip for tomato-based sauces, meat sauces, and even béchamel.
When reheating a creamy sauce like a béchamel, give it a good whisk to take care of any separation that may have occurred during the thawing process. Also, remember that this tip doesn't work for emulsified sauces like vinaigrettes and mayonnaise.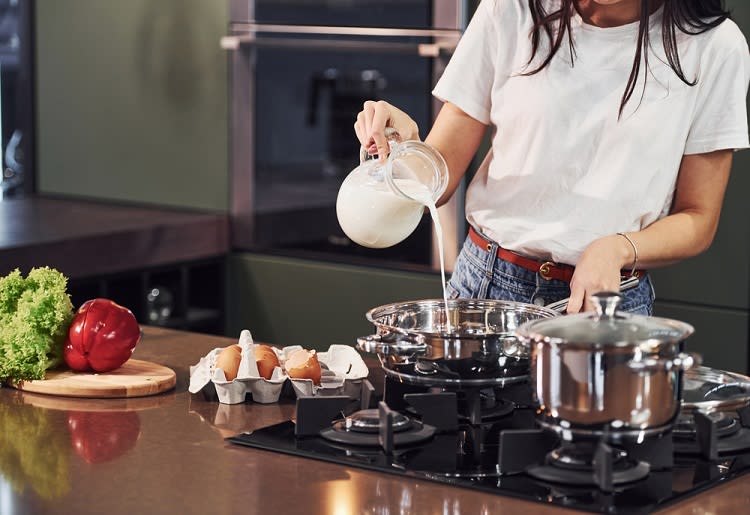 3. Pre-Cut Your Veggies
Chopping veggies and aromatics takes a lot of time and effort.
If possible, buy pre-cut vegetables from the grocery store and keep them in the refrigerator. Alternatively, spend some time cutting and dividing your veggies according to the menu you have planned for the week. Place them on a damp paper towel so the vegetables do not lose their natural moisture.
Chopped vegetables will keep in the refrigerator for a couple of days, but remember that keeping fruits and vegetables in the fridge for too long can decrease their nutritional value (2). You can freeze them to increase their shelf life.
4. Use the Right Gadgets
To be a MasterChef, you need the right tools. For example, Saliha uses a ricer for making the creamiest mashed potatoes. Beef brisket can take four hours to cook in a normal pot but only two hours when using a pressure cooker. You can also use the liquid to make a jus for a perfect MasterChef-worthy meal.
The other option is to use a slow cooker. You can set your meal in the slow cooker the morning before work and come home to a freshly cooked meal. Slow cookers are also ideal for making broths, which can be poured into ice trays and frozen. Store the cubes in the freezer in plastic bags and add them to your meals to make rich, nutritious gravies and soups.
5. Marinate and Freeze Your Meat
Marinating meat or fish and storing them in the freezer is a great way to save time and get some delicious protein. Divide them into meal-sized portions and store each packet/box separately so that you need to thaw only the required quantities. This simplifies the process and speeds up the defrosting process.
On weekends, Sahila marinates meat with spices and yogurt. Use a slow cooker for tender meat that falls off the bone.
6. Keep Your Kitchen Equipment in Top Condition
This is an essential tip in any kitchen, whether in your house or a Michelin star restaurant. Preventive maintenance can increase the efficiency of your appliances and create a good working atmosphere.
Your kitchen should be a positive place. Declutter and remove old, broken, or unused appliances and utensils. Get the proper utensils if you don't have them, and repair or service gadgets as needed. You will have a safer work environment and fewer mechanical failures, reducing your cooking time.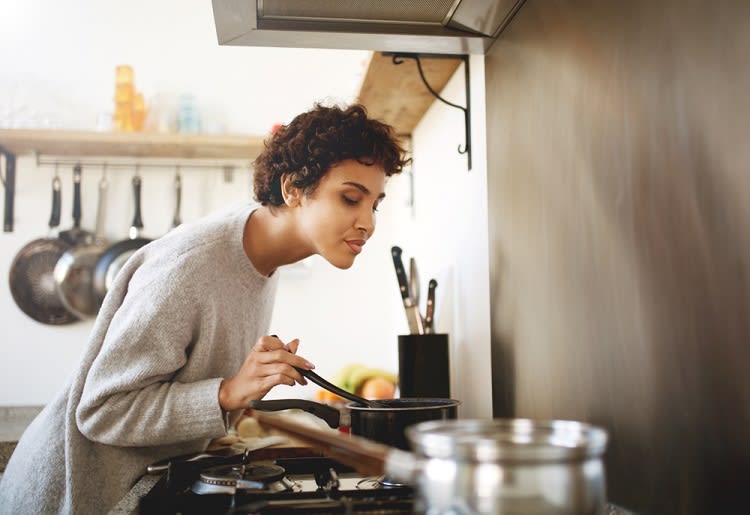 7. Make Sure Your Knives Razor Sharp
This is one of the most important tips for saving time in the kitchen. Knives are a chef's pride, and they always spend time keeping their knives sharp.
Working with a blunt knife is dangerous. It requires more pressure to cut, increasing the chances of the knife sliding and cutting you. A sharpened knife helps you chop faster and lets you get on with cooking in record time.
8. Use the Right-Sized Pan
Choose the right-sized pan for your cooking. If you go for a bigger-sized pan than required, it will have more surface area to be heated, increasing your cooking time.
If you are baking a cake in a bigger pan, the cake becomes thinner. The cake may bake faster, but it will also get burned around the edges or just come out very dry. A smaller cooking vessel than required can make adding in all the ingredients difficult, and stirring the food without spilling gets more challenging and time-consuming.
9. Make Sure Your Skillet Is Hot Enough
Ever dumped ingredients onto a pan that's not even warm? You're not saving any time there. For most recipes, it is important to heat the skillet to the right temperature before adding any ingredients. This ensures smoother and even cooking.
Before sautéing or frying, make sure the oil is hot enough. If not, your food can become greasy and unappetizing. To ensure your fried fish is crispy and crunchy, MasterChef Chris Badenoch recommends using cold batter to coat the fish and placing it in hot oil.
10. Put a Cloth Under Your Chopping Board
By putting a damp kitchen cloth or towel under your chopping board, you can prevent the board from sliding around. This creates traction between the two, preventing the board from slipping or rocking. A steady chopping board makes for faster cuts, which means quicker cooking.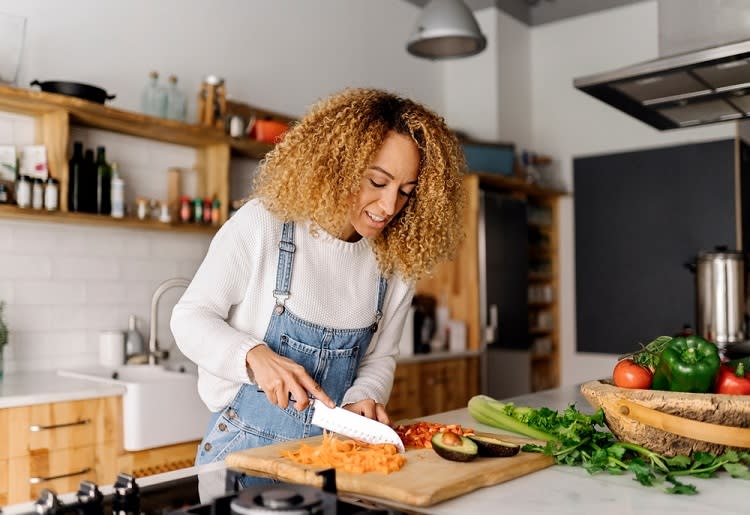 Cooking High-Quality Meals Doesn't Have to Take Forever
A few smart tricks can go a long way in making incredible food in very little time. Plan your meals and get your groceries accordingly, precut your veggies and meats, and pack and store them in the fridge or freezer.
You can also try out the best oven-ready meal delivery services that not only make your life easier but help to reduce your carbon footprint, such as HelloFresh and Factor. These services bring you cooked or semi-cooked, pre-portioned meals right to your doorstep with easy-to-follow instructions.
References