Well, there are a few reasons. Match's dating expert Laurel House told USA Today that the holidays are a great time to break the ice with potential matches and get to know each other on a much deeper level than usual by asking them substantive questions, including how they felt being single during the holiday season. Match also reported that the busiest day of the year on the app just so happens to be January 7—with a spike in 42% of signups at the very specific time of 8:55 pm EST. Personally, I have a couple of hypotheses about why this could be, not so much the 8:55 timing but the general craving to date during the holidays! Let's explore my theories below, shall we?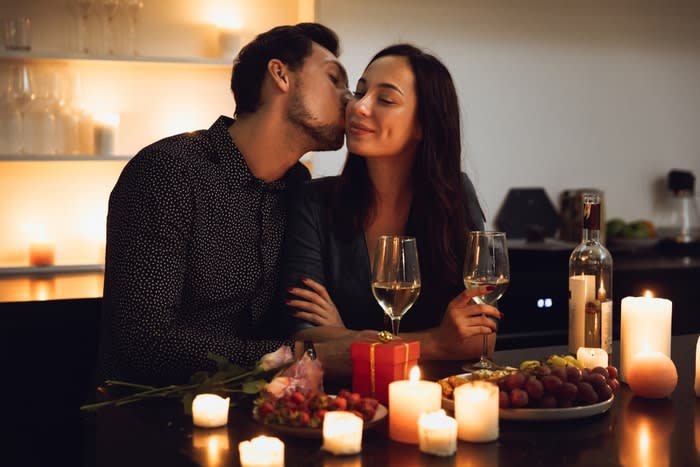 People Are Reminded of How Alone They Are
Think about it. Christmas, Hannukuh, and Kwanzaa all roll around, and you're typically expected to head to a friend or family member's house. Everyone is in the holiday spirit… with their partner. They're all holding hands, kissing, sharing gifts with each other, and being mushy all up in your face. And there you are, drowning your single sorrows in your oversized glass of wine while you impatiently wait for a text back that may never come. Going to parties and events during the holiday season is a not-so-gentle, constant reminder of just how single AF you truly are. This can definitely cause a spike in your desire to date somebody.
It's the End of Cuffing Season
Cuffing season, which is when single people are considered likely to seek a more long-term relationship, starts in the fall as the weather grows colder, usually in September and October, and ends after the dead of winter passes. December and January fall directly in between the start and end of cuffing season, which means that it's the perfect time to grow frustrated if you haven't linked up with anybody yet. I can speak from personal experience that this happens for me every single year without fail. Well, if you're anything like me, then don't worry! We're not alone, although it sure does feel that way. The spike in subscriptions to Match proves that a lot of other people feel the exact same way. So try not to get so down. All the more reason to sign yourself up for a dating app and start looking for somebody to keep you warm when the temperature outside is as cold as your heart that is slowly (quickly) icing over.

Tips For Dating During The Holidays
So you've decided that you're going to begin your dating journey in the middle of the most festive time of year. Congrats! In order to stay jolly and not become a grinch, there are a couple of key things you will need to keep in mind while navigating the apps and meeting new people during the holidays.
1. Try using different apps
We recently reviewed the top 10 best online dating apps, ranging from apps for real relationship seekers like Match to the more casual hookup platforms like Tinder. Depending on what you're looking for this time of year, try various dating apps and see which one works best for you. Are you trying to celebrate cuffing season by looking for something serious and long-term? Do you want a new friend to serve as your plus one at parties so your relatives can stop asking you why you're still single? Or maybe you just need a casual hookup buddy to pass the time until summer rolls back around. There's bound to be somebody on one of those apps who meets the requirements on your list, whether that list is naughty or nice.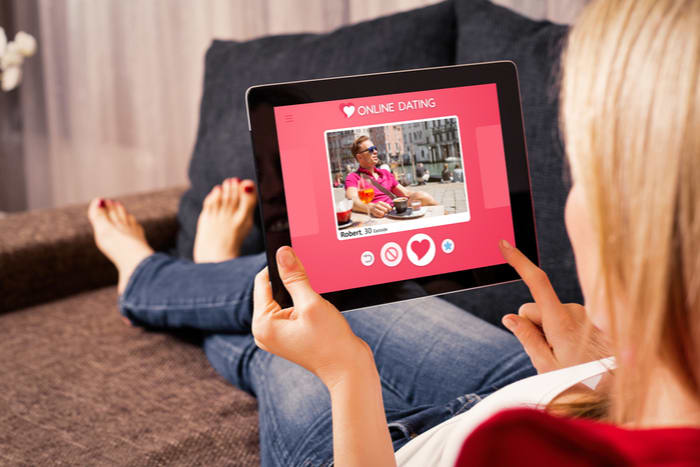 2. Be flexible with your schedule and theirs
The holiday season is filled with all sorts of fun stuff like events and traveling, so be patient if the people that you match with on the apps are busy and don't have a lot of free time to meet you in real life right away. Also remember to keep your own schedule flexible. Don't be afraid to switch around your arrangements to accommodate coffee, drinks, or dinner with someone new. If you do have free time, use it to pencil yourself into their schedule, and vice versa. Coordinating dates a week or 2 in advance can help, if you have the time and patience to wait that long.
3. Stay calm and keep an open mind
Although it's usually known for being one of the happiest times of year, the holidays can be pretty stressful and hectic, and even skyrocket anxiety for some people. It could be a highly sensitive time, especially when you're adventuring all over to make sure that you spend time with all of your family members, bring gifts to your friends, and possibly even travel out of state, too. Be careful not to lose your temper if you're prone to freaking out under the high pressure of the holidays. Prioritize self-care and have an open mind. When you least expect it, you will meet someone who is right for you. Just don't snap on them if they can't squeeze you into their calendar between festivities. Trust the process.
'Tis the Season
Dating during the holidays can be tough, but it seems like there is hope for us single folks out there. Whatever you do, do not give up! Once New Year's is over, everyone's schedules open up again… and apparently, they all flock to dating apps like Match and Zoosk around that time of year to find love or a casual fling. Keep calm, and maybe you'll wind up kissing somebody under the mistletoe this year, or dating somebody who you'll kiss under the mistletoe next year. Then your aunt doesn't have to ask why you're still single ever again.