In a Nutshell
Coffee Meets Bagel offers a slow dating option for those who are tired of fast-paced swiping on other apps. With limited conversation times and fewer matches, if you snooze, you really could lose out on this innovative, women-owned app. With coffee beans as currency and other singles referred to as Bagels, finding a serious relationship could actually be fun.
pros
Slower-paced online dating
Conversation-starting prompts
Profile tips to help you make a good first impression
cons
Limited daily matches
Conversation time limits

Coffee Meets Bagel Visit Site
Coffee Meets Bagel at a Glance
Best For
Serious relationships
Number of Members
10,000,000
Favorite Features
Icebreakers and prompts

Free beans with signup

Activity Report to show insights into other users' activity on the app
Video Chat
Yes, in some iOS markets
How Much Does Coffee Meets Bagel Cost?
While there is a free version of Coffee Meets Bagel, you can upgrade your membership to access several premium features. Coffee Meets Bagel offers four options for a premium membership based on how long you want to sign up for.
The best value available is the six-month membership. The one-month membership is comparable to competitors while the longer memberships are more affordable than the average dating app.
What Can You Do with Coffee Meets Bagel for Free?
On the app's free version, you can upload up to nine photos, create a profile, choose icebreakers and conversation starters, and select up to three profiles to like each day on the Discover tab. You can chat for free with anyone you match with, and you'll get three new Bagels (what it calls matches) every day at noon.
You'll receive free coffee beans–the in-app currency–when you sign up, and you can get more beans by referring friends or following Coffee Meets Bagel on social media. Beans can unlock extra matches, enable you to like more profiles in Discover, and even extend or reopen an older chat.
Premium Features and Upgrades on Coffee Meets Bagel
With a premium membership, you get twice as many quality matches, the ability to see everyone who's liked you, and the ability to set search preferences, which is not available on the free version.
You also get eight Discover Likes a month, three profile Boosts to get your profile in front of more people, and Unlimited Rewinds in case you change your mind about a potential match and want to go back and like them.
With a premium membership, you get a chance to skip the line and see the most popular profiles first. You can get 15% off coffee beans to use on the app when you upgrade your membership. You'll also get read receipts on messages and access to an activity report to see which members usually respond and how often.
You can purchase extra coffee beans in the app. You'll pay $1.99 for 100, $23.99 for 2,000, or $24.99 for 3,000. Use them to get more matches, like more profiles, or extend your online conversations.
How Coffee Meets Bagel Works
Coffee Meets Bagel is pioneering the idea of slow dating. Its algorithm takes into consideration your preferences, location, and type. It claims to be the dating app for those who are sick of swiping. While it offers fewer daily matches, the ones you get are highly curated. It's the quality-over-quantity app for the relationship-minded single.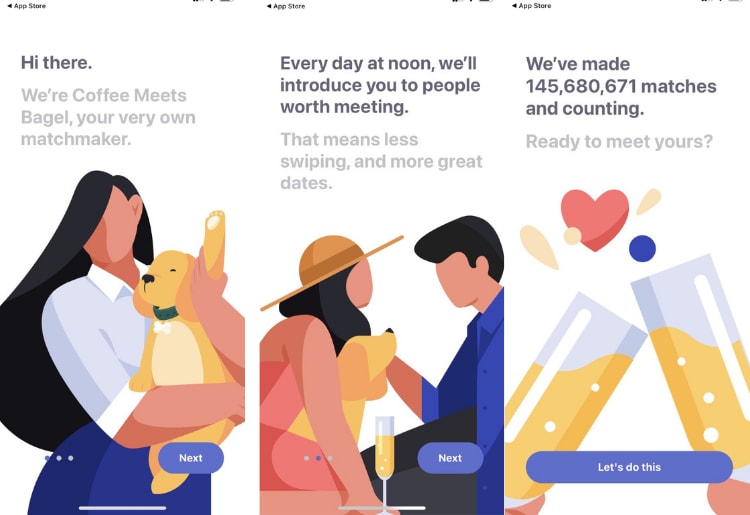 How to Sign Up for Coffee Meets Bagel
Start by downloading the app for Android or iOS. Tap Continue with Phone Number and complete the verification process by entering the four-digit code you received by text or continue with Facebook and verify your account there.
Next, enter your gender, preferred gender to date, date of birth, height, and what kind of relationship you're looking for. Select your education level, job, location, and the type of person you'd like to date, and answer a few basic icebreakers of your choice.
You may notice that Coffee Meets Bagel is one of the most LGBTQ+-friendly apps out there. It contains a comprehensive list of genders and sexual orientations for users.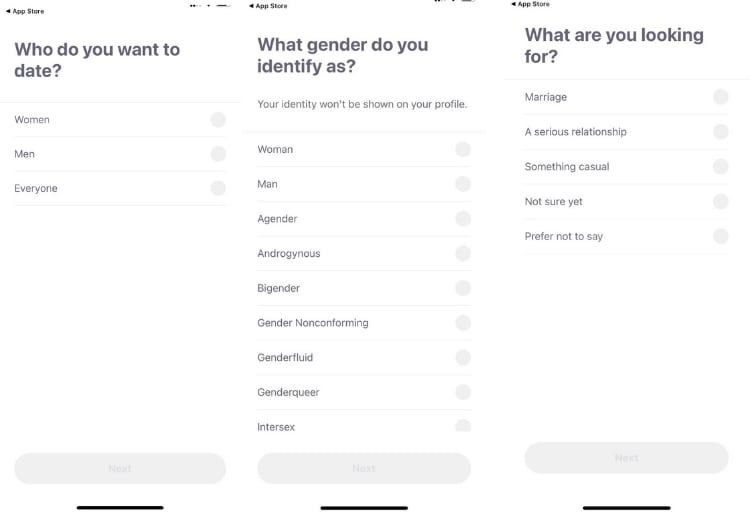 Once you're signed up, complete the rest of your profile for the best possible chance of finding a compatible match.
Setting Up Your Profile on Coffee Meets Bagel
When setting up your profile, you can choose up to five lifestyle, value, and personality preferences each. You can indicate if you want marriage, a serious relationship, something casual, or if you're not sure or prefer not to say. You can also indicate whether or not you want kids, how often you exercise, and if you smoke.
Coffee Meets Bagel enables you to add up to nine images from your phone or Facebook. You'll feature one image in your profile. The app specifies that users with at least five images are twice as likely to find matches.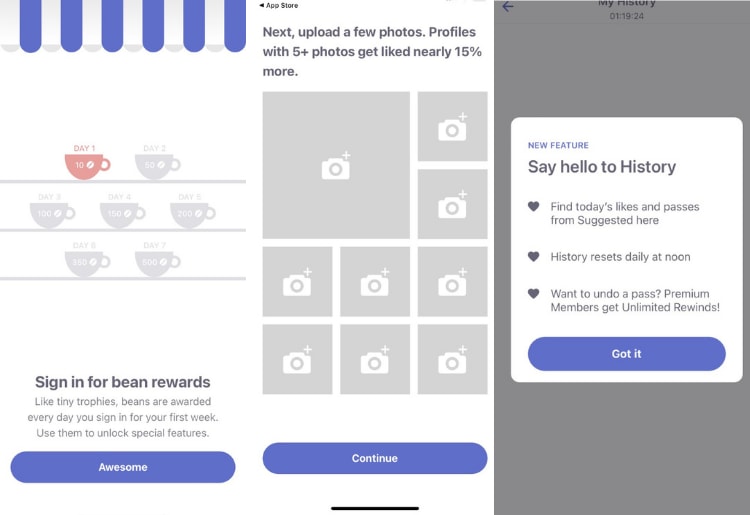 Before you wrap up your profile, you can choose to add a prompt to help start conversations. Adding prompts can help potential matches get to know you. Once you've given a comprehensive breakdown of your interests, you'll want to start looking for your perfect Bagel.
How to Find Matches on Coffee Meets Bagel
Every day, you'll get three algorithm-selected Bagels. You can also go to Discover and search through other potential matches nearby. You'll even have the opportunity to narrow your search by age, height, distance, ethnicity, religion, educational degrees, and if the user has been active in the last 72 hours.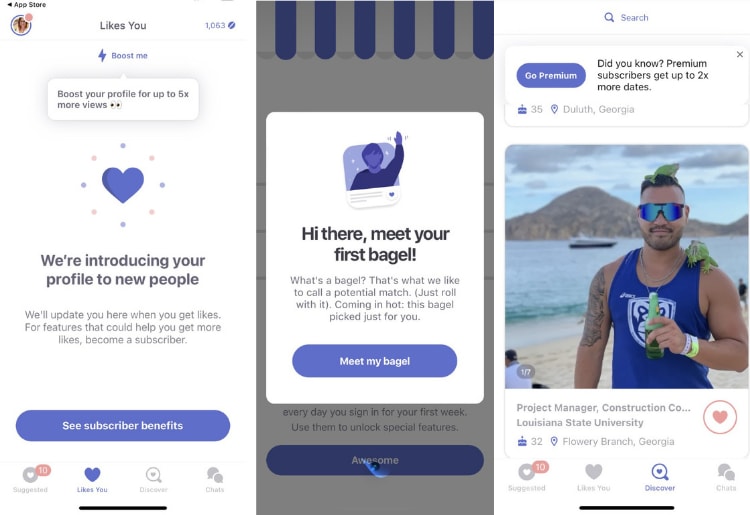 If you've already reviewed your daily matches or haven't yet received any, your homepage on the app will suggest you Check Out Discover. You'll see a shortlist of algorithm-provided matches in your area. Look through the profiles and select the heart emoji for any that you like. If they like your profile, you'll be notified in the app that it's a match.
You can see how many people liked your profile, though you have to be a paid member to see who. Once you match, you can participate in an online chat with your Bagels. Video chats are available in some iOS markets.
You only have seven days to contact a match. Inactive matches will be deleted. You can reopen or extend them by using coffee bean currency.
Safety & Security
While setting up a profile, you'll likely see a message advising you of some basic steps to protect yourself from scams. Cryptocurrency schemes, in particular, often target dating websites. Coffee Meets Bagel provides you with resources to help you date safely online, including a blog detailing the signs of a scam.
In addition, there are clear steps for reporting other members, contact information for requesting a copy of your personal data, and links to various crisis organizations and hotlines. Your phone number is also verified during profile setup as an additional security feature.
You can read the complete Terms, Privacy, and Copyright policy for the full details on how your data is gathered and used for product personalization, app functionality, and other purposes.
Coffee Meets Bagel App
Coffee Meets Bagel is only available in app form on iOS and Android. While a website does exist, it doesn't enable you to date and only contains information about the matchmaking service provided on the app.
You'll find that the CMB app has an attractive, user-friendly interface that makes dating simple. While you won't get the seemingly-unlimited choices of other dating apps, you may find this setup less overwhelming.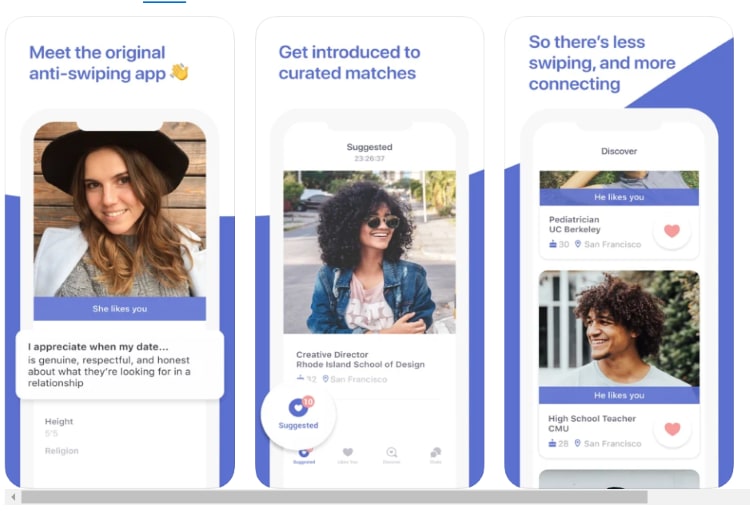 Coffee Meets Bagel Customer Service
Customer service is available by emailing contact@coffeemeetsbagel.com. No average response time is indicated. Sending an email will result in an automatic reply stating that the customer experience team and a support staff member will respond as soon as possible. A link to the FAQ page and a status page for updates is also listed.
The refund policy for this app is more complicated than you might suspect. If you live in Arizona, California, Connecticut, Illinois, Iowa, Minnesota, New York, North Carolina, Ohio, or Wisconsin, you can cancel your account and request a refund within three days of signing up by mailing a signed and dated request to:
Coffee Meets Bagel
Attn: Cancellations
391 Grove St.
San Francisco, CA 94107
Ohio and California residents can make this request via email. If the request is sent within the required three days, a full refund will be returned within 10 business days. Be sure to include your account email to avoid refund delays. In any other state not listed above, payments are non-refundable.
You can also check out the Coffee Meets Bagel blog for more information about the website as well as tips for better, safer, and healthier dating and relationships.
How to Cancel or Pause a Coffee Meets Bagel Subscription
To pause or cancel your subscription, go to your profile, choose Settings, and choose Pause Account at the top of the screen or Delete Account at the bottom of the screen. These options are easy to find and use at any time if you meet the love of your life or simply decide you've lost your interest in Bagels.
How Coffee Meets Bagel Compares to Other Dating Sites and Apps
Coffee Meets Bagel turns the online dating paradigm upside down by introducing a slow dating concept. Instead of endlessly swiping for matches, Coffee Meets Bagel offers a more thoughtful way of finding partners with fewer daily matches and a site geared toward serious relationships.
Casual or serious relationships
Casual or serious relationships
Coffee Meets Bagel vs Hinge
Both Hinge and Coffee Meets Bagel are designed to be used for a short time to find serious relationships, and both cater to a millennial target audience. While Hinge is the more budget-friendly choice, Coffee Meets Bagel has 10 times the users and a slightly broader age demographic with more older users reported than Hinge.
Coffee Meets Bagel vs Bumble
Both Coffee Meets Bagel and Bumble are considered the safest and most women-friendly dating sites out there. Bumble has 10 times more registered users, but Coffee Meets Bagel's users are far more active and the app is more friendly to those looking for long-term relationships.
Coffee Meets Bagel vs Tinder
When weighing the choice between CMB and Tinder, it all depends on what you're looking for.
If you prefer swiping and casual relationships, Tinder might suit you best. If you want fewer matches with more quality in hopes of finding a serious relationship, you should turn to Coffee Meets Bagel. Tinder is bigger and more affordable, but Coffee Meets Bagel ranks as the more serious of the two.
Does Coffee Meets Bagel Work?
Coffee Meets Bagel works as an alternative to more popular swipe-style dating apps. Rather than featuring endless choices, it narrows the field to enable you to select from quality matches in your area.
However, the major benefit is also the major pitfall with the slow dating paradigm giving more quality matches but taking longer to find someone with true compatibility. Coffee Meets Bagel will likely work best for singles who are in no hurry to find a relationship and who have tired of swiping left and right in hopes of finding true love.