In a Nutshell
If you're looking for an easier way of finding dates, Badoo might be just the thing for you. It's the fun and easy way to date online. What's more, Badoo is loaded with features that you're going to love. From live video chatting mode to live "encounters," this is one dating site you're going to want to check out. Badoo also has security checks that make it easier and more comfortable to connect with other singles like you.
pros
High security measures
Cool video chatting feature
Free premium account trial
cons
No sophisticated matchmaking algorithm
Credits automatically renew if you don't specify

Badoo Visit Site
Best for: Singles looking for a fun or serious relationship
User base: Men and women of all ages
Number of members: Approximately 500 million
Recommended age: 18-80 (but really 25-45)
Favorite features: Live video chat
Badoo Love Stories
"I think it's the best app I could ever think of, I've met up with over 12 people so far and I've officially used it above a month's time, give it some patience and break some hearts. You'll realise that there's no better than badoo to get yourself on high peaks" Haru Lori, 03/29/20
"I love this app so much it's fun to use and easy to work. I definitely recommend this." Forever Me, 02/29/20
"I met my husband on badoo..love the app love it" Yumna Isaacs, 02/26/20
"I really enjoy the crazy mess I've gotten myself into with the help of this site. Found my bf on the site!" Jess C, 02/13/20
Signup Process
Signing up for Badoo takes less than a minute. You input your basic info like location, birthdate, and preference for males or females. Then, you can create an account by choosing a password and username.
One additional step that Badoo includes that many other social networking and dating sites do not is the photo verification step. You will be asked to upload a photo of yourself. Then, you'll need to verify that photo by taking a selfie from your phone or home computer. This is a great safety feature in our book, and we give Badoo big points for weeding out the catfish of the world who are just trying to capitalize on other people's desire to connect. Good show, Badoo!
Matchmaking & Search Functions
Badoo has 2 ways of meeting people. You can use either one to find suitable matches and start chatting. Here's a look at both of them:
The Encounters feature of Badoo is similar to a Tinder-type dating style. Here, you'll quickly get profile matches that suit your personality based on shared interests and information from your profile. You can click on the heart to like someone's profile or the X to dismiss it. The nicest part of this feature is that Badoo doesn't set any limits on your Encounters. You can swipe through a thousand potential matches in a single night if you have the stamina for it.
Alternatively, you can search for matches using the People Nearby feature. This section will show up as a grid that you can browse through at your leisure. Profiles will show up in this section if you share similar interests AND they live nearby. One neat feature about this search method is the path mapping. Badoo will actually show you other Badoo members that you've crossed paths with in the past, along with the timestamp and location of your chance encounter.
In general, Badoo does a good job of presenting the profile information in a clean and easy to read format. So, you get all of the details you want without having to dig. Points for clarity, Badoo.
Features & Communication Tools
Badoo has some fun features that we enjoyed using. You can view matches who liked you, people who viewed your profile, and visitors who spent some time checking out your profile. You can also send messages and gifts to other members you like and want to get to know better.
Of course, the best feature of all is the newest one that was rolled out just recently. Badoo is possibly the first dating app to introduce live video chatting into its list of features, and we were excited to try it out in person. The video clarity is excellent, a good start to a great feature. What's more, we're impressed that Badoo is offering the feature at all. Many other dating apps are afraid to provide live video chatting for fear that it would intimidate some users. However, Badoo knows that it is a great tool for those who are interested in using it, and for those who aren't, well, they don't have to use video chatting if they prefer the more traditional SMSing.
Safety & Security
Badoo has several security check features to weed out potential fakers from the real singles looking for love. There's the initial photo verification option that we mentioned earlier. Plus, Badoo has a request a selfie feature. This is not just a fun way to get to know one another. The feature can also help you confirm the identity of your friendly co-member, as well.
Of course, the live video chat feature is another easy way to add security to your dating experience. Aside from the convenience aspect, video chatting with someone is a quick and easy way to find out if they really are who they say they are on their profile page.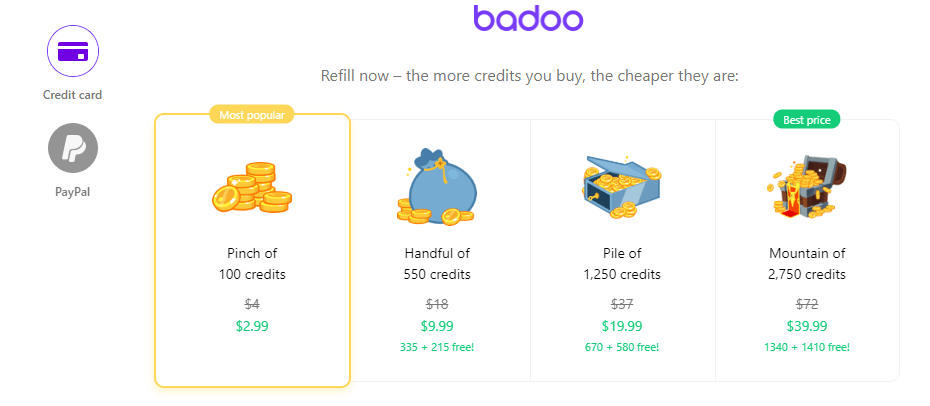 Pricing
Badoo has 2 types of accounts, paid for premium and freebie. The freebie is pretty limited, like most dating apps. So, if you want to do any real connecting, you'll have to pay for premium. Here's what you'll pay for a premium membership:
With a premium account from Badoo, you can unlock certain features, including:
The ability to undo a No vote

Bump your messages to the top of an inbox, so they're read first

View other member's profiles without being seen
What's nice about Badoo is that it lets you try the premium account for free for 3 days. That's not a very long time, but it's a generous offer considering no other dating site lets you test drive their premium option.
Additionally, you can add credits. They come in bundles of 100 credits, 550 credits, etc. and can be used to send messages, gifts, and other fun tokens to other members. Here's what that looks like:
You can use the credits to activate stickers, send people gifts, become a featured member, or other exclusive activities.

Badoo Visit Site
Help & Support
You can reach out to Badoo directly on the website by sending an email ticket with your question to the customer service team. You can also browse through the large FAQ section for answers to the most popular questions.
Find Love on Badoo
Badoo makes online dating a lot of fun. The app is clean and easy to use with swiping and searching functionality to help you quickly find matches. The premium features include invisible mode and undoing previous Nos. Badoo also has some excellent safety features, including photo verification, and the colossal live video chatting feature can be used to get closer and avoid phony profiles at the same time.
UK Pricing Chart