Finding love in the digital era is not easy. I did the research and tried, tested and compared all the dating sites and apps out there—to give you this handpicked list of the top 10 best online dating sites and apps with free subscription.
These are the best dating sites and apps I ranked, in order:
1. Best overall: Zoosk
2. Best for professionals: EliteSingles
3. Best for finding your soulmate: eharmony
4. Best for meaningful relationship: Match
5. Best for seniors over 50: SilverSingles
6. Best for companionship for seniors: OurTime
7. Best for black singles: BlackPeopleMeet
8. Best for hookups: Be Naughty
9. Best for finding an artsy partner: OkCupid
10. Best for first-timers to online dating: POF
Ideal dating app for hookups and fun
Coming Soon
A quirky dating site with heart
Coming Soon
A fresh approach to online dating
Professionals looking for life partners
Finding a meaningful relationship
Seniors looking for companionship
Fast and easy hookups in any city
Finding an adventurous or artsy partner
First-timers to online dating
$12.50
per month for 1-year subscription
$31.95
per month for 1-year subscription
$29.95
per month for 6-month subscription
$19.99
per month for 1-year subscription
$27.95
per month for 1-year subscription
$2.99
per month for 6-month subscription
$10.68
per month for 8 month subscription
25,000
new members each month
Email, IM, wink, superlike
Messenger, likes, comments, photo sharing
Message, video and audio greetings, chat
Chat rooms, private messaging, photos, videos
Message, Quick Message, gifts
Top 10 Best Dating Sites and Apps
Frequently Asked Questions
Which dating apps actually work?
All legitimate dating apps work. The question is: which one works for you? Pay attention to the age, interests, and locations of users to see if a site is right for you. If you're interested in general success, however, larger sites like
Zoosk
and
Match.com
offer the best chances of making real-life connections.
What is the best dating site for serious relationships?
Most dating sites let you filter your matches by relationship goals, so it's easy to find serious singles on any site you're on. That said, Elite Singles is known for its concentration of professionals looking for long-term relationships. Match.com also boasts a high success rate of marriages amongst its users.
Are paid dating sites better?
Yes, paid dating sites are a better choice for a few reasons. For one thing, they offer more features and options to find, message, chat, and connect with real matches. For another, paid dating services typically attract more serious users than free sites, so you're likely to find less spammers and fake profiles.
How to Choose the Right Dating App for You: 4 Questions to Guide Your Decision
1 - What Type of Relationship Are You Looking For?
Before deciding which dating site to sign up for, consider your desired outcome. Whether you're looking to meet interesting people, start dating again after a heartbreak, or searching for that person to start a family with, dating sites aren't a "one size fits all" deal.
No matter what type of relationship you're looking for, there's a dating site or app to meet your needs.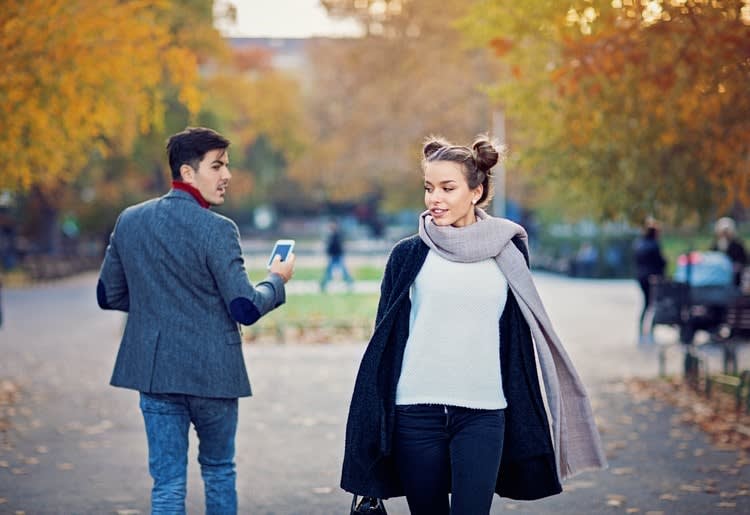 Some dating sites will help you find Mr. or Mrs. Right, while others are better at helping you find Mr. or Ms. Right Now.
2 - Do You Prefer Being Matched or Searching Independently?
Personal preferences matter with online dating—just as they do with offline dating. Some people want to search through profiles before deciding who to chat with, while others feel more comfortable being set up. Luckily, the world of online dating has answers for both.
Matchmaker, matchmaker, make me a match:
One of the major benefits of using a dating site is the ability to filter potential matches according to the values and characteristics that matter most to you. This immediate screening saves time and energy by ruling out people who aren't compatible.
For singles who want to be set up, sites like Zoosk bring matches straight to your inbox on a daily basis. With Zoosk's patented Behavioral Matchmaking technology, the site studies your likes, interests and disinterests to provide the most compatible matches.
The search:
Another benefit of online dating is the options. Black dating sites, senior dating sites, and dating apps for every romantic persuasion are now connecting singles who may have otherwise never met. Using the search filters, you can explore your options based on specific preferences.
Match offers extensive search filters and sorting functionality. Basic filters include parameters such as gender, age, and location, along with more specific fields such as background, interests, and lifestyle.
3 - Which Features Matter Most?
While dating sites all provide singles with the same essential service—a platform to meet new people and find a potential partner—each site does it in a different way.
Compare the features available on the best dating sites to choose the right one for you. Differentiating features include online chat or video chat, safety features like photo verification, and dating games. Choose a dating site that offers the features which are most important to you.
For people with safety concerns, Zoosk offers a photo verification feature to ensure that users are honest, and Match offers offline events where singles can meet up in a group setting.
As you begin your online dating journey, explore the features available on different sites. Use the comparison table above, reviews, and relevant articles to guide your decision.
4 - How Much Will it Cost Me?
Many of the best dating sites for women and for men offer free sign up or a free trial period. However, to unlock all features and communication tools, you'll need to subscribe. Consider the features, matchmaking and search capabilities, and overall quality of the sites as you compare prices. As with most things, you get what you pay for.
Joining a dating site is a smart investment. If you put yourself out there, you won't need to subscribe for long. After all, it's worth it — this is your future and happiness at stake.
Expert Tips
I'm a freelance sex and relationships writer, which means that it's my job to research, try, and report back on all things… wait for it... sex and relationships! I also have a lot of dating experience as somebody who's been single for most of her adult life. I've basically used all of the new, the tried-and-true, the worst, and the best online dating websites.
From one serial dater to you, dear reader, here are 3 expert tips on how to navigate this wild world of online and IRL dating in 2020:
1. Know What You're Looking For Before Signing Up For A Dating App
Think about what you want out of a dating app. Do you want to hookup with someone new? Are you looking for something serious? Maybe you don't need anything specific and you're simply wondering who's out there.
Knowing what you're looking for prior to downloading the most popular dating sites will help you decide which services are best for YOU. You should think about how much money you'll pay to access premium features and how committed you really are to the dating game right now.
2. Be Honest And Clear About Your Intentions With Potential Matches
Start your relationship on the right foot by communicating your wants, needs, and fears before planning to meet someone off a dating app. Honesty also includes featuring recent photos on your profile that actually look like you.
Be true to yourself. Don't catfish anybody. Convey your intentions. Respect people's boundaries. Don't waste anybody's time. We're all just trying to find love out here.
3. You Can't Rush Love
If the timing isn't right or if a match isn't your ideal partner, don't give up. Be patient. As badly as you may want to be with somebody, you can't rush the process.
When you swipe right on someone who makes your heart skip a beat, and they right swipe you too, it'll be worth all of the stress and heartache that led you to that point. Have faith and put in the time and effort involved in dating to give yourself a fair chance at finding a genuine connection.
Summary
The days of blind dates and meeting on the street are over. Dating apps are the easiest way to find a relationship in 2019. They've worked for thousands of couples around the world, and they can work for you too! Test out different websites until you find one that works for you and scores you the type of relationship you've been seeking for so long. We wish you the best of luck in your dating journey.