Today, the options for getting fit and feeling healthy extend way beyond the gym walls. Top weight loss plans and online fitness programs are making it easy to stay physically active and mentally fit even from the confines of home.
There's no shortage of online fitness programs out there, meaning there's something for just about everyone. From weight-loss and conditioning regimens to wellness and yoga classes, online fitness programs, online fitness classes provide people of all stripes the option to stay limber without leaving home. All you need to do is open an app on your phone, tablet, or computer and dive in.
Whether you're looking to continue your fitness journey from home, or just starting out, here are top 6 online fitness programs for slimming down and perking up your body fast:
1. Noom
Pros:
Psychology of weight gain demystified
Total system overhaul (mental, diet, and fitness)
Personalized plans and communications
Cons:
No in-depth fitness workouts
Have to log daily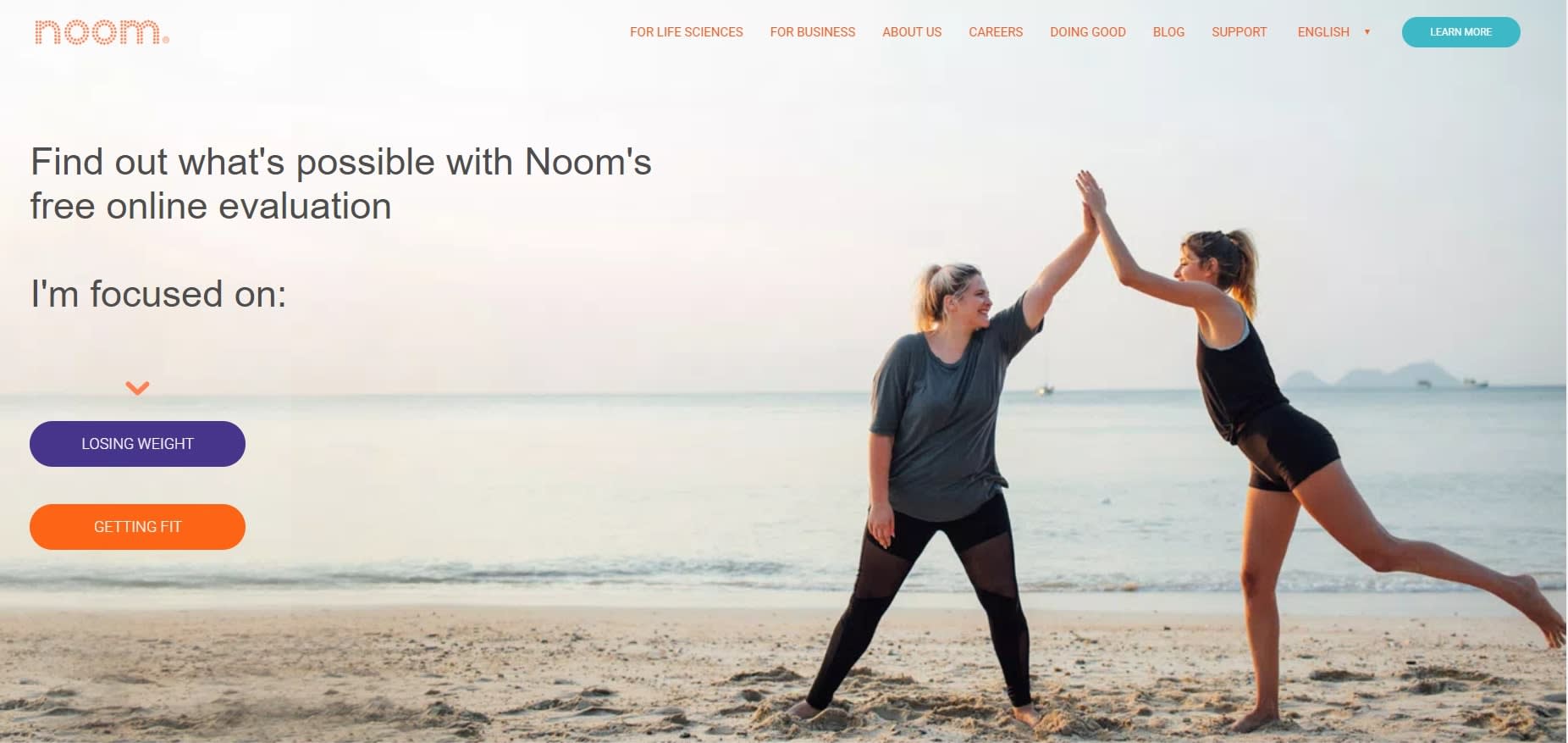 Noom has a revolutionary way to tackle the whole weight loss and fitness dilemma. Using hard statistics, logic, and psychology, Noom unravels the mysteries of diet and nutrition, helping people lose weight and maintain those results in the long run. The online fitness program gives you insightful tidbits about how our bodies store fat, why we get hungry, and other useful nuggets that actually help change the way you relate to food. It's a weight loss program that works from the inside out, and if the almost 50 million subscribers are any indication, Noom really does work.

Noom VIEW PLAN
2. Caliber
Pros:
1-on-1 unlimited fitness coaching
Huge library of HD instructional videos
Personalized fitness and diet plans
Cons:
Pricey monthly membership fees
May have to invest in equipment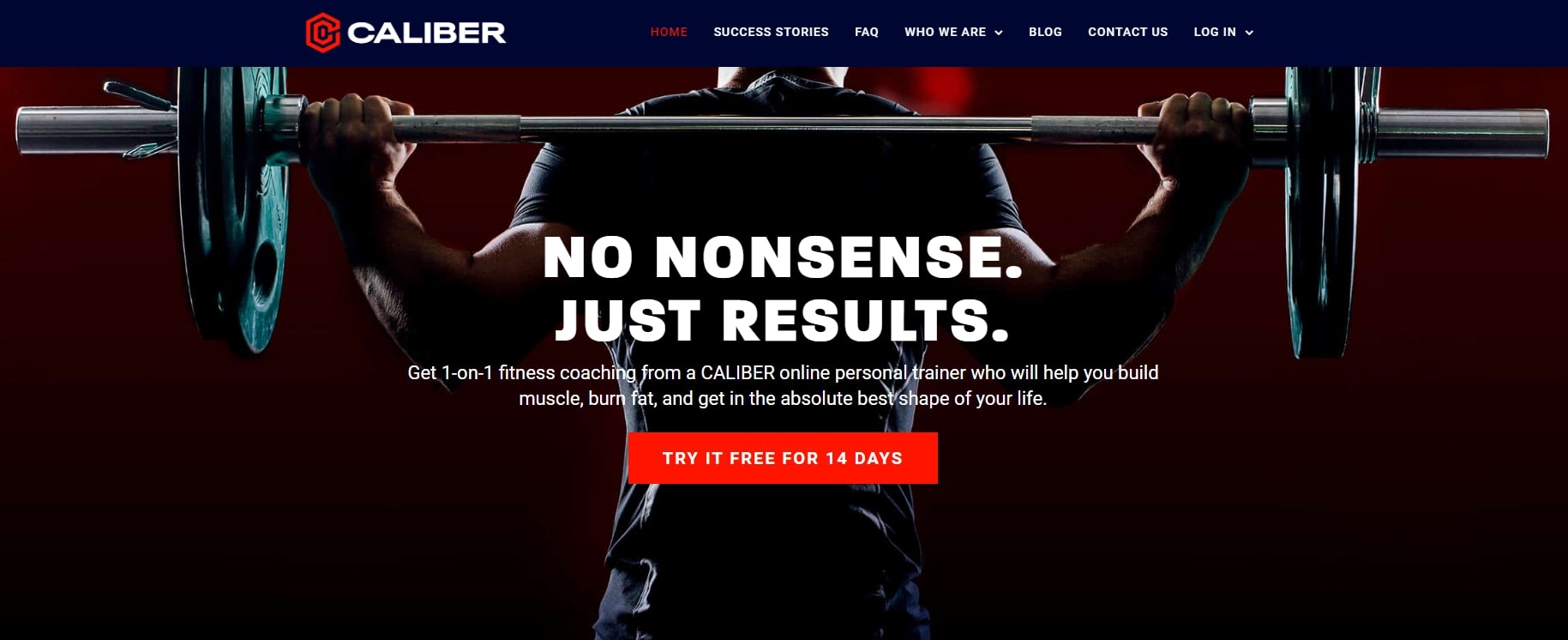 Looking for an intense workout? Or maybe you just need some personal training to get you on the right track? Then, Caliber is a good online fitness program for you. Using 1-on-1 fitness coaching, Caliber helps people achieve their weight-loss and fitness goals by carefully crafting a workout regimen that is suited to their bodies and schedules. You'll get paired up with a personal trainer who will tailor a workout and nutrition plan designed specifically for your goals.
As you go through the program, you'll be in contact with your trainer frequently, so they can check on your progress, modify your fitness plan, and give you concrete feedback. Caliber is the kind of system that really gets results because it gives you the personalized attention you need to make your body move.

Caliber VIEW PLAN
3. Openfit
Pros:
Full fitness and nutrition program
Live interactive personal trainer sessions
Several programs to choose from
Cons:
TV cast workouts don't register on the app as done
Doesn't work well with Apple TV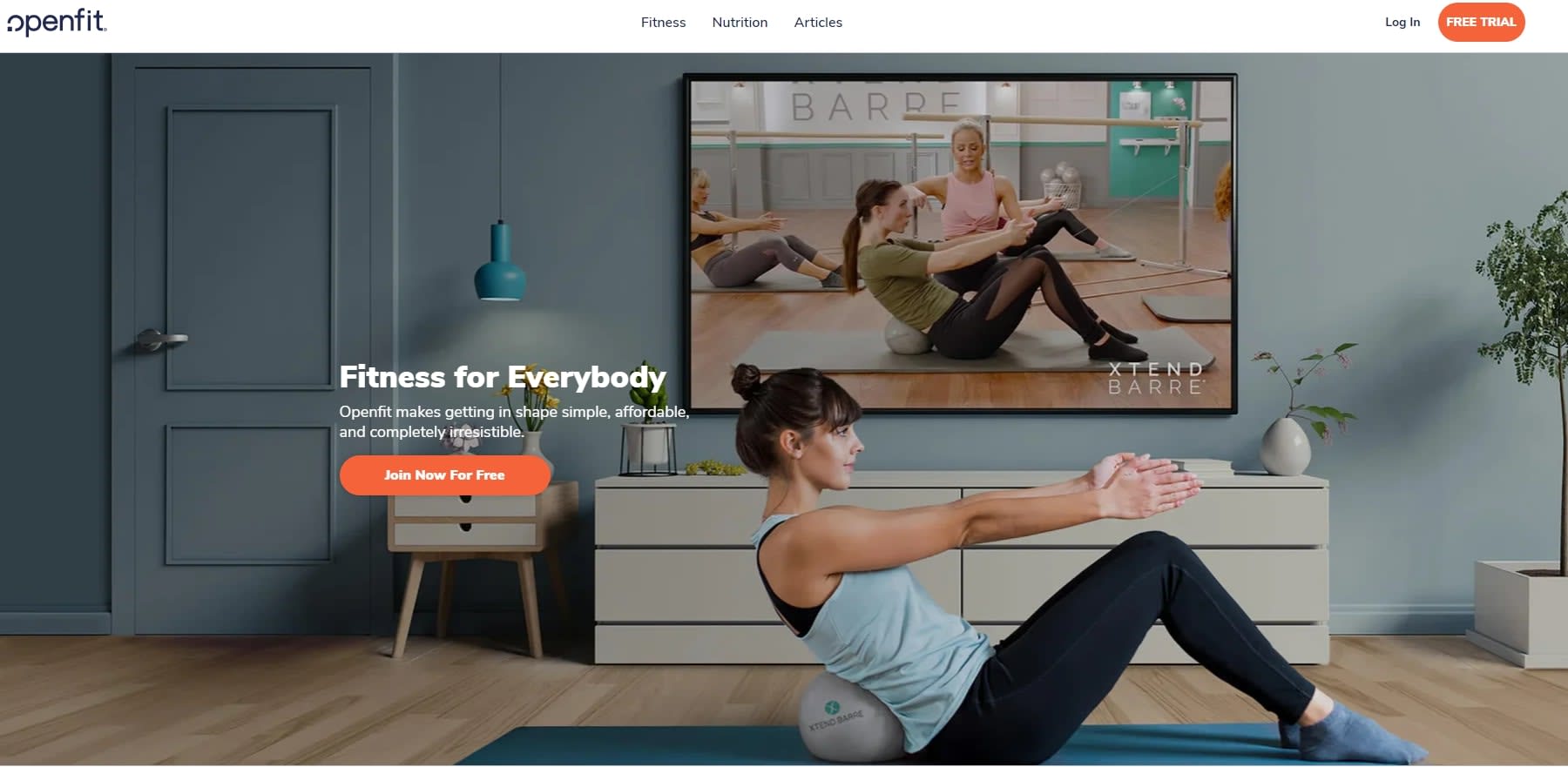 Think you don't have time to get in a workout? Think again. Openfit is here to prove you wrong with its 600 seconds of fitness program. According to the hype, Openfit will help you get in shape even if you've only got 10 minutes a day to spare. If you have a little more time, Openfit also has 30-45 minute videos that cover more of the body systems. The videos can be streamed, downloaded, cast, or played on just about any device you own. What's more, this online fitness program offers live, interactive classes with a professional trainer for a completely tailored experience.
What's nice about Openfit is that it covers both fitness and nutrition. For each workout program, Openfit has a diet plan to fit. And you can get customized nutrition plans to suit your specific dietary needs.
Here's everything you need to know about online fitness programs, how they work, what the difference is between them all, and how much it'll cost you at the end of the day.

OpenFit VIEW PLAN
4. Aaptiv
Pros:
Free app and affordable monthly subscriptions
Wide range of workout series to choose from
Customized workout schedule using AI
Cons:
No videos for the workouts
No diet plan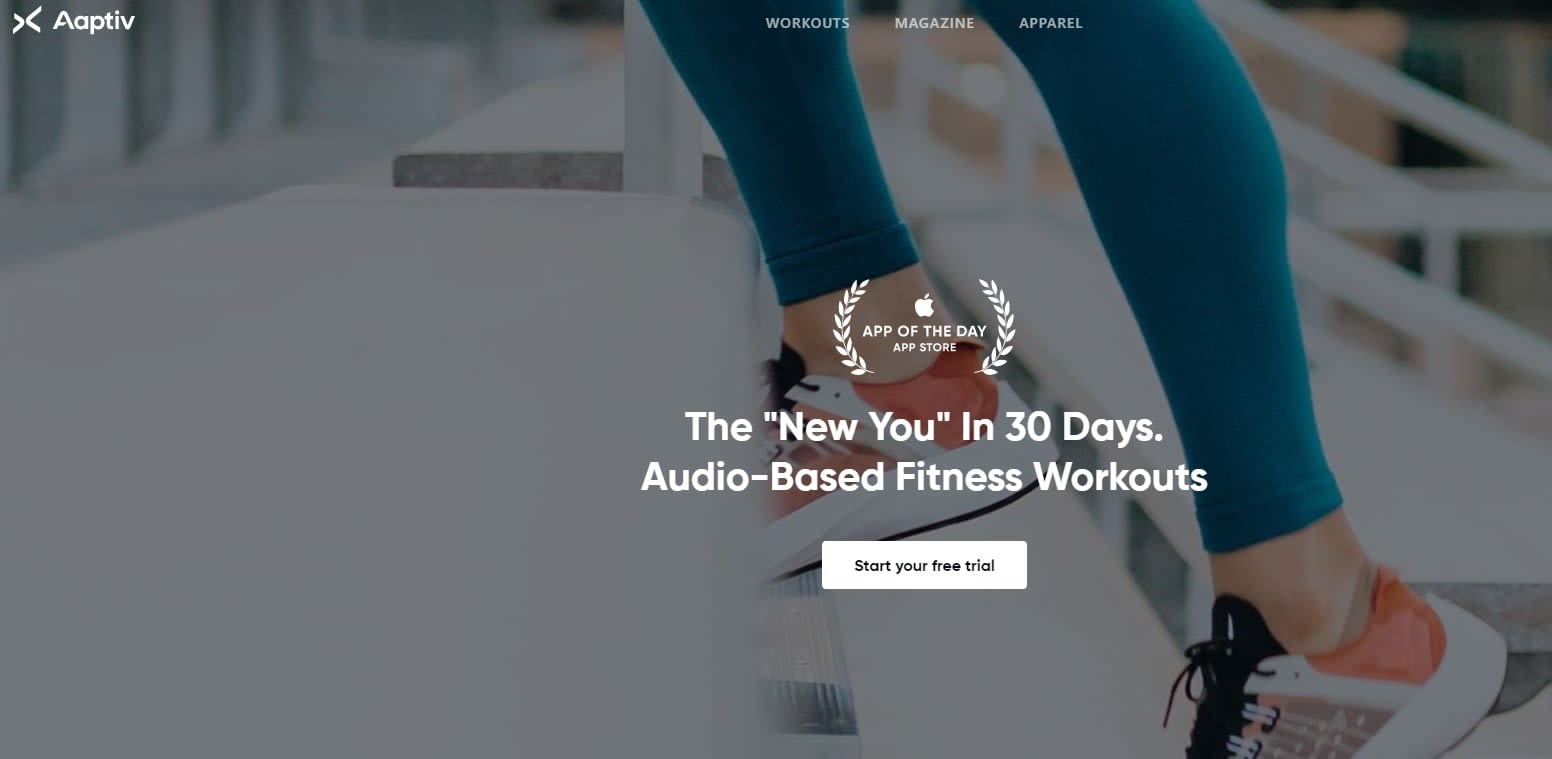 Aaptiv brings effective online fitness training down to an affordable level for just about anyone. At less than $10 a month, most people will be able to swing the membership fees. For this price, you'll get access to a tremendous library (3,000) of audio files that you can listen to for training purposes. Think audio isn't enough to get you moving? Think again. Aaptiv's library covers everything from treadmill exercises to strength training, yoga, and more.
The audio files are organized by fitness programs. You'll listen to a series of workouts based on your workout schedule to complete the program and achieve your desired results. Aaptiv also has a really unique feature called the Aaptiv coach. This is an artificial intelligence-based program that will tailor your workout routine to fit your needs.
5. P.volve
Pros:
Wide variety of target workout plans
Fitness approach that works with instead of against muscles
Won't stress out the body
Cons:
Not effective for serious weight loss or shredding
No nutrition plan, only blog posts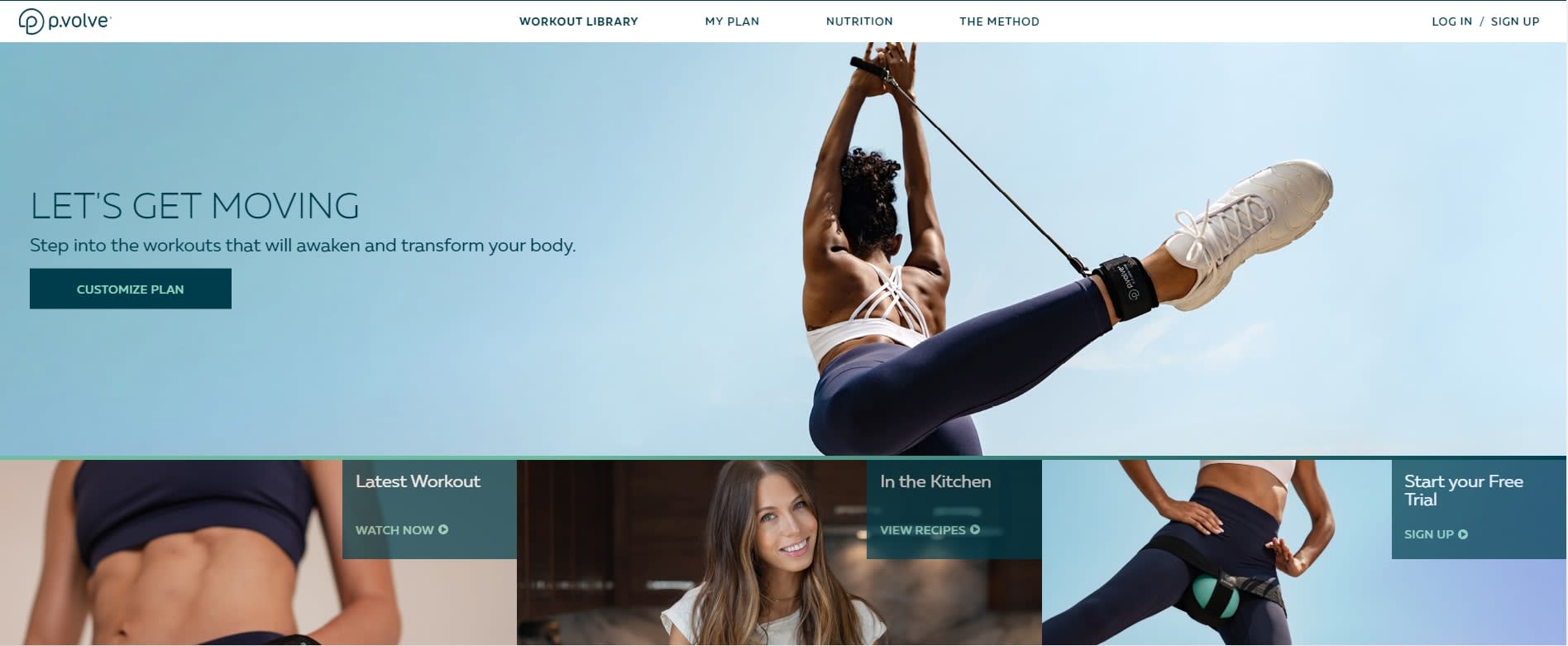 P.volve is more than a fitness program; it's almost a way of life. And a radically different approach to fitness to what most of us are used to. Founder, Stephen Pasterino (where the P comes from), says his life mission is to help women create strong bodies that give them confidence in both how they look and how they perform.
P.volve focuses on movements that work with functional science and your natural musculoskeletal structure. In other words, these exercises are natural movements for your body. So, they're easier to learn and not only won't hurt your body but will strengthen it each time you do them. P.volve fitness is about toning, lifting, and shaping in a gentle, natural way. You'll get access to 150+ videos geared towards training your body.

P.volve VIEW PLAN
6. Livekick
Pros:
Live feedback during video sessions
Affordable plans
Extremely flexible for your schedule
Cons:
No diet plan
May require equipment purchase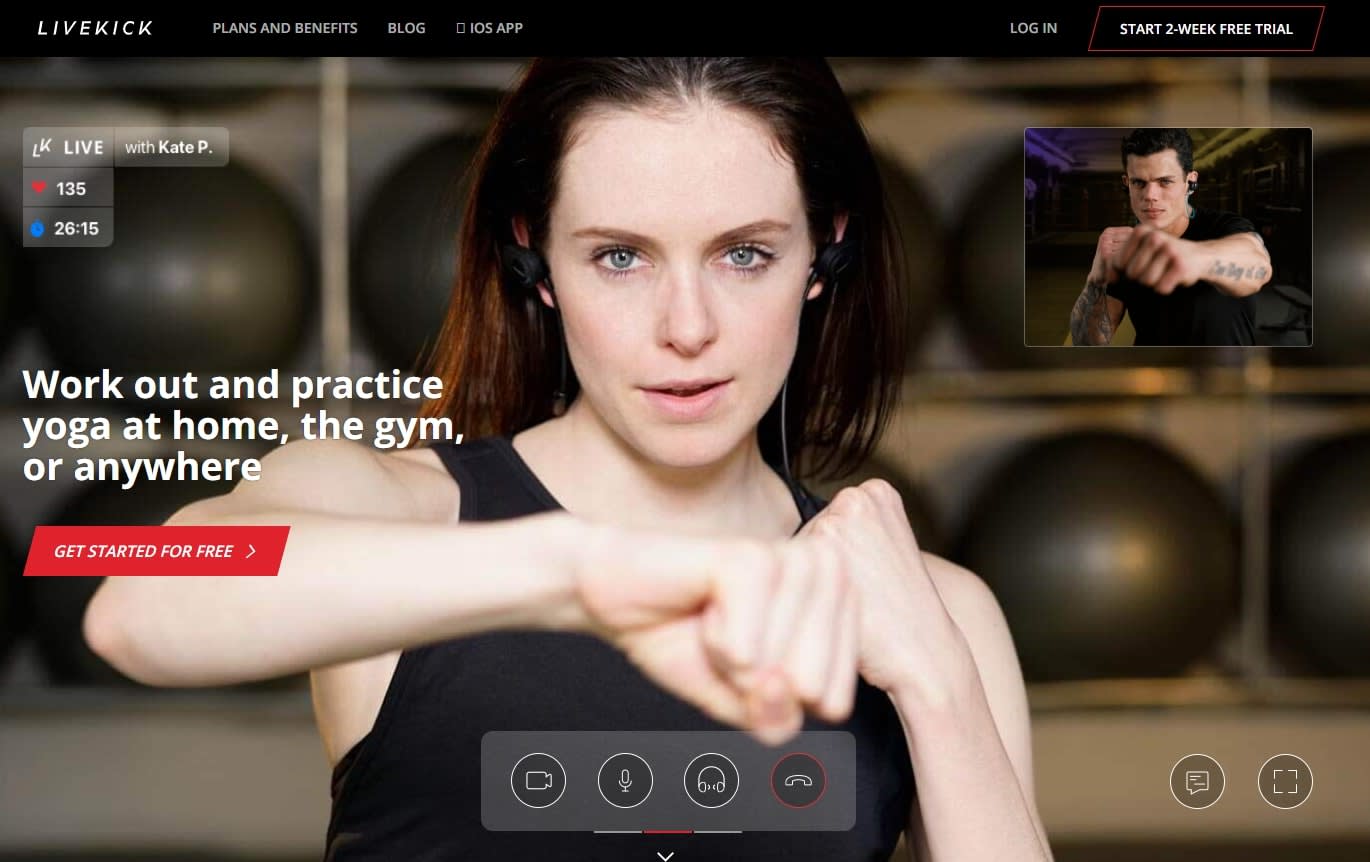 Livekick is a great option if you're looking for professional personal training that doesn't come with a hefty price tag. That's because this online fitness program delivers a personal trainer right to your living room...well, at least, in video form. When you subscribe to Livekick, you'll get a series of 30-minute live sessions with a personal trainer. During these sessions, you'll do a customized workout according to your fitness goals.
While you work out, your personal trainer will be with you over a live feed, so they can see what you're doing, offer guidance, tips, and tweaks, and help motivate you when you get tired. This is the closest thing you'll get to hiring a personal trainer. Livekick is also convenient because you can schedule your workout sessions according to your time table, not a gym.

LiveKick VIEW PLAN
7. Fyt Duo
Pros:
Work 1-on-1 with an NCCA-certified trainer
Workout regimens tailored for you
Biometric tracking via all bluetooth-enabled wearables
Cons:
High monthly cost
No diet plans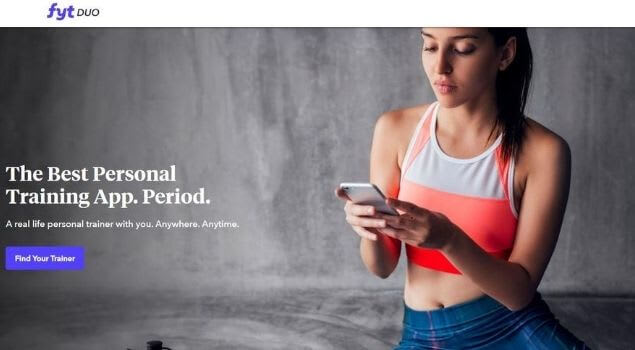 Forget pre-recorded classes. Fyt Duo, an app praised by publications such as Refinery29 and InStyle, offers flesh-and-blood personal trainers who work personally with you through your phone to help you get in shape.
After signing up for Fyt Duo, you'll be paired with your own NCAA-certified trainer. Your trainer will design a personalized workout regimen that you can do from anywhere, taking into consideration your goals, your workout atmosphere, any injuries or limitations you may have, and more. But their participation doesn't stop there. You get unlimited access to your trainer, who is there throughout the process in order to track your progress, make adjustments, answer questions, and provide encouragement.
Another neat feature of Fyt Duo is its collaborative capabilities via bluetooth. Your personal trainer will be able to see your biometric data and track your performance via your Fitbit, Apple Watch, Garmin, Polar, Whoop, or any other bluetooth wearable. This fosters a unique partnership in which your trainer is fully in tune with your progress, allowing them to take real-time part in your journey towards becoming more fit.

Fyt DUO VIEW PLAN
How Online Fitness Programs Work
Like our bodies, online fitness programs vary dramatically in their shape and form. There are a few general categories that all of them fit into, though. These are:
Fitness apps are the general category and also vary in application and services offered. Most of them will contain a library of workout videos for you to follow with training tips and diet plans. They'll also include tools like a step counter, meal logger, and even heart rate monitor. These are your basic fitness program apps, which are available in an affordable price range, and offer a lot of tools if you're looking to lose weight and get in shape.
This type of online fitness program is probably the most intense. It offers workouts with a personal trainer, so you get a personalized program, feedback, and techniques. Some offer a tailored workout regimen that is created by a professional fitness trainer and geared towards helping you lose weight and get fit in the best way possible for your body. Meanwhile, others will go all out and provide you with
real-time training where you'll video chat with your trainer while you do the workouts. These are more expensive since you're getting more personalized attention.
Diet apps focus primarily on the food aspect of weight loss. These will help you meal plan, give you recipe suggestions, and create a shopping list for your next visit to the supermarket. Diet apps usually include a meal logger and calorie counter and may include fitness tips and videos, as well.
Most fitness programs are available for a monthly subscription fee, which gives you access to all of the content for the length of your subscription. Other programs offer you a one-time purchase fee, which gives you unlimited access to whatever material or classes you've purchased.
What You Get For Your Money
As mentioned, different online fitness programs will feature various aspects, and most focus on one feature set over another. Some of the goodies you'll receive might be:
Workout videos. Detailed workout videos help you perfect a technique, get into a routine, and, most importantly, be consistent about working out. You can play the videos whenever you have time, so it really works with your schedule.
Diet plans. As all fitness experts will agree, flat abs are made in the kitchen. Diet makes up the lion's share of the work when it comes to losing weight and getting fit. Online fitness programs provide members with detailed diet plans suited to their needs. You'll find different menus for someone who wants to lose weight or bulk up, someone who is going gluten-free, or someone who wants to be a pescatarian. The diet plan helps you stay on track by eating the right foods that are healthy for you and help get you to your goal. These apps can include recipes, shopping lists, cooking tips, and menu planners for easier dieting.
Personal training. Personal training transforms your fitness journey. It goes from a random practice in hopeful bewilderment to actionable steps towards recognizable goals. The personal trainer can tell you what you're doing wrong and show you how to tweak your diet or exercise program for the best results.
Tracking tools. Tracking tools are convenient for keeping you on track towards your goal. Things like a calorie counter or step counter show you where you might be slipping unintentionally or can motivate you to be more active.
Community. A supportive community is statistically-proven to help people lose weight and maintain that weight loss over time. Community members encourage one another, provide accountability, and offer tips, tricks, and solace when needed.
Flexibility. One of the primary reasons people fall off the fitness training bandwagon is time. People get busy with special occasions; holidays derail our motivation; work makes us travel out of town for a stretch of time. Whatever your reasons, getting to the gym, making it to a class at the same time every week, and putting in a constant commitment just doesn't work for the long-term.
The beauty of online fitness programs is that they are so flexible. You can take them right along with you wherever you go, they can be held in your pocket, and you can pick them up again after a break without any repercussions. Online fitness programs provide the kind of flexibility and ease of use that is required of anything that is meant to stick in the 21st-century lifestyle.
How Much Does Online Fitness Cost?
How much an online fitness program will cost you depends on what you're looking for from the program. Some programs are totally free, and these are great options to kickstart a healthier lifestyle. But if you want to get some real instructions, you're going to have to shell out some cash.
That's not to say it has to break the bank. Many online fitness instructors charge a minimal monthly fee for access to their material. Others will charge more for personalized fitness training or tailored workout plans. Regardless, these programs will run you significantly less than hiring a personal trainer, and you'll still get the same results.
Monthly subscriptions can range between $10-$100 a month, though it varies greatly depending on what you're getting.
Now's the Time to Get Started
Online fitness programs are revolutionizing the way people approach fitness. Instead of being something unattainable, fitness goals are not only achievable, but they're flexible, convenient, and well within our reach. Look for an online fitness program that suits your needs, fits into your budget, and offers the features you are looking for.
Also, make sure to pay attention to the different types of fitness apps we mentioned above since this will make a huge difference in the results you get. A fitness program that primarily focuses on toning and not burning fat won't help you get rid of those love handles. If food is your enemy, you need to try an app like Noom to get into the psychology of eating right. Alternatively, if you need a personal trainer calling you out when your form gets sloppy, opt for something like Livekick or Caliber. And if you're looking for a detailed diet plan, don't settle for a basic fitness app. Go with something like Openfit instead.
Options abound, so you're not limited in your choices. Just do some comparison shopping first, so you get the exact kind of fitness program you want. And then get the results you've been waiting for.