In a Nutshell
Aaptiv's core product is an extensive catalog of sound-only fitness classes that can help you get pumped to exercise without having to pay for a boutique gym class. That's not all though. This platform also includes an AI coaching service that can design training plans for you, so you can enjoy the same benefits of a personalized trainer without the expense of hiring one.
pros
Affordable compared to other digital fitness options
Includes AI personal trainer
Enormous selection of exercises
cons
Audio-only format might be confusing for beginners
iOS app is more reliable than Android counterpart
Aaptiv View Plan
Best for: Runners, weight lifters, yoga lovers and anyone who gets bored while working out
Workout Types: Treadmill, Outdoor Running, Strength Training, Yoga
Support: Live chat and user community
Pricing: $9.99 per month
Special offer: 2 months free with an annual subscription
What's Unique About Aaptiv?
Fitness classes are great. The combination of blaring music and an exciting instructor is highly motivating. But in-person classes can also be expensive and embarrassing if you're not at the same level of fitness as everyone else.
Aaptiv aims to solve that by bringing the experience of a gym class to your smartphone in an audio-only format. It was established in 2015 by Ethan Agarwal, who found it hard to stay motivated while running without personalized instruction.

Through Aaptiv's subscription service, you can access nearly 3,000 audio fitness classes, and Aaptiv personal trainers add 30 new lessons every week. Also, Aaptiv recently launched an AI-based trainer called the Aaptiv coach. With this feature, you can use Aaptiv to generate a custom training program.
The Aaptiv platform stands out thanks to the range of exercise types it supports and because it takes a healthy, wholesome attitude to getting in shape. The Aaptive team believes that everyone should reap the benefits of a regular exercise program even if they never have 6-pack abs and perfect bikini figures.
Fitness Fans Are Raving
"The variety and quality of workouts are great. The playlists pair well with the flow of the exercises. Meditation and stretching are a nice compliment to the heavier stuff." - Diana
"This app has breathed new life and motivation into me. The trainers are amazing, the soundtracks are amazing and the convenience is amazing." - Chris
"I have paid for and compared every single workout app I can, and none is as upbeat, dynamic and effective as Aaptiv. I've lost 15 lbs, got toned, and am now full of positive energy." - Ray

How it Works
With its user-friendly design, you'll find starting your first Aaptiv led workout to be a surprisingly straightforward process:
1. Download Aaptiv: The app is free to install and you can kick things off with a 30-day free trial or by signing up for a membership.
2. Explore the Interface: There's a huge number of disciplines on offer, from Yoga to Outdoor Running. Select your favorite exercise and filter workouts by their difficulty to find one that matches your experience level.
3. Decide how to train: With Aaptiv, you can do either standalone workouts or a series of progressive sessions that will build you up to reach a set goal.

4. Experiment with different guides: Aaptiv has about 15 fitness professionals on staff who lead and select the classes. Each has a different style so you should sample a few classes to find someone you like.
5. Plug in your headphones and go: Once you find a routine you're comfortable with, all you need is a way to conveniently store your device while you exercise.
After you've tested out a few individual sessions or short workout courses, you can kick things up a notch with the Aaptiv Coach system. This uses Aaptiv's smart AI technology to design a custom fitness program.
1. Answer a quick questionnaire: Tell Aaptiv what goals you're working toward. You can add an overall goal such as 'losing weight' alongside specific tips like "eating slowly."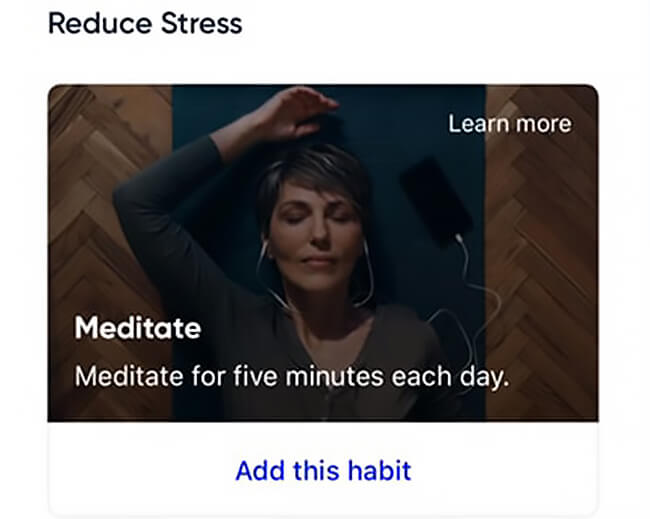 2. Aaptiv will create a schedule for you: In the app, you'll see a digital calendar of activities Aaptiv believes will help you reach your goals. Now you don't need to worry about picking your activities, simply look at today's list and hit "Start Workout."
3. Get encouraged: When you complete an Aaptiv workout or log your own, Aaptiv coach will display congratulatory messages and record your activity streak. Just like a real personal trainer, Aaptiv will encourage you to make long term progress.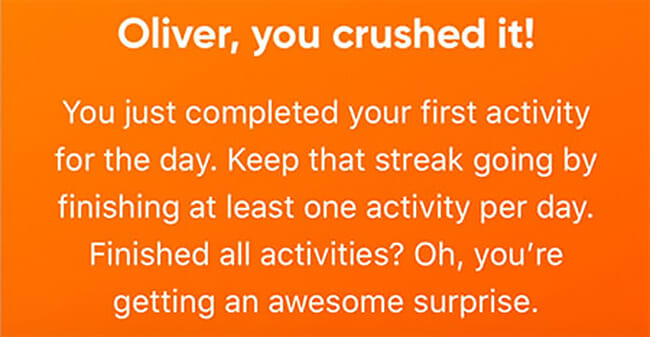 What Workouts You'll Do
After my extensive Aaptiv review, I decided my favorite aspect of this app is the sheer breadth of workout styles and background music playlists it includes. Because there are so many classes, it's easy to find a mix that suits your tastes.
Here are just a few examples of real Aaptiv workouts:
'Tred and Shed' by Jeannette Jenkins: this 40-minute routine is a combination of treadmill running and strength training. At regular intervals, you'll be called away from your cardio to perform muscle-building compound exercises like chest presses.
'Backstreet n Sync': Look, I'm not suggesting this combination of late 90s pop and elliptical exercise will be for everyone. It's just a great example of the kind of niche playlists you can find on Aaptiv.
'Good Morning Yoga Stretch': In less than half an hour this beginner-friendly routine will have you relaxed and ready to start your day.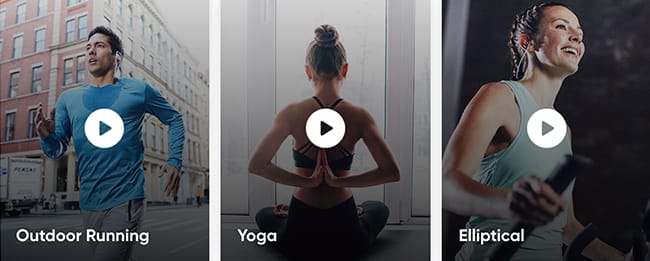 Because this Aaptiv doesn't complicate things with videos, each of the above is audio-only. Essentially, these classes consist of your instructor's voice played over a list of motivational songs. Don't worry if you need a more visual guide. In the app, you'll find numerous visual instruction manuals to help you get the hang of advanced exercises.
Aaptiv Mobile App
Aaptiv is entirely app-based and is available for download on both iOS and Android devices. Though both versions have access to all the same features, it seems that slightly more development time has been put into the iOS version because it's noticeably less buggy. This might explain why Aaptiv is better reviewed on the Apple App Store than the Google Play store.
Aaptiv Pricing
This application is very affordable compared to other digital fitness programs as well as brick and mortar gyms. At the time I carried out my Aaptiv review, it was available for just $8.25 per month with an annual subscription.
Don't feel like taking the plunge immediately? In that case, I recommend taking advantage of Aaptiv's 30-day free trial.
Help & Support
Aaptiv isn't particularly challenging to use. Still, if you do encounter any problems you can turn to the extensive Aaptiv FAQ section where you'll find answers to most common questions. If you can't find the info you're looking for there, you can submit a ticket or start a live chat session with a customer representative.
There's no way to interact directly with trainers so their encouragement is limited to what you'll hear while exercising. However, there is an Aaptiv team feature where you can share progress updates and opinions about classes with other Aaptiv users.
Here's the Skinny
If you're looking for an accessible way to replicate the experience of a personal trainer or boutique gym class on your phone, look no further. Aaptiv's numerous exercise categories mean most exercise fanatics will find it to be a beneficial training aid. However, beginners in need of detailed visual cues are the one group that may do better with an alternative platform.
Aaptiv View Plan