In a Nutshell
Caliber Fitness is an online personal training service that uses hardcore, personalized fitness routines to help people lose weight and get into shape. For a flat rate, you'll get your own trainer who will walk with you through every step of your weight loss and toning journey, so you can get into the best shape of your life. With a user-friendly mobile app, tailored diet plan, and 1-on-1 personal trainer, Caliber delivers long-term results.
pros
14-day free trial
1-on-1 expert training
Videos and exercise instructions based on your needs
cons
Not exclusively a diet plan
No phone support
Caliber Visit Caliber
Best for: People who want to lose weight or seriously sculpt their bodies
Weight loss: Varies based on user
Support: Chat and email
Pricing: $99/month
Special offer: 14-day free trial
What's Unique About Caliber Fitness?
Caliber Fitness is not your typical diet plan. Rather than focusing primarily on the food you eat, Caliber is a strong advocate for fitness and training. Through rigorous workouts, Caliber will whip you into shape, helping you shed pounds and tone your body like never before. The results are in the reviews. Users praise the service to the hilt.
What's more, Caliber is totally personalized. You won't find any other service that offers such personalized attention. You get your own personal trainer who will work directly with you to build a workout and diet plan that works for you. It's the kind of stuff you pay big bucks for at a gym or clinic.
Dieters Are Raving
Caliber isn't for everyone, but it has definitely given many people positive results. Here are a few of the success stories from the program:
"CALIBER has changed my life. I've used many face-to-face personal trainers before but nothing compares to CALIBER. The support, guidance, and motivation are priceless." John Cruce, CALIBER Member Since 2017.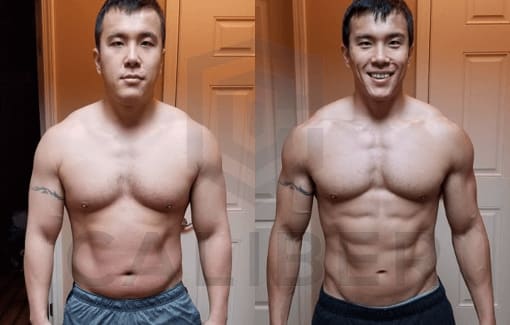 "I seriously believe our time together was an amazing investment and I continuously bring up CALIBER when people around me ask what the secret was to getting this lean. The accountability, tools, and knowledge you've provided have been life-changing!" Steven T.
Lost 36 pounds and got down to 6% body fat.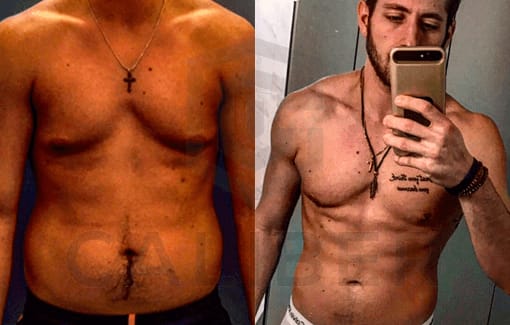 "This is the best I have ever looked and is the first time I've ever been confident with my shirt off.
Very happy with the results." Joe N. Shed stomach fat and built over 10 lbs of muscle.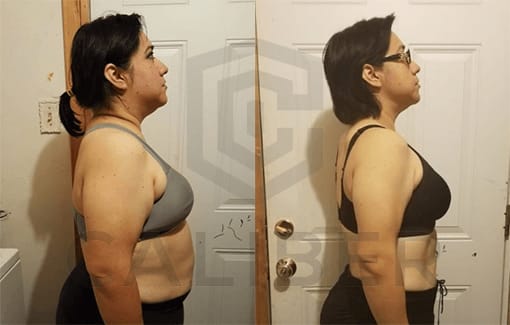 "I have lost close to 40 lbs, 10% body fat and 8 inches off my waist. My level of fitness has increased significantly. The improvement I have seen in myself because of CALIBER makes me want to push myself to work harder with each workout." Iris V. Lost nearly 40 lbs and 8 inches from around her waist.
How it Works
Caliber Fitness is easy to sign up for. You'll tell them a little bit about yourself like your age, weight, ideal body type, and fitness goals. Then Caliber will pair you with a trainer that fits your goals. Enter your payment info, and you'll start your free trial immediately.
Download the app to kick things into gear. The great thing about Caliber Fitness is that your trainer will personalize your workout plan according to you exactly: Your weight loss and fitness goals. Your schedule. Your dietary preferences. Your personality. Even your workout equipment access. From beginners to seasoned weight lifters, gym bunnies to at-home exclusives, busy moms to late shift workers, couch potatoes to the highly motivated. Caliber Fitness creates the ideal program to fit you.
You'll be in touch with your personal trainer via the mobile app's live chat or email functions, so you can send questions, ask for clarification, request motivation, or even just complain. Your trainer is there to keep you on track and help you when you need it.
In terms of workouts, Caliber Fitness really goes the extra mile. You'll get step-by-step instructions on how to do each exercise properly, demonstration videos, and mobile app features to help keep you in line.
Each time you work out, you'll log it on the mobile app. This helps you keep track of what you've done, and it lets your personal trainer keep tabs on how you're doing. You'll even be asked to record videos of your workout routine periodically, so your trainer can see your form and ensure you're doing exercises properly. Initially, this sounded a bit invasive, but it is actually a really smart step towards avoiding serious injuries.
Trainers will measure your progress according to an involved matrix of several factors, including:
Your strength level
Your weight
Your body fat percentage
Your body measurements
What You'll Eat
Another big perk to Caliber is that there are no foods that are totally off limits. You'll create a personalized menu and diet plan with your trainer based on your eating habits, dietary needs, and food preferences. As long as you meet all of your daily nutritional goals, you can eat anything you want.
Mobile App
Caliber Fitness is entirely based off of the mobile app, though you can access your account and materials on the computer if you prefer. This makes the entire process extremely easy and streamlined. You just take out your phone and log a workout, log a meal, or send a quick message. The mobile app is designed to be user-friendly, so everything is fast and easy to use.
Pricing
Caliber Fitness makes pricing super simple. You pay $99 a month. There's only a single plan, so no choices to make. There are also no menus to sift through. You make the food on your own based on your trainers' recommendations and advice. At first, $99 sounds like a lot to shell out each month. But when you realize what you're getting for that amount, it starts to sound much more reasonable. You'll get a personalized trainer that will tailor your workout and diet plan to fit your exact situation, constant support and encouragement, and unlimited plan modifications as you go.
Subscriptions are always on a month-to-month basis, so you are never locked into a long-term contract you aren't happy with. If Caliber Fitness isn't working for you for whatever reason, just don't sign up for another month. This is great if you're going on vacation, dealing with something stressful in life, or just want to take a break from the program. Stop and start whenever you please. It's your choice.
Caliber also has a 14-day free trial. This is a full trial, meaning you get full access to all the features and even a personalized trainer. That's a generous offer that you won't find with most diet and fitness programs.
Help & Support
Caliber is all about support, so it's not surprising that it has good customer support options. For non-customers, you can send an email to the help desk via the online contact form. There is also a helpful FAQ section on the website with almost any answer you might need. Members have direct access to their own personal trainers, so you can get all your questions answered even faster. Trainers tend to answer within a few hours, but no more than 24.
Here's the Skinny
Caliber Fitness is an excellent alternative to pricey personal trainers and gym memberships. The program is totally personalized to fit your fitness goals and lifestyle. You get the program that works for you and with you. Plus, having a personal trainer keep you on track is priceless. The flat rate and month-to-month subscription structure are not only competitive in pricing, but it keeps things flexible, which is great. The mobile app is easy to use, and all the videos will help you with every exercise question you have. Caliber's personal approach is the ultimate way to lose weight and get into shape at last.
Caliber Visit Caliber