In a Nutshell
LiveKick is all about getting in shape on your own terms. The popular fitness training program offers live trainers who will work with you one-on-one from the comfort of your own home. Via live feed video, your trainer will take you through a body shaping journey, and help you achieve the fitness and health goals you've been striving for. LiveKick offers yoga and fitness at-home training that's cheaper and easier than a private trainer.
pros
30-minute sessions of live video with personal trainers
Customized programs for you
Generous guest pass offer
cons
No eating plan available
Pricey for an at-home membership
LiveKick Visit Site
Busy people who want to workout or get in shape
Email, personal trainer live video feed
What's Unique About LiveKick?
LiveKick is anything but your traditional diet or workout plan. It focuses solely on the fitness side of losing weight. But even for a fitness program, LiveKick is pretty unique. Here's what makes this brand stand out:
Live trainer
Part of what makes us slack off in our workout programs is lack of accountability. LiveKick ensures that you have both the accountability and motivation you need by providing you with a live trainer. A real person is there with you in real time, so there's no making excuses, no skipping sessions, and no doing the job partway. Your live trainer will motivate you to keep going when they see you're losing stamina, push you to do more when they see that you're ready, and encourage you to break through barriers that could have been holding you back from getting the body you've always wanted.
What's more, live trainers can watch you doing your routine, so they can see and correct your form if they see you're doing something incorrectly. Considering the fact that wrong form can be ineffective at best and dangerous at worst, this is an invaluable and ingenious way to get real results and avoid potential injuries.
Private training that works with your schedule
The LiveKick program is also highly tailored to fit you and your goals. Not only can your coach adjust your program according to your age, body type, and lifestyle, but she can also work with your schedule. You choose the day and the time slot that works for your schedule, so if you work late hours, you can choose a morning or early afternoon class. If you don't have time on Mondays, you can schedule classes for Sundays and Thursdays. Better yet, there's a flexible cancellation policy. If you need to stay late at work to finish a project, just send a message to your trainer to reschedule. Livekick is particularly good for pregnant and nursing mothers and travelling professionals who may not be able to go to the gym on a regular schedule.
The training is completely personalized to your needs. The intensity level, exercise style, and trainer personality are also chosen to fit your needs and personality. So, you get better results because the program is customized to fit you, not just a one-size-fits-all method. Plus, the personal trainer really cares about your progress. You won't be working with a computer program. You'll be working with someone who truly wants you to succeed.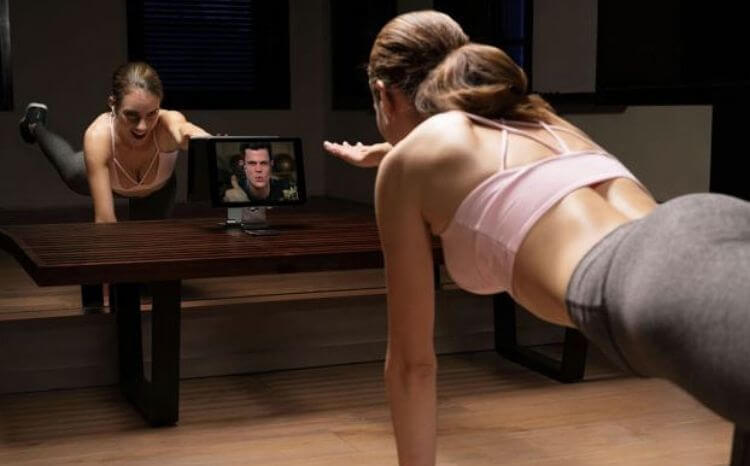 Dieters Are Raving
LiveKick users rave about the program for its convenience, efficiency, and efficacy. Here are some of the success stories from LiveKick fans:
"I am so happy that I have been able to work out from my house. I love going to the gym but sometimes my schedule doesn't allow me to get there. This is just so easy and convenient, it fits right into my schedule and I am finally sticking with it." Kelly R.
"I am not a gym person, I simply don't like the gym. The fact that I can do fitness training from home is HUGE for me. I'm really impressed with how it all works." Dan Y.
"Between work and the kids I kept putting off the gym. Not any time in my day to make it happen. With Livekick I can get my sessions in super quick from my home gym. It's really been so easy to do." Sabrina T.
"Livekick has changed the way I can stay fit - I love how Jillian gives me direction and keeps me accountable. She checks in the day of our session and asks if I'll be in a hotel gym or in my apartment, and writes my workouts based on that. I've even done some of the homework workouts she has sent me to do on days we don't meet!" -- Carrie H., Boston, MA
How it Works
LiveKick sessions are live, interactive video sessions between you and your personal trainer. Here's how it works:
Sign up for LiveKick and create your own profile, including your fitness goals.
Choose how many days out of the week you want to train.
Tell LiveKick where you're located and what time of day you want to train so that they can match you with someone located in the time zone closest to your own out of eight total options.
Choose your own personal trainer or yoga instructor to get started. You'll get a list of trainers that suit your training style, days, and time slots.
Put in your payment info, and your session will be scheduled immediately.
At the time of your session, you and your personal trainer will start the 30-minute video session either on the website or via the app. This is a 2-way interactive video, so you can speak to your trainer directly, and they can see exactly what you're doing. As mentioned, this is a great way for your trainer to help tweak your form and offer guidance that'll get better results faster.
It's a really convenient option, especially for people who are on a tight schedule or never find the time to even get to the gym. Plus, LiveKick requires no equipment, so you save on gym membership and buying expensive gym equipment.
Workouts include calisthenics, weight training, HIIT, and functional mobility training. There's also a yoga training program that works separately. You'll also receive training videos to do on your own in between fitness sessions. This is an encouraging gesture that shows LiveKick is really committed to helping you get into shape, and not just about the bottom line.
What You'll Eat
LiveKick focuses solely on the workout part of the program, so you can eat whatever you want within reason. Of course, if you're chowing down on Oreos between sessions, it'll be a lot harder to get the body you're aiming for. LiveKick has an entire section on its blog with recipes, eating tips, and articles on how you can get the most out of your food intake for real results.
Mobile App
LiveKick currently has an iOS mobile app. It makes working out wherever you are a snap. Plus, you'll get a free tablet or phone stand to secure your device during your workout. The app itself is quite sleek and easy to use.
Pricing
One word of caution. LiveKick isn't cheap. If you want to work out 3 times a month, it'll cost you $319. Of course, that's a laughable amount compared to what personal trainers charge, and with LiveKick, you're getting the same thing for much, much less. On Livekick, you'll pay as low as $19/session. You can expect to pay between $40 and $70 for the same thing in the gym.
There are 3 plans to choose from on Livekick. Here are the pricing plans:
Workout sessions per week

Plans all work on a month-to-month basis, so there is no long-term commitment on your part. You can sign up for 1 month, and skip the next one. You can decide to use LiveKick for a year, take a little break for a few months, and then come back to it when you start to feel the lack. It's nice that there is so much flexibility built into the program.
LiveKick has a 2-week free trial and a special offer for 20% off for three months, so you can try out the trainers, the scheduling process, and the workouts for free to get an idea of whether it's the right fit for you. Just start with the Rise Plan and decide whether you want to continue or even upgrade after your free trial is up.
Plus, you can bring a friend or family member with the free guest pass. You get 2 free guest passes each month, and each pass is equivalent to a week's worth of training. So, if you're signed up for the Elite Plan, you can have your guest work out for free 4 times with you. You can also add a la carte sessions for $27/session to any plan if you'd like to get in an extra workout before a big event, for example.
That's a generous offer.
LiveKick Visit Site
Help & Support
LiveKick support is available Monday-Friday 6am to 6pm ET and can be reached via live chat and email during those hours. Of course, you can also ask your personal trainer questions during your workout sessions.
Here's the Skinny
LiveKick is an extremely effective and cost-efficient way of losing weight through personal training. Having your own personal trainer guide you through workouts is the most effective way to get in shape, and being able to do it from home makes the whole program work even more efficiently. For a fraction of the cost of getting a personal trainer, LiveKick gives you everything you need to really tone, trim, and bulk up to the body you want.