In this guide, we'll highlight the 10 best website builders for photographers in 2023. Our goal is to show you platforms that serve all types of photographers and help you find the website builder that best suits your photography business. We'll also cover the key features you should look for and explain how a photography website can transform your business.
Choosing the Best Website Builder for Photographers
Before we dive into the top 10 website builders for photography, let's take a closer look at some of the key factors you should consider when choosing a platform.
Pricing Options
Price is one of the biggest differentiating factors between photography website builders. Typically, you'll pay between $5 and $60 per month for a website builder. Costs vary widely depending on whether you plan to sell prints online or create private client galleries.
Some builders will even enable you to create a website for free, although you usually have to pay to add your own domain.
Storage
Storage can be a major point of concern for photographers looking to build a website for the first time. After all, high-resolution images take up a lot of space.
Make sure that whatever site builder you choose has enough storage for all the photos you plan to include on your site. Remember that as you add client galleries or new portfolios, the amount of photo storage you need will increase over time.
Photography-Specific Templates
Templates specifically designed for photographers make it easier to launch your website quickly while ensuring that your portfolio looks its best. The good news is that most photography website builders have a variety of templates to choose from. In addition, many all-round website builders also have specific photography templates.
Photo Resizing Tools
One of the best ways to keep your website running smoothly is to resize your photos so that they're optimized for whatever device a visitor is viewing them on. Some website builders do this automatically for you, saving you a lot of work.
In addition, many photography website builders have built-in image editing tools so you can easily make touch-ups to your photos online.
Special Features for Photographers
Website builders offer a variety of other features that are worth looking for. For example, some builders offer built-in email marketing tools to help you reach customers. Others include search engine optimization (SEO) tools to help your website get found in search results. Some builders even have integrations with photo print labs, enabling you to fulfill customer orders automatically.
Breaking Down Our Top 10 Choices: Which Is Best For You?
Now that you know what to look for in a website builder, let's reveal the 10 best website builders for photography:
Squarespace - Best Photography Templates
Wix - Most Flexible Photography Website Builder
Weebly - Best Free Website Builder for Photographers
GoDaddy - Best Email Marketing Features
Jimdo - Best for Getting Online Quickly
Web.com - Easy-To-Use Website Builder for Photographers
Format - Best for Lightroom Integration
Pixpa - Best for Creating Client Galleries
Zenfolio - Best Integrated Printing Options
Duda - Best for Photography Teams
Best Website Builders for Photographers in 2023
1. Squarespace
Stunning templates and excellent flexibility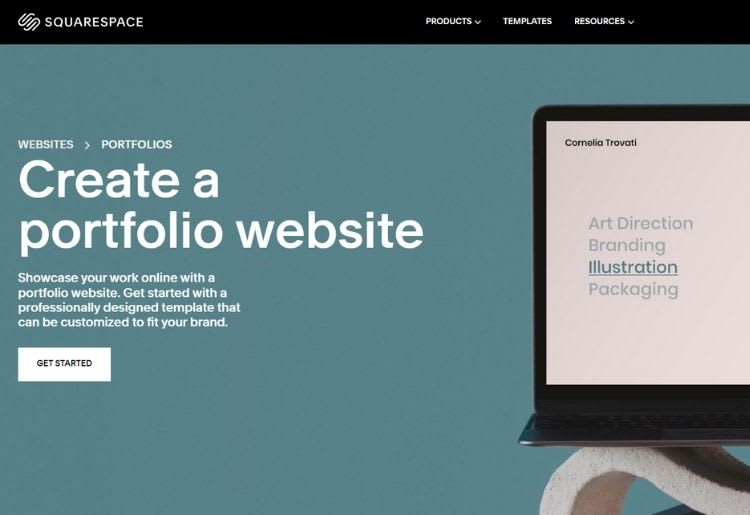 Best for: Showing your portfolio to the world
Price: From $14/month
Free version: No
Squarespace is a general-purpose website builder that offers some of the most beautifully-designed templates we've seen. The platform has several templates specifically built for showing off photography portfolios, but it's easy to turn any of Squarespace's templates into an online home for your work.
All templates come with highly customizable style settings, ensuring that no two Squarespace sites look the same.
Squarespace doesn't offer a free plan, but all websites include unlimited storage and bandwidth so you can show off high-resolution photos. The platform offers Ecommerce features with a Business plan, which starts at $23 per month. All Squarespace websites come with responsive 24/7 customer support.
Pros:
Excellent templates for photographers

Flexible drag-and-drop site editor

24/7 customer support
Cons:
No free plan

Expensive Ecommerce plans

Squarespace Visit Site
2. Wix
Incredibly powerful drag-and-drop site builder
Best for: Photographers who want complete control
Price: From $16/month
Free version: No
Wix is one of the most powerful website builders available to photographers right now. Photographers who want to take full control of how their work is displayed will love this platform. With the Wix editor, you can drag and drop a huge variety of content elements anywhere on your pages. Photos can even overlap one another, which most other builders don't allow.
Wix comes with more than 800 templates as well as built-in email marketing and SEO tools to help you spread the word about your site. You can set up a blog and even sell prints online.
Ecommerce plans start at $27 per month. Wix offers storage ranging from 2GB to unlimited, and all plans include 24/7 customer support.
Pros:
Extremely flexible site builder

800+ templates available

Supports email marketing
Cons:
Expensive plan options

Limited storage with basic plans

Wix Visit Site
3. Weebly
Sell your prints online for free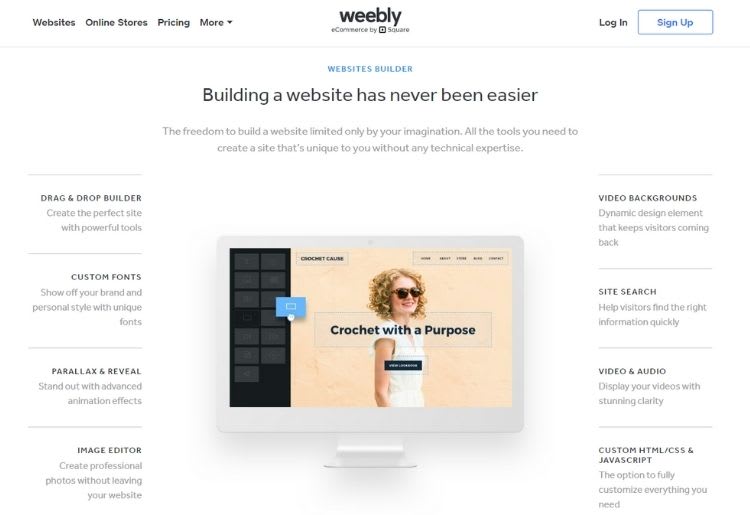 Best for: Photographers on a budget
Price: From $6/month
Free version: Yes
Weebly is a budget-friendly website builder for photographers, but you'd never know it from the platform's capabilities. Weebly offers more than 75 templates, support for Ecommerce, and SEO tools to help your portfolio site be discovered. In addition, Weebly can incorporate your Instagram feed to show off your latest photos.
What's really great about Weebly is that with the builder's free plan, you can sell an unlimited number of photos. You have to upgrade to a Personal plan for $6 per month to add your own domain, but that also unlocks the ability to sell digital downloads of your images.
Pros:
Free plan with Ecommerce support

Integrates with Instagram

Flexible drag-and-drop editor
Cons:
Free plan limited to 500MB of storage

Phone support requires upgrade

Weebly Visit Site
4. GoDaddy
Email marketing and online booking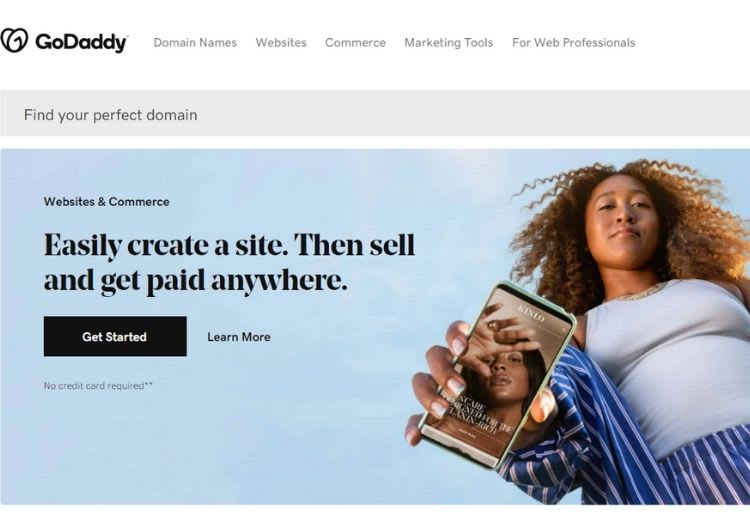 Best for: Photographers who book sessions with clients
Price: From $6.99/month
Free version: No
GoDaddy offers an easy-to-use website builder that comes packed with features to help you run your business. Built-in email marketing helps you connect with your customers and let them know about your latest work. Online appointment booking makes it easy for customers to book sessions. Email and text reminders ensure that clients show up on time.
GoDaddy only has 22 templates available, and only seven of those were built with photographers in mind. They're well-designed, though, and the site builder gives you plenty of tools to customize how your portfolio is displayed. All GoDaddy plans include unlimited storage.
Pros:
Launch email marketing campaigns

Book and schedule sessions online

Unlimited storage
Cons:
Limited selection of templates

Poor SEO tools

GoDaddy Visit Site
5. Jimdo
Straightforward site builder for first-time designers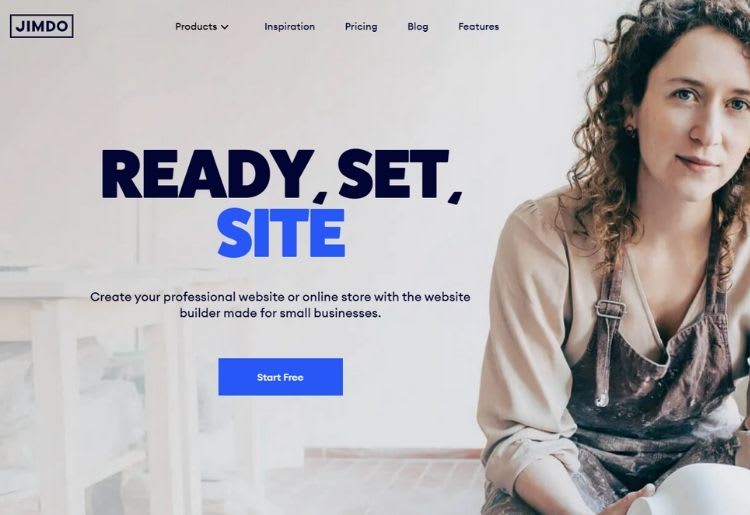 Best for: Making the website design process as easy as possible
Price: From $9/month
Free version: Yes
Jimdo is a straightforward website builder that any photographer building a website for the first time can use. When creating a site with Jimdo, you can choose between picking a template and customizing it or using artificial intelligence (AI) to build a website for you.
The AI design layouts don't offer a lot of flexibility, but you don't have to make many decisions and the whole design process takes only a few minutes.
Jimdo offers tools for SEO, visitor analytics, and selling prints online. Storage and bandwidth are limited for basic plans, and an Unlimited plan costs $39 per month. You can create a Jimdo site for free with 500MB of storage, but you're limited to five pages and cannot connect your own domain.
Pros:
AI-enabled website designs

Very easy to use

Offers free websites
Cons:
Limited storage with basic plans

Customer support takes 1-2 days with basic plan

Jimdo Visit Site
6. Web.com
Incredibly user-friendly site editor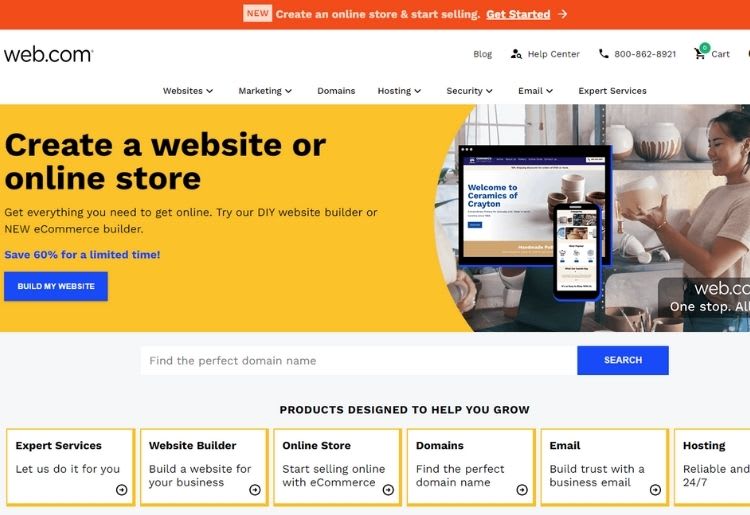 Best for: Photographers who want an all-in-one website
Price: From $4.95/month
Free version: No
Web.com offers a do-it-all website builder with more than 150 templates, a drag-and-drop site editor, and support for Ecommerce. It's an ideal platform for photographers who prefer pre-made content blocks over designing galleries from scratch. Web.com also makes it easy to connect to social media so visitors can explore your newest work.
All Web.com plans include unlimited storage and 24/7 customer support. If you have a Business plan (from $7.95 per month), you also get access to a logo maker and SEO checklists to help your site get found. With an Ecommerce plan (from $13.95 per month), you can sell unlimited products and book photography sessions online.
Pros:
150+ templates

Offers SEO checklists

Online appointment booking
Cons:
Limited design flexibility

Photography templates aren't outstanding

Web.com Visit Site
7. Format
Import photos from Lightroom automatically
Best for: Photographers who update their websites frequently
Price: From $7/month
Free version: No
Format is a website builder designed specifically for photographers. It offers a number of unique features, including integration with Lightroom and Capture One. These integrations enable you to push photos straight from your editing workflow to your online portfolio, making it easy to keep your website fresh.
The integrations are also useful for quickly creating private client galleries after your photography sessions. You can create up to 10 client galleries at a time and even store your photography contracts on the backend of your website for safekeeping. You'll likely need a Pro plan, which supports up to 1,500 high-res images and starts at $15 per month.
Pros:
Integrates with Lightroom and Capture One

Manage your client contracts online

Password-protected client galleries
Cons:
Basic plan limited to 100 high-res images

Only 10 client galleries at a time

Format Visit Site
8. Pixpa
Create unlimited client galleries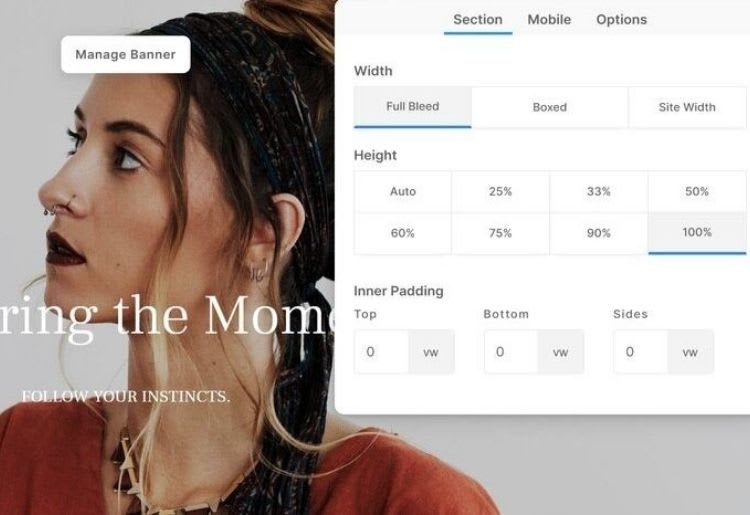 Best for: Sharing photos with clients
Price: From $3/month
Free version: No
Pixpa is another website builder for photography websites that stands out for photographers who need a way to deliver photos to clients. With a Pixpa Expert plan (from $10 per month), you can create unlimited client galleries and fill them with unlimited high-res images. You can also set up user accounts for your clients, controlling who has access to what galleries.
Pixpa lets you sell prints and digital downloads, and you can integrate your site with your favorite print lab to automate the fulfillment process. Integrations make it easy to market your services and add blog features to your site.
Pros:
Client galleries with controlled access

Inexpensive plans

Integrates with print labs
Cons:
Doesn't offer appointment booking

Limited storage with all plans

Pixpa Visit Site
9. Zenfolio
Fulfill online orders using your favorite print lab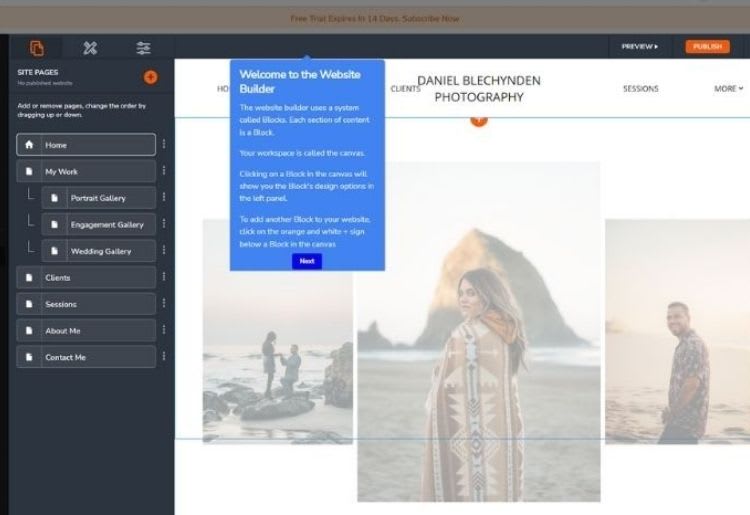 Best for: Selling photo prints online
Price: From $6/month
Free version: No
Zenfolio is a website builder designed to help photographers sell their work online. With this platform, you can sell prints, digital downloads, and custom bundles. You can choose from a wide range of photo labs to fulfill your print orders. Plus, Zenfolio offers online appointment bookings to help you schedule photography sessions.
Zenfolio's site builder isn't as flexible as others we've tested, but it offers 27 beautifully-designed templates and an excellent selection of gallery layouts. Zenfolio lets you store high-resolution and RAW photos on your website. You can even add custom watermarks to protect your work.
Pros:
Sell custom print and digital bundles

Integrates with major print labs

Add custom watermarks to your images
Cons:
Limited design flexibility

Cannot sell via Facebook or Instagram

Zenfolio Visit Site
10. Duda
Manage your photography team online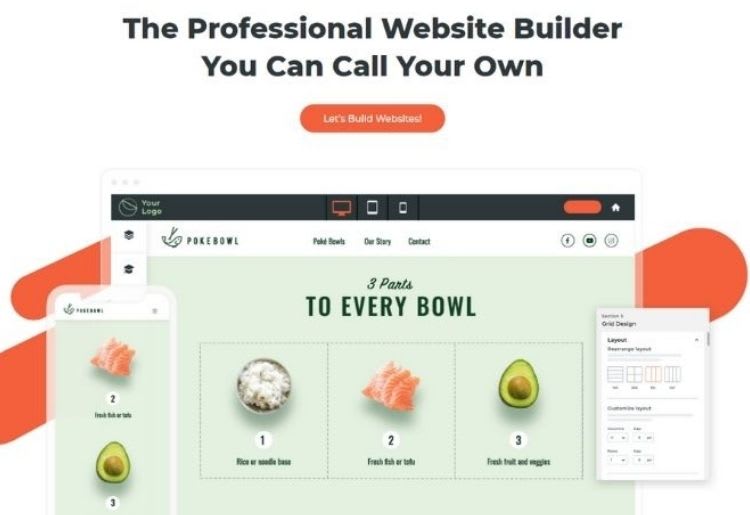 Best for: Teams of photographers
Price: From $14/month
Free version: No
Duda is a photography website builder designed for teams of photographers. All but the most basic Duda plan support multiple users, enabling everyone in your business to collaborate on your website and add photos. You can also set up accounts for clients so they can view galleries and comment on photos.
Duda's drag-and-drop site builder is very customizable, although it does entail a slight learning curve. All sites come with unlimited storage and bandwidth. Ecommerce is available at Duda but must be purchased separately from your site builder plan. Ecommerce options start at $7.25 per month for up to 100 products.
Pros:
Highly customizable drag-and-drop builder

Supports collaboration by multiple users

Unlimited storage and bandwidth
Cons:
Moderate learning curve

Doesn't integrate with print labs

Duda Visit Site
Do Photographers Really Need a Website?
Building a website is one of the best ways to get your photography noticed. With a website, you can display your work to the world, explain what services you offer, and even book clients and sell prints online. A website is one of the best ways to get discovered by potential clients and supercharge your photography business.
Reasons to Build a Photography Website
Showcase Your Exceptional Work
A website is your online portfolio and the first place where most potential clients will see your work. With the right photography website builder, you can show off your best images in high resolution and use eye-catching templates to tell the story of your work.
Expand Your Client Base
One of the biggest challenges that professional photographers face is getting discovered by potential clients. Your website can help you reach a much wider audience than is possible with other marketing tools. Plus, SEO features ensure that when someone searches for a photographer like you, your website is the first one to pop up in their search results.
Streamline Viewing and Purchase of Your Photographs
Even if you have a physical gallery where you display and sell your photos, your audience is limited to just the people in your immediate area.
With a website, however, anyone around the world can see your photos and order prints online. That massively expands your potential market. Some website builders even offer print lab integrations to automate the process of selling your photos online.
How Can Photographers Build an Online Store?
The best way to build an online store for your photography is to use one of the top 10 website builders for photographers.
These builders offer photography-specific templates that are designed to display your images in a way that's sure to catch the eyes of visitors. They also offer built-in tools and payment portals so you can sell prints online and ship them right to your customers' doors.
If you're selling prints online, it's worth looking for a website builder that offers integrations with professional print labs. These site builders deliver incoming orders directly to the printer, who then ships your print straight to your customer. You don't have to do anything to complete a sale, and your customer gets their print as quickly as possible.