In a Nutshell
Pixpa is an affordable and powerful website builder for creating a portfolio website. It especially stands out for photographers and artists thanks to its integration with print labs and support for private client galleries. It also has features for growing your business, such as blogging, marketing tools, and integrations. Pixpa is easy to use and offers decent customization options, but it's not the most flexible site builder we've tested.
pros
Affordable pricing options
Integrates with print labs
Create private client galleries
cons
Storage limited with all plans
Modest design flexibility
What Is Pixpa?
Pixpa is a website builder launched in 2011. The platform caters to photographers, artists, and designers who want to use their website to sell prints and deliver digital images to clients. To that end, Pixpa offers unique features like integrations with print labs, support for private client galleries, and online image proofing and commenting.
Pixpa also stands out for the affordability of its plans. If you just need a basic portfolio website and don't want to sell prints online, you can get started for as little as $36/year and connect your own domain. Pixpa's website builder isn't as flexible as some competing builders, but it's hard to beat the value that this platform delivers.
Using Pixpa
Getting started with Pixpa is very easy. Just give your website a name and select a template, and you'll be brought to your website's dashboard right away. From there, you can dive into the drag-and-drop website builder, set up your online store, manage client galleries, and more. The interface is modern and simple to navigate.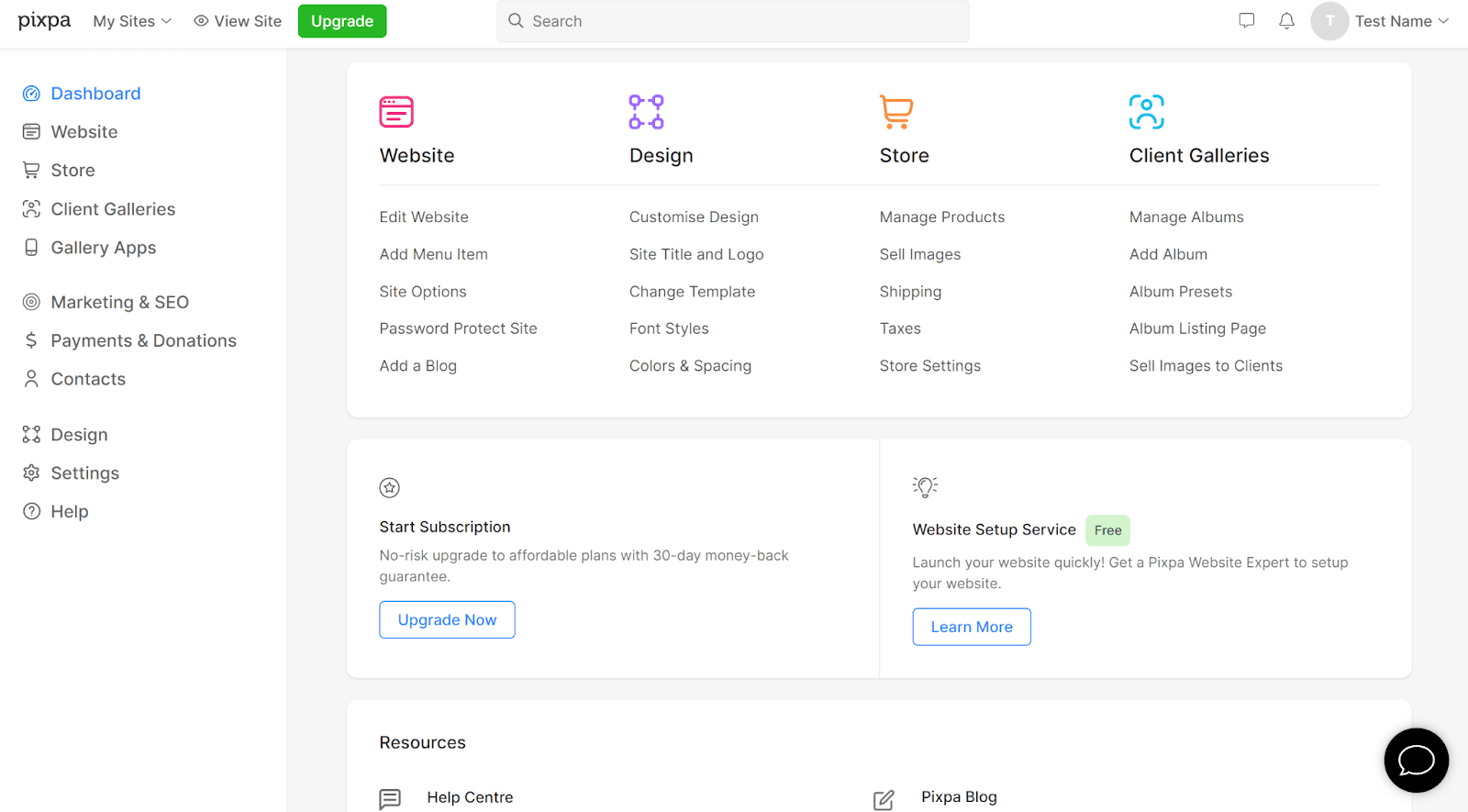 Pixpa Features and Tools
Templates
Pixpa has 100+ templates, all of which are included for free with any Pixpa plan. You can change your template at any time and your content will automatically be adjusted to fit the new template. Pixpa's templates are modern and stylish.
Custom Domain
All Pixpa plans enable you to add a custom domain to your website. In addition, all but the Light plan include a free domain for 1 year. Plus, all Pixpa websites come with SSL encryption.
Client Galleries
Pixpa enables you to create private galleries for your clients. Each gallery comes with a personalized landing page, and you can fully customize the layout of each gallery.
Your clients are able to mark specific images as favorites and to leave comments, streamlining the proofing and editing process. Clients also have the ability to download images in multiple sizes, so you can use your Pixpa website to deliver final images.
In addition, Pixpa makes it easy to transform any client gallery into a mobile app. Your clients can download the gallery app to any iOS or Android device to browse the gallery and share images with friends and family.
How to Create a Website with Pixpa
The process of creating a website with Pixpa starts with choosing a template from the selection of 100+ options. You can change your template later without losing your content, so it's okay to pick any template and jump right into the customization process.
Pixpa's drag-and-drop site editor relies mainly on page sections rather than individual content elements to build your site. The selection of page section options is quite extensive and includes banners, galleries, text sections, contact forms, testimonials, blog feeds, and more.
Each page section has its own default layout. You cannot drag and drop content anywhere within a section, but Pixpa does give you options to realign and resize content. It's not the most flexible solution, so designers who want tight control over the look of their site might find this aspect of Pixpa disappointing.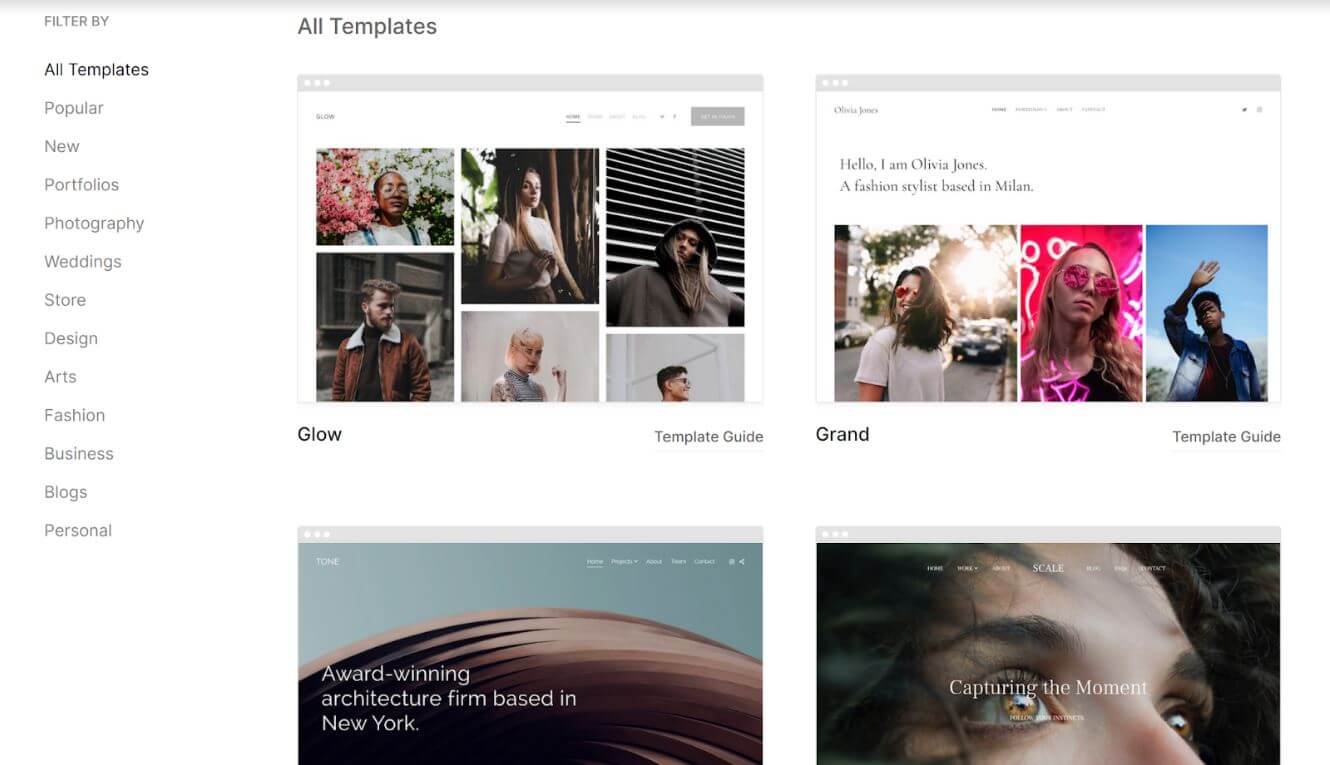 Pixpa does allow you to add some individual content elements to existing sections, but the content options are limited. The only elements you can add are text, images, dividers, or buttons.
Site style options within Pixpa are also somewhat limited. For the most part, you're limited to editing your site's color scheme and the background of each page section. The good news is that Pixpa's editor enables you to access your site's HTML and CSS code with all plan tiers. So, you can make more substantial changes if you're comfortable with some coding.
One thing we liked about Pixpa is that all sites are mobile-responsive. Even better, you can select for each page section whether it should be visible on desktop, mobile, or both. The platform also enables you to set custom padding for each page section on mobile devices. You don't have full control over your site's breakpoints, but these padding and visibility options are more than most comparable site builders offer.
Overall, we felt that the Pixpa site editor will meet the needs of most users. It's very easy to use and the focus on page sections makes the process of building your site fly by. On the other hand, the inability to fine-tune individual content elements can be somewhat frustrating for designers who want complete control over their site. All Pixpa websites are mobile-friendly, and the platform offers a surprising degree of control over your mobile site.
Adding Multimedia to Your Pixpa Website
Despite the fact that many of Pixpa's features are built for photographers and other visual creatives, the platform offers relatively few tools for managing images across your website. The only way to add images is by uploading them directly from your computer—Pixpa cannot import images from cloud storage platforms or social media, or directly from photo editing software like Lightroom. The good news is that you can upload multiple images at once when creating galleries.
Notably, Pixpa doesn't have a media library. If you want to use the same image in two places on your website, you must upload it twice. This is especially problematic since all Pixpa plans come with limited storage space. Uploading the same image multiple times uses up your limited storage. Pixpa also doesn't have a built-in library of stock media.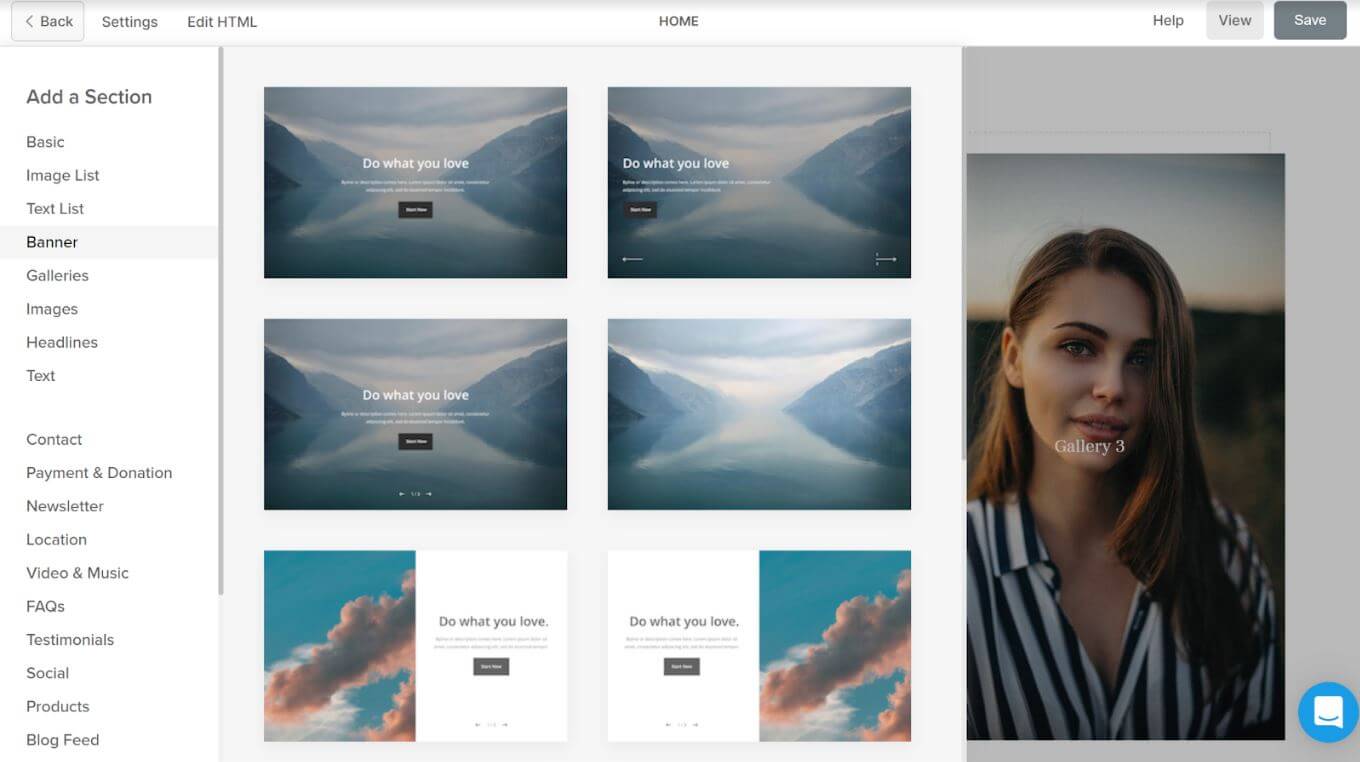 Marketing Functionality with Pixpa Websites
Pixpa offers several basic but highly useful marketing tools. First, the platform supports blogging with all plans except for the Light plan. You can have an unlimited number of posts and add a blog feed to any page on your website.
All sites support integration with social media, enabling users to quickly share your site or follow you on their favorite social platform. Expert and Business plan users also have the ability to add marketing pop-ups and announcement bars to their galleries and other pages.
Pixpa enables you to collect customer names, email addresses, and other data through contact forms. However, the platform doesn't offer built-in email marketing tools.
SEO Functionality & Add-Ons with Pixpa Websites
Pixpa has an SEO center where you can quickly add or edit meta titles and descriptions for your pages. You can also add a title, keywords, and description to all images across your site, although this must be done on an image-by-image basis.
Pixpa doesn't have its own built-in traffic analytics tools. However, you can integrate Google Analytics with any site.
Ecommerce
Pixpa supports ecommerce on all plans except the Light plan. You can sell physical products or digital downloads. Just note that the product tools are designed around image prints, so it may be difficult to sell other types of physical products through Pixpa.
One advantage to Pixpa is that you can set up auto-fulfillment for prints using the WHCC photo lab. With auto-fulfillment, customer orders are sent directly to the photo lab and then drop-shipped in unbranded packaging to your customer's address. Of course, you also have the option to fulfill your own orders.
Pixpa lets you process payments with Stripe, Square, or PayPal. You can set up custom tax and shipping rules for any product and create an unlimited number of discount offers. Business plan users also get abandoned cart recovery and the ability to set up customer accounts.
How Much Does Pixpa Cost?
Pixpa offers 4 pricing plans: Light, Personal, Expert, and Business. All come at a discount when you purchase yearly rather than monthly.
The Light plan gives you access to Pixpa's website builder, but not much else. You can only have 5 pages and 100 images, and this plan does not support blogging or ecommerce. The Personal plan adds blogging, ecommerce for up to 5 products, and support for up to 15 pages and 300 images.
The Expert and Business plans offer unlimited pages and images, plus the ability to create mobile gallery apps for clients. The Business plan also supports abandoned cart recovery, inventory management, and customer accounts.
You can try out Pixpa for free for 15 days with no credit card required.
Pixpa Help and Support
Pixpa offers 24/7 customer support by email and live chat. We were able to get in touch with the support team within 30 seconds using live chat. In addition, Pixpa has a very thorough online knowledge base with hundreds of articles and 4 in-depth video guides.
How Pixpa Compares to Other Website Builders
Email marketing functionality
Built-in and Google Analytics
Pixpa vs Format
Format is another website builder created specifically with photographers in mind. It's more expensive than Pixpa, but offers advanced features like direct integration with Adobe Lightroom and Capture One photo editing platforms. Format also offers an integrated customer relationship management (CRM) platform, so it offers more marketing firepower than Pixpa.
Pixpa vs Zenfolio
Zenfolio, like Pixpa, works with integrated photo labs to offer auto-fulfillment for print orders. It also integrates directly with Adobe Lightroom and offers more storage space for photos than Pixpa. However, Zenfolio doesn't offer as many templates as Pixpa, and it is more expensive for an ecommerce website.
Pixpa vs GoDaddy
GoDaddy's website builder is less focused on photographers and creatives than Pixpa, so it lacks features like client galleries and photo lab integration. However, GoDaddy offers useful tools like online appointment booking and integrated email marketing. GoDaddy is a good option if you find that Pixpa's ecommerce offerings don't cover everything your business needs.
Bottom Line
Pixpa is a capable website builder that works especially well for photographers, graphic designers, artists, and other visual creatives. It stands out for offering unique tools like private client galleries, gallery mobile apps, and photo lab integration. On top of that, Pixpa is surprisingly affordable and provides excellent value if the platform fits your needs.
There are a few drawbacks to Pixpa. The drag-and-drop site builder isn't as flexible as some designers may want, and Pixpa's ecommerce features aren't suitable for selling products other than photo prints and digital downloads. If you need a more adaptable website builder or online store, you may want to consider an alternative like GoDaddy, but if you need a simple, cost-effective way to sell photos and share with clients online, it could be a great choice.