In a Nutshell
Zenfolio is a widely used portfolio builder that's designed specifically for photographers and photography businesses. It comes with a range of tools to help you showcase and sell your work, and the integrated scheduling tool is great. Zenfolio's website builder is quite limited, and you won't have great design flexibility. However, it's easy to use and affordable, making it an option worth considering for photographers to showcase their work.
pros
Easy to use
Customizable client galleries
Integrated scheduling tool
cons
Limited design flexibility
Limited ecommerce functionality
What is Zenfolio?
Founded in 2004, Zenfolio has grown to become a popular niche website builder. It's designed for those who want to create a photo/video portfolio, and it comes with a range of ecommerce, business management, and scheduling tools to help you run a successful business.
The main thing that stands out about Zenfolio is its focus on photography. You can create and share private client galleries, market and sell your work through your website, and create automated workflows to streamline tedious tasks.
Zenfolio also has excellent self-help resources, along with live one-on-one training that can be booked through its website. It's not great for building normal, content-based websites, but Zenfolio is an option worth considering for photographers and visual artists from all parts of the field.
Using Zenfolio
Getting started with Zenfolio is a very straightforward process. You don't have to add payment details to access the 14-day free trial, although you will need to answer a couple of quick questions about your experience and goals before being guided through the website-creation process.
The management dashboard is very user friendly, and you shouldn't have any trouble finding your way around it. Here, you will find integrated tabs for ecommerce, website customization, gallery management, and client scheduling.
Zenfolio Features and Tools
BookMe
Zenfolio's BookMe scheduling tool is excellent. It's available for free with the Pro Suite plan and as a premium add-on with the other subscription options. It enables you to take bookings through your website and comes with various tools for invoicing, payment collection, fulfillment, and client management.
Smart Image Search
Zenfolio also boasts a relatively unique Smart Image Search tool. With this, you can find photos within your galleries relating to specific keywords. This is a particularly useful tool for those with thousands of hosted files.
People Filter
The platform's native People Filter tool makes it extremely easy to sort through large numbers of photos. It uses facial recognition technology to connect images to certain people. Then, you can grant custom access permissions for people to view photos that they (or specified others) are tagged in. This is great for weddings or large events.
How to Create a Website with Zenfolio
When you create a new Zenfolio account, you will be asked to choose a template. There are only 11 different designs to select from, and these are all quite similar and plain-looking. On the plus side, however, all templates are mobile optimized and responsive, and you can switch designs at any time.
There is a Zenfolio mobile app, but it doesn't enable you to edit your site's design. However, it does let you upload photos from your mobile device, manage galleries, and keep an eye on client orders.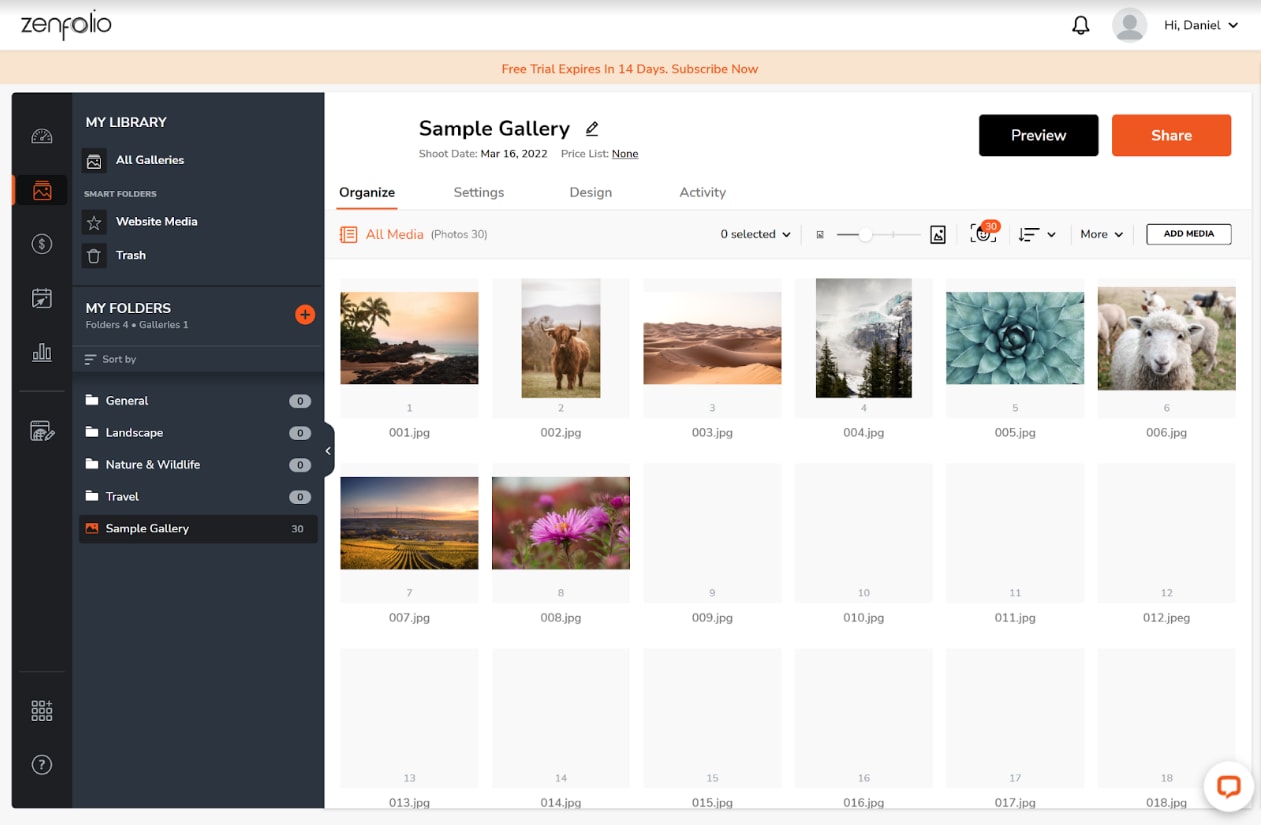 The editor itself is very basic, but at least it's intuitive and easy to use. Zenfolio takes a section-based approach to website building, which means that you can add new elements to any section on the page. However, you will be quite constrained by pre-coded layouts.
You can add sub-pages, which will appear as sub-menu options on your website. The Design tab enables you to switch global color, font, and button appearance settings. Clicking on an element opens up a suite of other basic customization options.
Once you're happy with your site's design, you can preview it before clicking the publish button. You will have a free branded Zenfolio subdomain to begin with, but you can connect a custom domain if required. Exporting your site to another platform isn't possible.
Adding Multimedia to Your Zenfolio Website
The only way to add media to your Zenfolio site is from an existing gallery, which we found a little frustrating. You can upload multiple files at once, but the only supported file formats are JPEG, PNG, GIF, MOV, MP4, and HEIF.
Video hosted on YouTube or other third-party platforms can be embedded by adding a video block. There are no stock photos or connections with other image-hosting platforms. We would have liked to see a little more here considering Zenfolio is targeted at photographers.
Marketing Functionality with Zenfolio Websites
Zenfolio boasts integrated email marketing with its 2 most expensive plans. This works quite well, and there are a number of pre-built campaigns that you can get started with. Various metrics are tracked to help you monitor how successful you are. However, blogging functionality is completely absent, and the only social media integration is with Instagram.
SEO Functionality & Add-Ons with Zenfolio Websites
Zenfolio is 100% mobile-friendly, which is great for search engine optimization (SEO) purposes. However, its native SEO tools are quite limited. You can update your meta description and meta title, add alt text to images, and specify the appearance of your social media preview, but that's about all. There's no way to integrate Google Analytics or any other third-party platform, and there are virtually no native stats or reports.
Ecommerce
Zenfolio does offer ecommerce, but it's heavily tailored towards selling photos and similar products. You can create price lists and attach them to galleries, enabling clients to select the prints they want. Digital downloads are also available. However, don't expect to sell things like merchandise or other physical products, as you won't be able to. Very basic store analytics are available, but they do little more than track visitor numbers and sales.
How much does Zenfolio cost?
Zenfolio offers 3 subscription options and a 14-day free trial, but there's no free-forever plan. The cheapest Portfolio plan costs $8 per month ($6 with annual billing) and includes 15GB of photo storage, support for 25 hosted videos, and a single-page website.
The Portfolio Plus plan ($18 per month, $15 with annual billing) adds support for a multi-page site, ecommerce, and significantly more photo and video storage. And with the Pro Suite subscription ($36 per month, $30 with annual billing), you will get advanced ecommerce tools and a neat scheduling integration.
All annual plans were available at 50% off for the first year at the time of writing.
Introductory price per year
Zenfolio Help and Support
Zenfolio's live support is quite limited. Live chat is only available from Monday to Thursday, 6AM to 5PM (PST). Anytime you attempt to contact the company outside these hours will result in an email support ticket being lodged. It can take some time to get a reply, so don't expect serious issues to be resolved quickly.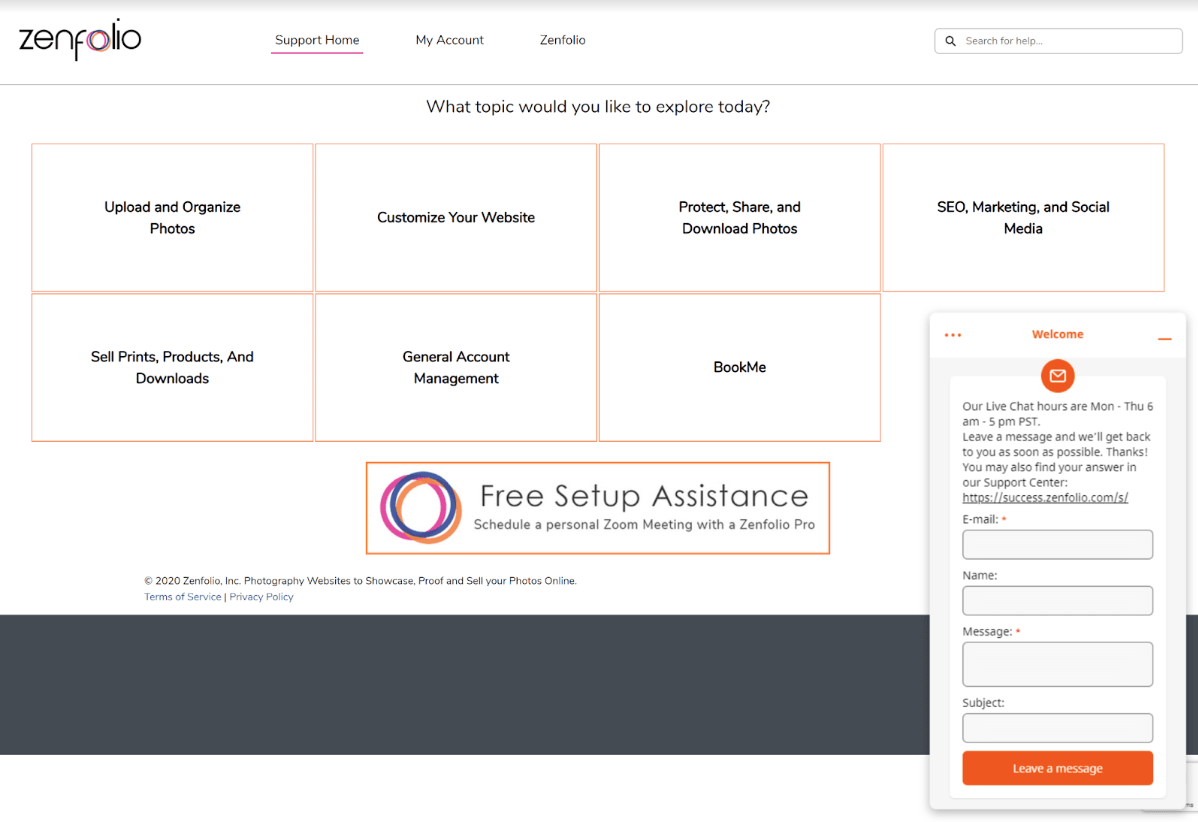 When you start your first website, you will benefit from loads of pop-up tips and tricks. There's a decent Support Center that contains excellent step-by-step guides, along with a regularly-updated blog. Most impressively, you can book one-on-one training with a Zenfolio specialist if required—without having to spend a cent.
How Zenfolio Compares to Other Website Builders
Email marketing functionality
Zenfolio vs Wix
Wix is arguably the world's most powerful website builder, which means that it's great for everything from ecommerce sites to blogs. Zenfolio is much more simple, as it's targeted purely at photographers. Zenfolio is significantly cheaper than Wix, although Wix's free-forever plan is attractive.
Zenfolio vs Format
Zenfolio and Format are both designed for building photography portfolios, and both have their pros and cons. Zenfolio is easier to use, but its online store and customer management tools don't compare to Format's. Format also enables you to create a blog.
Zenfolio vs Pixpa
Pixpa is another specialized portfolio builder. It's slightly cheaper than Zenfolio, but it has no customer management tools at all. Though it has no email marketing functionality, its blogging tools are great—although they're only available with an upgraded subscription.
Bottom Line
Zenfolio is a niche website builder designed specifically for creating photography portfolios, and it does this well. Its editor is quite basic and the template selection is dismal, but it remains a functional, easy-to-use option for beginners. Additionally, the integrated galleries are neat and make organizing your photos easier than ever.
Zenfolio is also quite affordable, with its cheapest plan starting at just $6 per month. The ecommerce tools are limited to selling your photos, and you won't be able to create a blog. If you want to build a simple photography portfolio, Zenfolio could be the right option, but it's virtually useless for anything else.