In a Nutshell
Format is a specialized website builder that's designed for visual art and photography portfolios. It has a load of neat templates that you can base your site on, but the editor is quite inflexible and offers few customization options. Format is quite easy to use, making it a good option for beginners. Annual subscriptions are affordable, and there are various e-commerce and other tools to help you manage your business.
pros
Specialized portfolio creation tools
Great features for photography websites
Very attractive templates
cons
Limited design flexibility
E-commerce and blog tools are basic
What is Format?
Format is a website builder designed for photographers looking to showcase their work. It was founded in 2010 and has slowly grown in the years since to become a leader in the portfolio building world. Along with its website-building tools, Format also offers a selection of workflow tools to help you manage client relationships.
The main thing that makes Format stand out from other website builders is its focus on photography portfolios. It boasts a selection of self-help articles and tutorials to guide you when you're getting started.
If you want to build a normal website around content or e-commerce, Format isn't the right option for you. But if you want to build a portfolio to showcase and/or market your photography or visual art, it's an option worth considering.
Using Format
Signing up with Format is a very straightforward process. You can access the free trial without entering your credit card details, and you can simply connect your Google or Facebook account to sign in. You will need to select a theme before you can access the main dashboard, but you can always change this later.
The main management dashboard is very simple. You will initially be presented with a simple list of steps to take to launch your portfolio. There are tabs on the left of the screen that enable you to manage your store, blog, marketing campaigns, and more. Overall, you shouldn't have any issues using Format.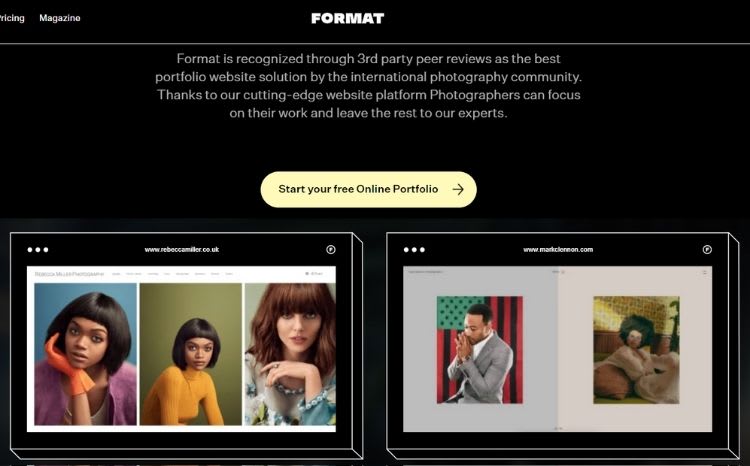 Format Features and Tools
Customer Relationship Management Tools
Alongside its website builder, Format offers a suite of customer and workflow management tools aimed at photography business owners. For example, a neat client tracker enables you to store client details, project information, and other important data. You will be able to send client contracts directly from your dashboard, and there's a nifty tool that enables you to securely transfer up to 10GB of photos at a time.
iOS App
It's rare for a website builder to have a functional mobile app that enables full site management, but Format does it well. Its app is only available on iOS devices, but it enables you to create and manage gallery and collection pages, monitor and update your blog, and upload photos directly from your mobile device.
Client Galleries
As a photography-specific portfolio builder, Format enables you to create private client galleries for sharing. Clients are able to leave feedback, you can enable downloads if you need to, and no one will be able to access them without the password. You can also add watermarks if required to prevent unauthorized use.
How to Create a Website with Format
When you begin creating a new Format website, you will be guided through a simple 7-step process. There are 73 templates that you can select from, covering everything from simple photo portfolios to advanced business websites.
You will be asked to select a template during the sign-up process, but this can be changed at any time. All designs are fully responsive, and you can even edit and manage your site via the iOS mobile app. You can also view and edit the mobile version of your site with the desktop editor.
The builder uses a simple section-based editing method that's quite inflexible, which means that you will be restrained by your template. The interface is a little clunky and will take some time to get used to, but it's relatively beginner-friendly once you get the hang of it.
Once you're done editing, you can preview your website before hitting the publish button. There's no design assistant, so you will have to rely on the self-help library if you get stuck. Keyboard shortcuts are non-existent, and you can't migrate your site to any 3rd-party platform.
Despite its shortcomings, Format still presents as a beginner-friendly website creation method for photographers wanting a simple, attractive portfolio.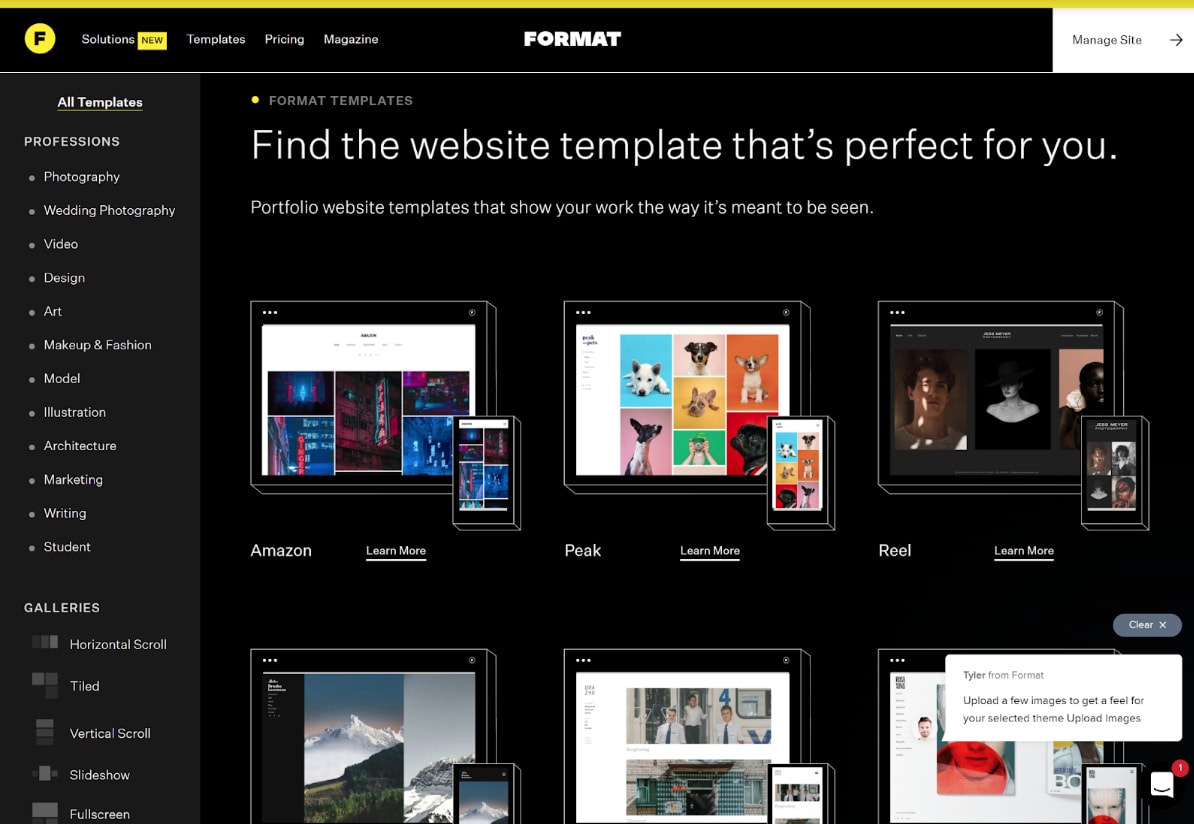 Adding Multimedia to Your Format website
As a photography-specific website builder, Format offers loads of options for adding multimedia. Most popular file types, including JPEG, PNG, and GIF, are supported. You can upload multiple files at a time from your computer if required.
It's also possible to import media from Dropbox, Adobe Lightroom, Capture One, or Format's own photo storage. Videos and music can also be embedded from various sources. There's no stock photo library, but this shouldn't be an issue for most photographers. Overall, Format does a great job on the media front, and you should be able to show a large amount of content without any performance issues.
Marketing Functionality with Format Websites
Format's website builder plans come with limited marketing features. You will have access to branded email for an extra $72 per year, and it's possible to add a blog if you would like to. There's little in the way of social media integrations or analytics, although you can add marketing pop-ups to your website to advertise a particular deal.
SEO Functionality & Add-Ons with Format Websites
All websites built with Format are mobile-friendly, which gives it big points on the search engine optimization (SEO) front. You can specify a small number of SEO settings under the Settings tab, but there's little on offer in the way of SEO or reporting tools. You can also link to Google Analytics and Google My Business via the Marketing tab.
E-Commerce
You can create a simple online store with Format, but you won't be able to do anything too fancy. It enables you to sell digital and physical products, but the customization options are limited. You will have to add a separate store page to your website, and you can't display products on other pages. Format is okay if you want to sell a small number of products, but it's far from the most powerful e-commerce platform we've seen.
How much does Format cost?
Format's portfolio plans range from $7 to $34.99 per month. Significant discounts are available with annual subscriptions, and there's a 14-day free trial you can use to test the platform.
The cheapest Basic plan ($7 per month) comes with a small selection of starter themes. It enables you to create websites with up to 15 pages and 100 high-resolution images. The Pro plan ($8 per month) adds 15 minutes of video storage, 100GB of extra photo storage, and unlimited website pages, while the Pro Plus plan ($13 per month) comes with advanced business tools.
Format also offers a Workflow product that comes with client management tools to help you grow your business. You can also access these and the website builder with a Bundle plan for $55.99 per month ($20 per month if billed annually).
Format Help and Support
Format has quite limited support. Live support is limited to the online live chat window. However, this is far from live chat in our experience, with replies sometimes taking hours to receive. On the plus side, these replies will be sent to your email address, where you can continue the conversation.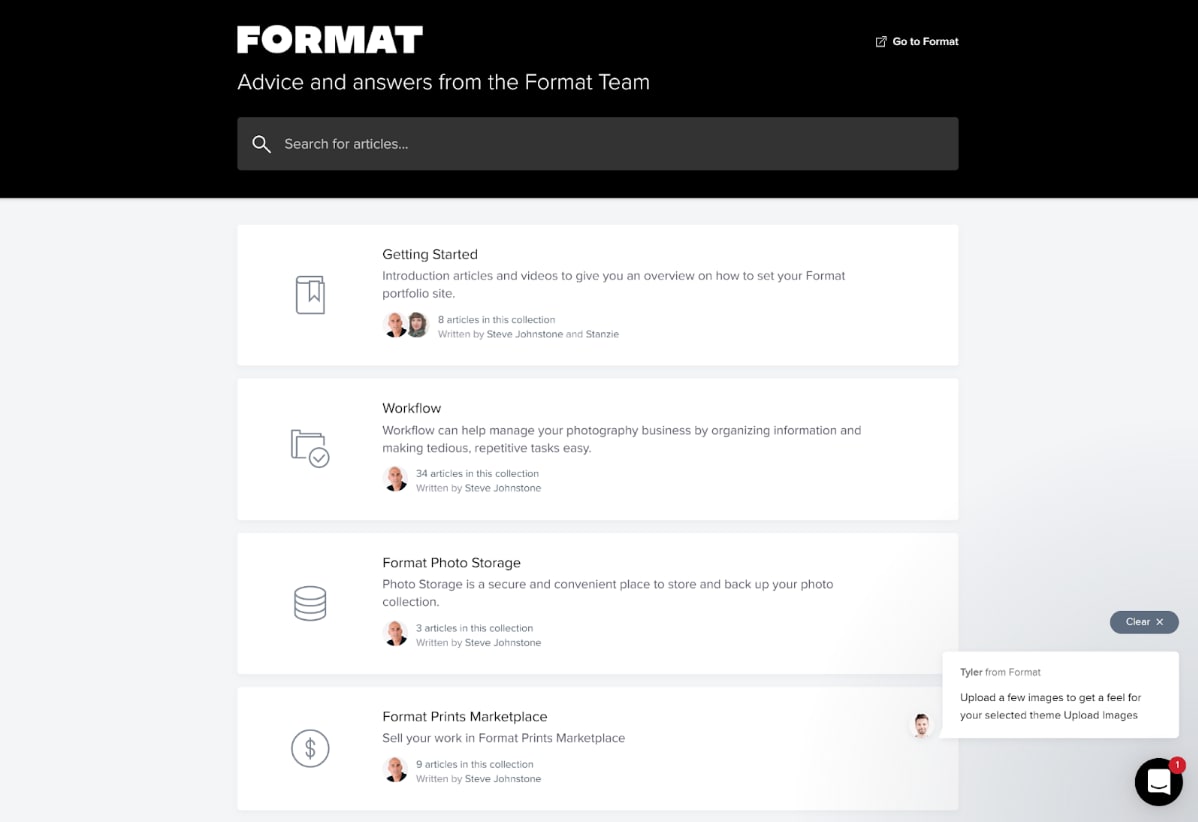 Self-help resources are also a little limited. There's a selection of getting started guides and the like, but you shouldn't expect anything too advanced. A small number of tips and informational pointers will also pop up when you're exploring the platform for the first time.
How Format Compares to Other Website Builders
Email marketing functionality
Native analytics, Google Analytics
Format vs Pixpa
Like Format, Pixpa is designed for photographers and photography portfolios. It's slightly cheaper than Format, but it has no customer management tools and is much more basic in general.
Format vs Squarespace
Squarespace is a leader in the website building space, and it's known for its attractive templates and versatile design tools. It's much more flexible than Format, making it a great option for those who want to build a more general website rather than a portfolio. It has great e-commerce and blogging tools too, although it's quite expensive.
Format vs Zenfolio
As its name suggests, Zenfolio is another specialized portfolio builder. However, it has a small number of templates, and its e-commerce tools are expensive. Its editor is a little easier to use, though, which will make it a preferred option over Format for many creatives.
Bottom Line
Format is a leading photography portfolio builder, and it has a lot going for it. There are numerous attractive templates to choose from, the editor is quite easy to use, and you will benefit from loads of integrated tools. However, there are negatives too, such as the limited design flexibility and the sub-standard e-commerce and blogging tools.
There's no free forever version, but Format is quite affordable, and there's a 14-day obligation-free trial that you can use to test the platform. We'd recommend giving it a go if you're looking for a photography portfolio builder with integrated workflow management tools, but you should look elsewhere if you need any other type of website.