Web.com Visit Site
Overview
Web.com Video Review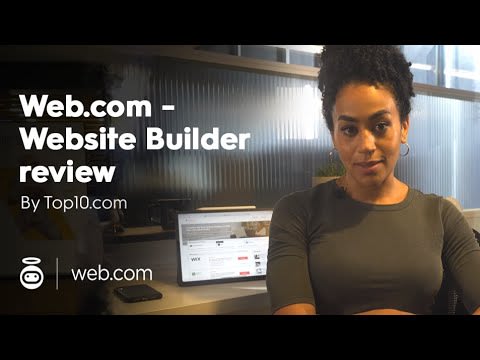 How Web.com Works
Web.com Group Inc. is a company which provides domain name registration and website building services, based in Jacksonville, Florida. It essentially serves as a one-stop-shop for everything that you need to build a free website or a completely professional website, including a custom domain and email services.
Web.com's website builder is designed to be approachable for first-time website builders, but we think that there are other builders better suited for this purpose. Its page editor can be difficult to work with and takes a while to customize. The platform also makes it hard for your website to be found unless you upgrade to a more expensive plan.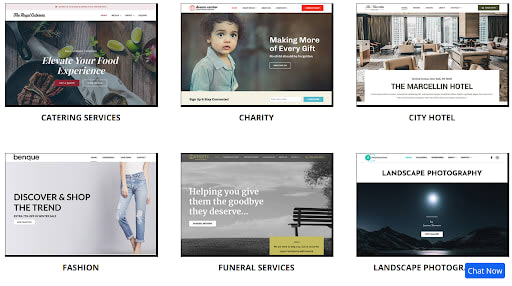 Using Web.com
The experience of using Web.com is anything but seamless. Your back-end dashboard isn't specific to the website builder, but rather includes all of Web.com's services. This means the tools that you have access to, including the site editor, are interspersed with ads to purchase additional services.
On top of that, Web.com's site editor itself feels clunky. Pages and tools take a few seconds to load, and it's easy to inadvertently mess up the layout of your site when moving content elements around. It does offer more design flexibility than other editors, though, which is a plus if you have the time to spend crafting your site.
Web.com Features and Tools
Web Hosting
All Web.com sites include web hosting with unlimited storage and bandwidth. You also get a free domain for one year, an SSL certificate, and five email addresses with 2GB of storage each.
Expert Design Service
Every new Web.com website builder package includes one hour of one-on-one customer service and tech support with the company's design experts. You also have the option to pay Web.com's design team to build your website for you. The site will be designed to your specifications, and you can manage it using Web.com's site editor once your site is launched.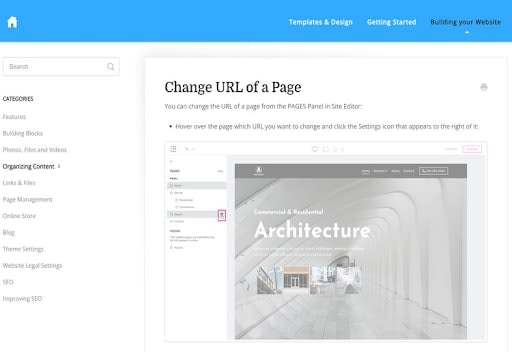 How to Create a Website with Web.com
The process of creating a website with Web.com starts with choosing a template. The platform has more than 150 templates, all of which are mobile-responsive. They are organized by industry to make it easier to find a design that suits you. However, do note that you can't change templates later, so choose carefully.
Web.com's templates are fairly customizable. You can modify not only the color palette and fonts but also details like heading styles, link colors, and button formats. More options would be even better, but this level of control at least lets you customize your template without spending hours on it.
Customizing Content
To customize your site's content, Web.com offers a drag-and-drop website builder with two different styles of content elements. Features are individual elements, like text boxes, images, and buttons, that you can add anywhere on your site. Blocks are full-width page sections that come with pre-arranged features. You can add additional features to blocks to customize them.
The combination of features and blocks offers a significant amount of design flexibility. However, we found that laying out content within Web.com's site editor can be a challenge. The platform divides each page section into columns, and it's relatively easy to throw off the layout of a whole section when you add, remove, or move features. The column-based design either needs to be more consistent or eliminated altogether to make this experience more seamless.
Overall, we were happy enough with Web.com's site editor, but it didn't stand out compared to other website builders that we've tested. The issues with laying out features also take away much of the fun of experimenting because it's too easy to throw your whole site out of whack with a few wrong moves.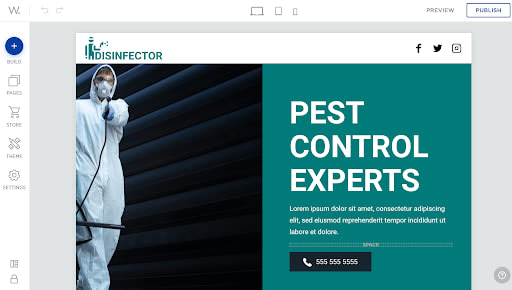 Adding Multimedia to Your Web.com Website
Web.com enables you to add photos and videos to your website, but not audio files, PDFs, or other types of multimedia. You can upload photos from your computer, Instagram, Facebook, Dropbox, Box, or Flickr or search a library of thousands of stock photos from Unsplash. Uploaded images are stored in a media library, but the library isn't searchable.
You can add or replace images just by clicking on any image box on your website. However, when creating galleries, you must add each photo individually.
Marketing Functionality with Web.com Websites
Web.com requires you to upgrade from its basic plan to access its online marketing features. The main marketing tool that Web.com offers is Local Listings, a service that will list your business on sites like Google Maps, Yahoo Local, and Yellowpages.com.
You can connect your site to Instagram, Pinterest, and Disqus, but not to a Facebook business page. Web.com also doesn't offer email marketing tools.
SEO Functionality & Add-Ons with Web.com Websites
One of the biggest issues with Web.com is how it treats SEO. In order to have your site listed with major search engines like Google and Bing, you have to upgrade from the basic pricing package.
The good news is that if you do upgrade, Web.com enables you to customize your pages' SEO titles and descriptions and add alt text to your images. You can also launch a blog with any Web.com site.
Web.com doesn't have its own traffic analytics tools, but you can connect your site to Google Analytics.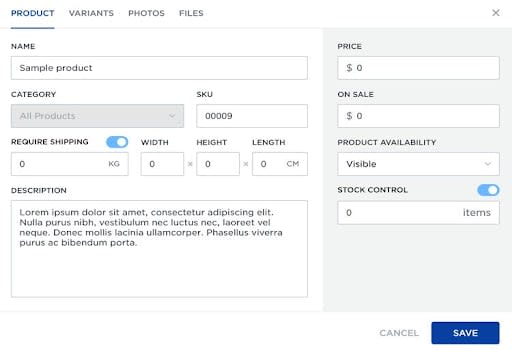 E-Commerce
Web.com's top-tier plans enable you to sell up to 500 products. It's impossible to sell digital downloads or gift cards, and the platform doesn't support in-store pickup or local delivery. Web.com also doesn't have many advanced features, such as inventory management or abandoned cart recovery.
On the bright side, Web.com online stores can create discount codes, and you can choose between Stripe, PayPal, and Square to accept payments. You can also set up an unlimited number of product variants for customers to choose from.
Overall, though, we weren't impressed with Web.com's ecommerce features. For the price, we think that other website builders offer more advanced tools and better customization options.
Web.com Customer Support
Web.com offers 24/7 customer support by phone, email, and live chat. All new website builder plans include an hour of one-on-one support from the company's professional designers to help you begin designing your site.
Web.com also has an online knowledge base. However, the articles appear to reference an outdated version of the website builder. We did eventually find a series of detailed tutorials about the current builder, but the articles were difficult to locate because they aren't hosted on Web.com's website.
Web.com Pricing
Pricing & Special Offers
Web.com's prices are pretty reasonable. Web.com pricing has three plans: Starter, Marketing, and eCommerce. All three offer cheap introductory pricing for the first month, but there's no free trial available.
Search engine indexing
Local Listings

Web.com Visit Site
Web.com Alternatives
How Web.com Compares to Other Website Builders
Email Marketing Functionality
Built-in and Google Analytics
Built-in and Google Analytics
Built-in and Google Analytics
Web.com vs Weebly
Weebly is a user-friendly website builder with more than 75 templates and tons of features for selling online. While its advanced plans are more expensive than Web.com's plans, Weebly offers essential tools for SEO, inventory management, email marketing, and more. It also has third-party apps that you can use to expand your site's functionality.
Web.com vs GoDaddy
GoDaddy is much like Web.com in that it offers a website builder alongside hosting plans and domains. However, you get more for your money with GoDaddy. The company's website builder includes an email marketing suite, tools for booking appointments online, and built-in analytics.
Web.com vs Wix
Wix is one of the most customizable website builders on the market and has over 800 templates to choose from. The Wix site editor is easy to use and feels seamless compared to the Web.com editor. While Wix is more expensive than Web.com, you get access to a huge range of features for marketing and ecommerce.
Bottom Line
Web.com is a relatively basic website builder that offers a good selection of templates and design options. However, we were less than impressed with the platform's site editor and the overall lack of features for the price. Web.com doesn't offer email marketing and doesn't give users on the Starter plan access to essential SEO features. Online stores will lack selling tools like inventory management and abandoned cart recovery.
We think that most users would be better served by website builders from Weebly, Wix, or GoDaddy. All three platforms offer more customization options, more marketing tools, and better support for scaling up your site.