When building your website, you need to make sure you give reviews the place they deserve and that you're able to capture customer feedback efficiently. If you're using a website builder (and that's really one of the best ways to get your website up and running in no time), you need to pick a theme that enables you to place customer reviews at a central location so you can make more sales.
In this article, we've picked 10 irresistible templates from different website builders that place customer reviews in the spotlight.
» Looking for a quick and easy way to get your website up and running? Check out Top10.com's picks for the best website builders.
1. Degraw by Squarespace
Squarespace helps you build stunning image-heavy websites with little effort, and this theme is a great example. It's best suited for small businesses providing professional services, such as consultants, advisors, career coaches, or interior designers.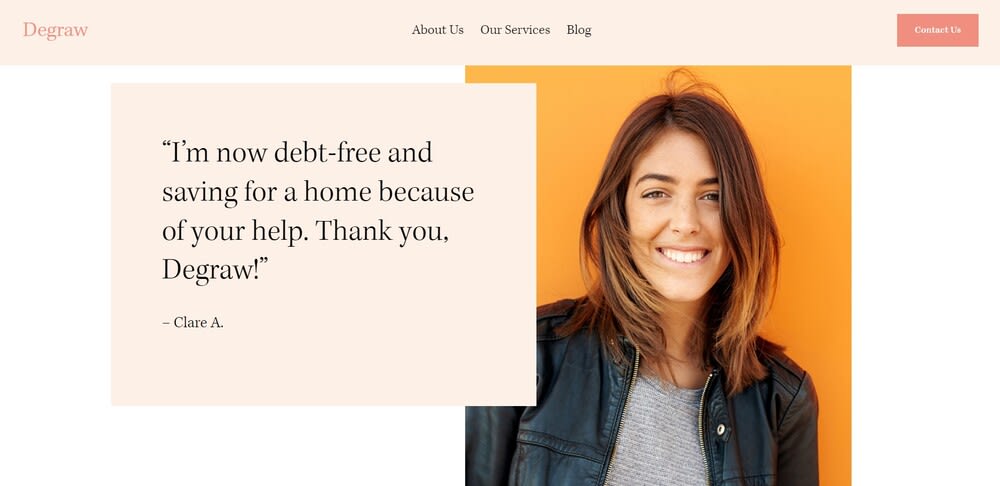 Here, customer testimonials are placed on the homepage right under the "Services" block near a photo of your happy client. This draws instant attention to reviews and makes them feel more personal and trustworthy, which is one of the main things that make reviews so impactful. Not everyone will be willing to provide a high-resolution photo of themselves for your review, but they might be happy to share a photo showing the results they got, thanks to your business.
2. Tech Company by Wix
If you've built an app, it definitely needs a site—and the Tech Company template by Wix is perfect for that purpose.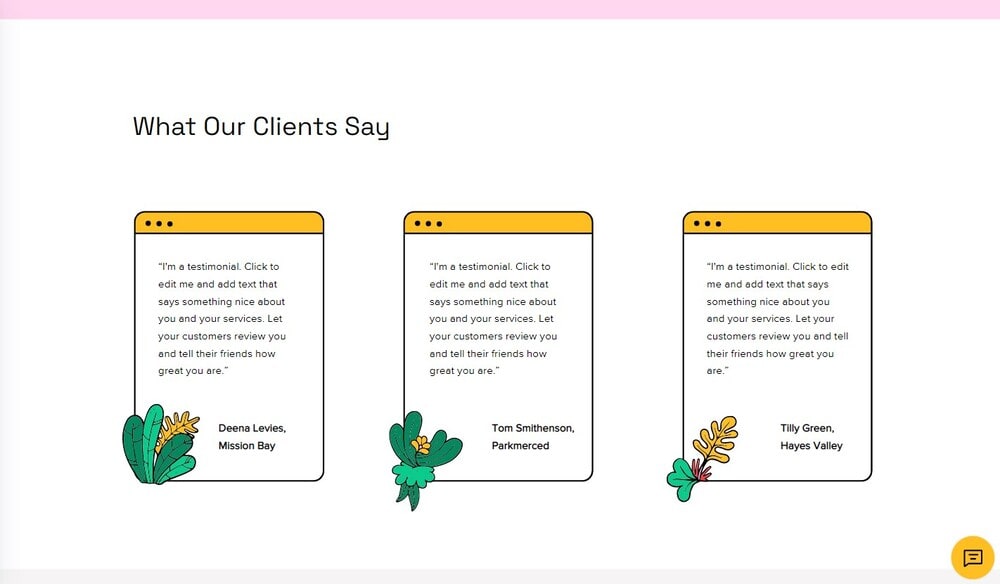 With it, you can place customer reviews in neat boxes on your homepage where visitors can instantly spot them. Most business clients will be happy to provide reviews for their partners since this gives them extra publicity, so make sure to always add the company name in the testimonial (be sure to ask first).
3. Lanily by GoDaddy
Lanily by GoDaddy is the perfect template for beauty products, whether hair products, face masks, beard products, or something else.

For online stores, star ratings are perfect because they give visitors a quick visual representation of the customer's satisfaction with the brand. They take little effort to write, which makes them easy to collect. Simply send an email after customers receive their product to ask them for a quick review.
4. Keysound Store by Web.com
Keysound Store by Web.com takes social proof to the next level. It enables you to add customers' Instagram accounts to the reviews, which is a great way to make them even more convincing. Plus, the design is beautiful!

Of course, you need to check with your customers if they're comfortable having their Instagram account mentioned on your page. If they're looking to grow their followers, they'd probably be happy to get a mention.
You can also ask customers to take a few product photos to add to the reviews in exchange for a discount on their next order.
5. Wedding Planner by Wix
What's a better way to promote your wedding planning business than to feature love letters from your happy customers on your homepage?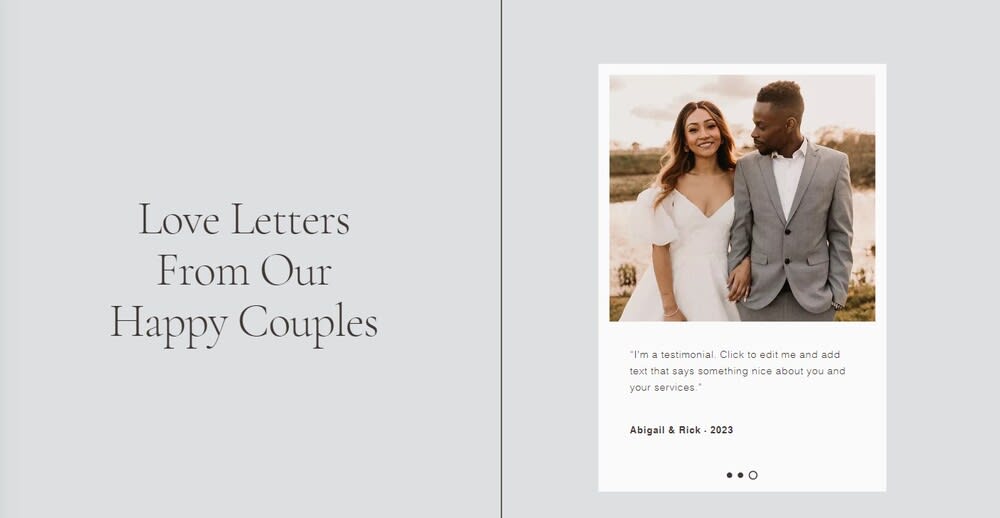 You can do that easily with this theme. And let's face it, weddings can be super stressful, so most newly-wed couples would be happy to share a review and a photo (of which they have hundreds!) if you helped them celebrate stress-free.
6. Barbosa by Squarespace
Barbosa is another beautiful template by Squarespace catering to hotels and rental companies. And we all know how important reviews are for the hotel industry: we all make holiday accommodation choices based on reviews!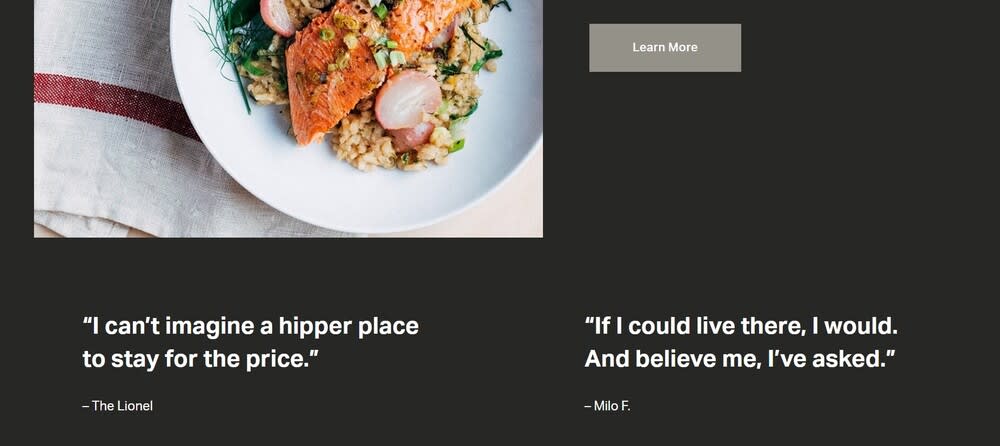 Barbosa enables you to select a few impactful customer quotes and place them on your home page right before the "Book a room" button where they belong. Additionally, it's a theme that helps you provide a stellar user experience because it's so easy to navigate.
7. Tim Johnson by SITE123
Tim Johnson by SITE123 is a theme geared towards freelancers. Freelancers' business depends on customer reviews. Most people understand that and would happily give you a review, so just ask them! You could even offer a backlink in exchange.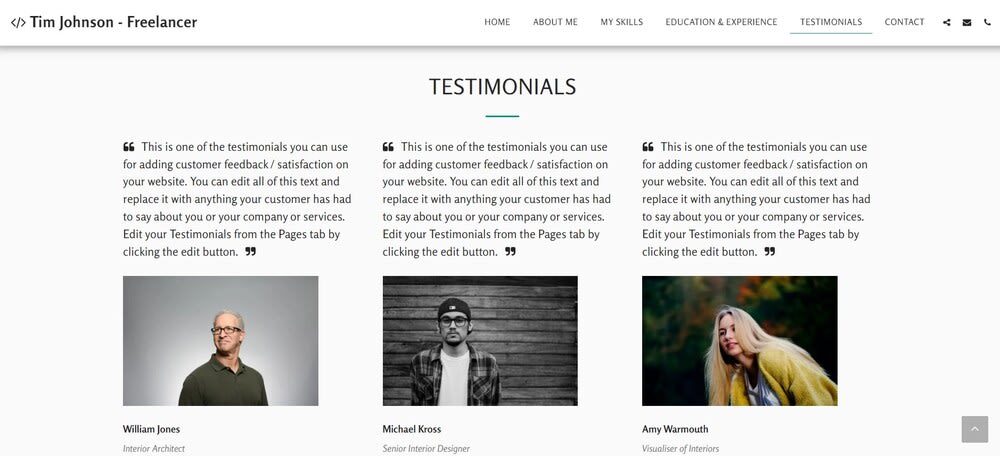 This theme enables you to feature detailed testimonials on your home page, complete with a photo and professional info, making them particularly convincing.
8. Tech Shop by IONOS
If you have a brick-and-mortar store that you want people to find easily online, this theme by IONOS is for you. Add a few customer reviews to attract more customers.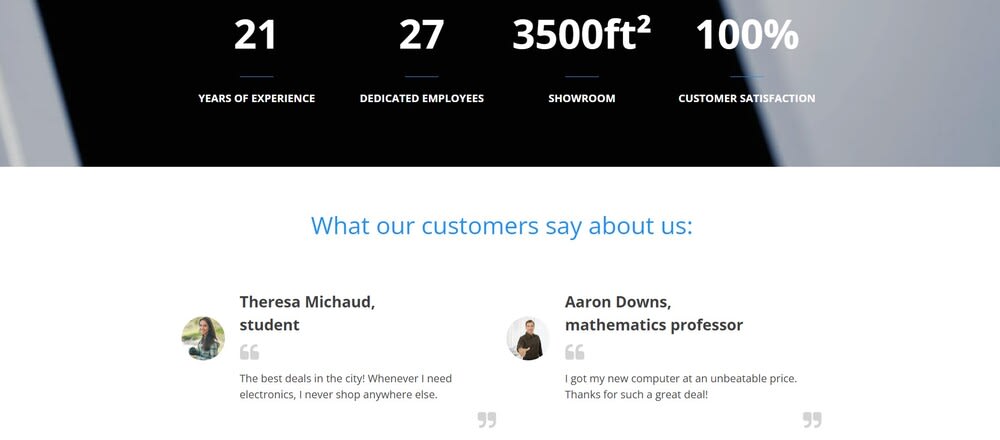 To capture feedback, you could simply talk to satisfied customers in your store and ask them whether you can add a quote from them to your website. Keep in mind that if you add personal details and photos, you need to ask for their permission. Or you can also take a few quotes from your reviews on Google.
9. Life Coach by Web.com
The Life Coach theme by Web.com also places customer reviews in the spotlight. Here, you can place longer quotes about clients' achievements, which they'll most likely be happy to share.

And if you gather a few testimonials from delighted clients, it'll be even easier to get some from new clients.
10. Amy & Associates by GoDaddy
One of the main focuses of this theme is client reviews. You can place them in the main menu under "Testimonials." The theme uses a vertical navigation and a clean and sober design style, which makes it ideal for consultants or lawyers.

Reviews come with star ratings, which instantly give visitors an idea of the quality they can expect—and are easy to capture once you wrap up a project.
Place Customer Reviews in the Spotlight With the Right Template
To convince today's buyers to make a purchase, you need to give them enough information about your products or services. And one of the most important pieces of information they're looking for is customer ratings and reviews. Make sure customer reviews are central in the theme you pick, or use a plugin to add them to your website.