You're on your way to saving anywhere between 50-75% on phone bills, as well as gaining access to a huge variety of features that will make your staff and clients much happier.
Top 10 Best VoIP Providers for Retail Business:
Phone.com - Best Overall VoIP For Retail
Grasshopper - Best No-Hardware VoIP For Retail
Ooma - Best For Easy Set Up
Dialpad - Best For Small Retail Businesses:
Mitel - Best For Medium-Sized Retailers
RingCentral - Best For Enterprise Retailers
8x8 - Best For International Calls
Nextiva - Best For Call Analytics
Vonage - Best For Scalability
CallHippo - Best For Reliability
How Can VoIP Help Retail Businesses?
Retail isn't what it used to be. Whereas in the past, most customer-staff interaction took place in the store, with today's digital revolution, more and more of that communication is taking place over the phone, online, through SMS, or by video conference. Moreover, the retail supply chain is more complex; it often involves multiple stores in multiple locations and requires that staff be able to communicate in a lightning-quick, efficient manner.
Because the needs of retailers have changed with the times, many are finding that traditional phone lines and the public switched telephone network (PSTN) are no longer sufficient. These systems are not flexible and can't scale intuitively; nor do they offer texting, free long-distance phone calls, email, mobility, and other features that are essential for successful operations.
VoIP systems, on the other hand, do offer all of these things.
And if that's not enough, they can also save you money.
A Closer Look at Our Top 10 Best VoIP Providers for Retail Business
1. Vonage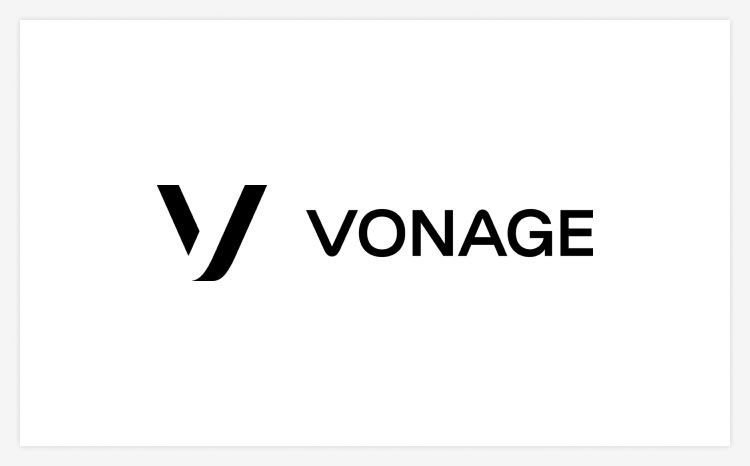 Vonage is a top-rated VoIP provider that offers 40+ calling features in its business solutions. And not only is it packed with features, but there are no contracts, which means you can cancel at any time.
Vonage offers both small business plan packages and enterprise business packages, so no matter what stage you're at in your retail business, you can find a suitable Vonage package.
Features of Vonage Business include:
Mobile integration
International calling options
Salesforce and customer relationship management (CRM) integration
Great voice quality
Mobile/desktop calling apps
Call blocking and recording
Virtual receptionists, auto-attendants
Did you know that Vonage offers 2 plans for small businesses and 3 plans for enterprise businesses?

Get Started
2. RingCentral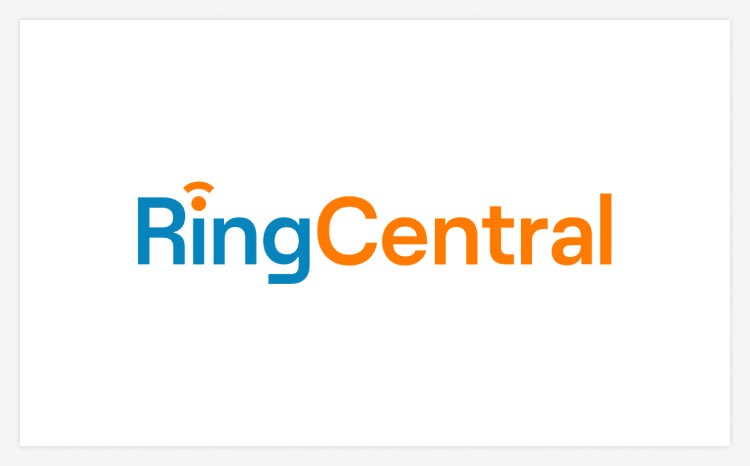 RingCentral is another VoIP that doesn't require contracts. It services over 350,000 businesses and offers a promo for new customers. RingCentral offers 4 plans: Essentials, Standard, Premium, and Enterprise; the different packages make it suitable for all-size businesses. It's also easily scalable, which means that as your business grows, you don't need to make any changes to your system (though you can upgrade your plan).
Unlike some other VoIP companies, RingCentral does come with a limited number of minutes (1000-10,000, depending on your plan). For retailers who don't use the phone heavily but require features like unlimited SMS and video conferencing, that limitation won't make a difference. For retail stores that have call centers or require a lot of phone-time, the limitation is something to keep in mind.
Features of RingCentral include:
Mobile and fax integration
Virtual receptionist, hold music, message alerts
Directories, call trees, call queues, call logs
Salesforce, Google, Zendesk, and Outlook integration
Unlimited conference calling and SMS
4 plans: Essentials, Standard, Premium, Enterprise
24/7 support
Read the full RingCental review
Click and find out why RingCentral is one of the world's most popular business VoIP system providers.

Get Started
3. Ooma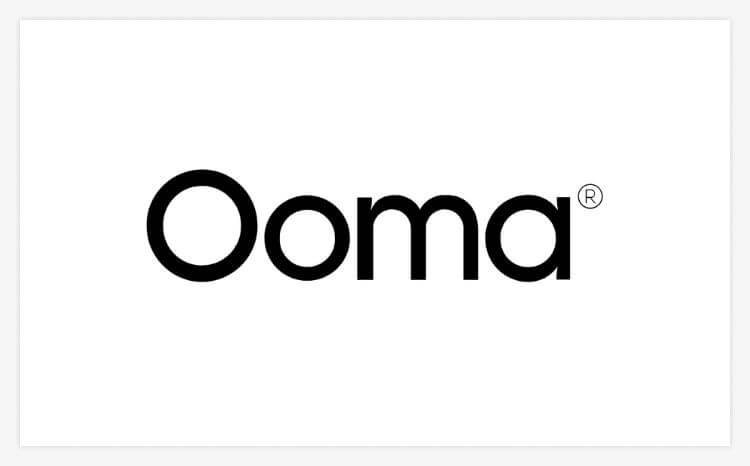 Ooma is a great VoIP solution for small businesses that want to look professional without paying enterprise-level pricing. You'll get your own main company number and free toll-free number as well. Plus, Ooma offers a huge variety of calling features, including multi-level virtual receptionist, call routing, and business modes for open and closed hours. This VoIP will also save you money with unlimited calling throughout the US, Canada, Mexico, and Puerto Rico. And with easy installation and wireless phone options, you don't have to be a techie to get things up and running.
Features of Ooma include:
Call park
Ring groups
Music on hold
Transfer music
Extension dialing
Voicemail
Call transfer
Call log
One conference bridge per user
Extension-to-extension dialing
Forward calls during device outages
One virtual fax per user
7-digit dialing
Sign up for Ooma now and enjoy tons of retail business boosting VoIP features.

Get Started
4. 8x8
8x8 is a cloud-hosted PBX service that's known for its high-quality video conferencing and instant messaging, making it a great option for retail businesses that host frequent meetings. It also boasts 99.9983% uptime, which means there is less than a .01% chance that your phone/internet won't work. It's made up of a global network of 12 data centers to ensure quick, clear connections no matter where you call.
Features of 8x8 include:
Web conferencing & instant messaging
Seamless integration with third-party apps
Top-level security
Comprehensive analytics
Accessible from office phones, desktop PCs, and mobile devices
Very scalable, so it can grow along with your business
Affordable and flexible pricing
8x8 is an option worth considering for businesses of all shapes and sizes who need advanced VoIP solutions.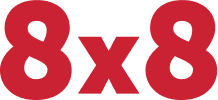 Get Started
5. Grasshopper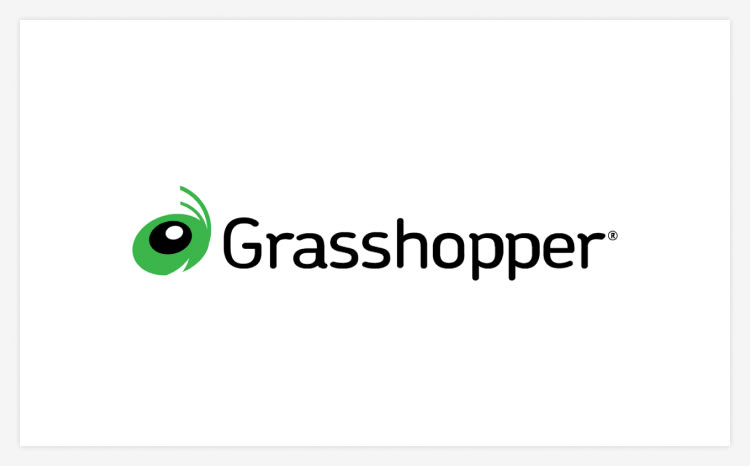 Grasshopper, known as the entrepreneur's phone system, is geared toward helping small to mid-sized businesses appear professional, efficient, and corporate. In other words, your retail business can consist of 5 employees, but with Grasshopper, calling customers will get the feeling that the enterprise is much larger than it is. Grasshopper's pricing plans also reflect the needs of its target audience and are fairly competitive.
It's important to note that Grasshopper only offers inbound calling services, not outbound, and this is an important distinction for anyone considering this VoIP provider. For many small businesses, inbound services are enough, but for larger businesses, outbound calling is usually a necessity.
Features of Grasshopper include:
Works with phone lines, not broadband, which offers better call quality and no dependence on WiFi.
No new hardware necessary
Toll-free and customized vanity numbers
Unlimited extensions
Unrestricted contracts
International call forwarding
Voicemail transcripts, auto-receptionist
A mobile app that lets customers check voicemail, faxes, and call logs from their mobile device. The app also allows you to change your outbound mobile number to your business number, so you can call customers from your mobile and still appear professional.
Read the full Grasshopper review
Want a low-cost VoIP plan? Grasshopper's plans are at a perfect price point for small businesses.

Get Started
6. Phone.com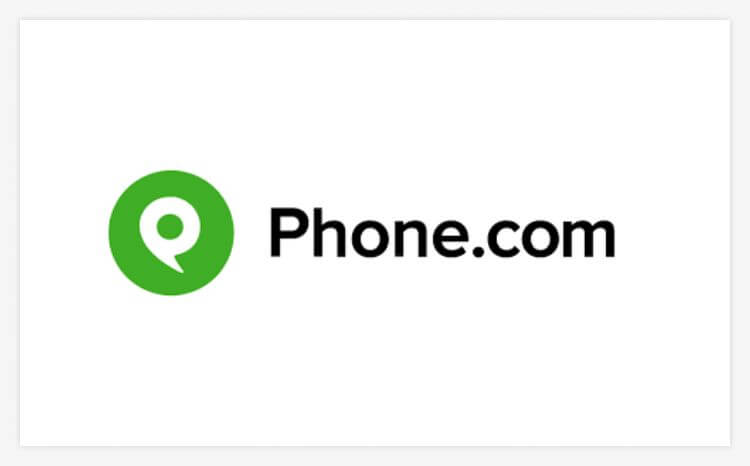 Phone.com is an affordable Voice over Internet Protocol (VoIP) provider that works well for retailers of all sizes. The company's plans are highly scalable and come with features like SMS messaging, voicemail transcription, conference calling, and more. Phone.com has low international calling rates and offers international numbers for retailers that have large customer bases abroad.
All Phone.com plans include video conferencing with no limits on the length of your meetings. Top-tier Pro users also get access to advanced call analytics and integration with popular customer relationship management (CRM) software platforms.
Another thing we like about Phone.com is that the company allows retailers to use their existing VoIP phone hardware at no additional cost. If your business needs new phones, Phone.com offers a wide selection of desk phones, conference phones, and accessories.
Phone.com plans start at $11.99 per user per month for 500 pooled minutes. Most retailers will want to upgrade to a Plus plan, which costs $15.99 per month. The Plus plan includes unlimited minutes, one phone number per user, and desk phone compatibility.
Product Highlight: Affordable VoIP provider with scalable plans
Best for: International retailers
Price per kit: From $11.99/user/month
Pros:
Offers international phone numbers

All plans include video conferencing

Supports CRM integrations
Cons:
Call analytics requires Pro plan

Must upgrade to connect desk phones
Read the full Phone.com review
If you're looking for scalability, try Phone.com's flexible plans and get what you need in a VoIP provider.

Get Started
7. Nextiva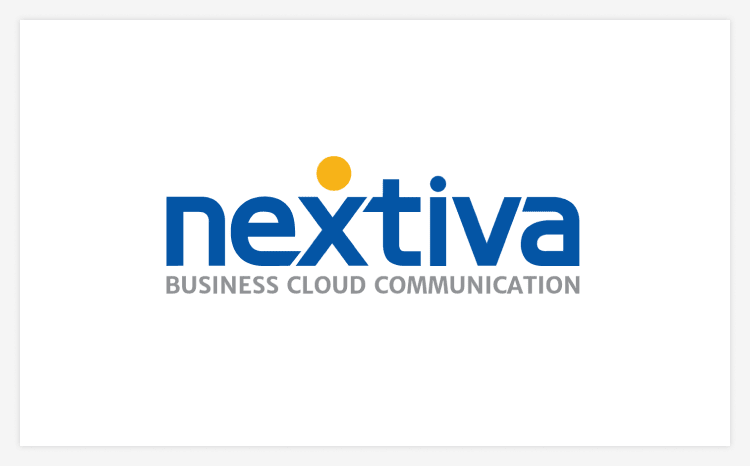 Nextiva offers comprehensive VoIP phone systems for large and enterprise-scale retailers. What stands out most about this phone provider is its automation and call analytics features.
With Nextiva, your business can follow-up on calls automatically by email or SMS message. The software can also integrate with your CRM software and nudge your sales team to get in touch with new leads who have been sitting in your pipeline for several days.
Nextiva's call analytics are also among the most advanced we've seen. You can quickly find an overview of your business's call volume and analyze trends over time. If you want to dig into the data, Nextive enables you to track call volume and customer feedback by employee. You can also rate calls as well as highlight and share specific sections of recorded calls.
All Nextiva plans include unlimited calling and text messaging, toll-free phone numbers, and voicemail. You'll need to upgrade to receive a multi-level auto-attendant, video conferencing, and CRM integration. For enterprise-scale retailers, Nextiva offers Microsoft Teams integration and single sign-on.
Product Highlight: Outstanding automations and call analytics
Best for: Enterprise-scale retailers
Price per kit: From $17.95/user/month
Pros:
Integrations with Salesforce and HubSpot

Automations to follow-up on calls

In-depth call analytics tools
Cons:
Plans do not include phone hardware

Doesn't offer on-premises phone systems
Start optimizing your communications with Nextiva's next level VoIP services.

Get Started
8. CallHippo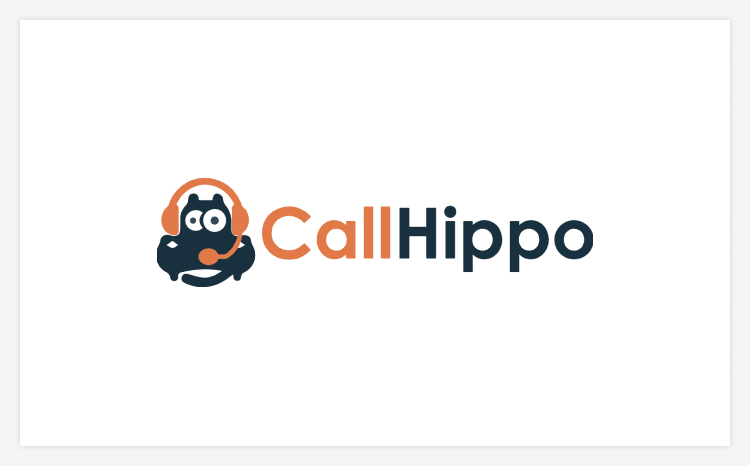 CallHippo is a retail business phone service that offers unlimited calling within the US and Canada. The company is trusted by major brands like Amazon, Oracle, Accenture, and Shopify, which speaks to CallHippo's quality and reliability. Top-tier Ultimate users also receive 24/7 customer support.
CallHippo stands out for its wide range of integrations. Retailers can merge their phone system with CRM platforms like Zoho CRM, HubSpot, Pipedrive, and Salesforce. The software also supports helpdesk software like Zendesk, team productivity suites like Slack, and project management software like Asana.
CallHippo's retail phone systems include tons of critical features, such as a virtual receptionist and ring groups. They also provide a mobile app so that employees can take calls on the go.
One thing to bear in mind is that CallHippo's business phone plans only support up to 50 users. If you need a phone system for more than 50 users, you must upgrade to a call center plan.
Product Highlight: Dependable phone system with tons of integrations
Best for: Reliable, unlimited calling
Price per kit: From $16.00/user/month
Pros:
Unlimited calling in US and Canada

Integrates with popular office software

Scalable call center plans available
Cons:
Office plans only support up to 50 users

Must upgrade for 24/7 support
Improve communication with CallHippo's high-performance phone system for busy teams.

Get Started
9. Dialpad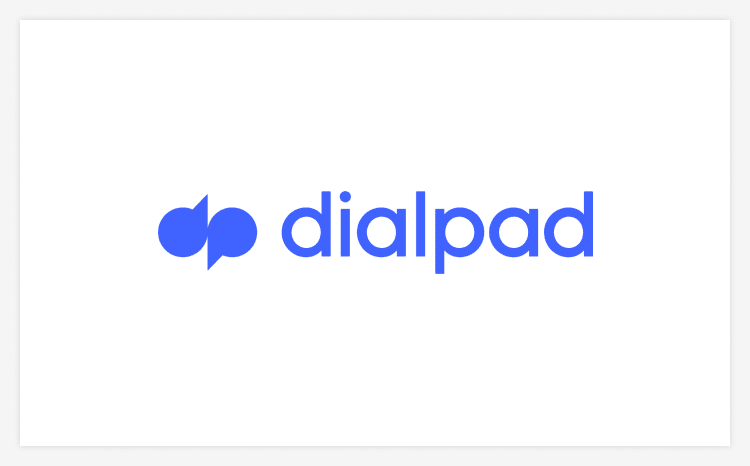 Dialpad is more than just a VoIP for retail. It's a unified communication service that provides everything from calling to messaging to video conferencing. For small retail businesses, it's a scalable solution that enables your business to grow and makes you look more professional in front of customers, suppliers, and partners.
Dialpad includes unlimited calling and conferencing within the US and Canada. For businesses that are expanding internationally, you can pay low international calling rates or get local numbers that forward to the US in more than 70 countries.
This VoIP software supports integrations with CRM software including Salesforce, HubSpot, and Zoho CRM. Interestingly, Dialpad also offers an AI-powered autodialer for sales teams. This is a neat feature for retailers that want to be proactive about picking up new business.
Dialpad retail phone systems start at just $15 per user per month. With the Pro plan, which costs $25 per month, your business can create up to 25 ring groups, connect up to 10 office locations, and add multiple phone numbers to your account.
Product Highlight: Unified communications for voice, SMS, and video
Best for: Fast-growing retailers
Price per kit: From $15.00/user/month
Pros:
International numbers in 70+ countries

AI-powered autodialer available

Supports multiple office locations
Cons:
Basic plan allows one number per account

Must upgrade for 24/7 support
Dialpad has advanced AI features that can help to improve communications with teammates and clients.

Get Started
10. Mitel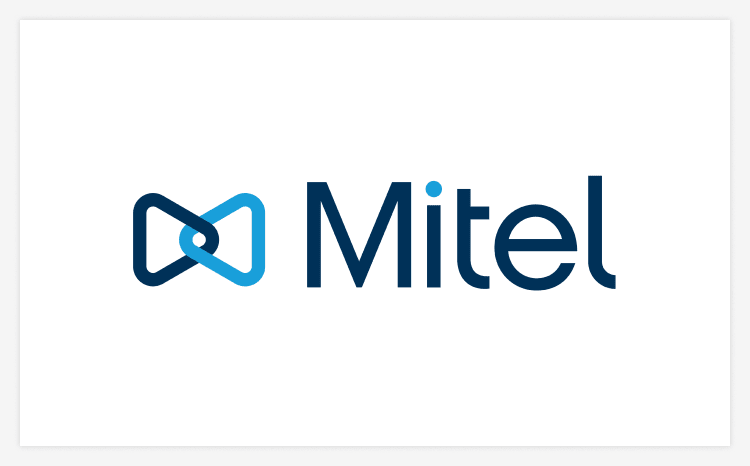 Mitel is one of the best retail VoIP providers for businesses that want all the capabilities of a traditional private branch exchange (PBX) without the hassle of actually managing it. With Mitel's cloud-based phone service, your business gets a 99.999% performance guarantee and the ability to scale up or down as you need.
Mitel's software also provides a ton of features for organizing calling within your business. You can set up ring groups, call forwarding, multi-level auto-attendants, call recording, and voicemail transcription with ease. Mitel also offers a messaging platform for employees so they can communicate with one another during calls.
Mitel offers a wide selection of phone hardware for desktops and conference calling. You can also install the Mitel softphone app on any smartphone or computer and forego phone hardware altogether. That brings down the upfront investment required to switch to Mitel and makes this provider suitable for retailers with work-from-anywhere employees.
Product Highlight: Wide range of features for managing calls
Best for: Medium-sized retailers
Price per kit: From $20.99/user/month
Pros:
All plans include auto-attendants

Integrated messaging platform

Softphones and phone hardware available
Cons:
Expensive plan options

Limited integrations
Looking for a no-frills VoIP solution? Mitel's plans may be perfect for your retail needs.
Get Started
How Does VoIP Help Cut Retail Costs?
As you know, any time you switch over to a new technology, there's a cost involved. The same is true when switching over to VoIP; however, even with paying the monthly fee, buying new hardware, or increasing the speed of your internet, using a VoIP system can still help reduce costs in the long-run.
How?
There are no extra charges to phone carriers based on distance or location.
Calls are transmitted over the internet, which means operators don't have to maintain a distinct infrastructure for data and phone lines.
Free calling between different stores/remote locations, and often, long-distance.
Increased productivity: VoIP allows staff to make calls from the store or from home, and working from home has been shown to increase employee productivity. For a retail business that constantly needs to be in touch with clients, time is money.
New businesses will face the choice of choosing between a traditional phone system and VoIP. Traditional phone systems include paying a large up-front cost for phone system hardware, plus additional fees for calls, auto-attendant, installation, and more. VoIP systems don't have that large up-front cost, and include loads of features in one affordable monthly fee.
Concerns?
If you're hesitant about switching over to VoIP because you've heard that the phone quality isn't great or that there can be potential security breaches, it sounds as if you're an educated consumer. It's true, some VoIP brands don't offer high-quality sound or may be subject to security breaches. But when you choose a VoIP system from a top-rated, reputable company, you'll be able to put these fears to rest.
High-quality VoIP companies follow QoS (quality of service) protocols, which means that calls are constantly monitored for a satisfactory standard, including making sure that there is no jitter, latency, and delay. These companies also use the latest security technology to prevent eavesdropping and other security breaches.
How Can Retail Companies Benefit From Using A VoIP Phone System?
Retail companies can benefit greatly from switching to a VoIP phone system.
Compared to traditional business phone systems, VoIP systems offer far more flexibility. Retailers can easily set up auto-attendants to direct customers to the right department or create ring groups so that no call goes unanswered. VoIP systems also enable employees to take calls on their smartphone, which is essential if your employees are frequently working away from their desks.
VoIP phone systems can also help retailers expand their international presence. Many retail VoIP providers offer international phone numbers in dozens of countries.
Another major benefit to VoIP phone systems for retail is that they're often cheaper than traditional phone systems. Many VoIP phone providers offer lower monthly rates and cheaper fees for international calls. If your VoIP provider offers softphone software, you may not even need to pay for phone hardware.
What Are Some Important VoIP Features For Retail?
One of the main attractions of VoIP phone systems for retailers are all the features that they offer. Here are some of the key features to look for:
Auto-attendant
An auto-attendant is a virtual receptionist that can greet your customers and guide them to the right department or employee to answer their specific questions. The best VoIP phone systems for retail enable you to set up multi-level auto-attendants that can efficiently guide your customers through multiple dialing menus.
Call Analytics
Retailers should be keeping an eye on their incoming and outgoing call volume and looking for trends over time. Call analytics tools built into many top VoIP platforms can help you do that. The best analytics platforms enable you to break down call activity by department and employee.
CRM Integration
Retailers rely heavily on CRM software to keep track of their customers and fine-tune their conversations. As such, it makes sense to share information between your retail business phone system and your CRM.
Look for integrations that not only let you place calls straight from your CRM, but that can also automatically import SMS messages, call recordings, and other key call information back into your CRM.
International Calling
Most VoIP providers offer unlimited calling and SMS messaging in the US and Canada. In addition, many allow you to pay low rates for international calls to countries around the world.
If your business has a large international customer base or offices abroad, look for VoIP providers that offer international phone numbers.
How Can VoIP Help Retailers Cut Costs?
VoIP phone systems can help retailers cut costs in several important ways.
First, VoIP phone systems typically cost less per user than traditional phone systems. That means that retailers can save money each month just by switching providers.
Importantly, most VoIP phone providers offer unlimited talk and text in the US and Canada. For international calls, the rates that VoIP providers charge are often lower than the rates that traditional phone providers charge. Your business may be able to purchase an international number, in which case you'll pay US calling rates for calls from the country where you have a number.
Keep in mind that you may need to pay for VoIP-enabled phone hardware when switching to a VoIP phone system. This can be a significant upfront investment.
The good news is that if you already have VoIP phone hardware, you may be able to bring your current phones to a new provider at no charge. Many VoIP providers also offer softphone software, which enables you to make and receive calls on any computer or smartphone. So, you don't necessarily need to purchase desk phones for every employee right away.
The Bottom Line: VoIP Can Help Retailers Deliver For Their Customers
You may think you're in the retail business, but the truth is, you're in the customer service business. Because whether you're selling digital cameras, designer shoes, camping equipment, or children's books, you won't have any clientele if you don't offer excellent customer service.
For retail stores, this means providing customers with easily accessible salespeople and/or support staff who can help them at a moment's notice. It also means allowing staff to communicate with each other easily/across long distances in order to manage all the behind-the-scenes work as well as take care of any customer service issues that arise.
With a clear connection, secure line, loads of features, and prices that can't be beat, VoIP is the ideal system to meet the needs of retail customers and staff.
The question that remains for retail business owners is, which VoIP system should you choose? The 10 best VoIP providers for retail listed here are a good place to start; but remember, it's not about which VoIP service offers more features or better prices. It's about which VoIP service offers the features you need and the price that fits your budget.
While determining that may require a bit (or a lot) of reading and research, the result will be worth it. You'll end up with a comprehensive VoIP system that meets the communication needs of your retail business, including those of customers and employees.
You Might Also Like:
Best Mobile VoIP for Businesses