In a Nutshell
Nextiva is a complete communication suite with an excellent list of features. Beyond a fantastic VoIP service, a free toll-free number, and video conferencing, it can be used for customer relationship management, customer satisfaction surveys, and live chat support. If you don't use these additional features, Nextiva can seem expensive. But for a comprehensive communication platform that can do it all, Nextiva could be a great proposition.
pros
Huge feature set
Excellent customer support
Reliable, high-quality service
cons
Relatively high cost
Best features are in higher-tier plans

Nextiva Visit Site
Nextiva Pricing & Plans - How much does Nextiva cost?
With Nextiva, there are 4 plans from which to choose, and the exact pricing you'll pay per user changes depending on how many users you have. For instance, with just 1-4 users, you'll pay $30.95/user/month for the Essential plan, but this drops to $24.95/user/month if you have 100 users.
There's also a discount of around 40% on Essential, Professional, and Enterprise plans if you pay annually instead of monthly.
The 4 plans differ in features. The Essential plan already includes unlimited voice and video calling, an auto-attendant, voicemail-to-email, and integrations with Google Contacts and Outlook. You need the Professional plan to unlock integration with HubSpot, Salesforce, and Zendesk. And the Enterprise plan is where you can get single sign-on and integrations with Microsoft Teams and Oracle Sales Cloud.
Finally, the Ultimate plan includes features useful in a dedicated call center, such as sales pipeline management and customer journey analytics.
Nextiva sells hardware VoIP from Panasonic, Cisco, Poly, and Yealink, as well as their own brand of VoIP phones. These cost between $99 and $379 each.
Compared to most VoIP providers, Nextiva is significantly higher-priced, but it does include a lot of features other providers lack.
Nextiva Available Features
Sales pipeline management
Nextiva offers an advanced VoIP feature set, but there's a lot more to the service than just VoIP. It offers good CRM features, live chat with customers, surveys, video meetings, sales tools, and intelligent contact center tools, to name just a few.
VoIP features
Nextiva offers an outstanding list of VoIP features. You get unlimited calls and texts in North America. Included is a free local phone number and toll-free number, plus team collaboration tools with chat and video conferencing.
The VoIP calling features are too many to list. You can set up an auto-attendant, perform call recording and screening, conference call, queue calls, and transfer calls. This makes Nextiva far more versatile than a traditional telephone exchange system.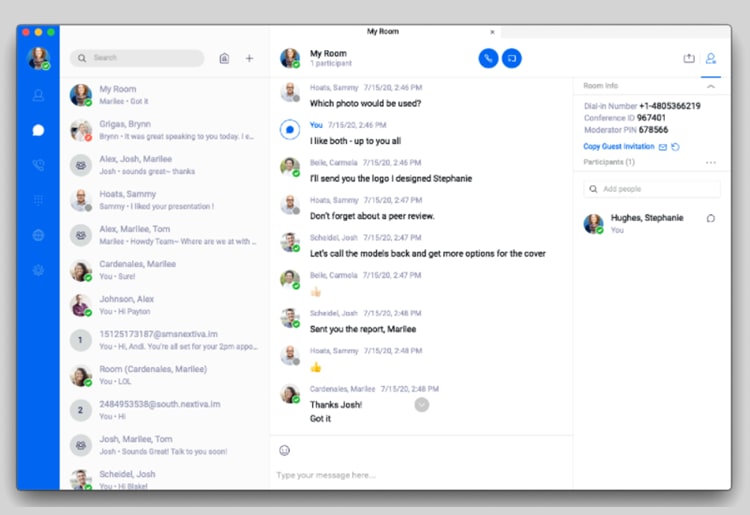 Voicemail
With Nextiva voicemail, you can set a personal voicemail greeting, forward your voicemail to another extension's inbox, and get notifications about voicemails by email or text. Voicemail can be automatically transcribed to your email, making it quicker to find the voicemails that matter.
CRM features
Nextiva can be used with most popular customer relationship management (CRM) software, but it also includes many of the many of these features built-in. For example, its wealth of reports can show you how calls are being handled in your organization.
With customer journey mapping, you can see every touchpoint in the customer journey. Customers can be assigned an interaction score for each touchpoint they make with your company and you can set rules to trigger actions when a customer's perceived experience score crosses a threshold.
Live chat
Again going beyond features most VoIP providers offer, Nextiva has a chat widget you can use on your website to chat with customers live. Instead of having your VoIP service separate from your other customer interactions, Nextiva can become the central tool you use for most customer engagement.
Surveys
Nextiva includes support for customer and employee surveys. This can offer you crucial information such as details on customer satisfaction and market research. You can view the survey details in real time, allowing you to spot sales bottlenecks or potential pain points for customers. With the survey tool, you can smooth out any problems in your sales process by asking customers directly how they feel about each part of the journey.
Security and Reliability
Nextiva takes security and reliability seriously. The Nextiva network has 6 points of presence (all in the US), and the network handles more than a billion calls each year. Data centers have 24/7 monitoring, disaster planning, backup redundancies, and biometric checkpoints.
Third-party audits are regular, and accounts are monitored for fraudulent activity. Call encryption between all endpoints is available on request.
Nextiva Mobile App
Nextiva has mobile apps for Android and iOS to go alongside its desktop apps for Windows and Mac. With the app, you can chat, make voice or video calls, and attend video conferencing meetings.
The app is relatively basic. Many users report issues with the app dropping calls, and some find the user interface cumbersome to use. Both on Android and iOS stores, users refer to connection issues, being logged out without warning, and a lack of more advanced features that integrate with the Nextiva system as a whole.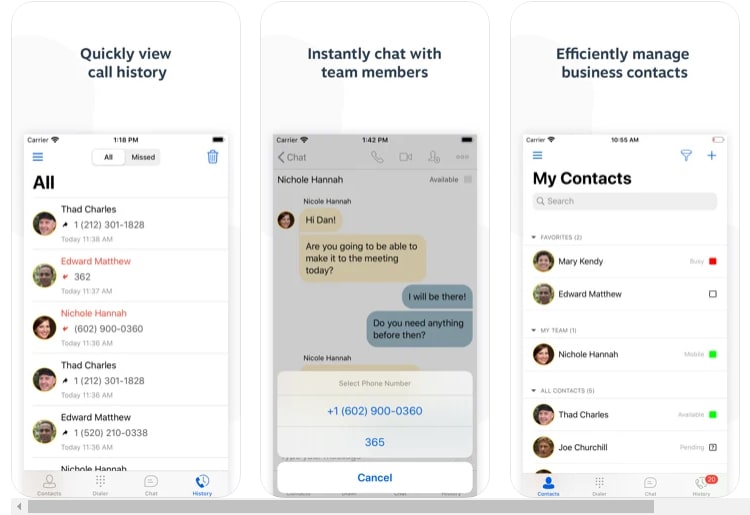 Nextiva Integrations
Nextiva integrates with 19 popular CRMs and other software tools. The integration between apps is great. With Zoho, you can get access to customer records and call logging. Or, if you use Zendesk, you can make and receive calls through Nextiva from within the Zendesk interface. Other CRMs like SugarCRM and Bullhorn get similarly useful features when paired with Nextiva.
On the downside, some Nextiva software integrations are only available on higher-tier plans. Microsoft Teams, for example, can only be used with Nextiva if you choose the Enterprise or Ultimate plans.
Help and Support
Nextiva has several good support options. Live chat is available 5AM-6PM Monday to Friday and 9AM-1PM Saturday and Sunday, MST. You can also email support outside these hours or submit a ticket.
The Nextiva knowledge base is good, with sections for phone setup, call flows, voicemail, and app use. There are also live webinars you can join to learn more about all the features of Nextiva so you can get the most out of the tool.
How Nextiva Compares to Other VoIP Providers
Business-hours live chat, email, online ticketing
Email, live chat, business-hours phone, support site
24/7 phone, online ticketing, support site
Nextiva Vs Vonage
Nextiva is a more complete communications solution than Vonage. So, we recommend it over Vonage if your company currently has no business communication platform or you want to entirely replace the platform that you now use.
However, Vonage has a more modular pricing plan, so it's possible to pick and choose the features you need. It can be much cheaper to run Vonage than Nextiva, particularly for smaller businesses. We recommend Vonage if you intend to use it as a part of your system in tandem with CRM or call center management software.
Nextiva Vs SpectrumVoIP
SpectrumVoIP is a simpler solution than Nextiva that includes hardware phones with every subscription. Even with these hardware phones included, SpectrumVoIP costs significantly less than Nextiva, particularly when you consider that many of Nextiva's features are only offered on its most expensive plans.
We recommend SpectrumVoIP over Nextiva for smaller businesses looking to replace their traditional phone system with a VoIP system that doesn't break the bank.
Nextiva Vs Ooma Office
Ooma Office is another streamlined VoIP to consider if you don't need all Nextiva's features. You still get call recording, voicemail transcriptions, and video conferencing, but there's little in the way of integration with other software.
If you just need a simple VoIP phone system without the bells and whistles, you can save a little by choosing Ooma Office over Nextiva. But Nextiva could save you time and money in the long run thanks to its better integration with CRMs.
Is Nextiva Right for Your Business?
Nextiva is a comprehensive communications platform with everything from video conferencing to live website chat. It's best for mid-size to large businesses that want a single solution to all their communication and customer interaction needs.
Smaller businesses won't use most of the features bundled into Nextiva's plans and may find the system overly complicated. Even Nextiva's lower-tier plans cost more than most of the competition, so we suggest looking elsewhere if you don't need all the impressive features Nextiva rolls into one solution.